New Orleans Saints Game-by-Game Predictions for Second Half of the Season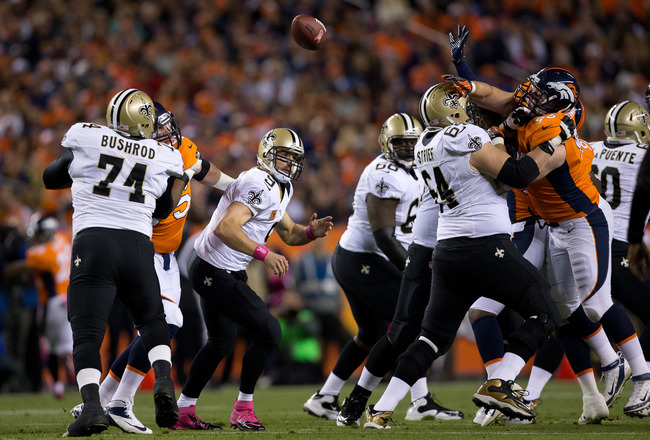 Justin Edmonds/Getty Images
The New Orleans Saints almost were so close to making a deep run in the playoffs last year, but came up short. This season, the Saints had the potential to make another serious run, despite the bounty scandal.
The Saints had the majority of their team returning for 2012, even adding some pieces, like Brodrick Bunkley and Curtis Lofton, to strengthen their roster.
But almost halfway through the 2012 season, the Saints have been anything but contenders.
At 2-5 and with how abysmal the Saints defense has played, it has been demoralizing. With a tough schedule remaining, it's hard not to just move on and wait for the 2013 season. That is, unless they run the table.
Let's see the remaining schedule for the Saints and see if they are able to salvage a season that has so far been mediocre.
Week 9: Philadelphia Eagles at New Orleans Saints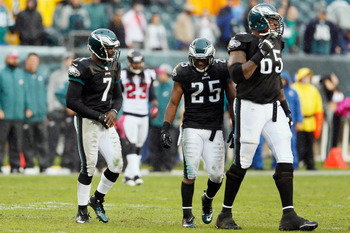 Rob Carr/Getty Images
Prediction: Saints 33, Eagles 27
Both the Eagles and the Saints have problems. On paper, both teams have the talent to be better than their record indicates, but like I said, they have problems.
Coach Andy Reid hinted that the rookie quarterback Nick Foles may start over Michael Vick in Week 9. That may be favorable for the Saints, who are ranked 30th in pass defense, but again, that may not be favorable for them because, well, they're ranked 30th in pass defense.
Rookie quarterback Foles is more of a traditional pocket-passer compared to Vick, and he showed his command of the offense in the preseason.
What is favorable is the change of Eagles defensive coordinator. The Todd Bowles-led defense completely looked confused and collapsed against Matt Ryan and the Atlanta Falcons. They let the Falcons' ball-carriers run around all day, and there were a lot of busted coverages in the secondary.
What will save the Saints from another loss is if their offense decides to show up. Like many times before, if Brees plays like himself, then the Eagles defense won't be able to stop him. It's the Saints defense that will keep the Eagles closer than they should be.
Week 10: Atlanta Falcons at New Orleans Saints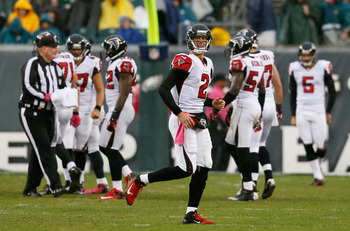 Rob Carr/Getty Images
Prediction: Saints 24, Falcons 37
This will be a tough one. A loss never feels good, especially against a division rival. Especially against the Atlanta Falcons.
The Falcons and Matt Ryan are on fire this season, and they may still be undefeated after Week 9.
This team is firing on all cylinders right now. It's ranked fifth in scoring offense and ranked seventh in scoring defense. The Falcons offense will be difficult for the New Orleans Saints to stop. Matt Ryan and his receiving corps will be able to take advantage and pick apart a weak and struggling Saints secondary.
An improving defense is now playing good enough to take advantage of the Saints' lack of running game and concentrate on shutting down the New Orleans Saints passing attack.
Week 11: New Orleans Saints at Oakland Raiders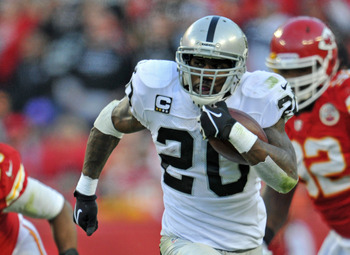 Peter Aiken/Getty Images
Prediction: Saints 34, Raiders 31
The Oakland Raiders have made some big improvements, especially on defense. They are capable of shutting down some key playmakers, they can stop the run and they can also force turnovers.
The Raiders' offensive weapon is Darren McFadden, who is always tough to play against. His numbers aren't spectacular, averaging 3.3 yards per carry, but he can wear down a defense and has a potential to break out a game. But, this unit has been very inconsistent.
The only thing that will keep the Raiders in this game is the Saints defense being unable to stop the Raiders offense. Carson Palmer has been very inconsistent, but with the Saints secondary, he may be due for a good game.
Can Palmer out-duel the Saints' Brees? Doubtful.
Week 12: San Francisco 49ers at New Orleans Saints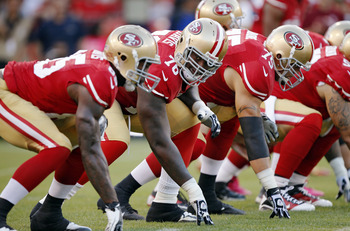 Brian Bahr/Getty Images
Prediction: Saints 23, 49ers 34
In last year's divisional matchup with the 49ers, Drew Brees marched the Saints down and scored a touchdown for the lead, with less than a minute left in the game.
The Saints were going to the NFC Championship Game, but then they didn't.
Their defense, of course, allowed Alex Smith and the 49ers to make some big and back-breaking plays that would end the Saints' season.
The 49ers are still the same dominating team it was last season, relying on a strong defense and a ground-and-pound that's hard to stop. The run game is ranked first in the NFL, and the pass defense is ranked first.
It will be tough for the Saints to score against the 49ers, especially since they can't seem to get their ground game going.
The 49ers will pound the ball down New Orleans' throats, which will open up their passing game. This time around, it won't be as close as it was in last season's playoff game.
Week 13: New Orleans Saints at Atlanta Falcons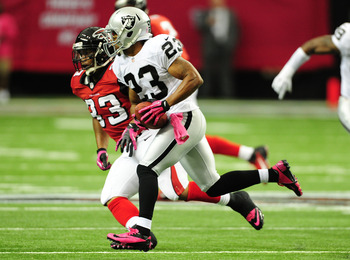 Scott Cunningham/Getty Images
Prediction: Saints 30, Falcons 34
Different week, same result, this time at the Falcons' home.
The Saints are going to have a tough time stopping this Falcons offense. The only strong suit for the Saints is their offense, which will keep them close, but, again, it will come down to the defense. And we all know how that usually turns out.
Week 14: New Orleans Saints at New York Giants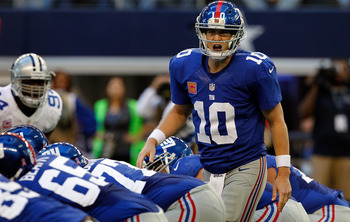 Tom Pennington/Getty Images
Prediction: Saints 31, Giants 30
No, this is not an error. The Saints and their defense are due for a big game and vice versa. The New York Giants, who are off to a good start and are on top of the NFC East for now, tend to lay some eggs in the second halves of their seasons.
The Giants defense hasn't been looking as dominant as their first few games and they tend to play down to the opposing team's level. They won two too-close-for-comfort games over the Redskins and Cowboys, which shouldn't have been the case.
Drew Brees and the offense, who still have firepower, will lead this team to a win and take advantage of the Giants defense.
It will be close, but the Saints defense, who doesn't usually do this, will be able to hold off the Giants' attempt at a comeback.
Week 15: Tampa Bay Buccaneers at New Orleans Saints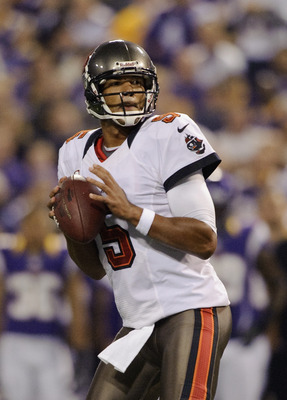 Hannah Foslien/Getty Images
Prediction: Saints 27, Bucs 33
The New Orleans Saints won a close one in Week 7. The Saints shot themselves in the foot early and let the Bucs take a big lead early in the game.
Never a dull moment for the Saints. They had to fight and climb back to beat the Bucs, and it came down to a very controversial last play.
The Saints will be at home this time around but won't be able to pull off the win. All of the Bucs' losses so far have been by seven points or less, so it's either lack of execution or some bad luck.
The Bucs aren't as bad as their record indicates. Rookie running back Doug Martin is having a good season so far, and it will be hard for the Saints to stop him.
Josh Freeman and his wide receiver corps lit up the Saints secondary, and it will be the same story the second time around. It won't give up any leads again against the Saints.
Week 16: New Orleans Saints at Dallas Cowboys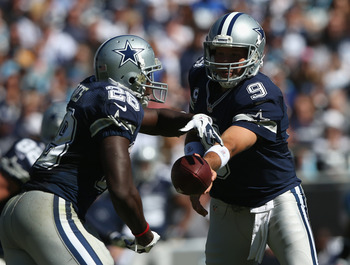 Streeter Lecka/Getty Images
Prediction: Saints 23, Cowboys 24
The Dallas Cowboys have so much potential. They have a roster that indicates that they should be No. 1 in the NFC East.
It's been the inconsistent play by quarterback Tony Romo, some bad execution, play calling and some bad luck.
The Cowboys have been able to stay in games, and they have beat out the other team's in some phases of the games, but they just can't seem to close out and get the W. The team has a good defensive unit, a solid run game, but Romo and his receiving corps are the inconsistent ones, and that's their downfall.
The Cowboys will be the ones to keep the Saints in this game, but they will pull it off in the last minute in their own home.
Week 17: Carolina Panthers at New Orleans Saints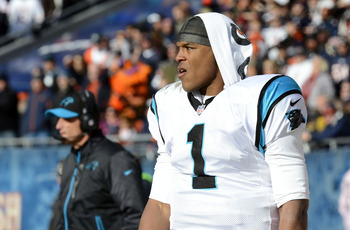 Mike DiNovo-US PRESSWIRE
Prediction: Saints 38, Panthers,31
The Saints lost a game that shouldn't have been lost against the struggling Carolina Panthers team.
The first time around, the Panthers had no problems moving the ball against the Saints. Cam Newton kept the Saints defense on its heels all day, either hurting it with his legs or with his arm.
That won't change this second time around. The Saints defense has a lot of flaws it needs to address in the offseason. It has to take a good look at their personnel and see who fits best in Spagnuolo's scheme.
The only thing that will change is the outcome. Cam Newton will not out-duel Drew Brees again, not at the Superdome.
The Panthers got some good pressure on Brees in their first meeting, causing Brees to have an off day, but he was still able to throw for 325 yards and a touchdown. No, Brees didn't have a good start and seemed off target in his first few games, but so far, Brees has made major improvements and seems more in sync with his receivers. Now, if only the receivers can stop dropping passes.
Make sure to follow me on Twitter for more Saints news and other NFL updates: @ItsJPeralta.
Keep Reading

New Orleans Saints: Like this team?