49ers vs. Cardinals: 5 Matchups That Will Decide MNF Clash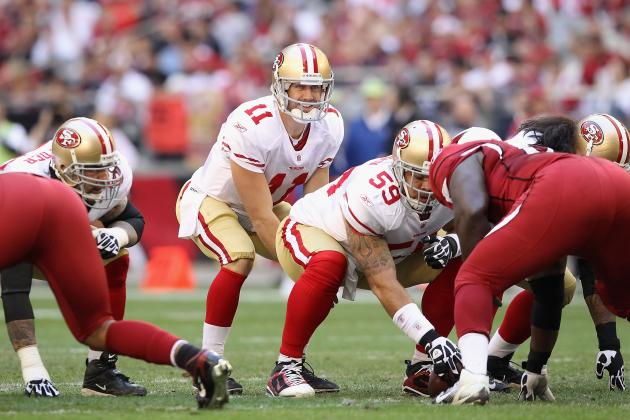 Christian Petersen/Getty Images

The Arizona Cardinals (4-3) will attempt to snap a three-game losing streak when they welcome the San Francisco 49ers (5-2) to the desert Monday night for an NFC West clash.
These are two teams seemingly headed in different directions.
Arizona hasn't won since starting the season 4-0, while the 49ers rebounded from an embarrassing home loss to the New York Giants to beat the Seattle Seahawks in an important division matchup last Thursday night.
The Cardinals have lost consecutive games to the St. Louis Rams, Buffalo Bills and Minnesota Vikings.
Monday night's meeting gives Arizona a chance to get itself off the floor and the 49ers an opportunity to widen their gap atop the NFC West over both the Cardinals and Seahawks.
Here's the matchups that will decide which happens Monday night.
Begin Slideshow

»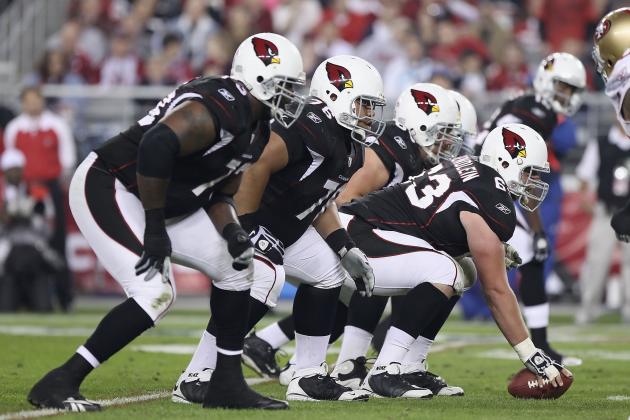 Christian Petersen/Getty Images

This obvious matchup is put into generalities because it needs to be. The Cardinals offensive line is, without much doubt, the worst pass-blocking unit in the National Football League.
Consider what Sam Monson of Pro Football Focus found for a story on ESPN.com (Insider subscription needed):
Pro Football Focus has been grading every player on every play in the NFL season since 2008, and this Arizona offensive line is allowing pressure at a greater rate than any other team in that time span -- and by a good margin. On 300 passing plays this season, the Cardinals have already allowed an astounding 134 total QB disruptions (sacks, knockdowns and hurries), and Kevin Kolb and Skelton have felt heat on 43 percent of all passing plays.
For further context, keep in mind that Arizona has already allowed an NFL-high 35 sacks. Their 16-game pace pegs the Cardinals for 80 allowed in the 2012 season. Yikes.
No rest for the weary Monday night, either. The Cardinals will have pass-rushers across the 49ers defensive front to contend with, including outside linebackers Aldon Smith (five sacks, seven quarterback hits, 13 hurries, per Pro Football Focus) and Ahmad Brooks (three sacks, six quarterback hits and 17 hurries), and defensive end Justin Smith (one quarterback hit, 11 hurries).
Expect protecting the quarterback to be another difficult task for the Cardinals' struggling offensive line. The 49ers can certainly win this game on the back of their defensive front seven.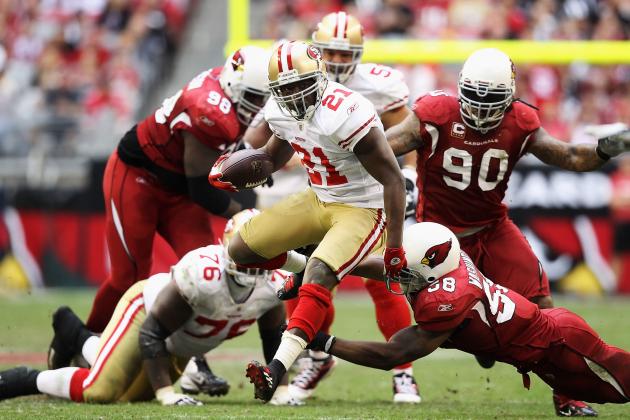 Christian Petersen/Getty Images

Possibly no inside linebacker has been as overlooked in 2012 as Washington, who is playing at a Pro Bowl level.
Washington's 62 tackles (54 solo) lead the team by over 20, and his sacks (six) are the most by an inside linebacker this season. That said, his impact will need to come against the 49ers run game Monday night.
The 49ers will certainly want to pound Frank Gore—a 100-yard rusher in three games this season—to control the game offensively. When running with Gore, San Francisco loves to run power schemes inside to stay ahead of the chains and set up play-action.
It will be on Washington to keep him at bay and force the 49ers to be more pass-heavy than they typically like to be. In the 49ers two losses this season, Gore has averaged less than 50 yards rushing.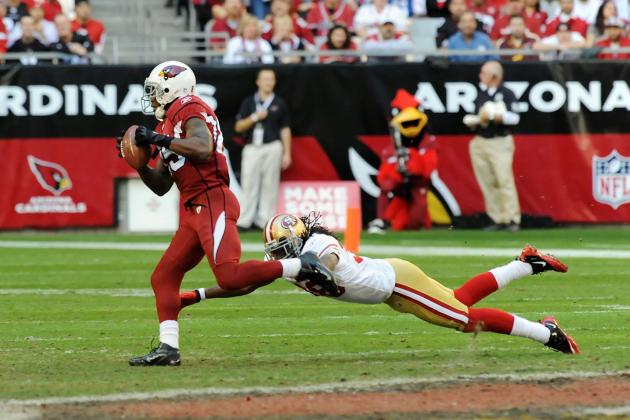 Norm Hall/Getty Images

The Cardinals love using Doucet in the slot, where his 26 targets this season is the 13th most in the NFL. Of those 26 targets, Doucet has pulled down 17 catches for just 138 yards.
For the Cardinals to move the football Monday, Doucet needs to continue getting open underneath, but also turn those targets into bigger chunks. His average of three catches for under 20 yards won't cut it tonight.
However, that may be a tough task with Rogers lining up opposite him.
This season, Rogers has allowed just eight catches on 17 targets in the slot. His passer rating allowed inside is just 68.3, fifth-best among corners who line up in the slot 50 percent of the time or more.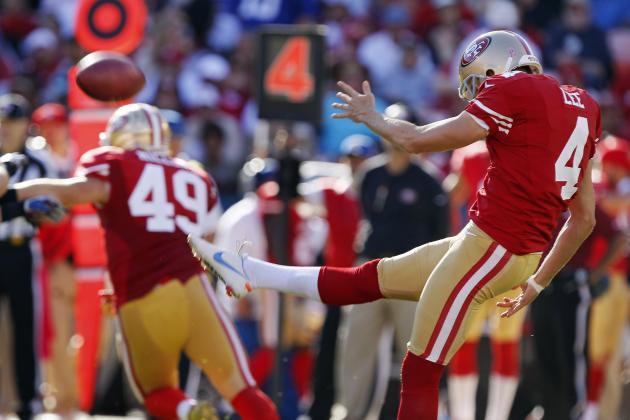 Brian Bahr/Getty Images

Peterson's long punt return this season is just 26 yards, so his explosive plays on special teams have been mostly bottled up. But watching a number of his games, it's obvious that the big return is just one bad punt away from happening.
Considering how anemic the Cardinals offense is likely to be Monday night, it may take a big play or two from Peterson in the return game to spark together some scoring.
Lee and his coverage unit must protect against that, using big hang time and directional kicks to ensure the people are in place to bottle up Peterson.
If the 49ers can keep the Cardinals offense facing long fields, San Francisco should hold a struggling offense under 20 points, even at home.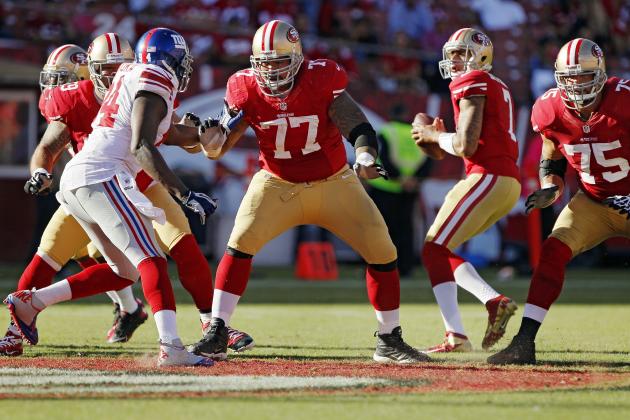 Brian Bahr/Getty Images

There may be no better individual talent matchup Monday night than these two maulers inside.
Campbell, who has established himself as one of the better 3-4 defensive ends in football, should collide frequent with arguably the NFL's top run-blocking guard in Iupati. The two are both graded out in the top three of their positions this season by PFF.
The run game may be a wash for the two, but Campbell could have an edge in rushing the passer. Iupati's is disciplined in his pass protection, and Campbell has more quarterback disruptions than any 3-4 defensive end not named J.J. Watt.