5 Questions Left Unanswered After New York Knicks Training Camp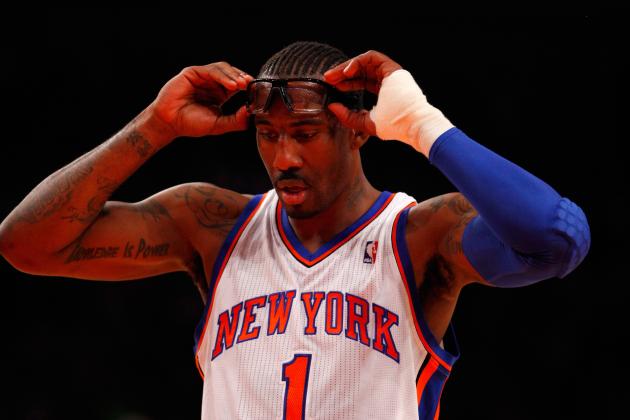 Jeff Zelevansky/Getty Images
Amar'e Stoudemire's hand is healed, but his knee remains a problem for the Knicks.
With his first training camp as head coach of the Knicks, Mike Woodson dreamed of a smooth month of blending his rebuilt squad, teaching his defensive principals and getting all of the pieces in place to challenge the Miami Heat.
But those best-laid plans collapsed under the reality of age and injury.
The Knicks never got Marcus Camby on the court in the preseason. They saw Amar'e Stoudemire lost to another frustrating injury. J.R. Smith spent more time in a walking boot than he did in game action, and Tyson Chandler was on crutches the last time we saw him.
This is the reality of any camp, but especially true when you assemble a team that is the oldest in NBA history—averaging more than 32-years-old and boasting four of the six oldest players currently in the league.
The Knicks are old. They are going to be injured. And they are going to have to revert to getting acclimated to Woodson in season when—if—they get all the pieces in place.
Begin Slideshow

»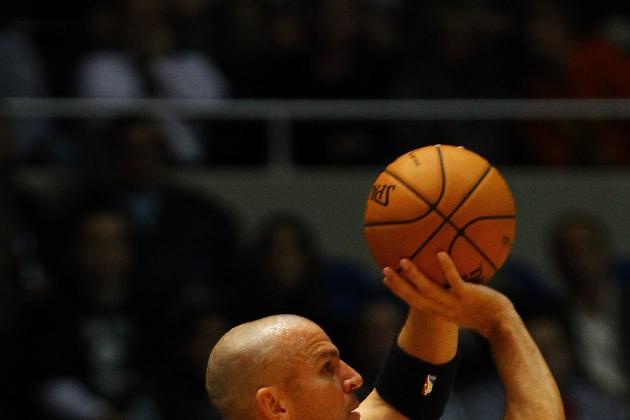 Al Bello/Getty Images
Jason Kidd will turn 40 years old this season but is not the oldest player on the Knicks roster.
The Knicks will take the floor at the renovated Madison Square Garden this season with a roster that is also renovated but littered with antiques.
Surrounding the core of Carmelo Anthony, Amar'e Stoudemire and Tyson Chandler with experienced—that would be the kind description—hands, the Knicks have adopted a win-now approach.
While the Miami Heat may still be the class of the NBA, the Knicks are not conceding anything, adding 40-year-old Kurt Thomas, the oldest player in the league; Jason Kidd, who is just seven months behind him; a pair of 38-year-old frontcourt pieces in Marcus Camby and Rasheed Wallace; along with the oldest rookie in the game, 35-year-old Pablo Prigioni.
What will the Knicks get in return?
A ready-made team of experienced players who know what it takes to win and are all seeking one last shot at a ring. The kids were alright, but the Knicks dumped them, letting Jeremy Lin and Landry Fields depart as free agents and sending other pieces packing in the deals for Camby and Raymond Felton.
The problem, and a dilemma which was only made clearer in the preseason, is that old players have a hard time staying on the floor. So here is the task Knicks head coach Mike Woodson faces: getting these pieces to all fit into their roles and ready when it really counts, the beginning of the playoffs.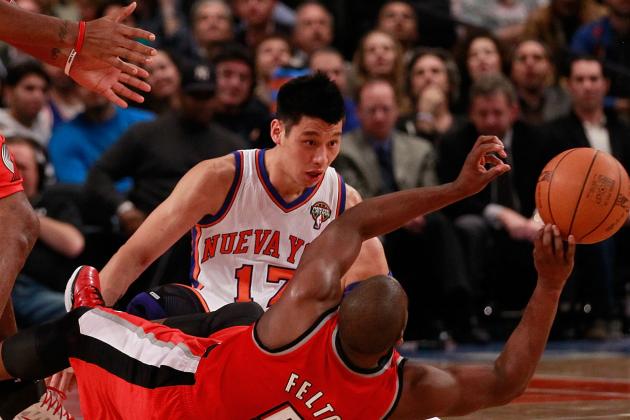 Chris Trotman/Getty Images
Jeremy Lin and Raymond Felton were face-to-face last year but will be compared and contrasted all season now.
There was never anything like the Linsanity that overtook Madison Square Garden last year, a phenomenon that took over New York, the NBA and, really, the world.
But it's all gone now as Lin set loose when the Knicks opted not to match the poison-pill offer sheet that the Houston Rockets provided to Lin. So the player who the Knicks insisted would be back at any cost isn't, relocated to Houston while the Knicks try to make believe he never existed.
While the fans may cling to Lin, the Knicks moved on quickly and seem to be set for life after him. While negotiations were still going on with Lin this summer, he was provided with the hint that the Knicks were ready to go in another direction as they dealt for Raymond Felton, who had played the best ball of his career during his brief tenure in New York a year earlier. While Lin was a world-wide phenomenon, Felton was a disaster in Portland last year, out of shape and unproductive.
But Felton arrived in New York with a slimmed down physique and a chip on his shoulder. He said,
Jeremy had a good run. Jeremy did a lot of good things here. The fact that they didn't want him to leave, that's expected. I'm not upset at that all. I don't really care about that at all. He's in Houston now. I'm back in New York where I wanted to be. I did a lot of great things when I was here. I'm looking forward to bringing those things back.
It's not just Felton though, as the Knicks' newly-acquired veterans, Jason Kidd and Pablo Prigioni, both showed in preseason that even if they are hardly the athletes they once were, they are savvy point guards able to get the ball where it belongs.
It may have its moments of longing, but New York will move on from Linsanity with a far better and more stable point guard situation.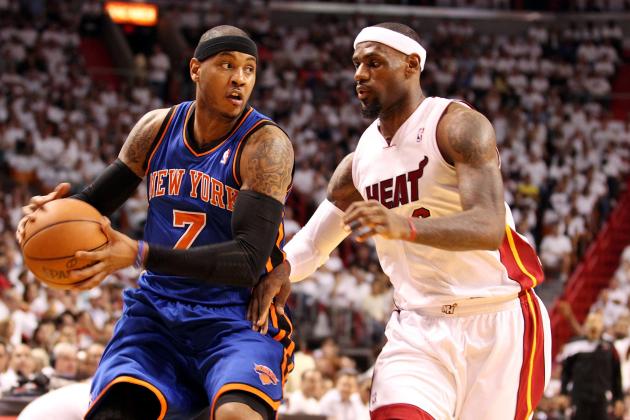 Marc Serota/Getty Images
LeBron James got his ring. Can Carmelo Anthony do the same?
Carmelo Anthony opened training camp by making the declaration that he wasn't interested in scoring 30, 35 or 40 points a game anymore. Anthony said,
I think at the end of the day it's about winning basketball games. That's all that matters. For me personally, this my tenth year. I think everybody pretty much knows I can score the basketball. But for me, I'm done trying to score 30, 35, 40 points for us to win a basketball game.
I don't want that role anymore. It's what I do best. But in order for this team to be successful with the guys that we have we need a more well-rounded team. So if I have to sacrifice on the offensive end I'm willing to do it. It's easy for me to sit here to say it. But this year for me it's going to be doing what I need to do to help this team win.
While it may have raised eyebrows, he already may have to walk that back. Amar'e Stoudemire is likely sidelined for the first month of the season, and the Knicks just might need Anthony to do what he does best.
But can the Knicks win with Anthony scoring big?
LeBron James learned that he needed to make everyone around him better to get his ring. Anthony, after earning a gold medal alongside James in London, seems to know this in theory. Now he is left to do what James did—prove he can execute it.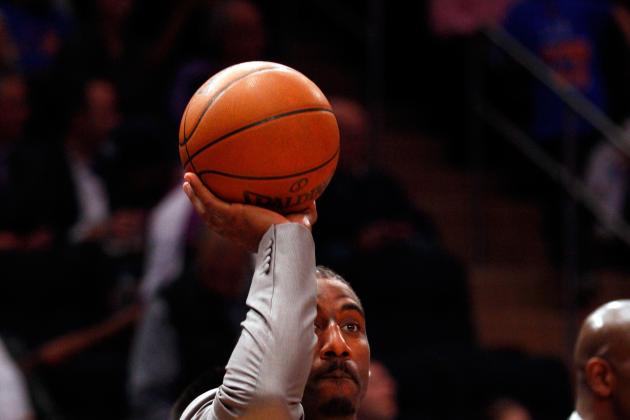 Jeff Zelevansky/Getty Images
Amar'e Stoudemire saw his postseason ruined by injuries the last two years. Now he's lost the start of the season with another injury.
Amar'e Stoudemire was the first piece put in place when the Knicks began their rebuilding three years ago. But the $100 million contract now seems like an albatross as he has never been able to stay healthy long enough to prove himself worth the cost.
Two years ago his back gave out in the playoffs, an injury that then forced him into rehabilitation mode throughout the summer and left him too heavy and sluggish for the first half of last season.
He finally seemed to be getting himself in shape when a bulging disk sidelined him again.
Then, with the Knicks in need of him against the Miami Heat, he punched his fist into the glass and metal casing holding a fire extinguisher after a frustrating loss, lacerating his hand and heading back to the bench before returning to play with basically one hand.
More troubling is the injury that has Stoudemire sidelined now—a ruptured popliteal cyst in his left knee. The Knicks first called it a two-to-three week recovery, but now he appears lost for the first month of the season. With a history of knee problems, any problem looms larger than a player with a healthy history.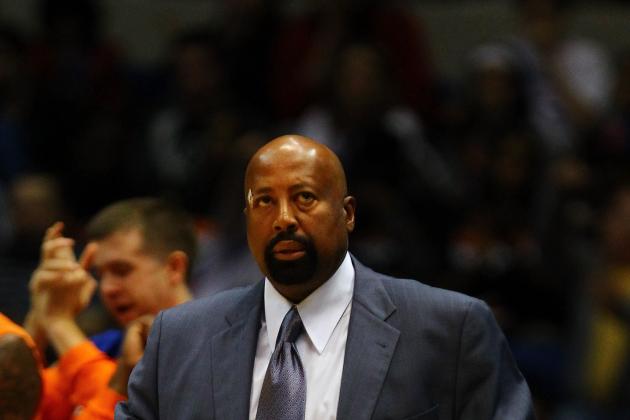 Al Bello/Getty Images
Mike Woodson had the interim tag removed. Now he has the bullseye on him to produce.
It was fun when Mike D'Antoni was overseeing a run and gun, beat the clock system in New York, the sort of system that provided a bridge from the troubles to contention with enough entertainment to overcome the reality that they would never actually beat the best teams that way.
It made a star of Raymond Felton and a worldwide phenom of Jeremy Lin.
But D'Antoni is gone now and in his place is Mike Woodson. Woodson stepped in as an interim head coach last season and guided the Knicks down the stretch with a renewed interest in defense. He got the full-time gig shortly afterward and was allowed to oversee a restructuring of the roster that fits perfectly with what he wants to do—defend and play with veterans.
To be able to add veteran guys that are defensive-minded, that are battle tested, and that have won I think is huge as we move down the road in terms of trying to reach the pinnacle goal of winning the NBA title. That's what it's all about at the end of the day. We've got to position ourselves through the regular season, trying to win our division, trying to secure one of the top four spots where we hold first round at home and then from there trying to win an NBA title.
Woodson is thrilled to try this after seeing his first head coaching job end as the youthful Atlanta Hawks got better but were erratic and, in the end, unable to move forward with a talented and confounding cast of characters. Now, he has a team in his own image—hard-working, tough and experienced.
The true test will come with time though. Will Carmelo Anthony work as hard on defense as he did when Woodson took over? Do players continue to respond to the harsh tone and strong demands of Woodson—who, we recall, played for Bobby Knight?
If not, Woodson can at least say he did it his way.
Steve Popper is a Contributor for Bleacher Report. Unless otherwise noted, all quotes were obtained firsthand.