The 2012-13 NBA season kicks off tomorrow with one of the blossoming rivalries in the game. The Boston Celtics will travel to South Beach for an Eastern Conference Finals rematch against LeBron James and the dangerous Miami Heat with the hopes of avenging their loss in the playoffs last season. Both teams brought in some new blood via free agency, with young shooter Courtney Lee signing with Boston to replace veteran guard and three-point machine Ray Allen, who signed with Miami.
Putting the rivalry aside, the Heat are looking to further establish that their NBA title last season was anything but a one-time thing. This team wants to be a dynasty and will stop at nothing to achieve that status. Thus, what better way to start down that road than with a win to open the season, especially one that will be on national television?
Time: Tuesday, October 30th at 8 P.M., EDT
TV: TNT
Records: Boston (0-0) vs. Miami (0-0)
Betting Line: N/A as of Monday, October 29th at 11:40 A.M., EDT
Injuries: Avery Bradley (shoulder), Chris Wilcox (back), Joel Anthony (hamstring), Mario Chalmers (hamstring)
Key Storylines: Ray Allen Faces Old Team in Game 7 Rematch

The fans couldn't ask for a better game to open the season as the Boston Celtics and defending champion Miami Heat renew their rivalry after last playing each other in the Eastern Conference Finals. The LeBron James-led Heat may have won the series, but not before the experienced Celtics took them to the deciding Game 7. The game was close through three quarters, tied at 73 headed into the fourth quarter before Miami ultimately pulled away. This time, Boston is looking to get some initial revenge by defeating the Heat to open the season.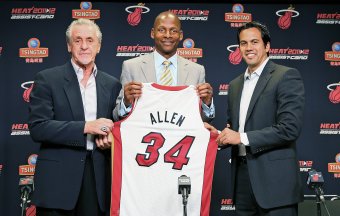 Mike Ehrmann/Getty Images
However, the rivalry is even more intense this season as the Celtics lost veteran sharpshooter Ray Allen to free agency over the summer, ironically to Miami. The all-time leader in three-pointers made is expected to open the season as the Heat's sixth man and should provide some fireworks throughout the game, particularly due to the animosity that has existed between him and Boston since he signed his contract with Miami.
Needless to say, this game is going to be chock full of toughness and determination, both of which make for some great basketball.
Key Matchup: LeBron James vs. Paul Pierce

Once again, fans get to see LeBron James and Paul Pierce go at each other on both ends of the floor. These two have been matched up against one another in the playoffs for each of the past three seasons and each brings his own unique set of skills to the table. Pierce is a natural scorer with a near-automatic touch from three-point land, while James is the reigning MVP and can kill the opposition in practically every department, be it rebounding, scoring or distribution.
On top of that, it's a matchup of youth vs. experience. Pierce is 35 years old and entering his 15th NBA season, but is still more than capable of carrying a team. James, on the other hand, is only 27 and is still improving as a player. He is fresh off his first championship and hungry for more, so don't be surprised if he turns on the afterburners early and looks to help make the game a blowout from the opening tip.
X-Factor: LeBron James

Not to sound cliche, but the outcome of the game all depends on James. Sure, the Miami Heat are a deeper team this year and are clear favorites to represent the Eastern Conference in the NBA Finals, but their fate rests on the shoulders of last year's MVP. James is the team's best scorer, passer and defender, and if he's off his game, it's difficult for his teammates to pick up the slack, though Dwyane Wade and Chris Bosh are more than capable of doing so.
On top of that, though he has his ring now, has James really shaken off the drama of the 2011 Finals? Even as a reigning MVP and champion, the fact that he choked in crunch time then still could loom large. He has the added benefit of home-court advantage, but the Celtics will be hungry for a victory and he'll have to bring his A-plus game to help bring the win home. Not demanding the ball in the fourth quarter is not an option.
Prediction:
Though this is a great matchup on paper, the Celtics key players are just too old to keep up with the faster and younger heat. Point guard Rajon Rondo will be able to keep Boston in the game for most of the night, but he is only one man. Basketball is and always will be a team game and Kevin Garnett and Paul Pierce, albeit with respectable efforts, will be outplayed by Miami's Big Three.
Look for LeBron James and Dwyane Wade to lead the way with the home crowd cheering them on, with Ray Allen coming off the bench to hit some clutch threes and end the night in double figures. In the end, Miami pulls away in the fourth and James finishes the night just shy of a triple-double.
Miami Heat 108, Boston Celtics 99