Washington Nationals: 5 Moves They Should Make This Offseason
Patrick McDermott/Getty Images
By addressing a few key pieces in the equation this offseason, next year's Washington Nationals are looking to put the past behind them and make a run at the World Series.
The Nationals were an inning away from booking a trip to the NLCS this season before an improbable four-run ninth inning from St. Louis in Game 5.
"We'll be back," said Nationals GM Mike Rizzo, "and doing this a couple more times."
Next year, the Nationals have a chance to make a run with a healthy Stephen Strasburg and a newly restocked roster.
Here are five moves the Washington Nationals should make this offseason to remain a force in the National League.
Re-sign Adam LaRoche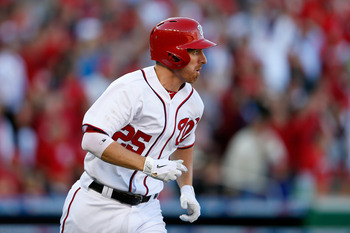 LaRoche in Game 4 of the NLDS.
Rob Carr/Getty Images
Adam LaRoche is the veteran leader among a young Nationals squad.
"He's the catalyst in here," said shortstop Ian Desmond in an interview with the Washington Times. "(Jayson Werth) does a lot, (Ryan Zimmerman) does a lot... But Rochey's that steady head. He's really, really, really respected in here."
The 32-year-old first-baseman was more than just a leader; he was the centerpiece of the lineup. With LaRoche at cleanup, teams were incapable of pitching around guys like Harper and Zimmerman at the top of the Nationals order, thus making those around him better.
LaRoche finished 2012 with a .271 average, 100 RBI and a career-high 33 home runs.
If the Nationals are considering releasing LaRoche to free agency, they need to consider his replacement.
This year's free agent market for first basemen is full of questions and injury ridden veterans. Unless Washington plans on promoting from within, they're going to need to work out a fair contract with LaRoche.
Re-sign Sean Burnett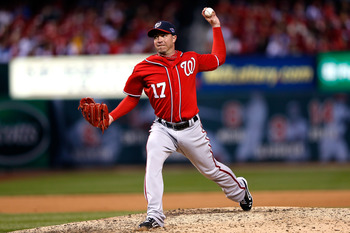 Burnett in Game 2 of the NLDS.
Jamie Squire/Getty Images
Sean Burnett was a force in a bullpen that was one of the best in baseball in 2012.
The Nationals bullpen finished the season ranked seventh in baseball in ERA. Left-handed specialist Sean Burnett was a definite contributor, ending the season with a 2.38 ERA, 57 strikeouts and just 12 walks.
Left-handed hitters batted just .211 off Burnett in 2012, only scoring seven times.
Veterans Mike Gonzalez, Brad Lidge and Chien-Ming Wang are also free agents this offseason and will likely not be back in 2013.
It's important this bullpen preserve their intensity heading into 2013. Re-signing the 30-year-old Burnett will do just that.
Sign Jeff Keppinger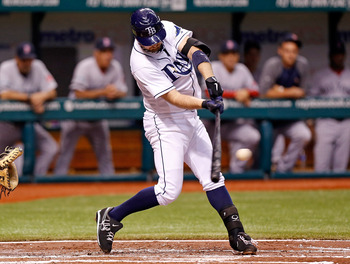 Keppinger teeing off against the Red Sox Sept. 26.
J. Meric/Getty Images
Second base is where the Nationals lacked any kind of real defensive or offensive production.
Danny Espinosa, who started most of the games at second base, hit just .247 and struck out more times than anyone in the National League (189 Ks).
Espinosa also committed 13 of Washington's 94 errors last season.
While this year's free agent market for second basemen isn't great, Jeff Keppinger is the one name that stands out.
In 385 at-bats, Keppinger batted a quiet .325 with nine home runs, both career-highs. He was a key factor in keeping Tampa Bay's playoff hopes alive towards the end of the season.
Keppinger, who's played for six teams since coming into the league in 2004, would be a nice fit at a great price for this Nationals roster.
The 32-year-old would add another veteran presence to a young roster, and would be the slick-fielding, consistent bat the Nationals need at second base.
Sign Juan Pierre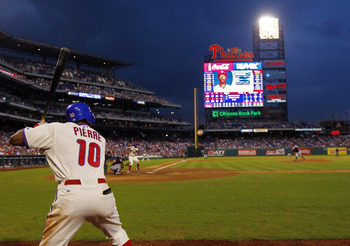 Rich Schultz/Getty Images
The Nationals have one glaring hole in their talented lineup: a true leadoff hitter.
This year's free agency market gives them plenty of options including big names like Michael Bourn, Shane Victorino and B.J. Upton.
How about signing Philadelphia platoon man and seasoned 35-year-old veteran Juan Pierre?
In Philadelphia, Pierre was demoted to the fourth outfielder and excelled. In 394 at-bats Pierre hit an impressive .307 and stole 37 bases for a team that struggled coming out of the gate.
The Nationals should pick up Pierre and transfer him to the same role in Washington. He would give the Nationals an opportunity to rest Morse, Harper and Werth, as well as provide that leadoff spark this team has been lacking.
Pierre was an MVP candidate, a stolen base champion and most importantly, a World Series champion.
Pierre could provide additional veteran leadership to a young team that could use a jolt in the stolen base department.
Sign Rafael Soriano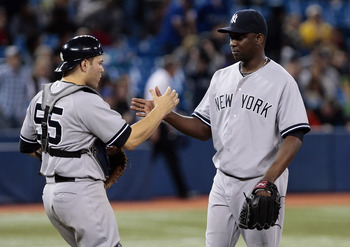 Soriano closing out a game against the Blue Jays Sept. 29.
Abelimages/Getty Images
The Nationals bullpen is stocked with great arms and has a chance to get even better.
Tyler Clippard has given Washington quality innings the last four years, including 32 saves.
Rafael Soriano is coming off an excellent season in the closer's role for the Yankees, and would make a great centerpiece to this Nationals pen.
Soriano saved 45 games and posted a 2.26 ERA for the Yankees in 2012.
Adding him to this Nationals roster would end the closer question and solidify the role.
Front offices around the league will be salivating at a chance to acquire one of this year's stand-out free agent pitchers.
Taking into consideration free agents like Jose Valverde, Joakim Soria and 2012 saves leader Fernando Rodney, Soriano provides the best option in terms of injury proneness, consistency and price.
Keep Reading

Washington Nationals: Like this team?