The 10 Most Controversial Decisions in MMA During 2012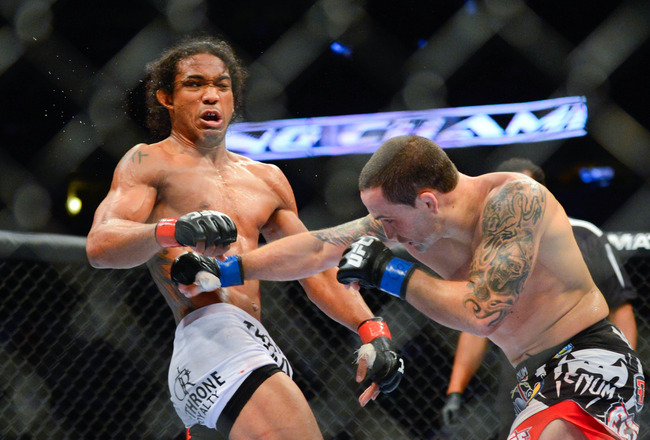 Ron Chenoy-US PRESSWIRE
Last week viewer's of the reality TV show The Ultimate Fighter were witness to the now all-too-familiar sight of UFC president Dana White raging against MMA judges.
With his usual mix of expletives and hyperboles, White castigated the Nevada State Athletic Commission and called for the head of one of the unwitting judges.
That episode was just one of many which have made White's blood boil in 2012, and while the TUF fight between Michael Hill and Matt Secor hasn't made this list, it nevertheless underscores the plethora of "controversial decisions" that could have made the final 10.
Here's the list...
10. Gray Maynard V Clay Guida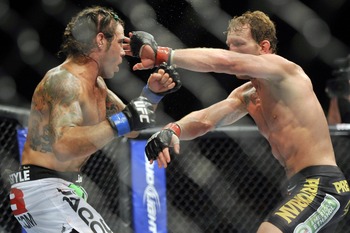 Joe Camporeale-US PRESSWIRE
In the eyes of many fans, this decision went the right way. An aggressive Gray Maynard won a close decision against Clay Guida, who spent most of their fight at UFC on FX in New Jersey running away from his opponent.
However, as far as Guida sees it, he outworked his opponent in almost every round, throwing significantly more strikes.
The fight, ultimately, was not an easy one to score, but few would argue the controversial split decision going Maynard's way.
9. Forrest Griffin V Tito Ortiz
Mark J. Rebilas-US PRESSWIRE
If Tito Ortiz expected a Hollywood sendoff in his final match before retirement at UFC 148 in July, the event was anything but.
Despite being inducted into the UFC Hall of Fame, Ortiz was robbed of his moment, as the judges scored it 29-28 in Griffin's favour.
However, as fans across the MMA world knew it, and as a petulant Griffin also knew it, the match could have easily gone Ortiz's way.
In fact, so convinced was Griffin that he'd lost that he stormed straight out of the arena after the three rounds were over, only to be hauled back by an angry Dana White.
8. Michael Bisping V Chael Sonnen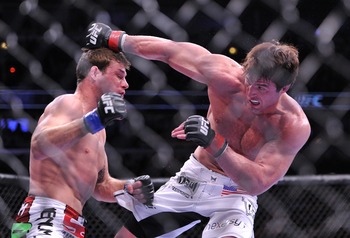 Mike Dinovo-US PRESSWIRE
Things could have been so different had Michael Bisping defeated his middleweight opponent, Chael Sonnen, at UFC on Fox at the beginning of the year.
For one, the world could have been denied the much-hyped rematch between Sonnen and Silva, and for two, Bisping could have been staring at a title shot as we speak.
In the event, the judges scored it in Sonnen's favour.
Most fans, and Bisping himself, would disagree.
The Brit made Sonnen look completely ordinary, out-wrestling him and lighting him up with bombs. But it wasn't enough. The judges scored it 30-27, 29-28 and 29-28 in Sonnen's favour.
How you could possibly give it 30-27 to Sonnen is anyone's guess.
7. Frankie Edgar V Ben Henderson 1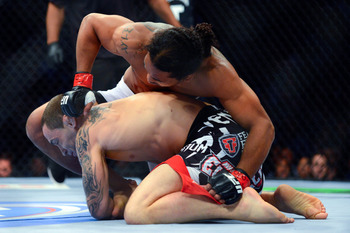 Ron Chenoy-US PRESSWIRE
Frankie Edgar's career has been surrounded in controversy in recent years. The diminutive lightweight has battled hard in almost all his matches, and this year, was on the wrong end of two very controversial decisions.
The first came at UFC 144 in Saitama, Japan, when he failed to defend his belt against Benson Henderson.
The fight was close, in anyone's estimation. Henderson delivered far more damage on his opponent whose face was a bloody mess by the end of it. However, Edgar gave as good as he got, and by the end of it, his boss gave the edge to the champion.
In truth, the decision would have been close whichever way it went, so reluctantly, the UFC agreed to revisit the contest later in the year.
6. Kyle Noke V Charlie Brenneman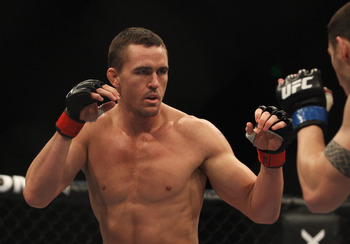 Mark Kolbe/Getty Images
In a list of controversial decisions, the "decisions" of the referee make few appearances, thankfully. Even though, the history of MMA is replete with bad calls and bogus stoppages.
One of the most glaring ones this year was at UFC 152 in September in the fight between Kyle Noke and Charlie Brenneman in Toronto.
The Australian dropped Brenneman early in the first round with a straight left, following it up with a right and a flurry of follow-up punches that left his opponent hunched over at the feet of referee Dan Miragliotta.
However, just as Brenneman was getting up for a takedown, the referee stopped the contest in one of the worst stoppages of the year.
5. Takeya Mizugaki V Chris Cariaso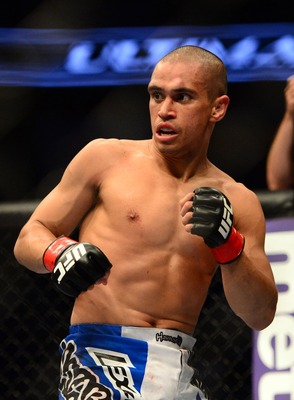 Kyle Terada-US PRESSWIRE
UFC 144 was a night of controversial decisions, none more so than the second fight on the card between Takeya Mizugaki and Chris Cariaso.
In a fight which Mizugaki clearly won, the judges unanimously gave the decision to Cariaso, leaving the home fans in a state of disbelief.
The judges in Japan were actually selected by the UFC because the country itself doesn't have an athletic commission. But the selection made no difference to this horrible decision.
In the end, the UFC magnanimously paid Mizugaki his win money, believing he deserved the victory despite the loss handed to him by the judges.
4. Ian McCall V Demetrious Johnson 1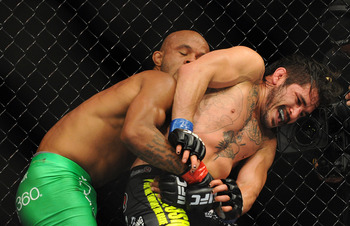 Steve Mitchell-US PRESSWIRE
Less a controversial decision and more a controversial reading of the score cards, the flyweight semifinal between Ian McCall and Demetrious Johnson makes No. 4 in this list.
The fight was extremely close, but when Bruce Buffer read the score, he announced Johnson as the winner by majority decision.
In truth, the three-round match should have been a majority draw, which would have meant, under the special rules of the flyweight tournament, that it would have gone to a fourth "sudden death" round.
That would have made UFC history, but instead, we were denied any more action in this fascinating contest and had to wait three months for a rematch.
3. Tim Sylvia V Andrei Arlovski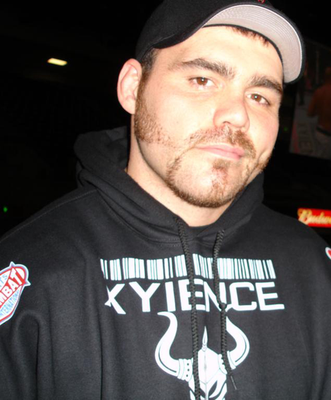 The fresh-faced One FC, based out of Singapore was born in 2011 and promised to bring back all the passion and violence of the long gone Pride promotion.
With its centre of gravity out in the east, the promotion's owners believe that it can tap into a huge market for the sport out there and have, in its handful of events, roped in some major MMA stars.
At One FC: Pride of a Nation in August, the organisers managed to bring together legendary rivals Tim Sylvia and Andrei Arlovski for the fourth time.
The promotion's decision to reintroduce the infamous "soccer kicks" of Pride was already causing controversy after Zorobabel Moreira KO'd a downed Roger Huerta with one of the most horrific finishes we have ever seen.
But horror turned into farce when Sylvia met Arlovski.
Under the promotion's rules, a fighter is only allowed to deliver a kick to the head of a downed opponent on the referees signal.
When the referee stepped in to stop Arlovski's barrage of soccer kicks to a downed Sylvia in their fight, it appeared that the Belarusian had secured victory. However, Arlovski was not rewarded for his aggression, as referee Yuji Shimada had not declared "open attack."
The match was declared a non-contest.
2. Frankie Edgar V Ben Henderson 2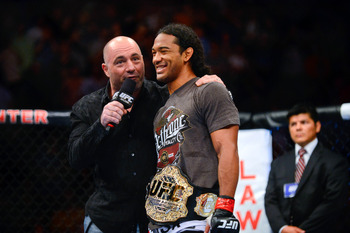 Ron Chenoy-US PRESSWIRE
A match even more controversial than their first encounter, Frankie Edgar's second defeat to Ben Henderson in a year, at UFC 150 in August, left him so frustrated that he's now dropped out of the lightweight division.
What must have been so dispiriting for Edgar is that if he thought he'd won the first match, the second was even more clear-cut.
But the judges didn't see it that way.
A split decision (46-49, 48-47, 48-47) in favour of Henderson was greeted with resounding boos from the crowd.
A result made the more controversial considering how much was at stake.
1. Nick Diaz V Carlos Condit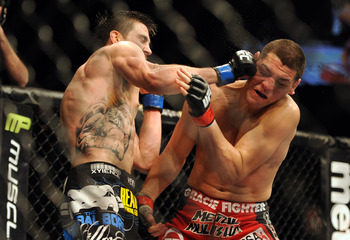 Kelvin Kuo-US PRESSWIRE
MMA fans everywhere have strong opinions on the encounter between Nick Diaz and Carlos Condit at UFC 143 in February.
Some saw nothing more than cowardice in Condit's "stick-and-move" style of fighting. Others saw a tactical masterstroke.
Over five rounds, Condit picked and prodded at Diaz, constantly evading his opponent's attack and drawing him into his game.
That lack of aggression was galling to many fans who saw Diaz having done enough over the course of the match to secure victory.
But again, the judges thought different. The unanimous decision went Condit's way in a fight that has divided opinion more than any other this year.
Keep Reading