Pittsburgh Steelers: 5 Lessons from Win vs. Washington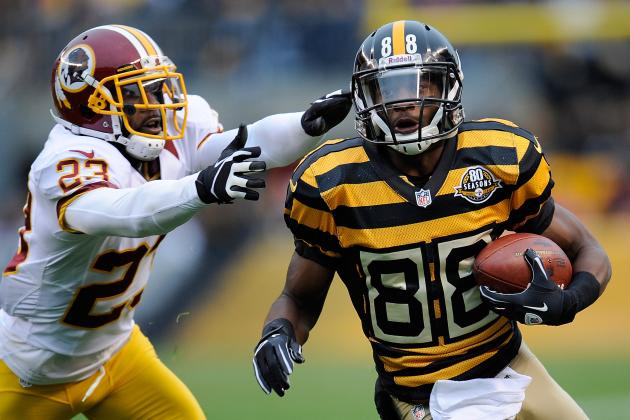 Joe Sargent/Getty Images

I think we can all agree that the uniforms they wore were less than spectacular, but the play of the Pittsburgh Steelers on Sunday against the Washington Redskins was very, very good.
For the first time this season, the Steelers won back-to-back games and are above .500. They also pulled within a game of the idle Ravens, who lead the division.
So, what can we take away from this game as the Steelers prepare to take on the reigning Super Bowl champion New York Giants next week?
Let's take a look.
Begin Slideshow

»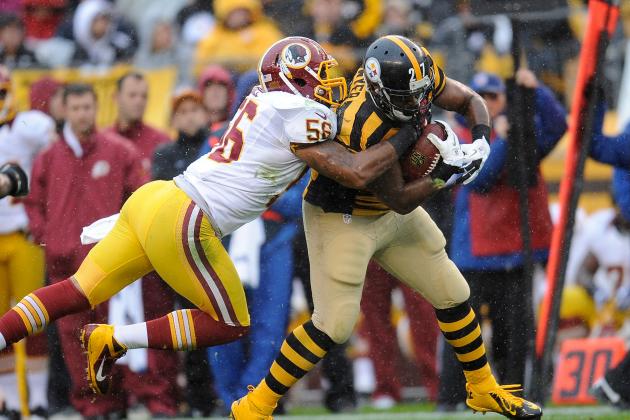 Joe Sargent/Getty Images

Last week I compared third-year RB Jonathan Dwyer to future Hall of Famer Jerome Bettis. The response was swift from the fifteen of you who read my articles.
I was lambasted for making such a comparison.
After his performance yesterday, I would like to think I was ahead of the curve.
Dwyer played really, really well, rushing for 107 yards on 17 carries. If 6.3 yards a carry isn't good enough for you, then I can't help you.
Not only was he efficient, he looked good. His feet are quick. He easily slips out of arm tackles, and he punishes people when they try to bring him down. Sound like someone you know?
He hasn't been a huge threat out of the backfield in the passing game, but maybe they can incorporate that more in the future. He did catch one ball for eight yards yesterday.
It will be interesting to see how he performs against the champs, but they are currently ranked lower in run defense than the Redskins were. (I looked it up twice, just to be sure.)
Dwyer has been the workhorse of this running game though, and he needs to keep getting the ball, even when Mendenhall returns.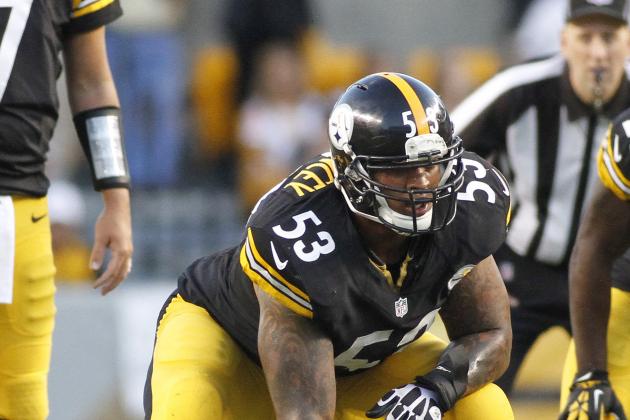 Justin K. Aller/Getty Images

The offensive line is really starting to gel.
Against the Redskins' ninth-ranked rush defense, which was allowing just over 92 yards per game, the Steelers ran for 140 yards.
The Redskins went into yesterday's game as the worst pass defense in the NFL, but they had 14 sacks in seven games. They were unable to sack Ben Roethlisberger. That was the second time in four games that Ben wasn't sacked.
All of this is a testament to how well the line is playing now. The return of center Maurkice Pouncey, and the addition of rookie Mike Adams filling in for the injured Marcus Gilbert at right tackle, seem to have invigorated the line.
It is a pleasure to see Ben not running for his life, that's for sure. He knows how to help his line by sliding away from pressure, and even if someone gets a hand on him, he is big enough to slip away and extend the play.
As a Steelers fan, it is wonderful to see the line performing in a way that is consistent with what we have come to expect.
They will be tested next week for sure, however, against Osi Umenyiora, Jason Pierre-Paul and the rest of that Giants D-line.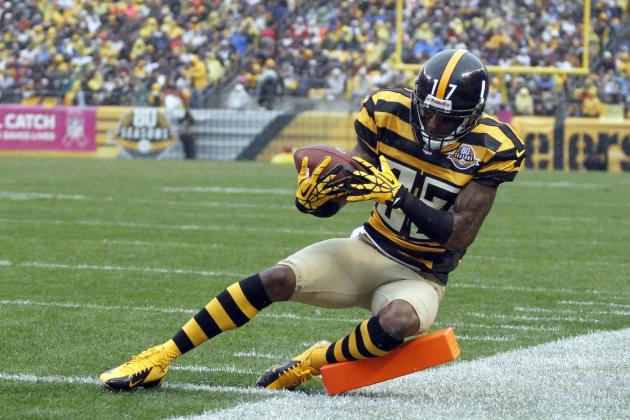 Justin K. Aller/Getty Images

Last week, WR Mike Wallace seemed unable to catch a ball. It was reminiscent of that scene in "Necessary Roughness" when Robert Loggia's character screams, "Don't throw it to stone hands!"
Yesterday, Wallace redeemed himself nicely by hauling in seven catches for 62 yards.
What is disturbing about that performance, however, is that Wallace is the Steelers deep threat guy. The fact that one of the fastest men in the NFL is only averaging a paltry 8.9 yards per catch is a bad sign. It doesn't get any better if you look at his season numbers. Four times this year, Wallace has been held to under 9.5 yards per catch in games. He should be taking the tops off defenses. He is not a possession receiver.
You have to wonder if Roethlisberger's comments about Todd Haley's offensive play-calling are true.
That being said, you can't argue that the offense is clicking, and seeing Wallace return to form after his miserable performance last week was refreshing.
As for the rest of the receivers, TE Heath Miller continues to quietly make his case for the Pro Bowl. He added four catches for 46 yards and a TD yesterday, giving him six scores in seven games.
Antonio Brown and Emmanuel Sanders both had big catches at critical times and continue to perform well.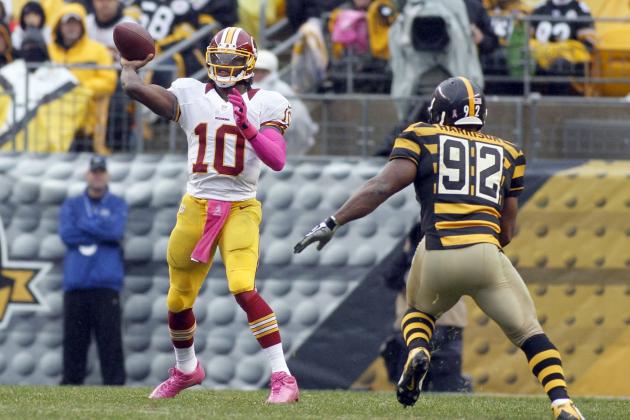 Justin K. Aller/Getty Images

It was unusual not to see anything really exotic out of the Steelers in terms of defensive schemes against a rookie QB. They relied on their base 3-4 for most of the game and it was effective.
Of course, almost any defense plays better when the offense is virtually unstoppable.
The Steelers scored on their first four possessions, putting the Redskins in a hole they were unable to dig out of.
It also seemed to shrink the Redskins' playbook, forcing them to throw the ball more and rely on their potent running attack less, early in the game.
Robert Griffin III ran the ball only six times for eight yards yesterday. Seven of those yards came on a single run. That's three fewer run attempts than he averages, and 58 rushing yards less than his season average per game.
The league's most accurate passer also had a terrible day throwing the ball. Going into yesterday's game, Griffin was completing more than 70 percent of his passes. Yesterday, he was under 50 percent (16 of 34). It was the first time Griffin was under 50 percent passing.
A lot of that, if not most of it, can be blamed on his receivers not being able to catch (9 drops), but the Steelers did get in his face a few times and played some pretty good defense in the secondary. S Ryan Clark led the Steelers with seven tackles. CB Keenan Lewis and S Will Allen also played very, very well.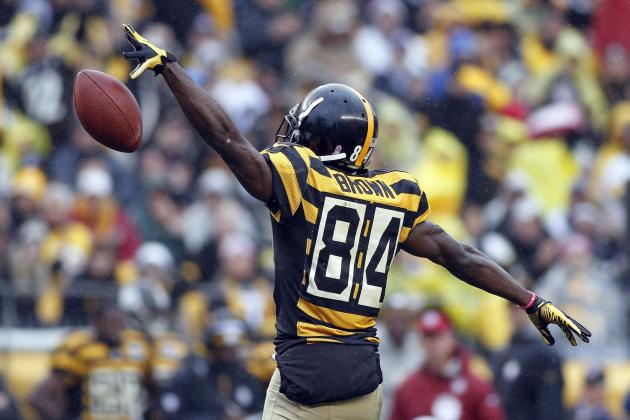 Justin K. Aller/Getty Images

Head coach Mike Tomlin is probably starting to see penalty flags in his nightmares.
To be fair, the Steelers only had three penalties for 20 yards yesterday, but one of those eliminated a 78-touchdown by Antonio Brown on a punt return.
Good teams do not hurt themselves with untimely or stupid penalties, and we have seen far too much of these kinds of things from the Steelers this year.
While they have won more than they have lost, you can make a strong case that if not for the multitude of penalties against Oakland and Tennessee, the Steelers could very well be one game up on the Ravens instead of one game back.
The Steelers are trending in the right direction. They are averaging seven penalties a game for the season—only four per game over the last three games—but they have got to stop.
Need proof that penalties are important? Here it is:
The Steelers currently rank 25th in penalties per game. Of the seven teams that are worse, only two have winning records: The Bears and the Ravens. (And we all know the refs hate the Ravens, right, Baltimore?)
It's already hurt the Steelers in two games they should have won. They need to get this addressed immediately.