BCS Standings: Power Ranking the Most Difficult Remaining Schedules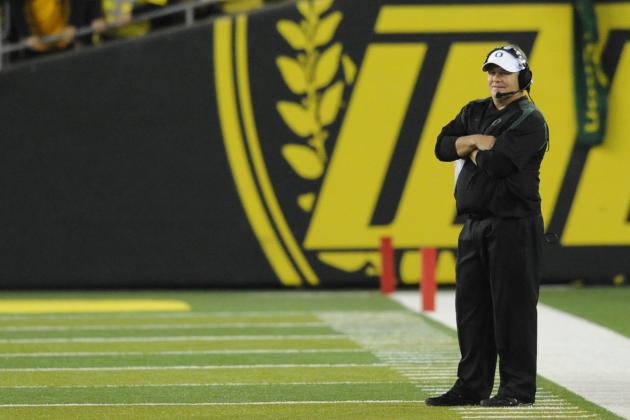 Steve Dykes/Getty Images

The latest BCS rankings have been released, as we are now finished with nine weeks of the college football season. There were many upsets that took place last weekend, so much of the poll looks a little different than it did when the BCS rankings were first released a couple of weeks ago.
If your team is currently ranked inside the Top 15 of the poll, there is a good chance you are feeling confident about how the season is going. However, with a little over a month of the regular season left, this is about the time when the schedules begin to pick up for some of the contenders.
This is when teams make that final push towards a BCS bowl and very few squads are able to survive the increase in competition.
With only a few weeks left before conference championships, here are some of the toughest schedules remaining for the BCS Top 25 clubs.
Begin Slideshow

»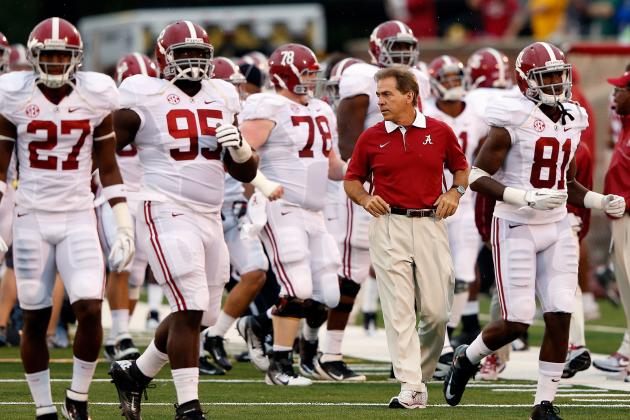 Jamie Squire/Getty Images

WEEK 10 BCS STANDINGS
1. Alabama
2. Kansas State


3. Notre Dame


4. Oregon


5. LSU


6. Georgia


7. Florida


8. South Carolina


9. Florida State


10. Louisville


11. Oregon State


12. Oklahoma


13. Clemson


14. Stanford


15. Mississippi State


16. Texas A&M


17. USC


18. Texas Tech


19. Boise State


20. Nebraska


21. West Virginia


22. Arizona


23. Texas


24. Oklahoma State


25. Louisiana Tech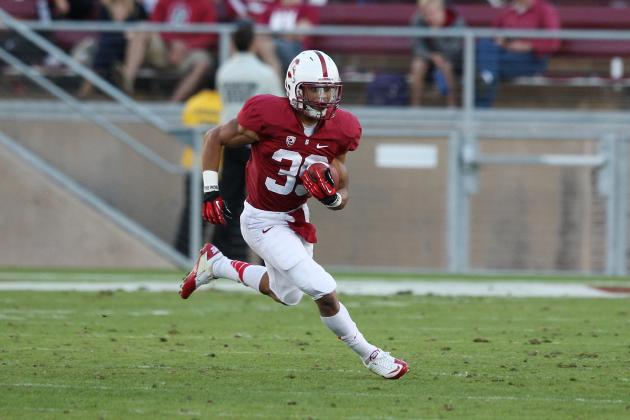 Tony Medina/Getty Images

Remaining Schedule: at Colorado, vs. Oregon State, at Oregon and at UCLA
Stanford has been a competitive team without Andrew Luck, but the next month will show if this program can truly make a run towards a quality bowl game. The game against Colorado is a cakewalk, but back-to-back games against two ranked Oregon clubs won't be. The Cardinal has lost nine of the last 10 meetings against the Ducks, including the last two by a combined 44 points.
A team such as UCLA should also not be slept on, as the Bruins have gotten back on their feet, winning three of the last four games.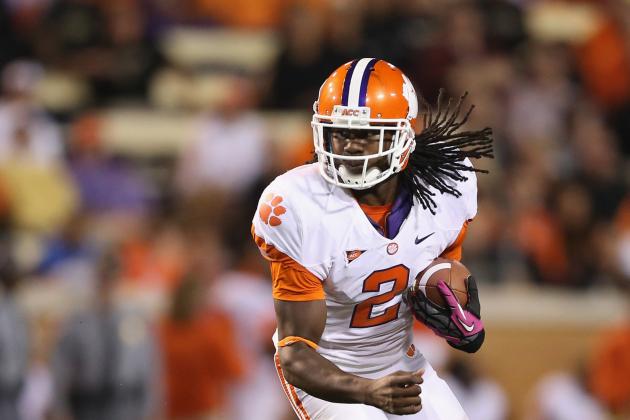 Streeter Lecka/Getty Images

Remaining Schedule: at Duke, vs. Maryland, vs. North Carolina State and vs. South Carolina
Clemson could easily run the table the rest of the way or this schedule could prove to be difficult and the Tigers could run into a few hiccups. Duke has shown to have one of its more competitive teams in the history of the program, winning games against Virginia and North Carolina. North Carolina State was able to upset Florida State a few weeks ago, while South Carolina is a defensive team that is one of the few that can slow down this offensive juggernaut.
This schedule may not appear as hard as some of the rest we will see, but I see four trap games, which makes things a little tricky the rest of the way for Clemson.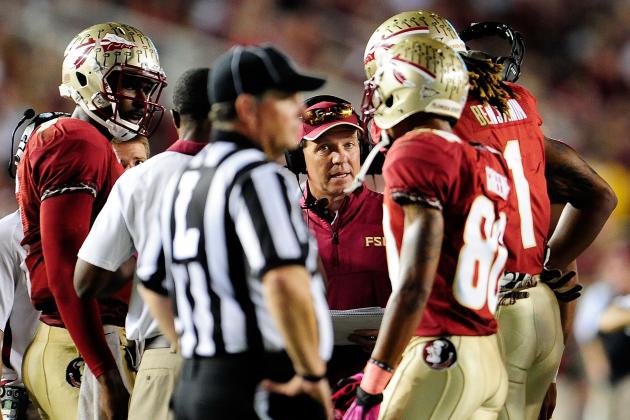 Stacy Revere/Getty Images

Remaining Schedule: at Virginia Tech, at Maryland and vs. Florida
Say what you want about Virginia Tech, but winning in Lane Stadium is one of the more difficult things to do in all of college football. The game will take place on a Thursday night, so you know the crowd will be rocking, making things difficult for this Seminoles club. And then there is the Florida rivalry, which is usually always highly competitive and will be a matchup that likely has BCS implications on the line.
Florida State has two tough games remaining and it doesn't help that this is a team that has shown us two different sides all year long.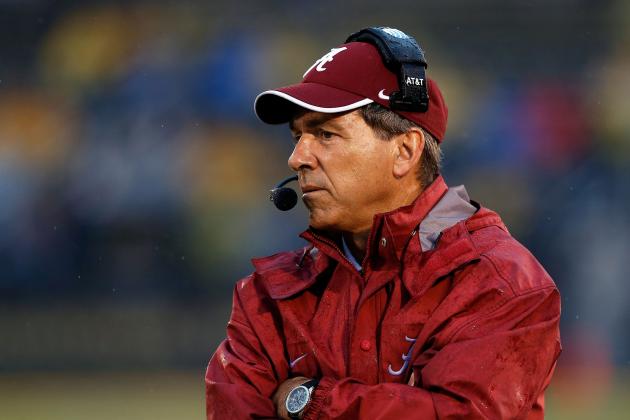 Jamie Squire/Getty Images

Remaining Schedule: at LSU, vs. Texas A&M, vs. Western Carolina and vs. Auburn
The LSU-Alabama matchup goes without saying, as the game will determine who comes out of the SEC West this season and who will likely represent the conference in the national championship. Texas A&M is also a team that could give this Crimson Tide team a run, as the Aggies have shown they won't go down quietly against top-notch competition.
And I know Auburn is a complete joke this season, but it is still one of the most heated rivalries in the sport and has been decided by less than 14 points in seven of the last nine meetings.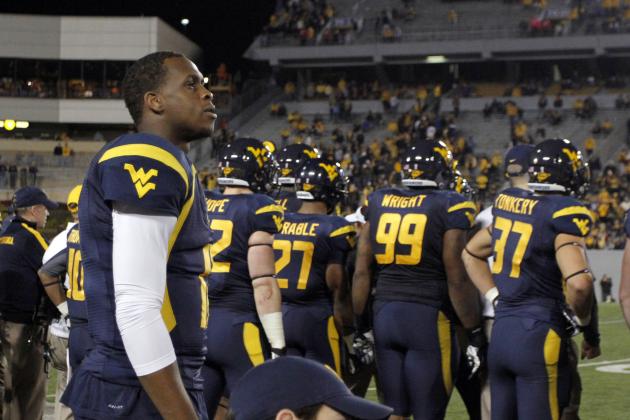 Justin K. Aller/Getty Images

Remaining Schedule: vs. TCU, at Oklahoma State, vs. Oklahoma, at Iowa State and vs. Kansas
West Virginia has lost two games in a row and that losing streak could be extended if the Mountaineers aren't careful. TCU is a defensive team that could give this club many issues the way Texas Tech and Kansas State were able to do. Oklahoma State is no joke offensively, and we all know what type of team Oklahoma can be when the Sooners actually want to get off the bus. You also can't overlook a trip to Iowa State, a team that has quickly built a reputation of knocking off ranked teams.
West Virginia is starting to show a few weaknesses and that can't be good with the remaining schedule ahead.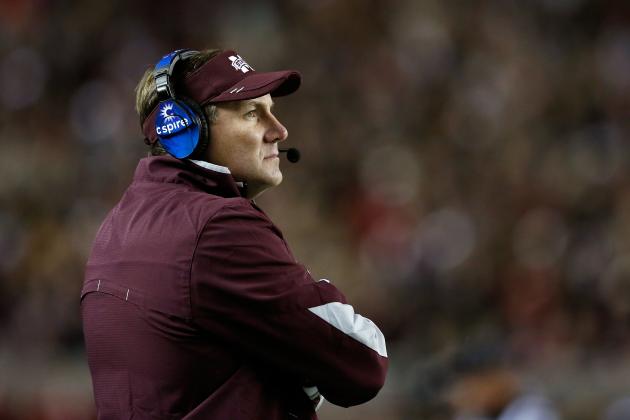 Kevin C. Cox/Getty Images

Remaining Schedule: vs. Texas A&M, at LSU, vs. Arkansas and at Ole Miss
A trip to Death Valley is the matchup that stands out when looking at this schedule, but a game against the Aggies is no walk in the park, as Texas A&M has shown many times this season. You also can't push Arkansas to the side, as the team is still talented and has begun to show signs of life, despite its laughable 3-5 overall record. Ole Miss has also been surprisingly competitive, taking many teams down to the wire and looking like it will become bowl eligible for the first time since 2009.
This schedule shows that it is never an easy week when you play in the SEC.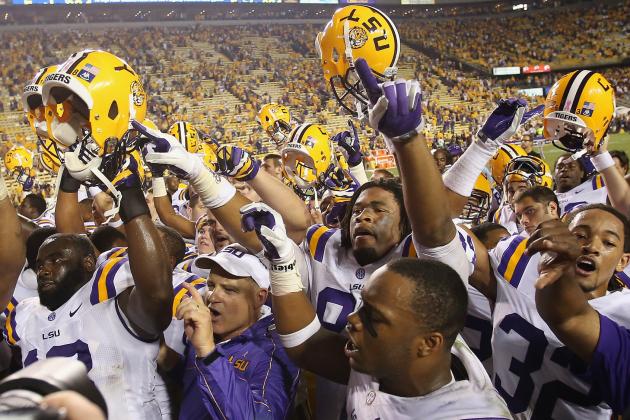 Ronald Martinez/Getty Images

Remaining Schedule: vs. Alabama, vs. Mississippi State, vs. Ole Miss and at Arkansas
Similar to what was said in the last slide, as you simply can't look past teams like Ole Miss and Arkansas, especially with the end of the year matchup taking place at D.W.R. Razorback Stadium. But the tough part of the schedule is the first two games against Alabama and Mississippi State, two tough defensive ranked teams that will make LSU fight if it wants to reach another BCS bowl game.
The Tigers have looked shaky all season long, but the next few games will show us just how much of a contender head coach Les Miles has this season.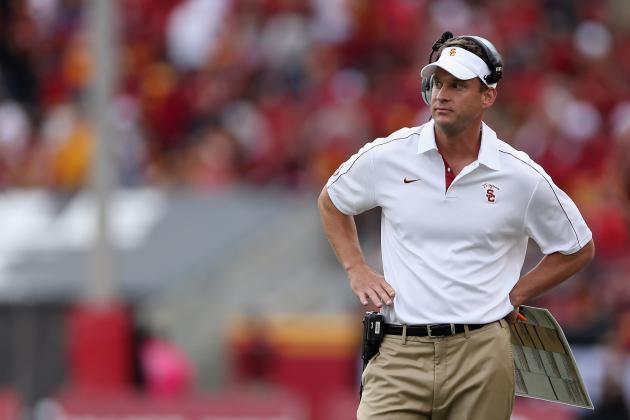 Jeff Gross/Getty Images

Remaining Schedule: vs. Oregon, vs. Arizona State, at UCLA and vs. Notre Dame
Although USC will have the privilege of playing two ranked teams at home, those matchups against Oregon and Notre Dame are looking harder than they did before the season started. With the Trojans struggling on both sides of the ball, the Ducks and Irish could knock this program out of the BCS bowl conversation.
But even teams such as Arizona State and UCLA have earned their stripes in the Pac-12 this season, hanging in there with some of the conference's best and improving as the weeks go by. If USC struggles to put teams away such as Syracuse and loses to Arizona, the next month will be brutal for this program.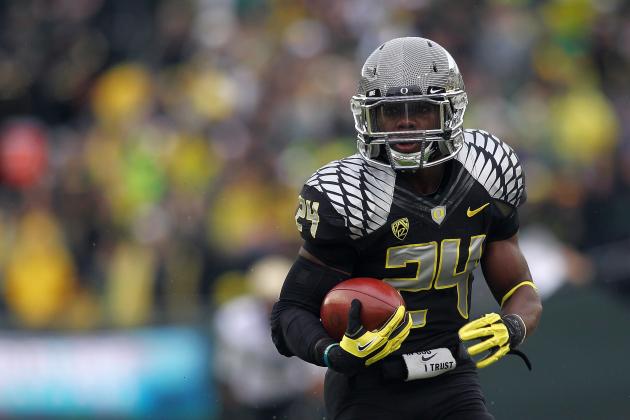 Jonathan Ferrey/Getty Images

Remaining Schedule: at USC, at California, vs. Stanford and at Oregon State
Not only are three of the final four games remaining on the road, but three of the matchups take place against ranked teams. Despite USC not living up to expectations this year, the Trojans should still be considered one of the better teams in this conference and a BCS bowl contender. Cal can put up points in a hurry, Oregon State is a defensive powerhouse and Stanford has shown that it isn't going anywhere anytime soon.
Oregon may appear to be head and shoulders better than the rest of the Pac-12, but that doesn't mean the remaining teams stand no chance whatsoever.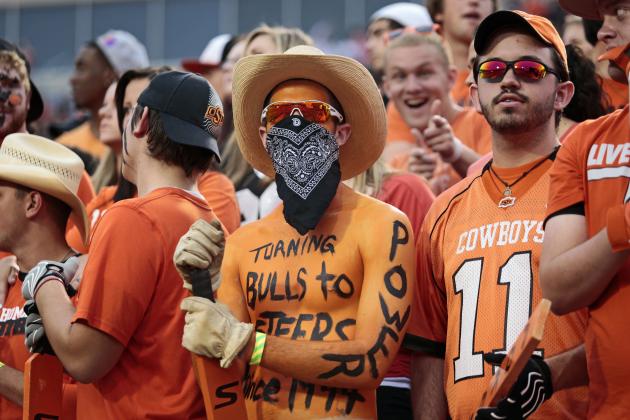 Brett Deering/Getty Images

Remaining Schedule: at Kansas State, vs. West Virginia, vs. Texas Tech, at Oklahoma and at Baylor
You can't find one game in that schedule that Oklahoma State can feel confident going into. The next four games are against ranked teams, with two of the four taking place on the road. That includes playing the No. 2 ranked team in Kansas State, and having to travel to Oklahoma, a program the Cowboys have lost to eight of the last nine times.
While West Virginia and Texas Tech are terrific on one side of the ball, Baylor isn't an easy victory either, as the Bears are averaging over 40 points per contest.