Counting Down the NFL's Top 15 Best Players, Midseason Edition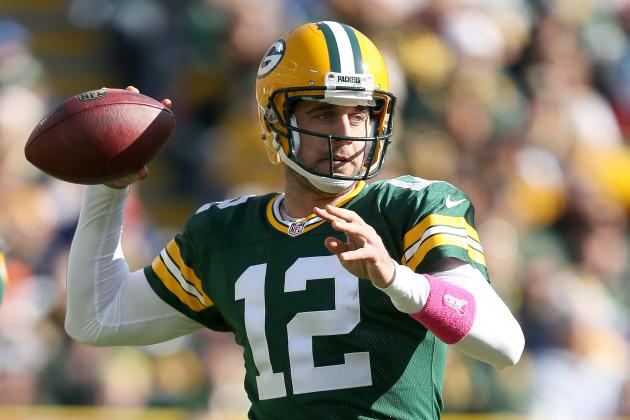 Andy Lyons/Getty Images

The 2012 NFL season is almost eight weeks in the books, and while fans are content to spend time analyzing and ranking teams, it's time to give credit to the players who have started strong and made an impact.
No matter their team's record, the players on this list are bright spots on their respective ballclubs and deserve props for their work this season.
From No. 15 all the way down to the top player, keep these NFLers in mind when MVP balloting comes around.
Begin Slideshow

»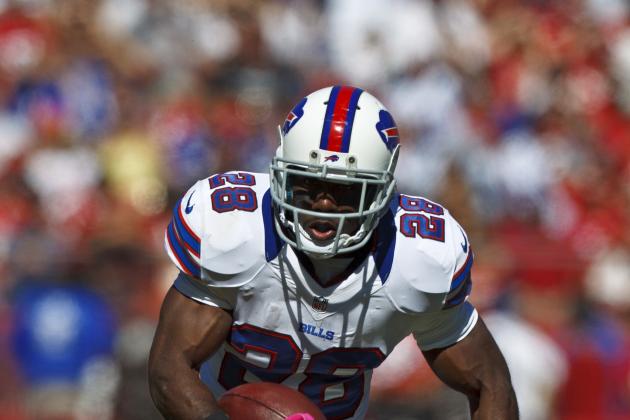 Jason O. Watson/Getty Images

2012 stats: 72 carries, 523 yards, four touchdowns

On pace for: 165 carries, 1,195 yards, nine touchdowns

Analysis: Whether he's sharing carries or has the backfield all to himself, Buffalo Bills rusher C.J. Spiller makes huge plays on an every-down basis.
When Spiller has the ball in his hands, he's nearly impossible to bring down. This running back has elite elusiveness, and he deserves recognition for the year he's having, as he's on pace for almost 1,200 yards and 10 touchdowns on the ground.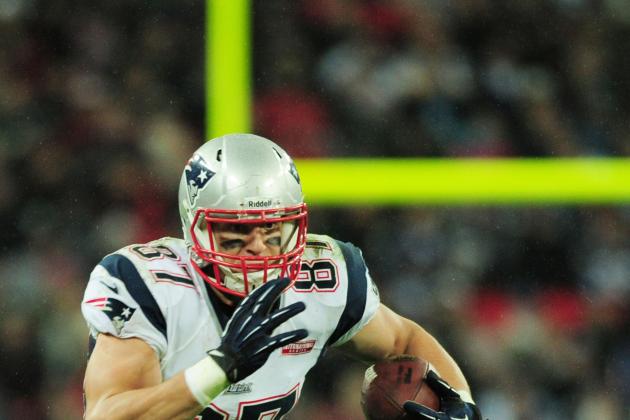 Jamie McDonald/Getty Images

2012 stats: 43 catches, 580 yards, seven touchdowns

On pace for: 86 catches, 1,160 yards, 14 touchdowns
Analysis: After a slow start, Rob Gronkowski has turned it on in the last two weeks and became a touchdown-scoring machine. His two-touchdown performance against the New York Jets set the stage for another two-touchdown day in London.
When Gronk is clicking on all cylinders, so is the Patriots offense; the "Brady Bunch" scored 45 points on the back of a big day from its charismatic tight end.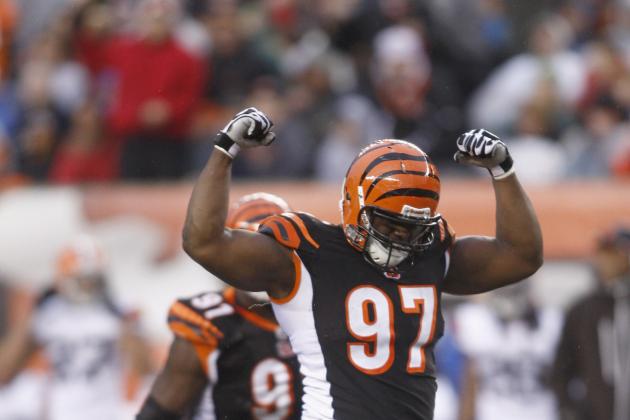 John Grieshop/Getty Images

The best interior defensive lineman to this point (3-4 defensive ends excluded), Geno Atkins has provided the Cincinnati Bengals with a very good run-stopping defensive tackle in a tough AFC North.
Atkins has done his best work rushing the passer, though, tallying 27 total pressures in just seven games thus far this season.
With seven sacks to his credit this season, the young lineman has come into his own and certainly deserves a spot on this list.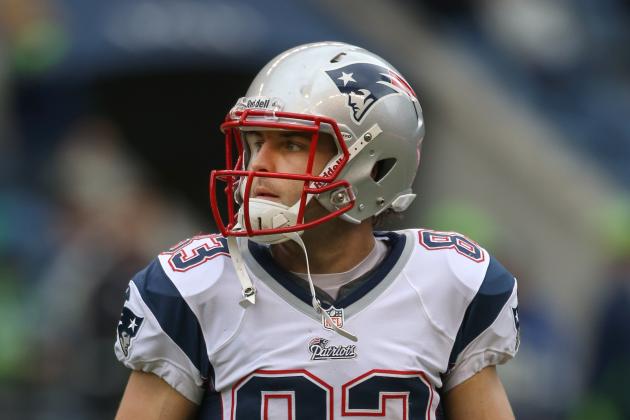 Otto Greule Jr/Getty Images

2012 stats: 60 catches, 736 yards, two touchdowns

On pace for: 120 catches, 1,472 yards, four touchdowns
Analysis: Even on an off day for Wes Welker, the receiver managed to make catches and get yards against a good St. Louis Rams secondary.
Like teammate Rob Gronkowski, Welker didn't have a strong start to the season. He's turned it on lately, though, and looks like a man on a mission.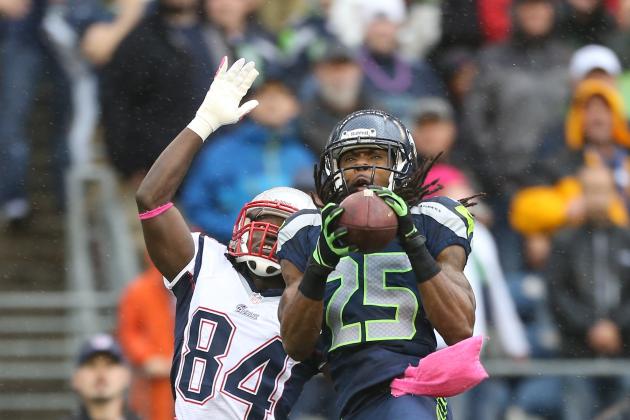 Otto Greule Jr/Getty Images

While I'm not terribly impressed with how Richard Sherman has run his mouth these last few weeks, the cornerback has backed up his talk and is looking like a premier player in the league.
Sherman is the only defensive back on this list. With Darrelle Revis and Lardarius Webb both out for the season, it's this Seattle cornerback's time to solidify his elite status.
Again, if he'd cut the off-field nonsense and keep playing the way he's been playing, he could make a case as a top-10 player.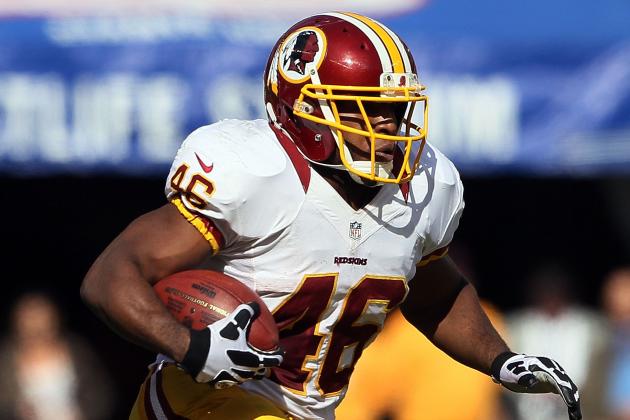 Alex Trautwig/Getty Images

2012 stats: 151 carries, 717 yards, five touchdowns

On pace for: 302 carries, 1,434 yards, 10 touchdowns
Analysis: The true secret behind the "Robert Griffin III Show," Alfred Morris has been one of the best running backs in the league and reminds me of Arian Foster early on.
This rusher has elite ball-carrier vision early in his career and is so underrated, with all of the attention paid to the Redskins quarterback.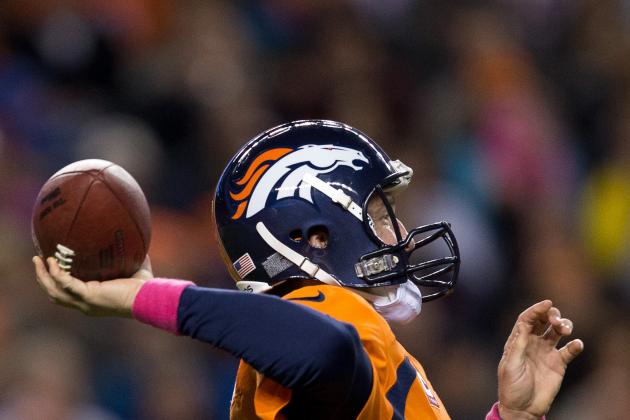 Justin Edmonds/Getty Images

2012 stats: 176-of-257 (68.5 percent), 2,113 yards, 17 touchdowns, four interceptions

On pace for: 402-of-587 (68.5 percent), 4,830 yards, 39 touchdowns, nine interceptions
Analysis: I'm so intrigued by the way Peyton Manning continues to have success at the NFL level when it's clear that his once-great arm is all but gone.
Manning has one of the sharpest minds in the NFL and has figured out every week how to beat teams with a barrage of short throws, the occasional deep shot and a strong running game.
He needs to be an offensive coordinator when he retires.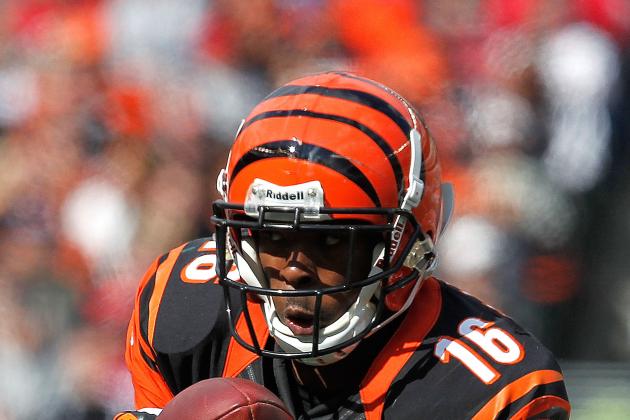 Tyler Barrick/Getty Images

2012 stats: 44 catches, 636 yards, seven touchdowns
On pace for: 101 catches, 1,454 yards, 16 touchdowns
Analysis: A.J. Green's bad game against the Pittsburgh Steelers was only proof that he is the entire Cincinnati Bengals offense.
Green typically saw double (and sometimes triple) coverage as Pittsburgh defensive coordinator Dick LeBeau attempted to neutralize this former Georgia standout.
The wideout still managed to find his way into the end zone, and it seems as though he's about to pass Calvin Johnson as the best pass-catcher in the NFL.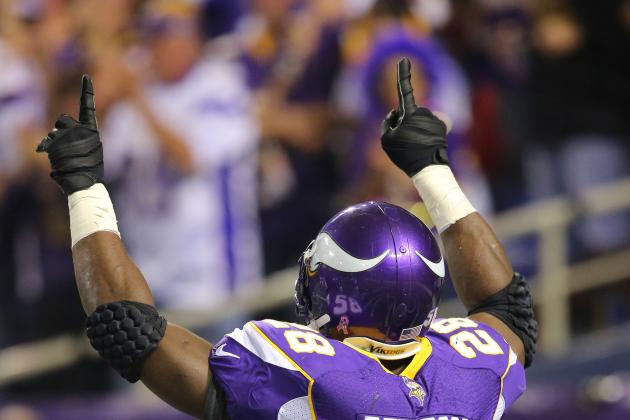 Adam Bettcher/Getty Images

2012 stats: 151 carries, 775 yards, four touchdowns
On pace for: 302 carries, 1,550 yards, eight touchdowns
Analysis: Coming off of an ACL tear, Adrian Peterson has been the most dominant rusher in the NFL and is carrying the ball at an impressive rate of more than five yards per carry.
Peterson has been a key part of the Vikings' strong start to the 2012 season and has dealt with an increased workload very well.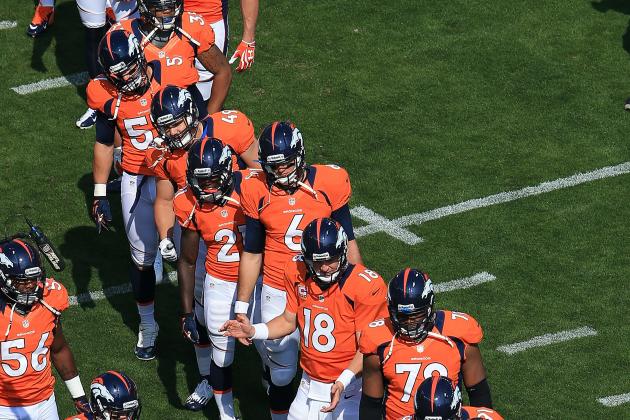 Doug Pensinger/Getty Images

As much as Peyton Manning deserves a lot of credit for the Denver Broncos, Von Miller has been the best linebacker in the NFL to this point and has had a surprisingly dominant impact as a pass-rusher in a 4-3 scheme.
John Elway has done a phenomenal job bringing in the pieces to make this a winning ballclub, and Miller is the best find thus far.
The outside linebacker has six sacks on the season, which is truly remarkable considering his position isn't even typically a pass-rushing spot.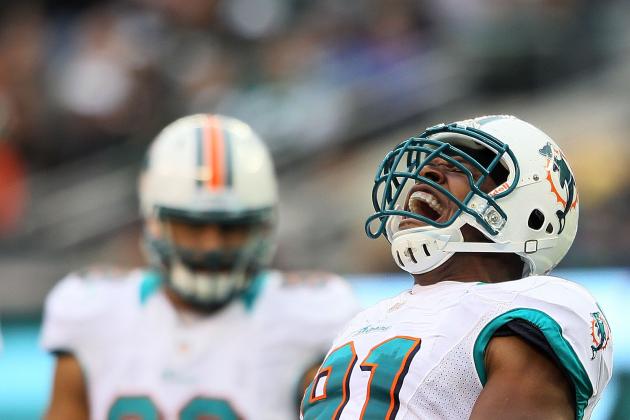 Alex Trautwig/Getty Images

Another fantastic pass-rusher, Cameron Wake's prowess on defense has kept the Miami Dolphins in the hunt at 4-3 on the season.
With a rookie quarterback and no wide receivers, Miami was supposed to struggle to win even five or six games. Now, with Wake playing the way he's been playing, the Dolphins should have no issue competing.
This Dolphin is Pro Football Focus' highest-rated 4-3 defensive end by a large margin and is building off of a strong 2011 with 7.5 sacks to date.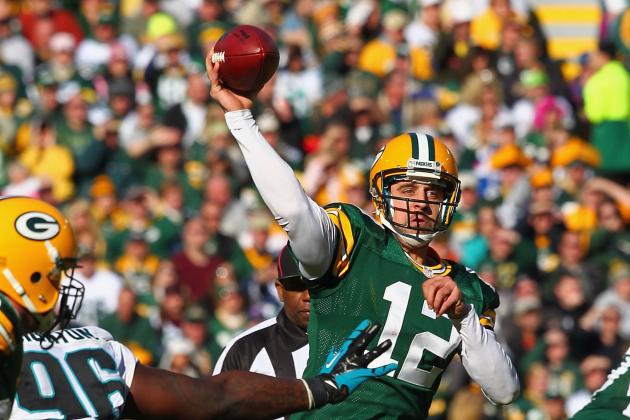 Dilip Vishwanat/Getty Images

2012 stats: 205-of-297 (69.0 percent), 2,165 yards, 21 touchdowns, four interceptions

On pace for: 410-of-594 (69.0 percent), 4,330 yards, 42 touchdowns, eight interceptions
Analysis: Aaron Rodgers has been up and down this season, but he's got the Green Bay Packers in contention and had a four-game stretch where he was absolutely lights out.
After passing for fewer than 200 yards and three touchdowns in a win over the Jacksonville Jaguars, the quarterback simply needs to regroup and come into Week 9 with a renewed focus on shredding opposing defenses.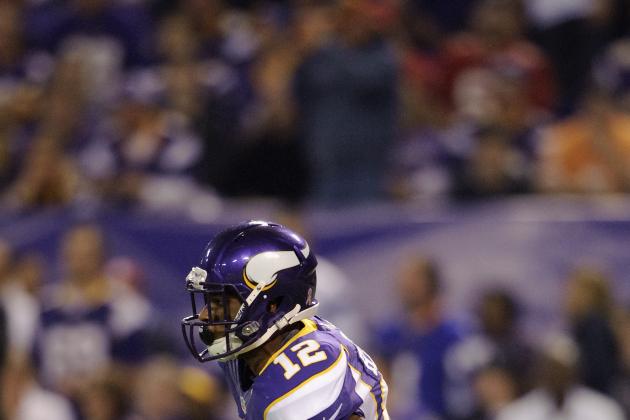 Hannah Foslien/Getty Images

2012 stats: 60 catches, 667 yards, three touchdowns
On pace for: 120 catches, 1,334 yards, six touchdowns
Analysis: Percy Harvin is my surprise pick for the MVP award, considering all he's done for the Minnesota Vikings and young quarterback Christian Ponder this season.
The most explosive playmaker in the NFL, Harvin is similar to C.J. Spiller in that all he needs is the ball and a little bit of space to make a five-yard pass into a long touchdown run.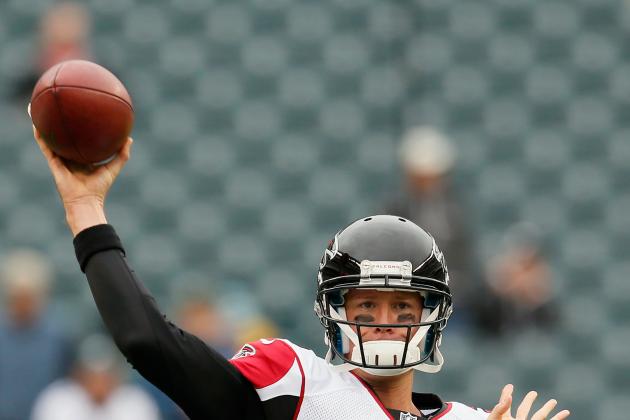 Rob Carr/Getty Images

2012 stats: 182-of-265 (68.7 percent), 2,018 yards, 17 touchdowns, six interceptions
On pace for: 416-of-606 (68.7 percent), 4,613 yards, 39 touchdowns, 14 interceptions
Analysis: Another huge day from quarterback Matt Ryan has the Atlanta Falcons at an impressive 7-0 record to start the season. While Aaron Rodgers has better numbers to date, Ryan has been much more consistent and continues to have the better record.
Ryan and his crew tore up a porous Philadelphia Eagles secondary, and it looks as though Atlanta could easily finish better than 13-3 if its offense keeps clicking the way it has been the first few weeks.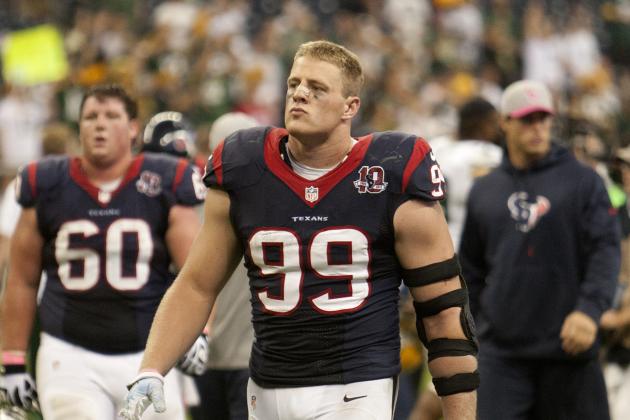 Bob Levey/Getty Images

J.J. Watt is just too good. He's batted down 10 passes, which is six more than the next-best 3-4 defensive end (Calais Campbell has four).
Watt recently bullied the Baltimore Ravens and told Ray Rice that he's eaten burritos bigger than the running back, which didn't factor into his ranking here but was interesting nonetheless.
Past his intriguing comments, Watt is leading the NFL in batted passes, sacks and stops (which are tackles that result in no gain or a tackle for loss). He's been the best player in the NFL.
Follow me on Twitter @EliNachmany.