Breaking Down the Biggest Winners and Losers from the 2012 World Series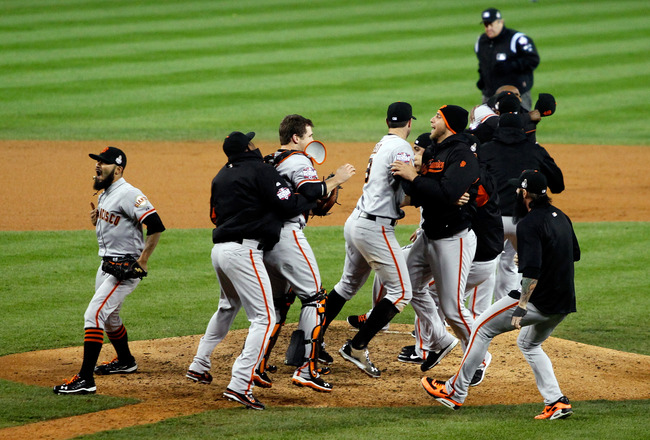 Chris Chambers/Getty Images
As with all things, there are definite winners and losers to consider after the San Francisco Giants swept the Detroit Tigers to win the 2012 World Series Sunday by downing the Tigers 4-3 in extra innings.
With such a one-sided series, though, there just won't be a good mix when it comes down to those we consider to be winners and losers.
The last time we saw a team have a long layoff between the League Championship Series and the World Series was the 2007 Colorado Rockies, who were then promptly swept by the Boston Red Sox in four easy games.
Also like those 2007 Rockies, Detroit was the team that made the most unforced errors, while the Giants carried their momentum forward from their improbable 3-1 comeback against St. Louis in the National League Championship Series all the way to the championship Sunday night.
Here is a look at this World Series' biggest winners and losers.
*Statistics via baseball-reference.com and mlb.com.
Bruce Bochy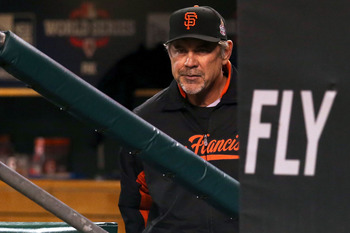 Jonathan Daniel/Getty Images
WINNER
Very little backfired for a manager who now has won two World Series in three years.
Bruce Bochy knew exactly when to pull his starting pitchers and the right matchups out of the bullpen to get Tigers hitters out.
Like a classic puppet master, he pulled all the right strings and easily guided the Giants to the championship after they had to win six elimination games just to make it into the series.
He sent Tim Lincecum to the bullpen and gave Madison Bumgarner a start in Game 2, despite slumping in both previous postseason series.
Understated even by west coast standards, Bochy got into this World Series by being calm, cool and collected. His team responded by sweeping the Tigers.
Jim Leyland
Jonathan Daniel/Getty Images
LOSER
Jim Leyland is a very good manager, but up until Game 4, the Tigers looked worse as each game wore on.
He could not trust his bullpen outside of Phil Coke, then was indecisive in Game 3 on whether to pull Anibal Sanchez early or let him pitch. He ended up leaving Sanchez in for seven innings.
He stuck with Quintin Berry in the lineup at home after a disastrous Game 3 performance that saw Berry ground into a double play with runners in scoring position, then strike out with the bases loaded.
It is fair to say that it looked at times that Leyland and the Tigers never saw what hit them.
If they had played Game 3 as well as they played Game 4, this series might not have ended in a sweep.
Pablo Sandoval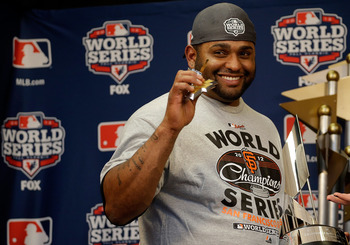 Pool/Getty Images
WINNER
Sandoval made the public leap from "Kung Fu Panda" to historic slugger in this World Series, mostly based on his three-home-run performance in Game 1.
What most observers may not remember, however, was his incredible defense in snaring repeated laser shots headed his direction, or that he hit over .500 for the series, easily earning the MVP award.
This was Sandoval's coming-out party, if you will, and he earned hitting third in the lineup despite only hitting 12 home runs in under 400 at-bats this year.
On a team that should see Buster Posey win the National League MVP, Sandoval's all-around play was absolutely essential in winning this World Series.
Prince Fielder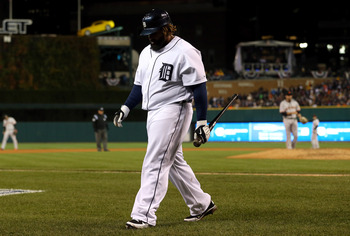 Ezra Shaw/Getty Images
LOSER
Brought in this past offseason to help ensure the Tigers could get back into the World Series, this ended up being a series that Prince Fielder would like to forget.
Prince swung at too many first pitches at times when Giant pitchers were having trouble throwing strikes, and he could not advance runners on base by grounding into double plays or striking out.
Fielder is a very good player, but with eight more years in his contract, he cannot continue to come up small in the playoffs.
He is in Detroit to hit; something he did not do in this Fall Classic.
Tim Lincecum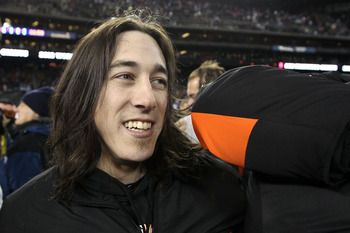 Ezra Shaw/Getty Images
WINNER
Not only did Tim Lincecum publicly accept his demotion from the starting rotation before this postseason, he absolutely flourished in being a long reliever out of the bullpen.
In two appearances, Lincecum shut down the Tigers in 4.2 innings of long relief.
As a starter, "The Freak" struggled with his control this year. As a reliever, he struck out eight in the series and only walked one batter—the only one to reach base out of the 17 he faced.
What the future holds for the two-time NL Cy Young Award winner remains to be seen, but checking his ego at the door and excelling at his new task was another major reason why the Giants are champions.
Jose Valverde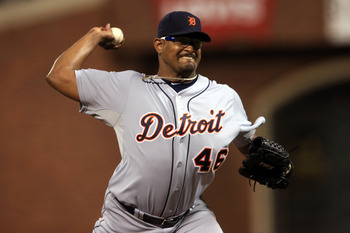 Doug Pensinger/Getty Images
LOSER
Given another chance to work out his pitching problems in Game 1, Jose Valverde may have pitched himself out of the Tigers' closing role in the future.
After that disastrous outing in the opening game of the American League Championship Series, giving up four runs in the ninth in New York against the Yankees, manager Jim Leyland did not use Valverde at all the rest of that series.
In only retiring one batter in Game 1 of the World Series while giving up four hits and two runs, Valverde pretty much guaranteed he would not be used again the rest of this World Series.
Having confidence is essential for a closer—not only with himself but with his manager. After this postseason, one would be hard pressed to say that either one would feel that way.
San Francisco's Starting Pitching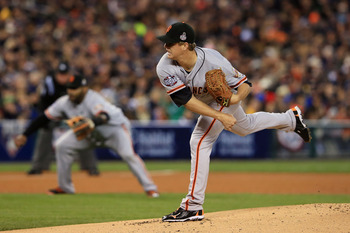 Doug Pensinger/Getty Images
WINNERS
Good things were expected from the Giants' starting pitchers before this series started, and that confidence was repaid with interest.
While Barry Zito had already bounced back from a checkered career with the Giants to earn his way as the Game 1 starter this year, no one outside of the Bay Area expected the strong performance given in Game 2 by Madison Bumgarner.
Bumgarner had an ERA of 11.53 in his first three starts prior to Thursday night's game. Seven scoreless innings later, that number dropped down to 6.00.
With Vogelsong leading the way in Game 3's shutout and Matt Cain holding the Tigers to just five hits in seven innings in Game 4, the Giants got exactly everything they wanted from their four starters despite having very little wiggle room to set up their rotation coming off a seven-game win in the NLCS.
Justin Verlander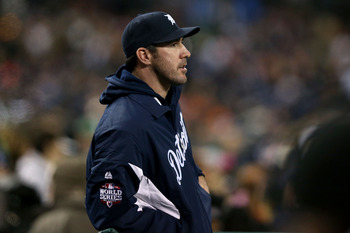 Ezra Shaw/Getty Images
LOSER
With eight days between starts, one would have thought that the all-world Verlander would have come out red-hot against Giants in Game 1.
Instead, he was roughed up for five runs and could not make it past the fourth inning.
Verlander had the chance to set the tone of the series. By the time Game 1 home-plate umpire Gerry Davis was done giving Verlander a tiny strike zone to work with, the Giants had jumped on him for five runs.
In many ways, the team never recovered.
Hunter Pence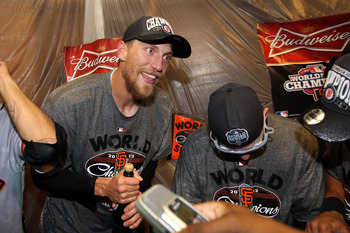 Ezra Shaw/Getty Images
WINNER
Do not let Game 4's three-strikeout performance fool you, as Hunter Pence was a big factor in the Giants' sweep on the field and in the clubhouse.
You rarely ever see a pregame pep talk delivered in the dugout like you would often see on a football sideline, but Pence would give the daily chat in the dugout before the team ran onto the field before the game.
Not even a Giant for a full year, Pence played very well in right field and was also there to try and offer some protection for Buster Posey batting ahead of him.
You could tell just how this team was made up inside by the role he was allowed to have. Not always the best of hitters in this World Series, but he made his hits and actions count.
Detroit's Offense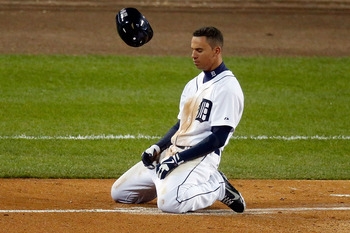 Leon Halip/Getty Images
LOSER
The team that fails to hit with runners in scoring position is going to lose.
In this series, that was Detroit.
In the first three games, the Tigers were 1-for-11 at the plate with runners in scoring position and finished 2-for-12.
They also failed to really work counts and swung way too much.
Yes, the Giant pitchers were very good, but Detroit's hitters made it way too easy.
Keep Reading