Complete Health Status for Every Chicago Bulls Player at Start of 2012-13 Season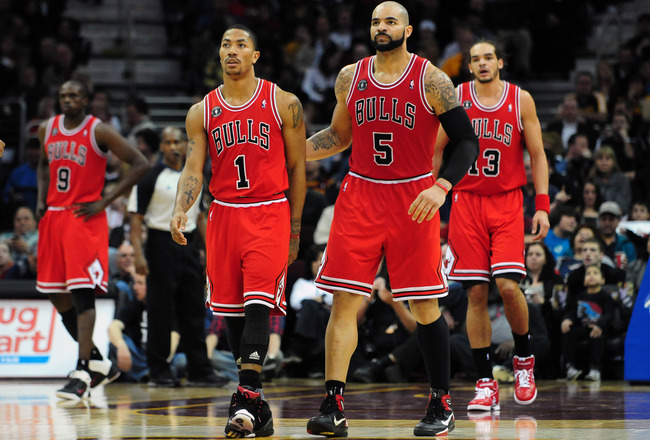 Jason Miller-US PRESSWIRE
It's difficult for a team to find success when the dreaded injury bug takes over.
Several important members of the Chicago Bulls have struggled to stay healthy over the past few years. Both Joakim Noah and Carlos Boozer missed time in 2010-11, and the trio of Derrick Rose, Luol Deng and Richard Hamilton battled with injuries last season.
This slideshow will bring to light the health status of each player on the Bulls' 2012-13 roster. We'll look at all 13 players, even guys who likely won't play much this year like Vladimir Radmanovic and Marquis Teague.
Let's begin.
Center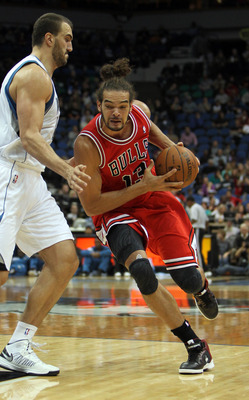 Brace Hemmelgarn-US PRESSWIRE
Joakim Noah
After injuring his ankle in last season's playoffs, Joakim Noah was denied a chance to represent France in the 2012 Summer Olympics.
This preseason, Noah didn't appear to be bothered by the ankle, which is absolutely great news for Bulls fans.
If he can stay far away from the injured list this year, don't be surprised at all to see him make his first career All-Star team.
Nazr Mohammed
Chicago native and Bulls newcomer Nazr Mohammed is currently healthy.
His hometown squad is going to need him to remain healthy and attempt to replace the departed Omer Asik, who is now with the Houston Rockets.
Power Forward
Jerry Schultheiss-US PRESSWIRE
Carlos Boozer
Carlos Boozer, who has had a rather injury-plagued career, missed 23 games during his first season as a Bull (2010-11).
However, he did play in all 66 games last season.
Boozer is healthy at the present time and looks to have a second consecutive injury-free campaign.
Taj Gibson
Unlike Boozer, Taj Gibson hasn't had any trouble fighting off the injury bug. In fact, the USC product has only missed a total of five games in his career.
Gibson, the leader of the Bulls' "Bench Mob 2.0," is currently healthy and primed for a breakout 2012-13 season.

Vladimir Radmanovic
Vladimir Radmanovic is healthy at the moment. Let's see if he can make it through the entire season without spending time on the injured list.
Small Forward
David Banks-US PRESSWIRE
Luol Deng
Tearing a ligament in his wrist last season, Luol Deng decided to forgo surgery in order to participate in the Summer Olympics.
With that said, Deng probably isn't 100 percent healthy right now and could end up experiencing problems with the wrist later on.
The Bulls need their All-Star forward to avoid any time on the injured list. With Derrick Rose beginning the season on the shelf, it's up to Deng to lead Chicago in 2012-13.
Jimmy Butler
Second-year pro Jimmy Butler isn't associated with any injuries at this time. The former Marquette star is expected to play quite a bit of minutes this season after rarely seeing the court as a rookie.

Shooting Guard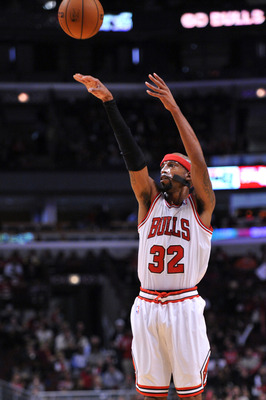 Rob Grabowski-US PRESSWIRE
Richard Hamilton
Richard Hamilton has been hampered with injuries over the past few years. He missed a whopping 38 games in 2011-12, his first season in the Windy City.
Luckily for Chicago fans, Hamilton has kicked this season off healthy. Will 2012-13 be the first season in a long time that he appears in at least 70 ball games?
Marco Belinelli
Bulls three-point specialist Marco Belinelli played in all 66 games last season and missed just two games the season before.
Belinelli is healthy so far this season as well. He could end up starting a bunch of games if the oft-injured Hamilton goes down.
Point Guard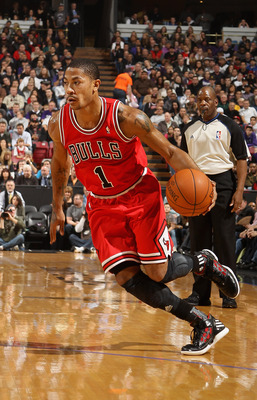 Ezra Shaw/Getty Images
Derrick Rose
Unless you've been living under a rock—a really huge rock—you're aware that Derrick Rose suffered an ACL injury during the 2012 postseason.
The franchise point guard is expected to be out until at least the All-Star break. And there's a possibility that he'll miss the entire 2012-13 campaign as he attempts to recover from that devastating knee injury.
Kirk Hinrich
Kirk Hinrich, now in his second stint with the Bulls, will start at the point while Rose is out.
Although he missed two preseason games due to a thumb injury and a strained right groin, "Captain Kirk" did play in the team's regular-season opener versus Sacramento.
Can he stay healthy all season and hold down the fort until D-Rose gets back?
Nate Robinson
There really isn't anything to report concerning the energetic Nate Robinson. He's coming off a healthy preseason with the Bulls, appearing in all seven games.
The team is going to need Robinson to stay off the injured list this year since he serves as a spark plug off the bench.
Marquis Teague
Selected by the Bulls in the first round of the 2012 draft, Marquis Teague is the lone rookie on the roster.
And like Robinson, Teague isn't surrounded by any health issues at this time.
Keep Reading

Chicago Bulls: Like this team?