5 Washington Capitals Who Better Be Training Like Crazy During Lockout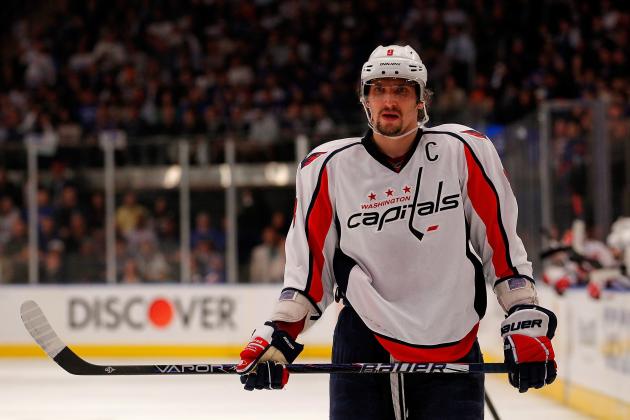 Paul Bereswill/Getty Images
Alexander Ovechkin might be one of those players that needs to train like crazy during the lockout.
With all games through Nov. 30 cancelled, the NHL lockout will continue to cut into the regular season. Even with the work stoppage, the Washington Capitals players need to continue building on their 2012 Stanley Cup Playoffs showing.
Alexander Ovechkin and his crew need to continue practicing and developing as players. That is a key first step in moving forward as a team.
As the NHL continues to cancel games, there are plenty of different paths the players can take. Some have elected to head overseas to play in European leagues, others have been assigned to the Hershey Bears and some are just sitting tight until the lockout ends.
Despite the lockout, every player should continue to work on his game. Here are five Capitals players who better be training like crazy during the lockout.
Begin Slideshow

»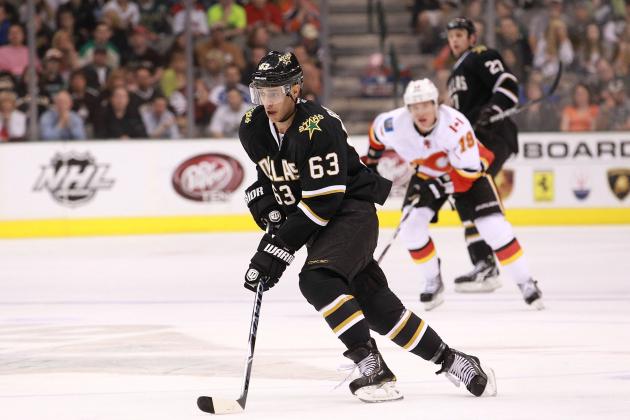 Ronald Martinez/Getty Images
The Caps acquired Mike Ribeiro from the Dallas Stars during the offseason.
Mike Ribeiro has a lot on his plate. The Capitals sent Cody Eakin and a second-round draft pick to the Dallas Stars in return for Ribeiro. The intention was to bring in a legitimate second-line center to reinforce the second line.
The Caps will expect Ribeiro to score. In the past five years, he's only had two seasons in which he posted less than 70 points. His performance could be invaluable to the Caps.
However, Ribeiro has elected to stay in the United States. He told the Washington Post that he likely wouldn't consider going overseas unless it's apparent the lockout is going to last long.
Bruce Bennett/Getty Images
Dmitry Orlov proved to be an impressive offensive defenseman.
Dmitry Orlov made his NHL debut this past season. He played 60 games with the Caps and showed potential to grow into a great offensive defenseman.
During the lockout, Orlov will play for the Hershey Bears in the AHL. Competing at the NHL level and continuing to develop as a player would have been his best option, but his time in the AHL should help him work on the weaker aspects of his game.
Orlov should certainly fine tune his defensive game during the lockout. He has a great mind for hockey. If he can become a more well-rounded defenseman, he will be a great addition to the Caps in his sophomore season.
Let's just hope he doesn't botch his next shootout attempt.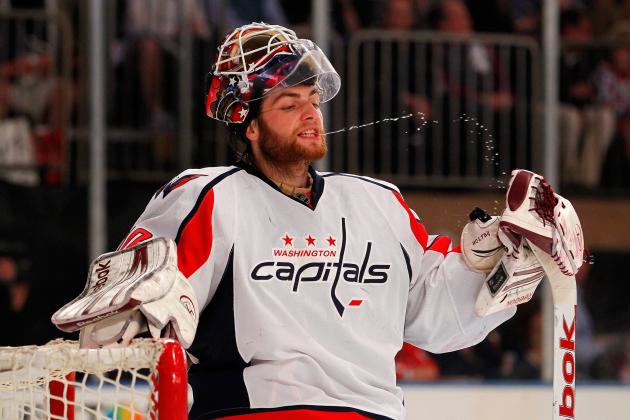 Paul Bereswill/Getty Images
Braden Holtby amazed everyone with his performance during the 2012 playoffs.
Braden Holtby was the Caps' breakout star of the 2012 Stanley Cup Playoffs. Instead of following up his postseason performance with a chance to compete for the starting goaltender position, Holtby finds himself back in net for the Bears.
That can't hold him back, though. Holtby has to keep playing at a high level. The NHL players that were assigned to AHL affiliates should provide an extra challenge for him during the lockout.
Holtby can't seem to catch a break. He's been close to breaking into the NHL many times now. The only thing holding him back now is the lockout. He must continue to work hard to compete with fellow goaltender Michal Neuvirth.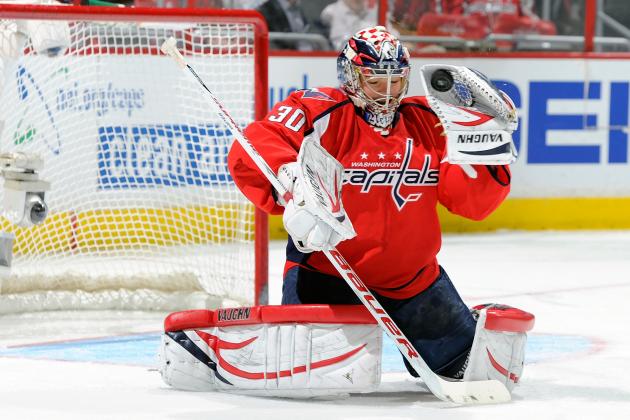 Greg Fiume/Getty Images
Is Michal Neuvirth underestimating Braden Holtby?
Michal Neuvirth is also in an interesting position. Tomas Vokoun was traded to the Pittsburgh Penguins, so Neuvirth's only competition is rookie Braden Holtby.
In an interview with Czech website iSportz.cz, which was translated by Russian Machine Never Breaks, Neuvirth said, "I'm starting the season sure that I want to play 40-50 games and I am really sure that I have the weakest competition I've ever had."
Neuvirth will play in the Czech Extraliga during the lockout. If he doesn't train like crazy during his time overseas, Holtby will most certainly prove to be a bigger challenge than Neuvirth expected.
Returning to his roots should prove to be a valuable experience for Neuvirth. Whenever the lockout ends, his battle with Holtby over the crease should be excellent.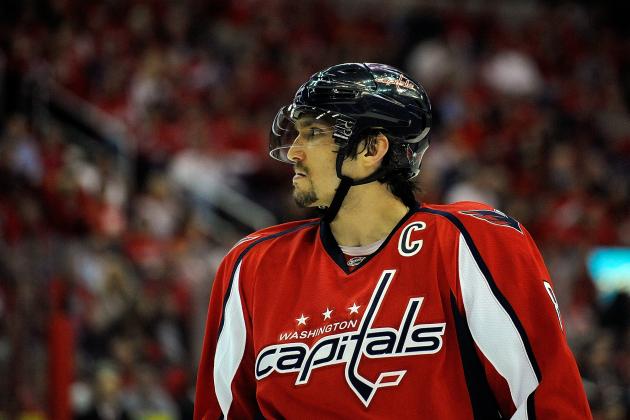 Patrick McDermott/Getty Images
"The Great Eight" has some work to do to get back to scoring like he used to.
Alexander Ovechkin's scoring troubles are no secret. The 65 points he posted this past season was a career-low for "The Great Eight." Ovechkin should be training like crazy to get back to the scoring that made him the first overall pick in 2004.
The Caps brought in Ovechkin to score. He's since been appointed as the team's captain, but his primary job was always scoring.
Hopefully his time in the KHL will reignite that fire in Ovechkin. He's kept a point-per-game pace in the 14 games he's played this season, which should go a long way in restoring his confidence.
In addition, fellow Capital Nicklas Backstrom has joined his team's captain on Dynamo Moscow. Getting to play with Backstrom during the lockout should definitely help maintain their phenomenal chemistry.
Playing in his homeland should help rejuvenate Ovechkin. His training should pay dividends when he returns whenever the owners and NHLPA come to terms on a new CBA.
Michael Prunka is a Bleacher Report Featured Columnist and Sports Writing Intern. Stay up to date with him by liking his Facebook page and following him on Twitter.