The Most Boneheaded Plays, Calls and Quotes of NFL Week 8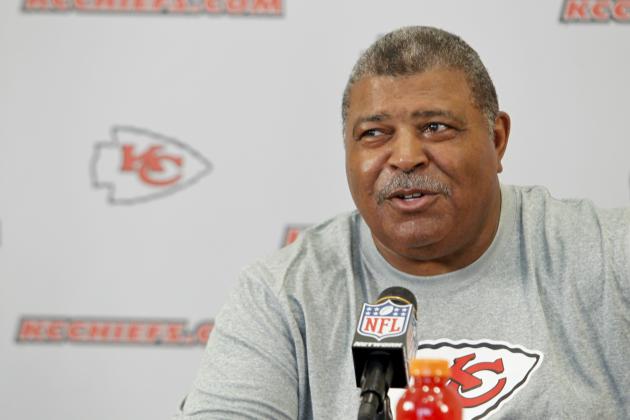 Kyle Rivas/Getty Images
Romeo Crennel has been known to chuckle his way out of tough questions. He should have done that in Week 8.
Week 8 of the 2012 NFL season was relatively calm and predictable, but that does not mean there was any shortage of boneheaded plays, calls and quotes. In fact, Week 8 may have given us the two most knuckleheaded moments of the 2012 season.
In the coming slides, you will find commentating blunders, premature celebrations and a lack of understanding of NFL rules. There are also appearances by the usual suspects—Chad Ochocinco, Romeo Crennel and cocky cornerbacks.
All of that and more headline the 10 most boneheaded moments of Week 8.
Begin Slideshow

»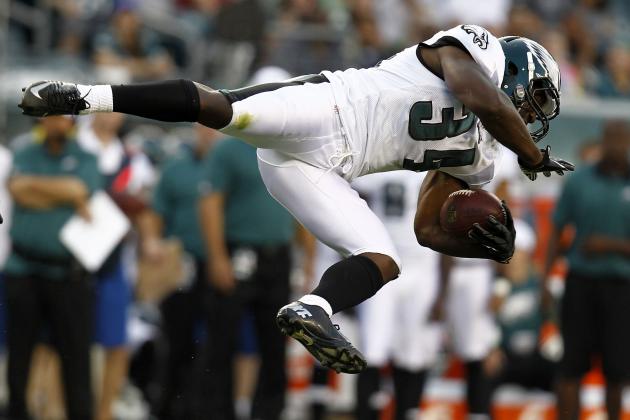 Jeff Zelevansky/Getty Images
Philly fans love Bryce Brown!
What do Philadelphia fans like most in their athletes? Well, according to All-Pro-turned-mediocre-commentator John Lynch, "Philly likes guys who fight!"
Lynch emphatically stated the above as Eagles running back Bryce Brown lowered his head and bumped through Atlanta defenders near the goal line.
The problem? Brown fumbled twice during the play.
Maybe he should have fought a little less.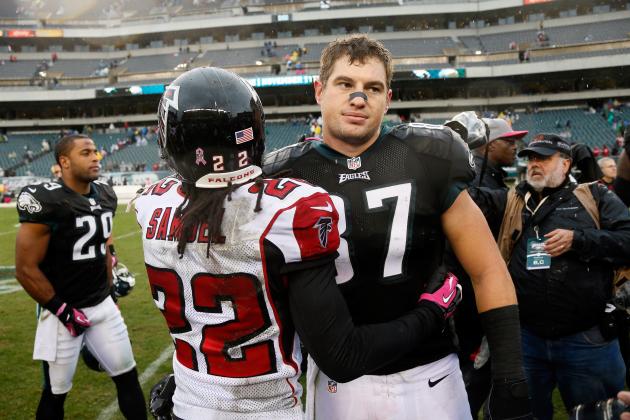 Rob Carr/Getty Images
To his credit, Asante Samuel and the Falcons got it done on Sunday.
Asante Samuel.
Prior to the Atlanta-Philadelphia game, the ex-Eagle had a lot to say with regards to how the fans should handle the return of their old cornerback, telling AtlantaFalcons.com:
They better cheer for me. They're going to cheer for me or we're going to have a problem right there in Lincoln Financial… All y'all fans, all I did for y'all, y'all better cheer for me. Deuce here. (I've) got nothing but love for y'all.
They booed, albeit in vain.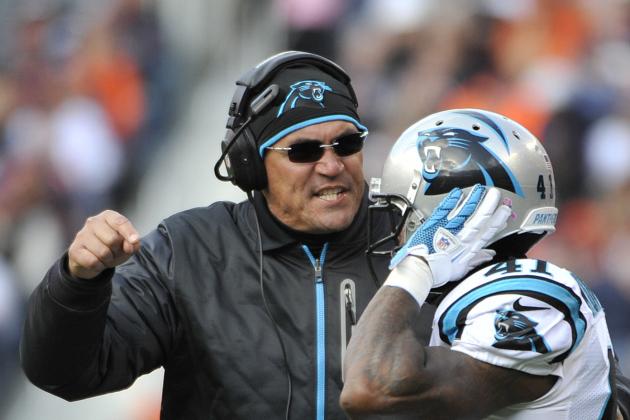 David Banks/Getty Images
Carolina's problems are far bigger than Cam Newton.
Carolina fell to the Chicago Bears 23-22, missing a real opportunity to knock off one of the league's hottest teams. I've always objected when people say, "If we did X in the first half, we would have X more points, which means we would have won by X."
However, Ron Rivera's decision to attempt a Hail Mary rather than a 50-yard field goal at the end of the first half was a major blunder—especially when Cam Newton threw the ensuing pass out of the end zone.
Kicking in Chicago is never ideal, but if a Hail Mary seems like the better option, Justin Medlock probably needs to go.
The ESPN maidens will blame Cam Newton.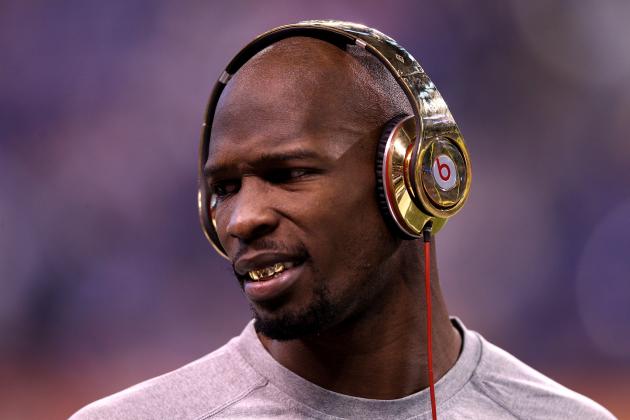 Elsa/Getty Images
Chad Johnson is the kind of guy you want to have your back.
This one's got two parts.
The 2012 season has been a rocky one for Dez Bryant. He's had four games of 85-plus yards, but has scored in only one. Bryant has also struggled holding onto the football.
While fielding a punt in the first half against the G-Men, Bryant put the ball on the ground twice during the same effort.
Luckily for Bryant, the equally levelheaded Chad Johnson (@ochocinco) came to his defense via Twitter. "He's the best player on the team… mistakes will happen…"
I, along with a bevy of followers, responded with something like, "DeMarcus Ware?" (Never mind the more disputed players like Tony Romo, Jason Witten, Jay Ratliff or Miles Austin)
Ochocinco, to his credit, fully understood the boneheaded-ness after the fact… the Tweet was deleted.
Image via BigLeadSports.com
Thanks to the good people at BigLeadSports, this wonderful telestrator nude—crafted by the traditionally boneheaded Mike Mayock on Thursday night—will be forever entered into the museum that is the Internet.
Oops.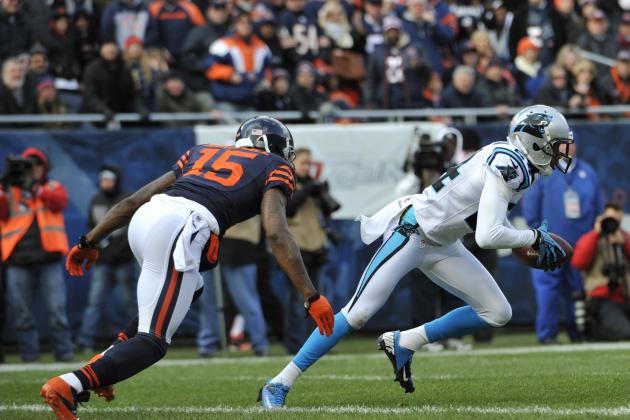 David Banks/Getty Images
Josh Norman takes off down the sideline... for nothing.
There are small differences between the college football rulebook and that of the NFL. One such example is that, in the pros, defenses cannot score during a two-point conversion.
Josh Norman, apparently, was unaware.
It would have been funny if Norman started towards the end zone, but stopped running after 20 yards… He took it to the house.
It would have been funny if Norman disregarded one or two whistles… There were over 20.
Then there were the added bonuses.
Norman dramatically flopped over the pylon (a la Marshawn Lynch) and he had blockers!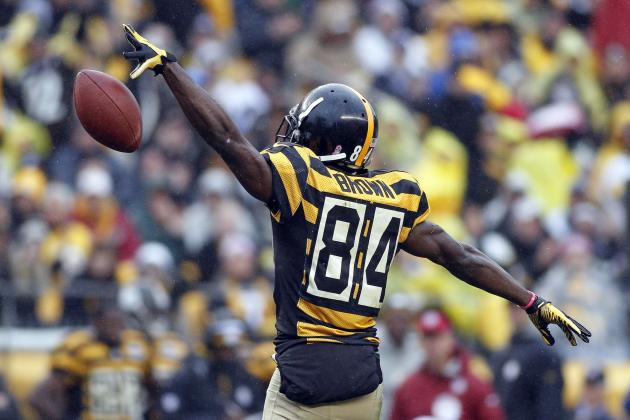 Justin K. Aller/Getty Images
Antonio Brown celebrates... for nothing.
Not to be outdone by Norman, Antonio Brown decided to take meaningless celebrations to the next, illegal level.
In Pittsburgh's game against Washington, Brown began his punt return at the 22-yard line. He took it up the middle of the field for 15 yards and was immediately sprung thanks to a block in the back.
Brown, oblivious to the infraction, bolted past the punter and was free sailing to the end zone. With 20 yards to go, Brown turned around to acknowledge the 11 people he believed to have schooled.
It was a moment for Brown to see the flag. Instead, he backpedaled for the duration and was penalized for unsportsmanlike conduct.
The Redskins declined his yardage in favor of the ones from the block in the back.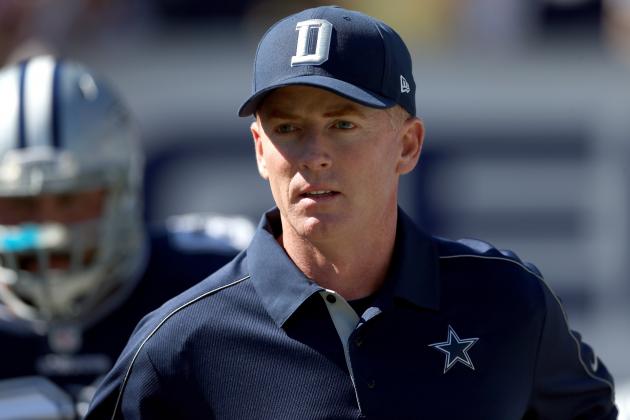 Streeter Lecka/Getty Images
Jason Garrett made a bad call. Period.
Unsurprisingly, the game between the Cowboys and the Giants was the weekend's best. Also unsurprisingly, the Giants won.
Facing a fourth-and-one in the final seconds of the game, Dallas elected to go with a four-receiver, shotgun formation.
I liked Jason Garrett's thinking. Jason Witten had the game of his career and Miles Austin and Dez Bryant were each over 100 yards.
"There's no way New York can stop this," I said to myself. "Witten takes one step and turns. Tony Romo puts the ball on his outside shoulder. If it's not there, Romo hits Austin in the flat. Easy."
But my prediction for the most critical play of Dallas' season was completely inaccurate.
All four receivers ran patterns that took them off the TV screen. Romo was forced far back and way outside the pocket, ultimately throwing a meaningless interception. You'd have thought it was fourth and 10.
There's just no way I will agree with that call.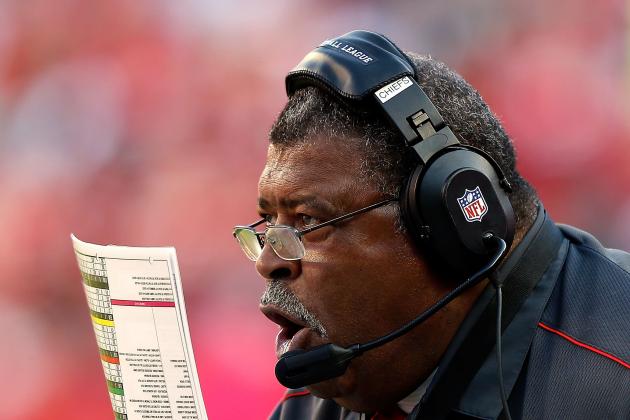 Jamie Squire/Getty Images
"I am so confused," shouts Romeo Crennel (or something to that effect).
The fact that this postgame self-evaluation is only No. 2 says a lot about the upcoming slide.
After the Kansas City Chiefs (who still have yet to run a single play in regulation with the lead in 2012) fell to Oakland, coach Crennel was, understandably, under fire from the media.
There are many approaches head coaches can take in situations like this one. Some keep answers short and nondescript (Bill Belichick). Others try to cleverly quote their way out of it (Rex Ryan). Yet, I struggle to recall any instance of a coach being so, well, honest.
When asked why Jamaal Charles had just five carries, Crennel said (via Dave Skretta of the AP), "Now, that I'm not exactly sure either."
Is Charles healthy? Crennel provided a two-for-one, answering with, "As far as I know."
I'm not exactly sure what you are still doing as the head coach, but you will be around in Week 9 as far as I know.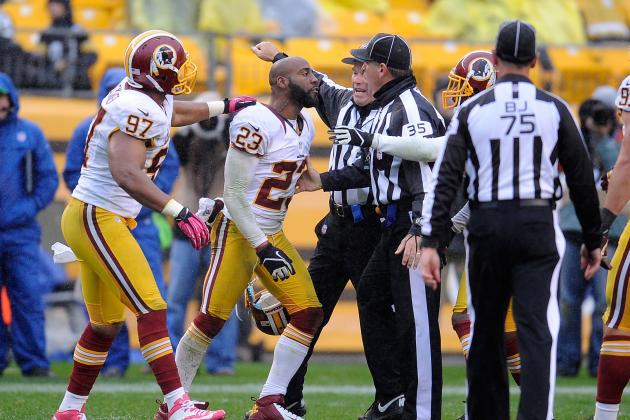 Joe Sargent/Getty Images
DeAngelo Hall GOES OFF (the field).
Selecting the most boneheaded moment of a given week is usually a difficult endeavor. That was not the case in Week 8.
In fact, the first part of DeAngelo Hall's debacle (taking off his helmet while on the field in front of an official) may have been dumb enough to crack the top 10 on its own.
Hall's profanity-littered tirade pushed him over the top to clinch the coveted distinction.
The real question: Where were his teammates during this train wreck?
Was DeAngelo Hall's temper tantrum worse than Michael Koenen's pick-six following his blocked punt? Let us know below.