Miami Dolphins Midseason Grades by Position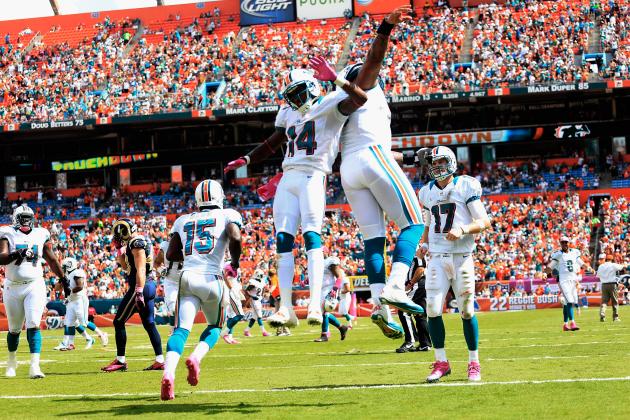 Chris Trotman/Getty Images

We've come to the middle of the NFL season, and it's time to look at the Miami Dolphins' roster and evaluate and grade each position based on its performance so far.
The Dolphins already have as many wins, four, as some people thought they would have over the entire season. There's been a lot of changes to Miami's roster and coaching staff, but the team has come together to get over .500 after eight weeks of the NFL season.
Miami came out on Sunday and crushed the Jets 30-9 even after Ryan Tannehill went down early in the game. After a week of trash talk between the teams, it was a major win for the Dolphins in the heated rivalry. The win was just another milestone in this first season of the Joe Philbin era in Miami.
Here's a look at midseason grades for each position on the Dolphins.
Begin Slideshow

»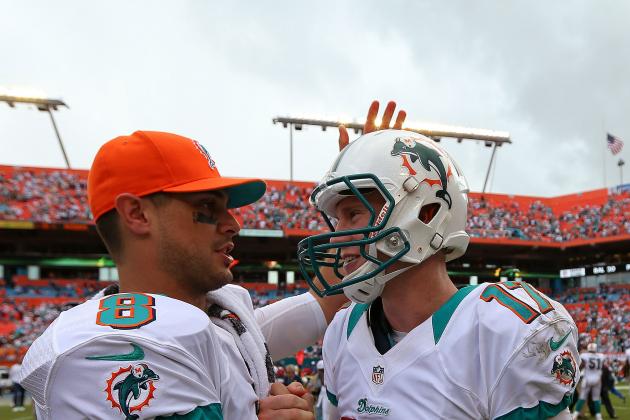 Mike Ehrmann/Getty Images

Ryan Tannehill has exceeded all expectations over the first half of the season. He has a nearly 60 percent completion rate to go along with 1,454 yards in six games. After a rocky first start at Houston, which boasts one of the league's best defenses, Tannehill has been very impressive.
Tannehill was spectacular in a record-setting overtime loss against Arizona when he threw for 431 yards and had a completion percentage of 63.4.
He also was extremely solid in a victory over St. Louis, when he went 21-29 for 185 yards, two touchdowns and zero interceptions.
Yesterday against the Jets, Tannehill went down early, allowing Matt Moore to come in and remind everyone why he was the team MVP last year.
Moore led the team to a 30-9 thrashing of New York, providing the spark that he has become known for. Just goes to show that Miami not only has a great franchise quarterback, but a reliable backup option as well.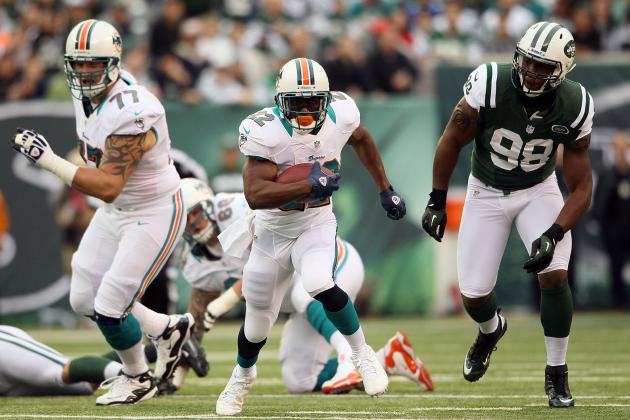 Alex Trautwig/Getty Images

All three of Miami's running backs have fulfilled their respective roles on the offense. Reggie Bush leads the way with 493 yards on 112 carries, but Lamar Miller and Daniel Thomas aren't too far behind.
Miller has 126 yards on 23 carries, good for a team-best 5.5 YPC average. Daniel Thomas has 51 carries, but just 155 yards.
It seems like each player has been able to make a play when the team needed it most. None of the three have played in each game this season, but the rotation has worked almost flawlessly.
In Week 2, Bush exploded for 172 yards and two touchdowns in a win against Oakland. He single-handedly carried the team to victory, but hasn't had another big game since.
Miller saw nine and 10 carries against NYJ and Oakland, and turned it into 48 and 65 yards with a touchdown, respectively.
Thomas has a touchdown in three separate games, and ran for 69, 29 and 42 yards in those games.
All in all, the Dolphins running game has been pretty reliable, no matter who's getting the ball.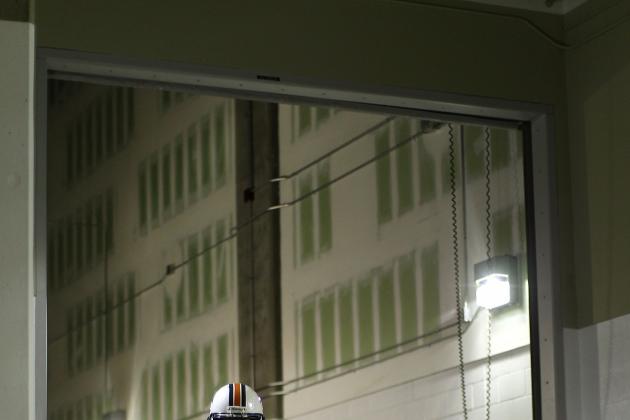 Christian Petersen/Getty Images

This rating is mostly for Davone Bess and Brian Hartline because out of the 64 passes caught by wide receivers this year, they have caught all but nine.
Marlon Moore has four catches for 83 yards and a touchdown in the past two games, but other than that, it has been pretty much all Bess and Hartline this season.
Bess had a season-low 28 receiving yards yesterday against the Jets. Before that, he didn't have less than 42 in a game. Bess has yet to catch a touchdown this season, but has caught 32 passes for 416 yards.
He's been a consistent target out there for Tannehill, which has to give the rookie a lot of confidence.
Opposite Bess, Hartline has been absolutely spectacular. He's fourth in the AFC in receiving yards, even with a zero-target game against St. Louis.
He was instrumental in their win over Oakland, catching nine passes for 111 yards. He also helped carry them into OT against Arizona, with a record-setting 12-catch, 253-yard performance.
Jabar Gaffney may provide a little spark for the offense going forward, but right now it's up to Bess and Hartline to keep things going.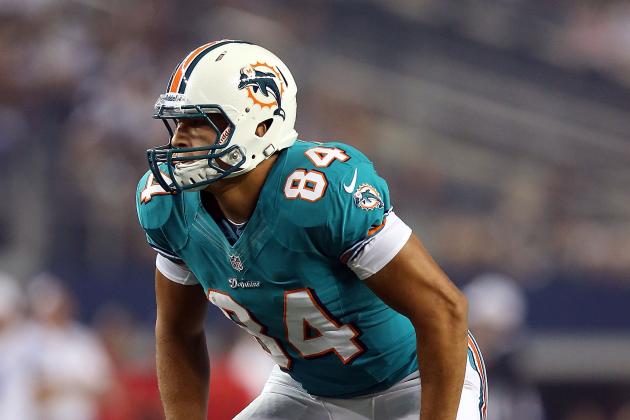 Ronald Martinez/Getty Images

Look at that picture. Remember Michael Egnew? Third-round pick, rated highly as a pass-catcher out of Missouri, yet hasn't played in a game yet this season.
His development has been disappointing, and he may not see the field at all this season unless one of the starters goes down with an injury.
Jeron Mastrud is more of a special-teams contributor and doesn't have any influence on the offense.
Charles Clay has been very disappointing to say the least. He only has catches in three games, totaling five receptions for 45 yards. He also doesn't have a single carry this season.
The only reason this grade isn't an F is because of Anthony Fasano, although he hasn't had a great season himself.
But 23 catches for 280 yards and three touchdowns are respectable, and Fasano is a great veteran presence. He's also been consistent, catching at least one pass in each game and having a touchdown catch in three separate games.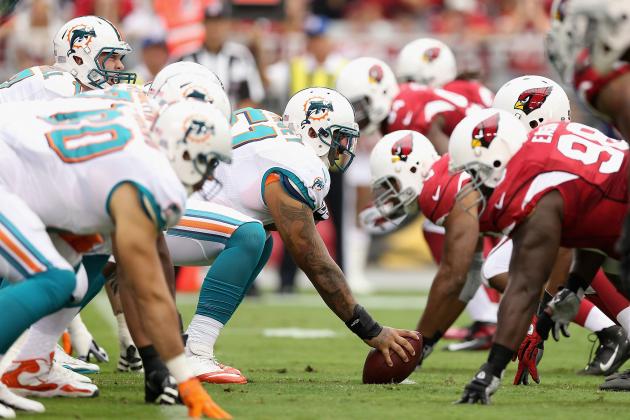 Christian Petersen/Getty Images

The offensive line has been good, pushing very good at times, but isn't elite...yet. This is a very young unit, led by rookie tackle Jonathan Martin, second-year center Mike Pouncey and third-year guard John Jerry.
Jake Long, team captain and one of the league's best linemen, is still only 27. As good as Long is, he may not even be the best lineman on his own team.
Pouncey has been spectacular this year, doing a great job with his rookie quarterback and new coaches. This article is an intriguing look at Pouncey's development and potential, but makes sure not to overlook how valuable he is right now.
Richie Incognito and Long have provided consistency while Jerry and Martin undergo a learning curve and work to adapt to NFL speed. They have showed promise, but need to continue improving.
Ryan Tannehill and the running backs would not have the stat sheets they do without this offensive line.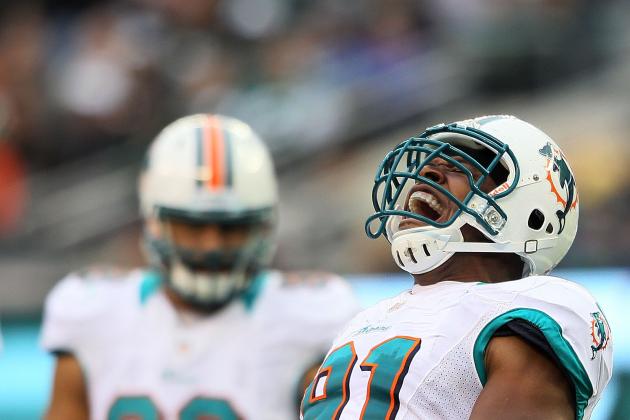 Alex Trautwig/Getty Images

This defensive line has been the anchor of the entire team so far. Each player has gone above and beyond what they've been expected to do, and they've stifled the opposition over and over again.
Cameron Wake has been predictably outstanding, with the 7.5 sacks being good for the second most in the league. Randy Starks has contributed 3.5 sacks, rookie Olivier Vernon has 2.5, and Jared Odrick has 2.0.
Vernon has been a pleasant surprise for Miami fans. He took a blocked punt back for his first NFL touchdown against the Jets, and has made a number of big plays this season. It definitely helps to be tutored by Wake, one of the best defensive players in the NFL, and Vernon should continue to improve.
But the defensive line's play against the run has been what's impressed me most. It all starts with Paul Soliai clogging things up the middle, and he's been effective all season. But the entire line has been committed to stopping the run, and it has paid off big time.
It hasn't given up more than 79 yards to a rusher in a game this season, and it's giving up the third-least total rushing yards per game in the league.
If it can keep it up, the defensive line will be a major factor as Miami tries to make a push for the playoffs. Teams hand the ball off more and more as the weather gets colder, and the Dolphins have a major advantage in that regard.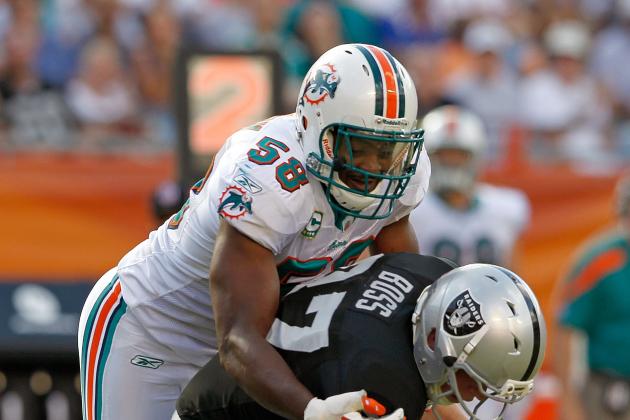 Mike Ehrmann/Getty Images

In the switch to a 4-3, there were some questions about how Koa Misi, Kevin Burnett, and Karlos Dansby would hold up. They have answered all questions and silenced critics with their play this season.
Misi has been particularly disruptive, with 38 tackles, 1.4 sacks and two forced fumbles.
Burnett has 42 tackles and 1.5 sacks, while Dansby has been a tackling machine, recording 54 to go along with a sack.
They have adjusted to the 4-3 flawlessly as a unit. They've worked well with both the defensive line and safeties, plugging holes in the line against the run and dropping back into coverage when needed.
The only area in which I'd like to see improvement is their turnover production. Misi is the only one to force a fumble, and none of them have recovered a fumble or intercepted a pass. But all in all, a very solid first half for the linebackers.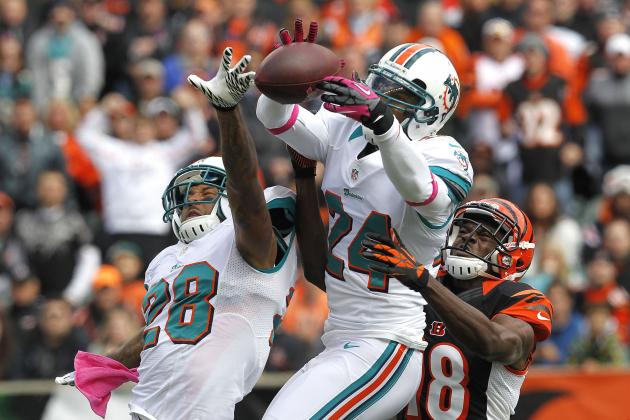 Tyler Barrick/Getty Images

This secondary has three good players. The problem is, in today's NFL, you need five or even six good players to combat the pass-happy offenses that every team seems to have now.
Sean Smith is emerging as one of the top cornerbacks in the league. He uses his 6'3" frame well and has shown improvement in every aspect of his game.
Reshad Jones and Chris Clemons were both question marks coming into this season, and both have responded with a good first half. They complement each other's style of play well. Jones is more of a run-stopper while Clemons drops back as a deep man in zone coverage against the pass.
The only problem with the Dolphins' secondary is its depth. Richard Marshall is average, but hasn't been able to stay healthy. Nolan Carroll is average as well.
Jimmy Wilson has some potential, but isn't yet polished enough to be that productive. Miami has used a few other players sparingly, like R.J. Stanford and Jonathon Amaya, but they need more talent.
The secondary currently gives up the fifth most passing yards per game, which is about where it was expected. The emergence of Smith as a shutdown corner and solid play of Jones and Clemons save the secondary's grade here.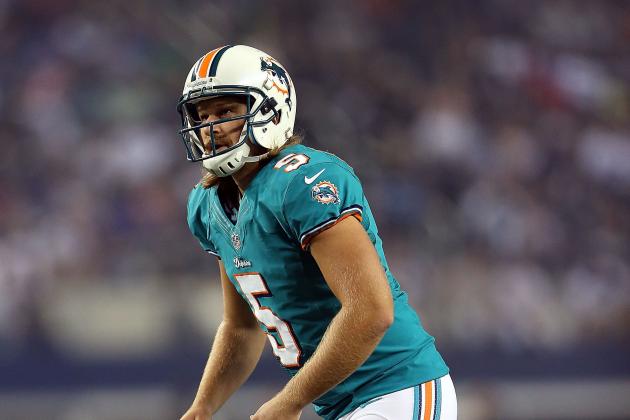 Ronald Martinez/Getty Images

Dan Carpenter needs to be better than 7-of-11 on field goals this year. He hasn't made a 50-plus-yard field goal yet, and I wouldn't be surprised if Miami looks for his replacement this offseason unless he has a better second half.
Brandon Fields is putting together yet another good season as Miami's punter. Heading into Sunday's game against the Jets, he was seventh in the league in net yards per punt average.
Marcus Thigpen has been solid as a return man. He has a punt return touchdown and 351 kick return yards on 13 attempts.
The blocked punt and touchdown return against the Jets has been the highlight of Miami's special teams so far this season. Overall, a solid first half.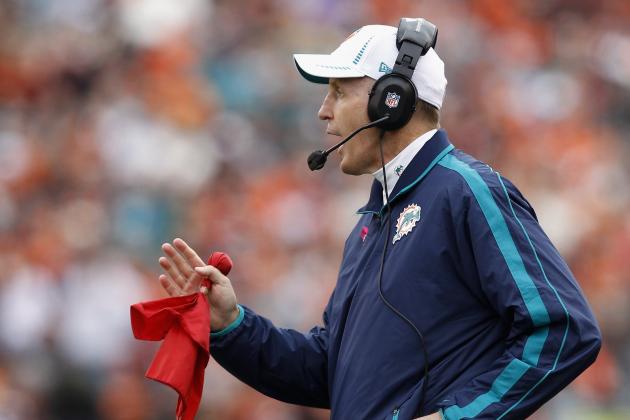 Matt Sullivan/Getty Images

Nobody thought the Dolphins would be 4-3 at this point in the season. Say what you want about Jeff Ireland and Ryan Tannehill and the receivers and whoever else gets the brunt of the criticism, but the fact that they're 4-3 is a testament to the new system Joe Philbin brought to Miami.
He hired Mike Sherman to run the offense and Kevin Coyle to run the defense, and they've both filled in seamlessly so far.
Philbin made headlines with a few decisions, including cutting Chad Johnson and deciding to start Ryan Tannehill, but he made it clear that the organization was moving in a certain direction, one of which Philbin had a clear vision.
So far, that vision has been crystal clear. They haven't had any off-field issues, and young players like Sean Smith and Koa Misi have started to shine after struggling in the past, not for a lack of talent, but a lack of commitment and mental focus.
The fact that a first-time NFL head coach has the Dolphins sitting at 4-3, with a rookie quarterback throwing to Davone Bess and Brian Hartline, should give the entire Miami fanbase confidence in Philbin and his system.