Reasons Nick Saban Is Grinning with Georgia on Track for SEC Title Game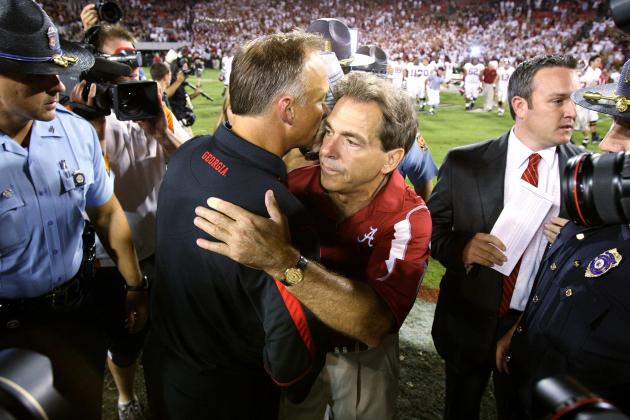 Doug Benc/Getty Images

We still have a few weeks left to the college football regular season, but the SEC Championship matchup looks like it is all but set.
With Alabama completely bullying teams, you can almost feel completely comfortable sending Nick Saban and company to Atlanta. And with the Georgia Bulldogs' victory over the Florida Gators last weekend, a second consecutive trip is guaranteed as long as an upset doesn't take place in the next four games.
Of course, the Crimson Tide still have to knock off LSU this weekend to make this matchup a reality, but the SEC Championship picture has gotten a lot clearer with nine weeks of football in the books.
If this is in fact the matchup that determines the SEC Champion, here is why Saban and the Alabama Crimson Tide will be grinning from ear to ear.

Note: All stats come from cfbstats.com unless otherwise noted.
Begin Slideshow

»
Kevin C. Cox/Getty Images

Why I Say This
There have been four games this season where the Bulldogs have allowed its opponent to average four yards a carry. That includes teams such as Buffalo and Kentucky, while those clubs scored at least two touchdowns on the ground as well.
There have been a total of nine rushing plays that have topped 20 yards, which is just one fewer than what was given up in all of last season.
Why Saban Is Smiling
Alabama has one of the best running back tandems in the country led by T.J. Yeldon and Eddie Lacy. Both backs have completely different styles and have combined for more than 1,200 yards and 14 touchdowns.
Georgia was able to stop the Florida running game last week by loading up the box, but they won't be able to do that against a team that has a quarterback capable of making plays with his arm. The Crimson Tide is averaging more than 200 yards on the ground and will test this run defense early and often.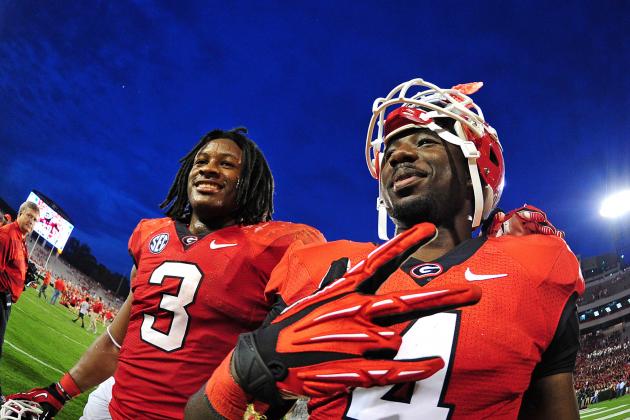 Scott Cunningham/Getty Images

Why I Say This
Running backs Todd Gurley and Keith Marshall got off to terrific starts but have also had many games that have shown that they are still true freshmen.
Marshall hasn't had a game in which he has rushed for more than 40 yards since the September game against Tennessee. Gurley has been the more consistent back out of the two, but he was slowed down against teams such as South Carolina and Kentucky.
Why Saban Is Smiling
The best run defense in the country begins with Alabama, as the team is allowing only 57 yards on the ground a game. An opponent hasn't even gotten close to rushing for 100 yards against Nick Saban's club, and there has not been one run that has gone for 30 yards or more all season long.
The Crimson Tide is physical up front, and if the freshmen couldn't get going against a school like Kentucky or Missouri, this unit would be in for a long day against Alabama.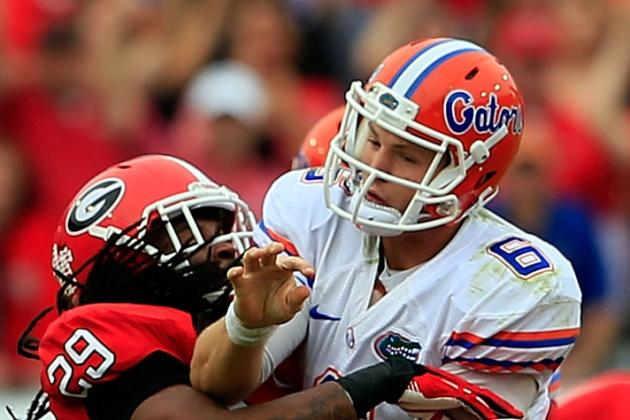 Sam Greenwood/Getty Images

Why I Say This
Besides Jarvis Jones, there is only one other Bulldog that has racked up two or more sacks throughout the season (Jordan Jenkins). Georgia only has 16 sacks on the year, which is tied for 10th in the SEC.
Besides the five-sack performance last week against Florida, which was mostly a one-man performance, there have been four games when the Bulldogs were able to get to the quarterback just one time. This is a disappointment for a team that finished second in the SEC in sacks a year ago (35).
Why Saban Is Smiling
Alabama has one of the more experienced and talented offensive lines in the country. Unlike the Gators, this is a unit that won't be dominated by Jones coming off the edge and getting in their quarterback's face every single play.
Unless another pass-rusher is able to emerge in the coming weeks, it doesn't look like getting to quarterback A.J. McCarron consistently is going to happen.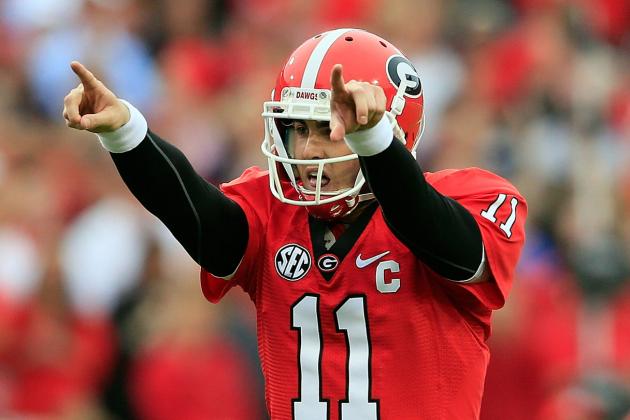 Sam Greenwood/Getty Images

Why I Say This
Aaron Murray has been around for a while and has been a starting quarterback since he was a freshman at Georgia. However, he still looks lost when facing great defenses, comes up small in big games and makes boneheaded decisions with the football.
If it wasn't for wide receiver Malcolm Mitchell beating man-coverage and using his speed to put the Gators away with a 45-yard touchdown, the outcome of last week's game may have been a little different.
In the two games against South Carolina and Florida, Murray has combined for one touchdown pass, four interceptions, 259 passing yards and worse than a 42 percent completion percentage.
Why Saban Is Smiling
If Murray was shaking in his cleats against those defenses, he hasn't seen anything yet against a faster and more physical unit in Alabama. Like everything defensively, the Crimson Tide have the best passing defense in the SEC and are second in the country, allowing under 150 passing yards a contest.
The unit also leads the conference with 14 interceptions and has only allowed 14 passing plays that have produced 20 yards or more.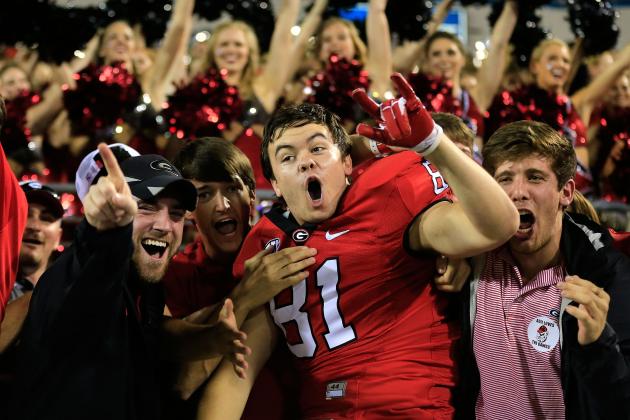 Sam Greenwood/Getty Images

Why I Say This
The Bulldogs really showed their youth and lack of experience in big games. Not only was there a shoving match between the Gators and Bulldogs before the big game, but Georgia was penalized 14 times for 132 yards, mostly for pointless showboating even after being warned by the referees.
It is one thing to play with intensity and a lot of emotion, but you have to be disciplined at the same time, and the Bulldogs were not. The game was the fourth time this season that Georgia was penalized at least eight times.
Why Saban Is Smiling
Saban-coached teams are always well disciplined, and this squad is no different, as Alabama is one of five SEC teams that are averaging fewer than 40 yards in penalty yardage.
But along with the lack of foolishness, the Crimson Tide is a team that just played in the national championship last season and is coached by somebody who has been in big games throughout his career. If Georgia can't calm its nerves and act like it's been in a big game before, Alabama will win this potential matchup with ease.
Kevin C. Cox/Getty Images

Why I Say This
The win over Florida was the first victory over a ranked team all season for the Bulldogs. Georgia is also 4-12 against ranked teams since 2009, which includes a blowout loss to LSU last year in the SEC Championship.
One of the main reasons many had head coach Mark Richt on the hot seat last year was the fact he has struggled mightily against top-notch opponents and hasn't been able to take that next step.
Why Saban Is Smiling
Nick Saban's track record really speaks for itself, as he has won two of the last three BCS National Championships and is in great position to make it three in four years. He has a 4-1 bowl record since 2007 with Alabama and rarely ever loses a big game that can either make or break his team's season.
Basically, Saban is the complete opposite of Richt when it comes to winning a game as big as the SEC Championship.