BCS Rankings 2012: 5 Teams That Are Going to Play Spoiler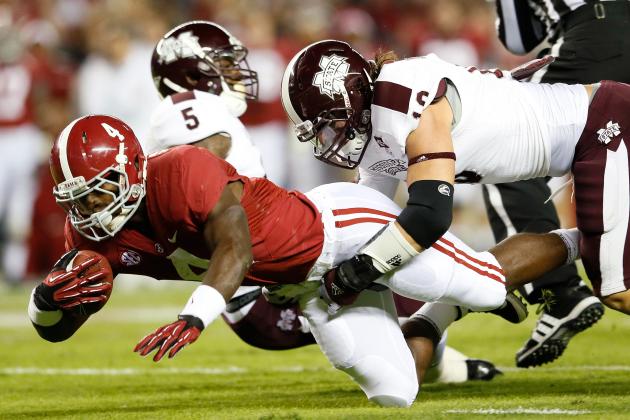 Kevin C. Cox/Getty Images
Will any team play spoiler against Alabama?
The spoiler role is one that teams relish in college football, as none want to see their rival have a shot at the national title.
This year, there are five teams in college football with an undefeated record. Four of them have a legitimate shot at earning one of two spots in the BCS title game.
Alabama leads the rankings, while Kansas State, Notre Dame and Oregon take up the next three spots. Louisville is the other undefeated team sitting at No. 10.
However, nobody expects an undefeated Big East team to break into the top two.
So, who will throw a wrench into the BCS plans of these teams?
Here are five teams that will play spoiler over the next month.
Begin Slideshow

»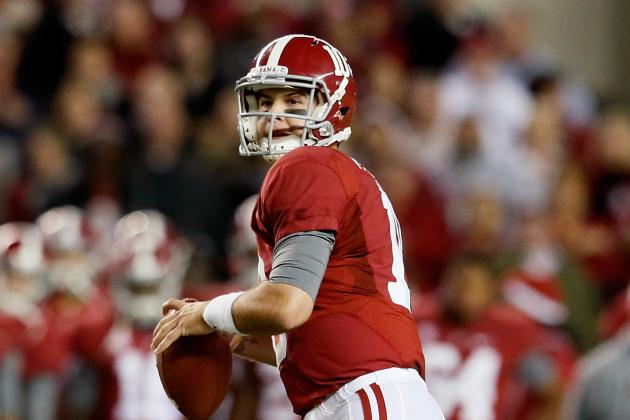 Kevin C. Cox/Getty Images
Alabama will prevent LSU from reaching a BCS bowl game.
Alabama and LSU is the biggest game on Saturday.
It's a matchup of No. 1 vs. No. 5.
If LSU wins, they supplant Alabama at the top of the SEC West and immediately become favorites to make the BCS title game.
If Alabama wins, LSU won't make a BCS bowl game with two losses.
Needless to say, everything is on the line in this one.
With that said, Alabama will play the role of spoiler for LSU. While it's hard to say the No. 1 team in the nation can be a spoiler, that's essentially what the Crimson Tide will be doing.
AJ McCarron has been one of the better quarterbacks in the nation this year. Add in running backs T.J. Yeldon and Eddie Lacy, and you have a very potent offense.
But that's just the offense. Alabama's defense is just as good, if not better, than last year's defense. They get to the ball and don't let other teams make big plays.
This one is no contest. By beating LSU, the Tide will relegate the Tigers to the Cotton Bowl.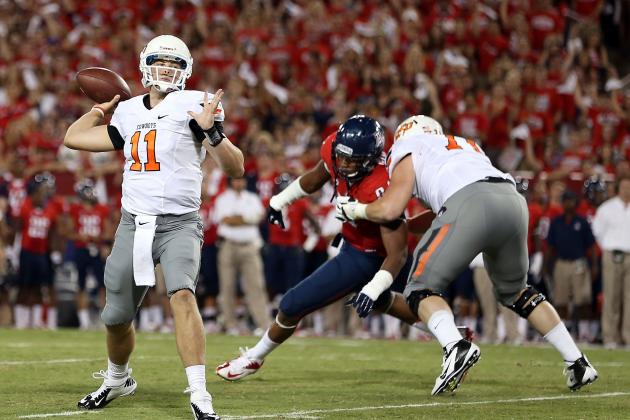 Christian Petersen/Getty Images
Wes Lunt will light up Kansas State Saturday.
The first team that will fall from the unbeaten ranks will be Kansas State this week against Oklahoma State.
The Wildcats have put up 55 points in each of the last two games. The offense is clicking on all cylinders, and defenses are having trouble stopping them.
But Oklahoma State is not like any of those teams.
The Cowboys can put up points just like the Wildcats. The teams rank fifth and sixth in points scored in college football.
Plus, both teams don't allow much on defense. Kansas State is allowing 17.1 points per game, while Oklahoma State is allowing 23.1 points per game.
Where the difference will be is in quarterback Wes Lunt, who returned to the Cowboys last week after a knee injury. He had a bad game in an early-season loss to Arizona with three interceptions but still threw for 400 yards.
As long as Lunt keeps the turnovers down, Oklahoma State will pull the upset.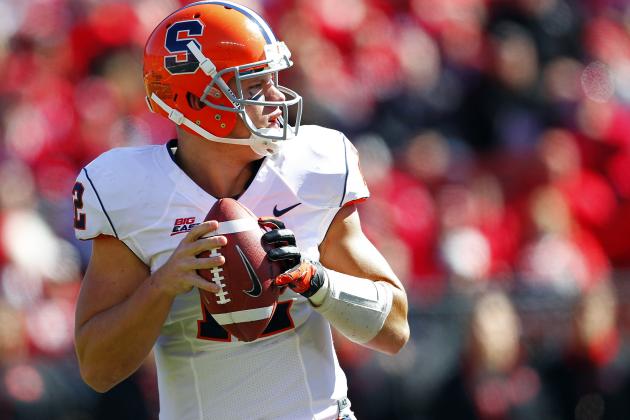 Rich Schultz/Getty Images
Syracuse will knock off Louisville on Nov. 10.
While Louisville is not expected to enter the national title picture even if it goes undefeated, an upset still lays waste to its BCS plans.
Syracuse will mess up those plans in a game on Nov. 10.
Syracuse is a much-improved team from previous years. After holding their own against USC in the second game of the season, the Orange have been a roller coaster.
Losses to Minnesota and Rutgers didn't help any, but the Orange have gone crazy on offense the last two weeks. Last week, Syracuse put 37 points in a close win over South Florida, while the week before saw it beat Connecticut 40-10.
Quarterback Ryan Nassib (2,487 yards) has given Syracuse an identity through the passing game. While there have only been eight rushing scores all year, the Orange still sprinkle some runs in to keep defenses honest.
Syracuse will pull the upset here.
And if that's not enough, the Cardinals will also lose to Rutgers to end the season, ensuring they don't make it to a BCS bowl game.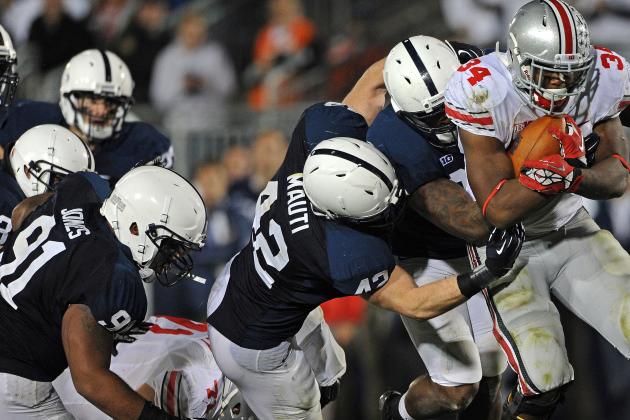 Patrick Smith/Getty Images
Penn State will upset Nebraska.
Just like Louisville, Nebraska's BCS hopes will fall through on Nov. 10.
Although the Cornhuskers beat Michigan last week to lead the Legends Division, both teams are still tied in conference record.
So, if Michigan wins out and Nebraska loses one, then the Wolverines will go to the conference title game.
On Nov. 10, Penn State will provide that one loss for Nebraska.
With no bowl game for the Nittany Lions for the next few years, they have to find their own "bowl games" within the regular season. And, what better "bowl game" than to beat a conference foe that ultimately prevents them from going to a BCS game?
Matt McGloin and the rest of his teammates have gone through a lot over the last year. An upset win over Nebraska would be a nice parting gift for the senior that was largely responsible for keeping most of the team in State College, Pa.
It's a shame for Nebraska, too. A win in its division would have meant a conference title game against Wisconsin, a team the Cornhuskers have already beaten this year.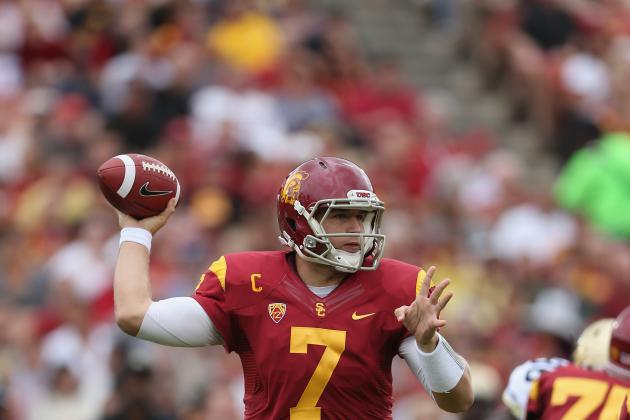 Jeff Gross/Getty Images
Matt Barkley will win his final matchup with Notre Dame.
It's fitting that the preseason favorite to win the national title will have a chance to prevent another team from making it to that game.
USC has disappointed many with two losses this year, while Notre Dame has surprised many by going undefeated.
However, on Nov. 24, the Trojans will end all dreams of a national title the Irish might have had.
While Notre Dame was strong against Oklahoma on Saturday, it has largely struggled on offense all year. In five of the eight games, the Irish have failed to score more than 20 points.
Against a team like USC, a team that has scored fewer than 20 points just once this year, that doesn't look good for the Irish.
Notre Dame is going to be tested in every way possible against USC. The secondary is going to get a plethora of balls thrown up in the air, as Matt Barkley has a group that can do a lot with the ball.
The key for Notre Dame will be its front seven and getting pressure on Barkley. Without pressure, Barkley is going to have a field day.
There's no reason to believe Notre Dame will come out on top. While it's been a storybook year, especially for Manti Te'o, you can bet the Trojans don't care.