Handing out Game Balls for Every Game After NFL Week 8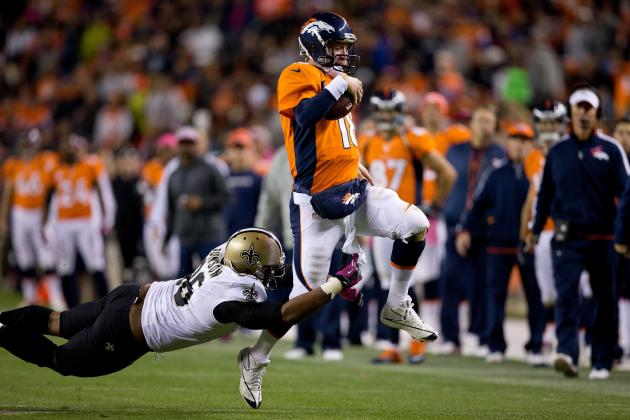 Justin Edmonds/Getty Images

With Halloween looming around the corner, NFL week 8 was haunted by teams that refused to die, players from long ago who came back to life, walking-dead coaches and football that made you want to gouge your eyes out (sorry, San Diego).
But amidst all the carnage, there were some true standouts. There were some superheroes; knights in shining armor who vanquished evil and stood victorious. There were some great comeback wins, game-winning drives and last-second touchdowns.
Those players deserve treats, not tricks, and they'll get them now. Who filled their goody bag with this week's game balls?
Begin Slideshow

»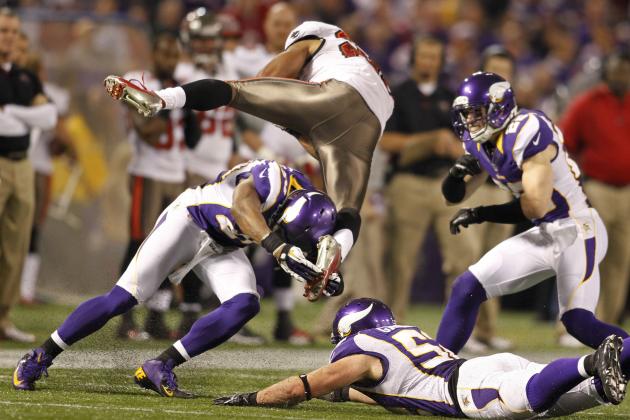 Bruce Kluckhohn-US PRESSWIRE

"The Apprentice Surpasses the Master" Game Ball: Doug Martin, Buccaneers running back
Adrian Peterson has reeled off plenty of long gainers in his career, including a 64-yard touchdown run against the Bucs on Sunday. But Martin smoked Peterson's 127-yard total with 214 all-purpose yards of his own. Martin had a 64-yard touchdown catch, plus a dive into the end zone from short yardage.
It all added up to a huge Bucs win.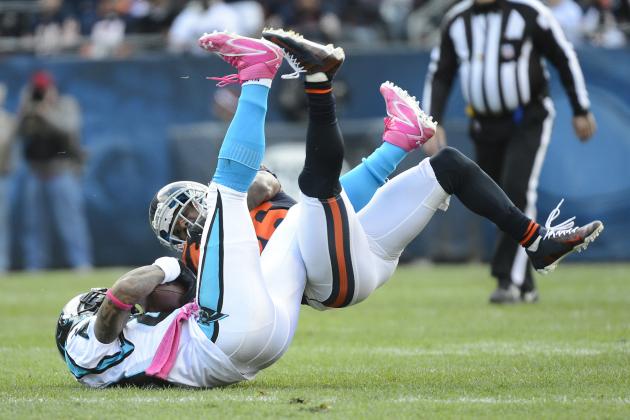 Mike DiNovo-US PRESSWIRE

"Sometimes the Best Offense is a Good Defense" Game Ball: Tim Jennings, Bears cornerback
In a game that seemed to be a duel between the Bears defense and Panthers kicker Justin Medlock, the Bears offense finally got on the board in the fourth quarter. However, it looked to be a case of too little, too late, as the Panthers took over with a five-point lead and less than seven minutes to play.
Then, Tim Jennings picked off Cam Newton on the first play of the drive and ran untouched to the house, giving the Bears a late lead—and all the momentum.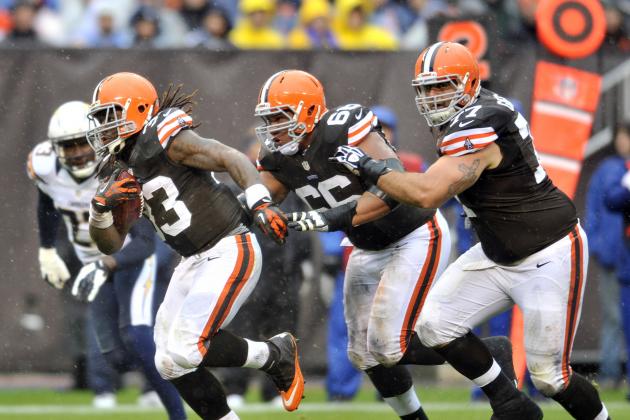 David Richard-US PRESSWIRE

"Sleep Well, I'll Most Likely Fire You in the Morning" Game Ball: Trent Richardson, Browns running back
In a nihilistic anti-game that should cost Chargers head coach Norv Turner his job, Richardson piled up 122 yards and the game's only touchdown.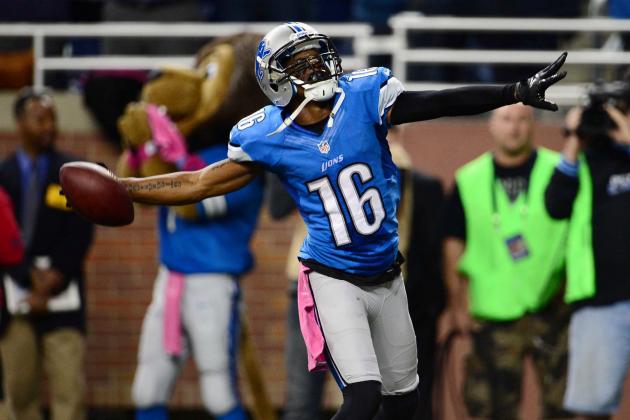 Andrew Weber-US PRESSWIRE

"It's Aliiiiiiiiiiiive!" Game Ball: Titus Young, Lions wide receiver
When Lions receiver Nate Burleson broke his leg in Week 7's Monday Night Football game, the Lions knew they'd need Young to step up big-time if their moribund offense was going to rise from the dead.
Young not only caught nine passes for his first career 100-yard game, he hauled in two touchdowns—including the game-winner with only 20 seconds left on the clock.
Benny Sieu-US PRESSWIRE

"My Name is NOT Earl" Game Ball: James Jones, Packers wide receiver
The Packers should have had no trouble running up the score on the 1-5 Jaguars. But without top receivers Greg Jennings and Jordy Nelson, the Pack needed somebody else to have a big day. Seven catches for 78 yards isn't a monster performance, but Jones gave the Packers just enough offense to control the game and win convincingly—including drawing a crucial pass-interference call on the final scoring drive.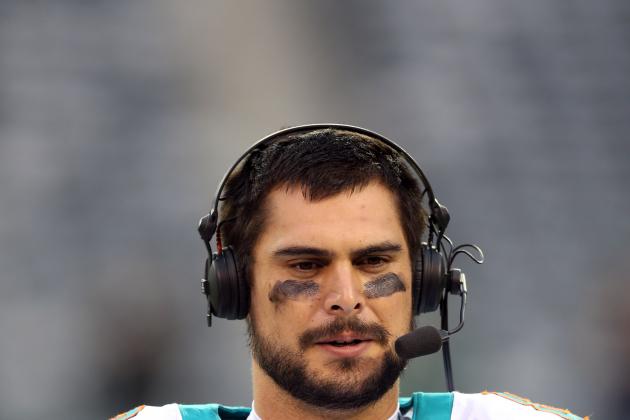 Debby Wong-US PRESSWIRE

"Rodney Dangerfield Memorial 'I Get No Respect'" Game Ball: Matt Moore, Dolphins quarterback
With not-quite Golden Boy rookie quarterback Ryan Tannehill knocked out of the game by Calvin Pace, the Dolphins' former shaky quarterback of the future, Matt Moore, took over.
Moore completed 11 of 19 passes for 131 yards and a score, leading the Dolphins to a crucial division win—and for the first time this season, a winning record.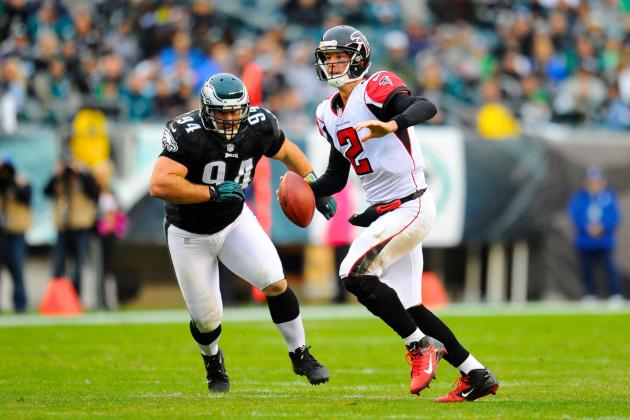 Dale Zanine-US PRESSWIRE

"Dustin Hoffman 'You Make My Heart Soar Like a Hawk'" Game Ball: Matt Ryan, Falcons quarterback
In a battle of birds of prey, Matt Ryan and the Falcons picked apart the Eagles like carrion. Ryan led the Eagles to three touchdowns in their first three drives, coasting to a 30-17 win. The Falcons are now 7-0 for the first time in franchise history, and the Eagles are on the wrong side of .500 just before Halloween.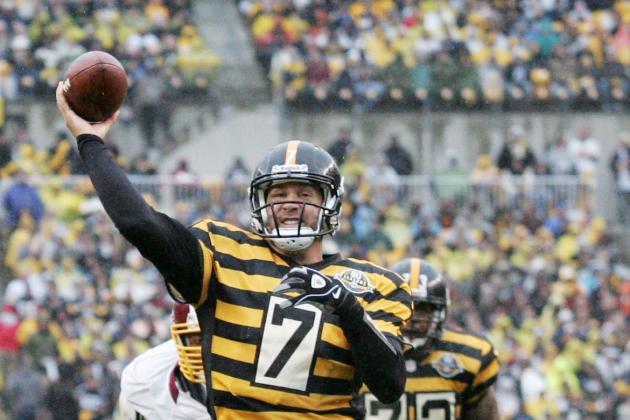 Charles LeClaire-US PRESSWIRE

"Rainier Wolfcastle The Goggles, They Do Nothing'" Game Ball: Ben Roethlisberger, Steelers quarterback
The story of the game was how the Steelers defense bottled up Redskins quarterback Robert Griffin III. On the other side of the field, though, Roethlisberger had a brutally efficient day. He completed 24 of 33 passes for 222 yards and three touchdowns, controlling the game early and leading the Steelers to a 27-12 win.
Oh, and those uniforms. MY EYES!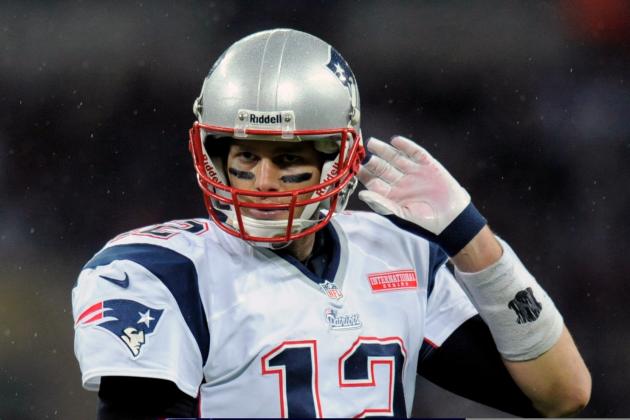 Joe Toth

"London Calling" Game Ball: Tom Brady, Patriots quarterback
The latest game in the NFL's International Series wasn't much of a clash. Tom Brady and the Patriots offense hit pay dirt on each of their first five drives and notched a much-needed 45-7 win. It's hard to believe these two squads were 4-3 and 3-4 coming into the game.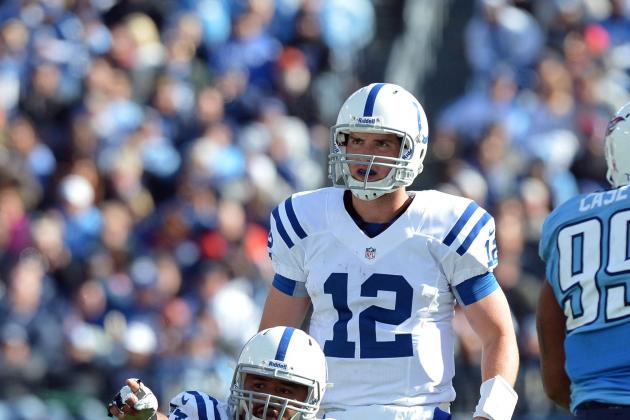 Don McPeak-US PRESSWIRE

"Ty Schalter Trying Really Hard to Avoid Terrible 'Luck' Puns" Game Ball: Andrew Luck, Colts quarterback
"I don't really understand how we lost the game," Titans quarterback Matt Hasselbeck told The Tennessean. With Chris Johnson running for 99 yards and Hasselbeck a surgical 22-of-29 for 229 yards, it would be hard to figure out.
Except, then there was Andrew Luck.
The rookie quarterback again shouldered the Colts' offensive burden, carrying his team to a huge overtime road win. He completed 26 of 38 passes for 297 yards, one pick and that game-winning score.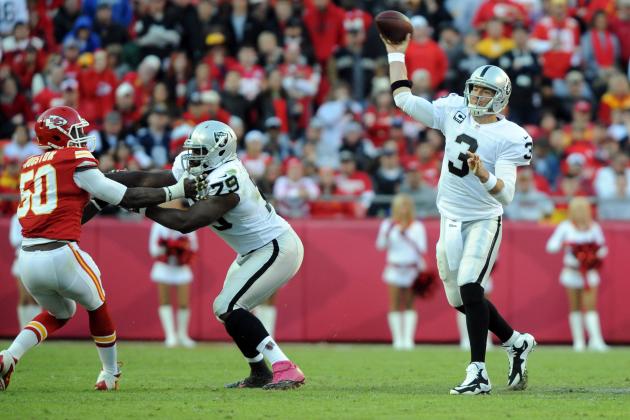 John Rieger-US PRESSWIRE

"The More Things Change, The More They Stay the Same" Game Ball: Oakland Raiders offensive line
The Chiefs saw the sun rise on the Brady Quinn Era on Sunday, only to see it set four pass attempts later, with Matt Cassel coming back in to relieve the man who relieved him. The results, however, were the same, as the quarterback on the other side of the field had all day to pick apart the Chiefs for 209 yards and two touchdowns.
"I don't think my jersey needs to be washed," said Carson Palmer, according to Vic Tafur at the San Francisco Chronicle. Raiders running back Darren McFadden also had the space to roll for 114 yards on 29 carries.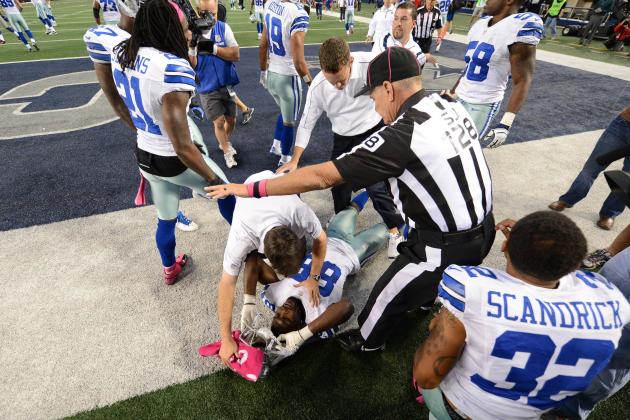 Matthew Emmons-US PRESSWIRE

"'One Toke Over the Line'" Game Ball: Dez Bryant, Cowboys wide receiver
With 10 seconds left on the clock, Bryant hauled in an incredible, once-in-a-lifetime game-winning touchdown catch, completing the Cowboys' incredible comeback from being down 23-0 to a 31-29 victory.
Except, on replay, Bryant's hand was partially on and over the back line, disallowing the touchdown—and the win.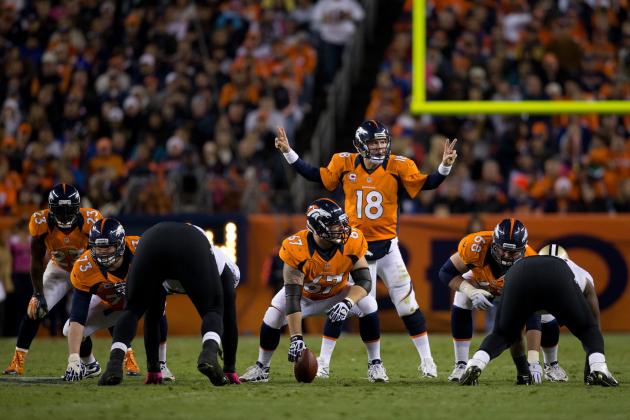 Justin Edmonds/Getty Images
Peyton Manning is not a crook.
"The Winner, and Still Champion" Game Ball: Peyton Manning, Broncos quarterback
In advance of the Sunday Night Football game, I wrote a piece breaking down the form of Drew Brees and Peyton Manning. I said you couldn't go wrong with either, but Brees was throwing the ball better and making harder throws more often.
Manning made a fool out of me and the Saints, shredding them for 305 yards and three touchdowns on 22 of 30 complete passes. Brees struggled against the Broncos defense, completing 22 passes but on 42 attempts, for two touchdowns and an interception.