MMA: Most Hyped Fighters That Fell Flat in the UFC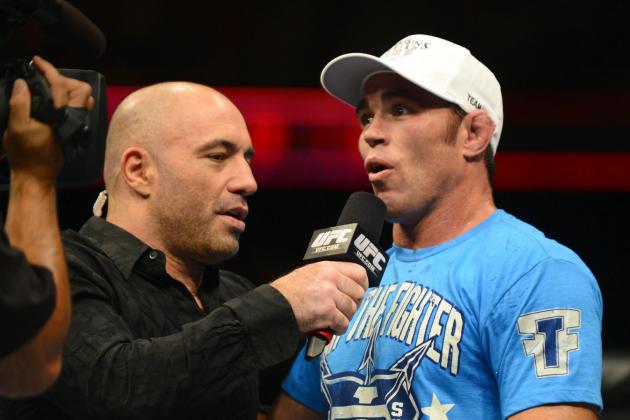 Ron Chenoy-US PRESSWIRE

The reason that the Superbowl is the biggest event of the year is based on official rankings. After a season of play, teams move to the playoffs, where the best representatives of each league emerge to battle for the biggest prize in sports. The two teams playing have earned the right to call themselves the best in their respective league.
In mixed martial arts, promoting a fight between two of the baddest men on the planet can generate an enormous buyrate. However, without a regular season in which you compete against everyone in your division, a fighter doesn't have the opportunity to make an undisputed claim that he is the best.
That's where hype comes into play.
Anything can happen in mixed martial arts. Upsets occur on a regular basis as a way of reminding us that we cannot predict with 100 percent certainty who will win any given matchup.
Because of this ambivalence, hype can convince fans that some promising fighter is the next big thing in the business. By pushing the strengths of unproven or unworthy commodities, promoters can add a "must-see" level of intrigue to their next matchup.
Do you remember believing, if only for a second, that Dan Hardy could defeat Georges St-Pierre? Behold the power of hype.
Some hyped prospects are labeled as such early on in their careers, and eventually strap championships around their waists. Junior dos Santos, Jon Jones and Brock Lesnar are members of that elite club. Others didn't fare quite so well.
Today, we focus on the losers. Here is a look at fighters who entered the UFC with a lot of hype, but failed to live up to the expectations.
Begin Slideshow

»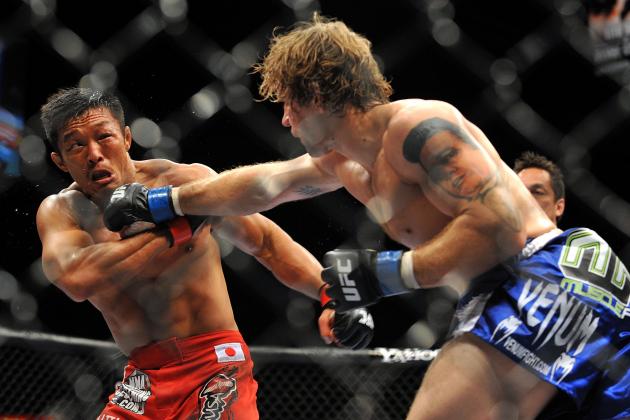 Jon Kopaloff/Getty Images

Entering the UFC with a stellar record of 12-1 (2), Japanese mega-star Yoshihiro Akiyama was one of the most anticipated debuts of 2009. After all, he was a celebrity in his homeland as a professional singer and as a male model.
In fact, Akiyama's first UFC fight was given the royal treatment by placing it on the main card of UFC 100, the biggest event in UFC history. This move is only notable because on the same card, Hall of Famer Mark Coleman was relegated to the undercard in a bout against popular star Stephan Bonnar.
Akiyama would win the UFC 100 contest against Alan Belcher, although it was deemed to be a poor decision by commentator Joe Rogan.
The Japanese star has not had his arm raised since that time, as he has lost bouts to Chris Leben, Vitor Belfort, Michael Bisping and Jake Shields in his past four appearances.
Somehow this guy still has a contract with the UFC. Maybe it's an error in human resources.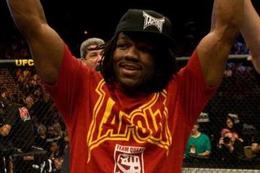 Courtesy of MMAontap.com
When PRIDE was purchased by Zuffa, there were many fighters that fans couldn't wait to see step into the Octagon. After scoring back-to-back knockouts over PRIDE mainstays Lil' Nog and Ricardo Arona, "The African Assassin" was one of the most anticipated.
The momentum of Sokoudjou would be shut down immediately upon joining the roster, as his debut was against future UFC champion Lyoto Machida at UFC 79.
Although successful in his followup, Sokoudjou was knocked out by Luis Cane in what would be his final UFC contest.
Since his release from the UFC, Sokoudjou has fought all over the world, and managed to put together a mediocre 7-7 record along the way.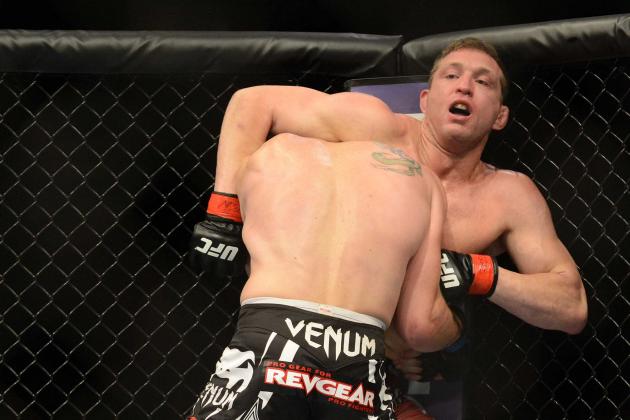 Ron Chenoy-US PRESSWIRE

Jason "Mayhem" Miller is undoubtedly the most famous UFC fighter to have an 0-3 record with the organization.
Despite a successful career with other organizations, including wins over the likes of Robbie Lawler, Kazushi Sakuraba and Tim Kennedy, Miller was unable to find victory in any of his three UFC contests.
Why was Mayhem such a hyped-up prospect? Perhaps fans thought that his in-ring skills had to match those of his unwavering mouth. Maybe the fact that he was given a coaching slot on The Ultimate Fighter had something to do with it.
In any event, Miller did not live up to that hype, as he was routed by TUF nemesis Michael Bisping last December.
Given another chance to prove his merit, Mayhem was unable to shut down the takedowns of C.B. Dolloway at UFC 146, where he lost a unanimous decision in his final UFC appearance.
The personal demons of Miller have been documented, and had a role in his early retirement from the sport.
Miller might be remembered for his colorful personality or his gig as host of MTV's Bully Beatdown, but it certainly won't be for his conquests within the UFC.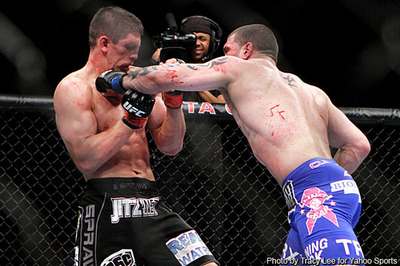 Photo by Tracy Lee for Yahoo Sports
When the UFC decided to integrate talent from the WEC's heavier weight classes, Steve Cantwell was a can't-miss prospect who was the organization's champion, held a 6-1 record and had already avenged his only loss.
This fighter was a world champion who was going to make waves in the UFC's most historically competitive division.
If the hype wasn't big enough already, Cantwell certainly impressed by winning his debut via first-round armbar, which happened to break the arm of Razak Al-Hassan in the process.
While the finish was certainly impressive, there isn't much that can be said for the quality of opposition. Al-Hassan went 0-2 in the UFC and is little more than a footnote in MMA trivia games.
Cantwell would lose each of his next five fights before finally being handed his pink slip. To his credit, he was never finished during his run with the UFC. However, he took a lot of abuse during the 75 minutes he lost in that cage.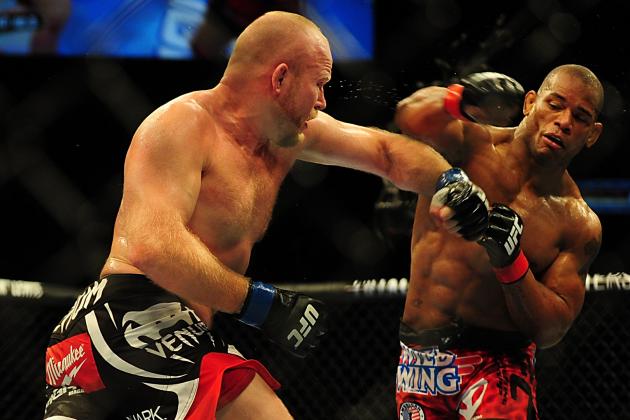 Anne-Marie Sorvin-US PRESSWIRE

Before we get started on Hector Lombard, I do want to note the disclaimer that his sole UFC appearance was marred by the fact that he reportedly entered the cage with a fractured sternum and torn cartilage.
On to business.
Hector Lombard had a legitimate right to the hype train that was behind him. Riding the momentum of 25 fights without tasting defeat, Lombard defeated every opponent that Bjorn Rebney and independent promoters could put in front of him.
During that time, Lombard went 8-0 under the Bellator banner, winning the organization's middleweight championship and scoring the fastest knockout that the company has ever seen.
Rebney declared that Lombard was the greatest middleweight fighter on the planet, and claimed that Anderson Silva was the only opponent who had a chance at besting the Cuban.
"I think there's one guy on earth right now that I would look at and say to myself, 'He could beat Hector.' His name is Anderson Silva. I don't know that I would pick Anderson to beat Hector, but it would be one heck of a fight. We'll see what happens with Alexander and Vitor, and one of those guys is going to come out with a big win."
Lombard made his promotional debut at UFC 149, and looked lethargic through the 15-minute affair. He lost a split decision to Tim Boetsch, although a Bleacher Report poll shows that most fans disagree with the decision.
The loss was so deflating that UFC President Dana White suggested that Lombard has no part in the middleweight division, and that he could be competitive only if he made the drop to welterweight.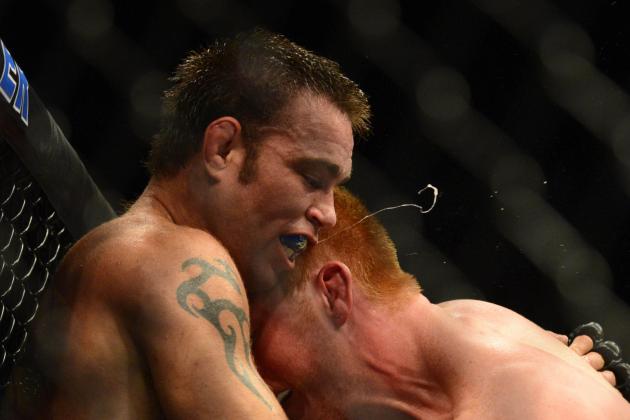 Ron Chenoy-US PRESSWIRE

The hype behind Jake Shields was well deserved. The impact of his wins against the likes of Dan Henderson, Yushin Okami and Carlos Condit are absolutely indisputable. All three men have made major waves in the UFC, and represent the championship level of competition within three different weight classes.
Upon his signing with the UFC, Shields was the reigning Strikeforce Middleweight champion, and had successfully defended his belt against elite competition.
However, his arrival in the UFC wasn't as glorious as you might have expected. The jiu-jitsu expert defeated Martin Kampmann via split decision before dropping consecutive bouts to GSP and Jake Ellenberger.
Since that time, the Cesar Gracie standout won lackluster bouts against Yoshihiro Akiyama and Ed Herman. However, the Herman victory has since been revoked as Shields tested positive for a banned substance post-fight.
Overall UFC Record is 2-2 (1), and he hasn't looked good in a single contest. Where is the guy who dominated Dan Henderson?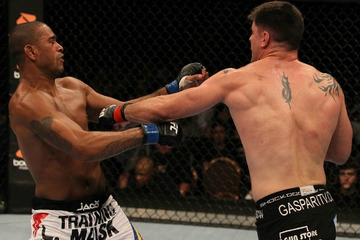 Courtesy of sidneyrezende.com
Jorge Santiago has done well in every major organization he competed in except for one: the UFC.
The most success that the Brazilian found was with Japanese organization Sengoku. Under the banner, Santiago put together a 6-1 record, winning the 2008 middleweight Grand Prix, the middleweight championship and then defending it twice.
Santiago is the only man to defeat hot prospect Mamed Khalidov since 2005.
However, when it came time to earn his keep inside the Octagon, Santiago fell flat on his face time and time again. His first run came in 2006 when he went 1-2, getting knocked out by Chris Leben and Alan Belcher in the process.
After his success in other organizations, Santiago returned to the world's largest fighting organization. Faring even worse than his initial tenure, "The Sandman" was given the boot after losing consecutive bouts to Brian Stann and Demian Maia.
Some guys just can't handle the big stage.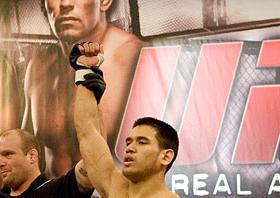 Courtesy of sportsillustrated.com
Certain levels of hype are so incredible that they cannot be lived up to. In the case of Phillipe Nover, he never had a chance.
Through the filming of Season 8 of The Ultimate Fighter, UFC President Dana White called Nover "The Next Anderson Silva." Were that not enough, he later mentioned that the fighter reminded him of a young Georges St-Pierre.
If that isn't the most ringing endorsement you've ever heard, I don't know what is. To directly compare a fighter to the two greatest fighters in UFC history is a deep commitment to make.
With all of the talent that White has seen over the years, to hear him make these proclamations about Nover, you'd better believe that Nover would go on to win the reality series and go on to capture the UFC lightweight championship without breaking a sweat.
Oh, wait. Never mind.
Nover's accomplishments in the UFC don't resemble those of any champion. In fact, he never won a single bout in the organization. Instead, he lost the tournament finals to Efrain Escudero before dropping fights to Kyle Bradley and Rob Emerson, neither of which have winning records in the Octagon.