Handing out Awards for the 2012 World Series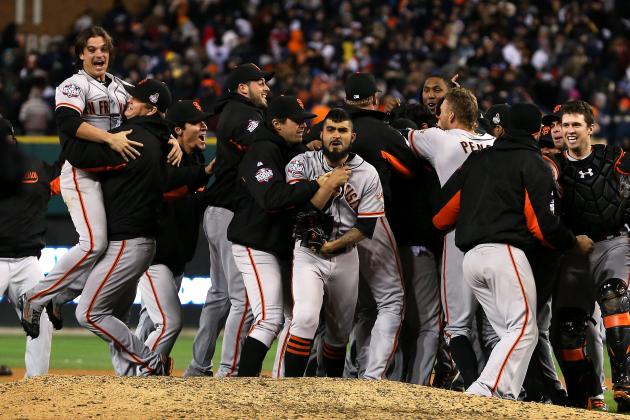 Ezra Shaw/Getty Images

It took 52 years for the Giants to win their first World Series title in San Francisco.
Twenty-four months later, they're back atop the baseball world.
With a 4-3 victory over the Detroit Tigers on Sunday night, San Francisco captured its second world championship in the last three seasons and made an early-entry case for team of the decade.
So, who and what will history remember from the 2012 Fall Classic?
We at B/R attempt to answer that question in the slides ahead with our home-cooked batch of World Series awards.
Begin Slideshow

»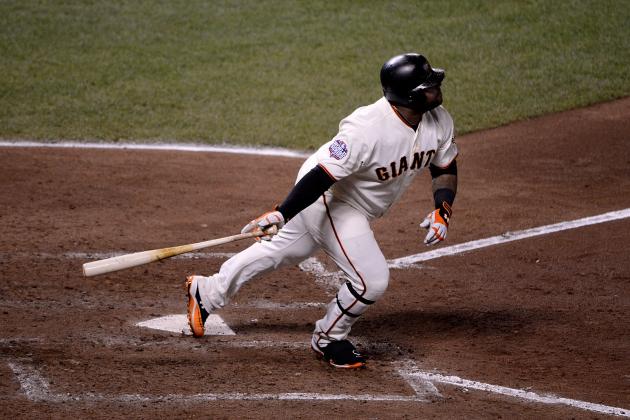 Thearon W. Henderson/Getty Images

You could argue Pablo Sandoval's MVP candidacy on any number of levels.
Statistical:
The Giants third baseman went 8-for-16 with three home runs and 18 total bases.
Historical:
In Game 1, Sandoval joined Babe Ruth, Reggie Jackson and Albert Pujols as the only men in major league history to hit three home runs in a World Series contest.
Emotional:
Sandoval's first-inning home run off Justin Verlander in Game 1 gave the Giants hope in a game most predicted they'd lose. His second bomb off the reigning AL MVP three innings later put San Francisco squarely in control, ultimately leading to a momentous series-opening win.
It'd be harder to argue that any other player in this series played a more vital role than the mercurial Giants slugger. Two years after he was relegated to part-time duty during San Francisco's 2010 postseason run, Sandoval rewrote his playoff legacy and lifted the Giants to an early advantage they would never relinquish.
Runners-up: Barry Zito, Ryan Vogelsong, Tim Lincecum, Sergio Romo, Madison Bumgarner, Marco Scutaro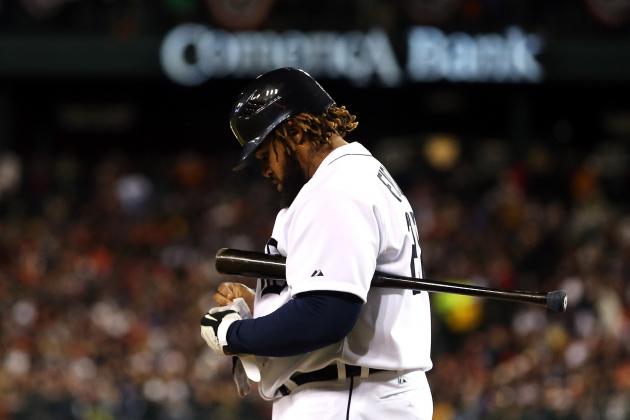 Ezra Shaw/Getty Images

In Prince Fielder's defense, bad luck played a pretty visible role in his postseason struggles.
Line drives, sharp grounders, deep fly balls—everything off Fielder's bat this October seemed destined for leather.
Then again, Tigers fans probably don't want to hear anything remotely resembling an excuse from the man their organization inked to a nine-year, $214 million deal this past offseason.
Fielder's contract invited criticism, and he'll get plenty more of it for his 1-for-14 World Series batting line—a performance that included zero extra-base hits.
Runners-up: Quintin Berry, Justin Verlander, Jose Valverde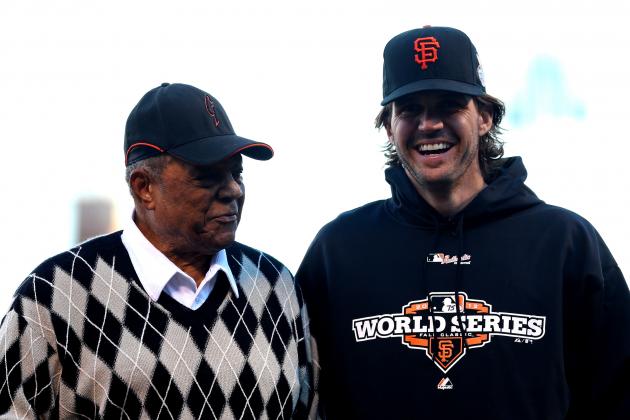 Christian Petersen/Getty Images

Were you to take an informal survey of the pundits that picked the Tigers to win this Series (myself included), I think most would tell you they took Detroit because of its favorable pitching matchups.
And by that they meant there was no earthly way the Giants could survive two Barry Zito outings over the course of a seven-game series, particularly since Zito was slated to face Tigers ace Justin Verlander.
Zito, apparently, doesn't care for our punditry.
The oft-criticized lefty pitched 5.2 innings of one-run ball in Game 1 and added an RBI single of his own to take down the reigning AL MVP and stake San Francisco to an early series lead.
Because, you know, we all saw that coming.
Runners-up: Gregor Blanco, Madison Bumgarner, Omar Infante, Ryan Theriot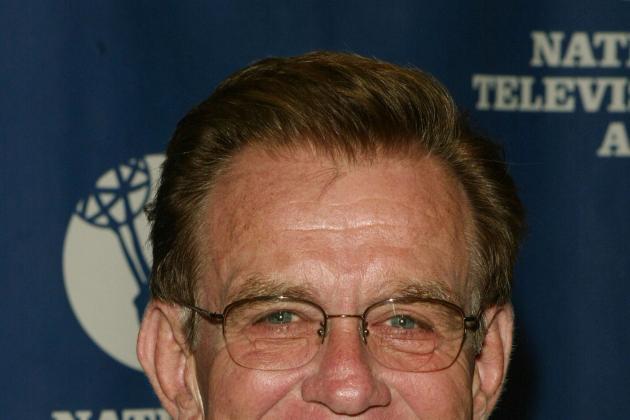 Peter Kramer/Getty Images

If you've watched baseball at any point over the last 20 years, you're probably well aware of omnipresent FOX color commentator Tim McCarver and the distinct breed of nonsense that comes out of his mouth.
The latest example, from Game 1 of the 2012 World Series (transcript via Rant Sports)...
[Audio picks up waves of Giants fans chanting Barry Zito's name]
Tim McCarver: That's a sound he has not hear too often in this ballpark. That sound of "Barry! Barry!"
Joe Buck: They used to say it for someone else around here.
McCarver: When Barry Manilow was here at concerts.
Buck was of course referring to former Giants slugger Barry Bonds.
McCarver, meanwhile, was doing what he always does—channeling your affable uncle while babbling sweet nothings into a live mic.
Twitter, eat your heart out.
Runners-up: Every other word out of Tim McCarver's mouth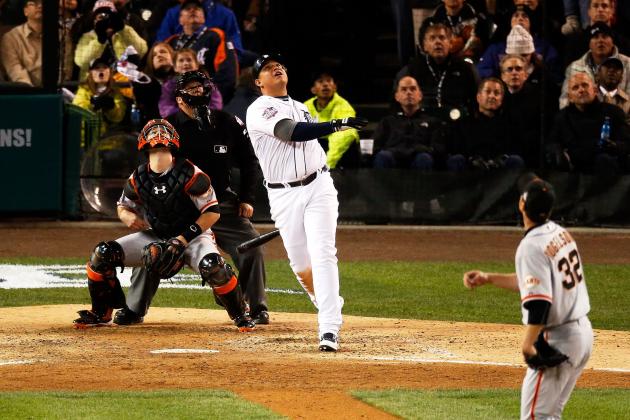 Leon Halip/Getty Images

It's hard to identify any real inflection point in a series that proceeded with such obvious one-way efficiency, but we'll try.
Down 2-0 in both the series and the game, Detroit entered the fifth inning of Game 3 in crisis mode. The Tigers hadn't scored a run in 14 innings. Hope was slipping away.
Spirits were rekindled momentarily when Detroit loaded the bases with one out and two-hole hitter Quintin Berry at the plate.
Said spirits were quickly extinguished when San Francisco starter Ryan Vogelsong fanned Berry on a 2-2 fastball and then induced a weak infield flyball off the bat of presumptive AL MVP Miguel Carbera.
The score held at 2-0 the rest of the way, and San Francisco was on its way to the 'ship.
Runners-up: Pablo Sandoval's record-setting Game 1; Prince Fielder running into an out at home plate in Game 2
Ezra Shaw/Getty Images

San Francisco Giants closer Sergio Romo was all sorts of awesome this postseason.
In addition to throwing 10.2 innings of one-run ball, the black-bearded slider maven stoked libidos the world over with his tireless passion for lip-licking.
In lieu of further explanation, I'll just leave y'all the link.
Runners Up: Wouldn't you like to know...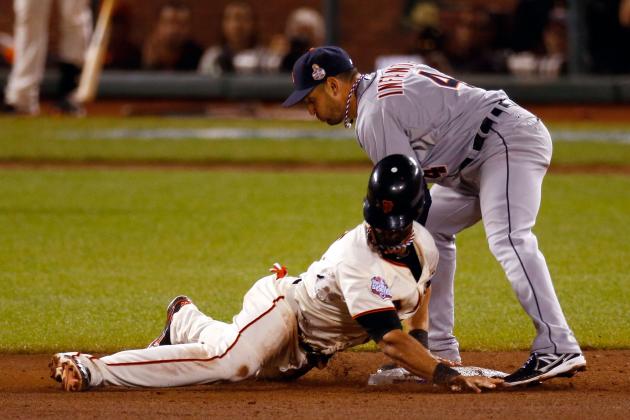 Jason O. Watson/Getty Images

For the past nine years, Taco Bell—America's one-stop-shop for fast and easy Mexican food followed by fast and painful ejection of said Mexican food—has sponsored a World Series promotion whereby it pledges one free taco to every American citizen.
One catch: The giveaway isn't triggered until someone steals a base.
Oh the suspense...
Well Angel Pagan did the honors in Game 2, and, by Game 3, FOX's Chris Myers was hard at work conducting an on-camera interview with Taco Bell executive Rob Savage.
And yes, it was as forced and uncomfortable an encounter as one would imagined, cementing Taco Bell's esteemed place as the epicenter of all things forced and uncomfortable.
Runners-up: The way Major League Baseball has a full slate of [FILL IN TEAM NAME] championship swag available for order the minute the series ends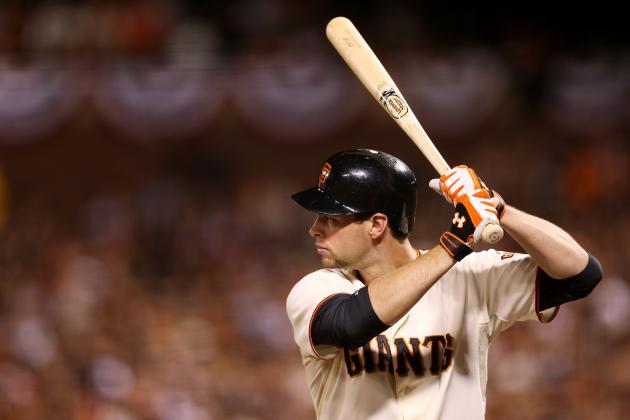 Christian Petersen/Getty Images

Giants first baseman Brandon Belt has plenty be proud of.
The 24-year-old is a World Series champion, an everyday player at the major league level and, from every indication, a swell guy.
And while his RBI triple in Game 4 keyed San Francisco's sweep, the youngster could stand to make some improvements.
For starters, he could make contact.
Belt struck out seven times in 13 World Series at-bats, and an astonishing 19 times over the course of the postseason.
Runner Up: Sergio Romo striking out five of nine batters faced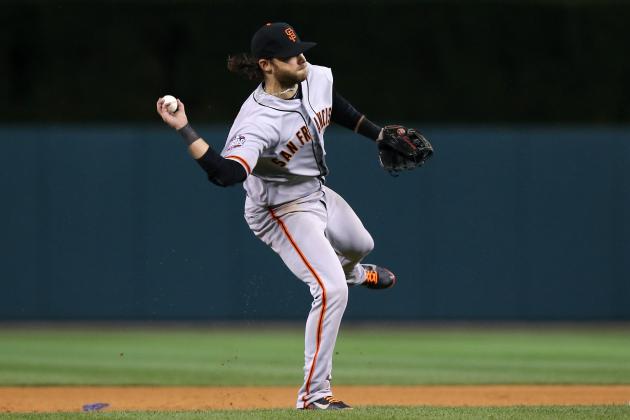 Ezra Shaw/Getty Images

There were plenty of strong contenders in this category.
Gregor Blanco was a whiz in left field. Tigers center fielder Austin Jackson gave the viewing public an up-close look at his incredible range. Even Pablo Sandoval had his moments.
But no one stood out more than Brandon Crawford, San Francisco's shortstop extraordinaire.
Those of sound mind—namely those able to look past fielding percentage—already knew that the UCLA product was one of the game's best defensive players at its most important defensive position. With a dazzling array of slick plays and strong throws, Crawford ensured that the rest of America was up to speed.
Expect multiple Gold Gloves in the young man's future, or at least a few Fielding Bible awards.
Runners-up: Gregor Blanco, Austin Jackson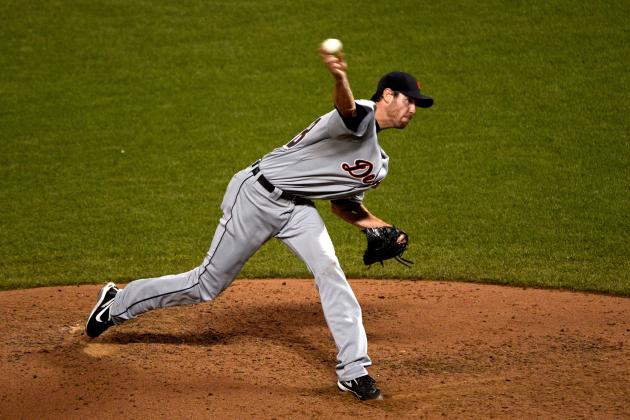 Thearon W. Henderson/Getty Images

In baseball, it's the ultimate stomach sinker: a batted ball off the pitcher's head.
No play triggers such an instant and collective state of dread.
So when Tigers starter Doug Fister took a Gregor Blanco line drive to the dome in Game 2, the immediate response was one of, "Holy crap, I hope he's OK."
There was little thought to whether or not Fister would continue pitching, but continue he did, allowing just one run over six innings pitched.
It was a gutsy effort. Or maybe it was a foolhardy effort. Or maybe it was both.
Either way, you have to recognize the resolve of a man who took a 99-mile-per-hour projectile off the head and endeavored to continue with his work.
Runners-up: Omar Infante, Delmon Young, Anibal Sanchez