Oklahoma State Football: Grading All 22 Starters from the TCU Game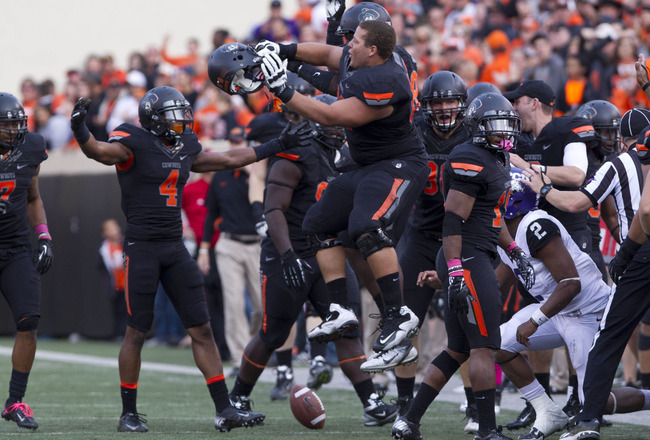 Richard Rowe-US PRESSWIRE
The Oklahoma State Cowboys continued their midseason surge by defeating a talented TCU Horned Frogs team 36-14. The Cowboys used their athleticism and depth to outlast the opponent, resulting in their fifth win of the season.
In one of the most complete games of the season, Oklahoma State was clicking on all cylinders against TCU. The players did their job for the most part, and the team as a whole did a nice job of bouncing back after going down 14-0 in the first quarter. However, that does not mean that everyone will get a good grade.
Every game and every team has its bad spots each week, even in an impressive win over a tough conference opponent. Here, we will grade only the starters at each position. Many backups, especially on the defensive side of the ball, came up big for the Cowboys as well. A few of them will get a mention on the appropriate slide.
Quarterback: Wes Lunt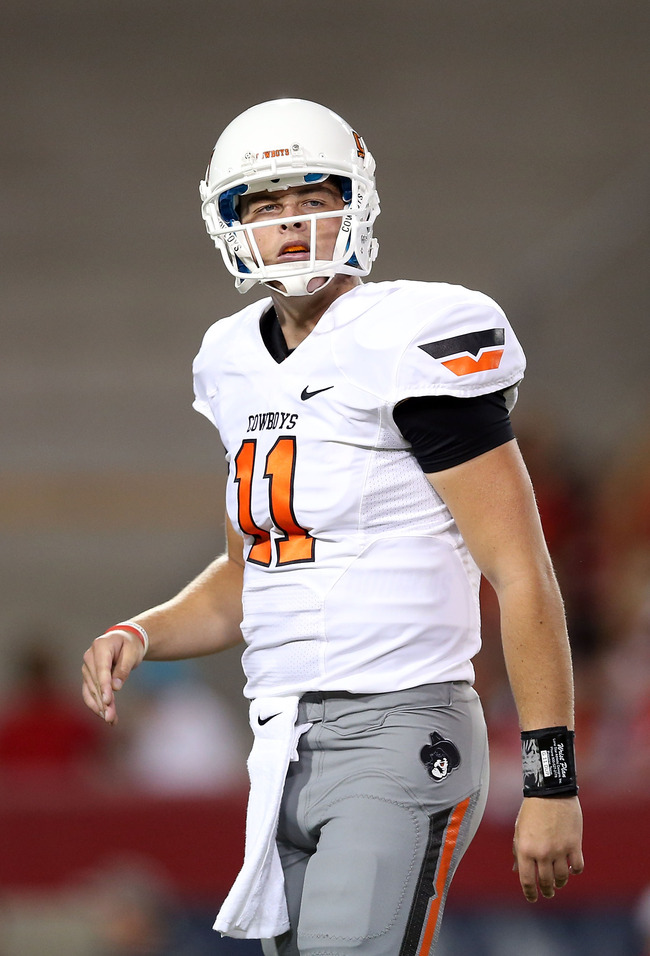 Christian Petersen/Getty Images
Grade: B
After not playing for six weeks, Wes Lunt was obviously rusty in the beginning of the game against TCU. As the game went on, though, he made it clear why he won the starting quarterback job in the offseason.
The freshman completed 18-of-33 passes for 324 yards, one touchdown and one interception that was returned for a pick-six. The first half was very unimpressive for Lunt, but he made up for it in the second half, completing 11-of-17 passes for 191 yards and his single touchdown. He will be likely be even sharper from the beginning next week against Kansas State. The longer he has to get back to form, the better he will get.
Running Back: Joseph Randle
Richard Rowe-US PRESSWIRE
Grade: A
This game was not one of Joseph Randle's best by any stretch. However, he did run hard and well against one of the better defensive fronts he will face this season. The holes were not as wide for him in this game as they have been against other opponents, but he did his usual thing by getting extra yards after the first hit.
He did not score his first touchdown until the very end of the game, but he spent most of the game moving the Cowboys up and down the field. His average of 3.9 yards per rush is not great, but it isn't bad if you saw how little room he had to run at times.
Wide Receiver: Isaiah Anderson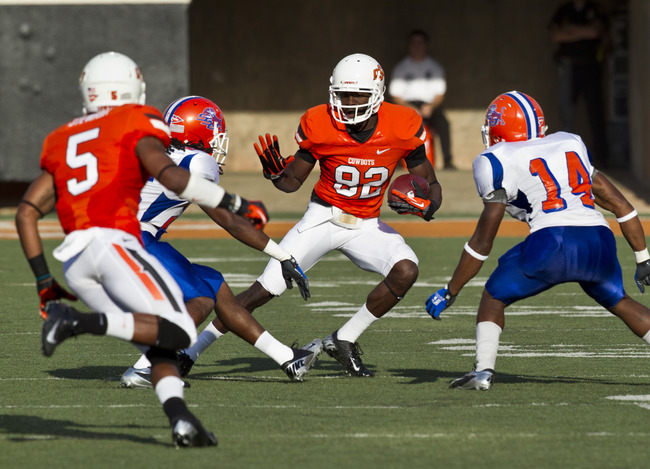 Richard Rowe-US PRESSWIRE
Grade: D
I have decided to be kind to Isaiah Anderson with my grade. The senior wide receiver did not register a single catch against TCU, and it was barely even noticeable that he was out there. He did get targeted a couple of times, but at least one of those passes was uncatchable.
Anderson is in danger of being forgotten in this offense, if he has not been already. He has nine catches for 112 yards so far this season, but he has only recorded one catch in the last five games. That is not a good sign, especially when you consider that he had eight catches in the first two games.
Wide Receiver: Charlie Moore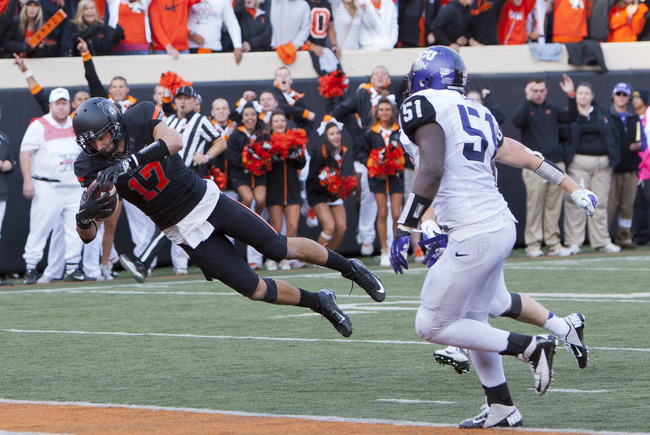 Richard Rowe-US PRESSWIRE
Grade: C+
Charlie Moore is one of the more hilarious players to watch on this team. One minute, he is making a big play that really helps the team. The very next play, he is likely to make a big mistake that will cost the team. There is no telling what you will get from him from play to play.
A perfect example can be seen in this game. Moore caught a touchdown pass from Wes Lunt late in the game. It was a nicely run route and a good catch, one of the more impressive plays he has made in his career. The very next time he is out there, he muffs a punt. Moore has great potential, but he needs to limit those kinds of mistakes.
Inside Receiver: Josh Stewart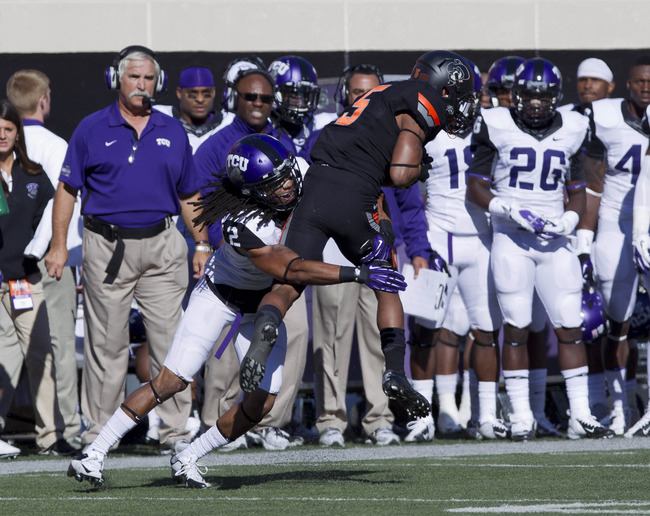 Richard Rowe-US PRESSWIRE
Grade: A+
If you take anything away from this game, it should be this: Josh Stewart has become the second-best option on the Oklahoma State offense other than Joseph Randle. The sophomore receiver caught six passes for 120 yards and rushed once for 14 yards.
Stewart is among the speediest inside receivers in the country, and he has won the job of the No. 1 receiver on this team. He has caught 48 passes for 574 yards and three touchdowns this season and has a decent shot at breaking the 1,000-yard mark in just his second season.
Inside Receiver: Blake Jackson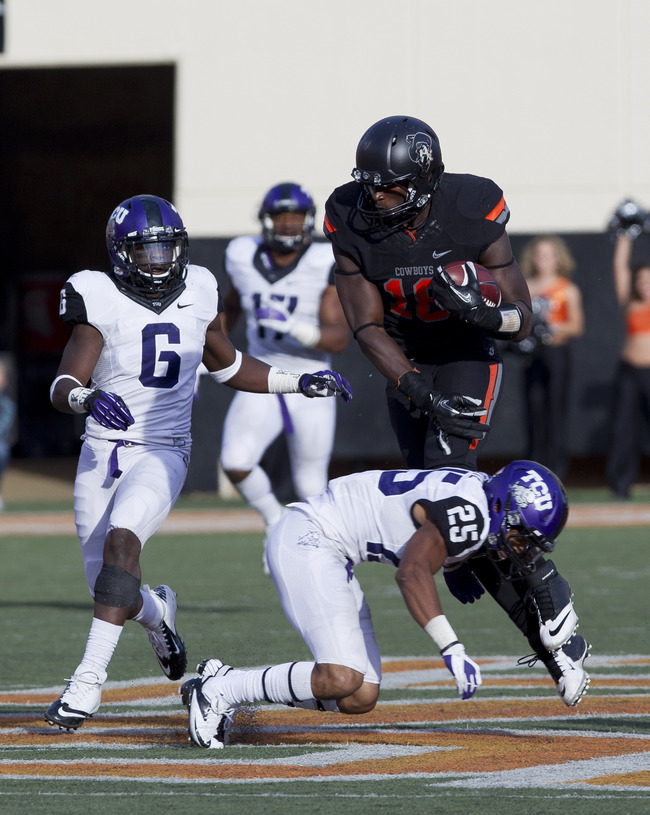 Richard Rowe-US PRESSWIRE
Grade: B+
Blake Jackson's grade would be quite a bit higher if he had caught more passes. He only caught three all day. Granted, that is not all his fault, but he needs to make himself a bigger part of this offense and passing game.
He proved that when he does get the ball, he is extremely difficult to bring down. At 6'3" and 235 pounds, Jackson is huge and he also has amazing speed for that size. He carried multiple defenders for extra yards against TCU and averaged 31.3 yards per catch. Just imagine what he could do if he got the ball more often.
Offensive Tackle: Parker Graham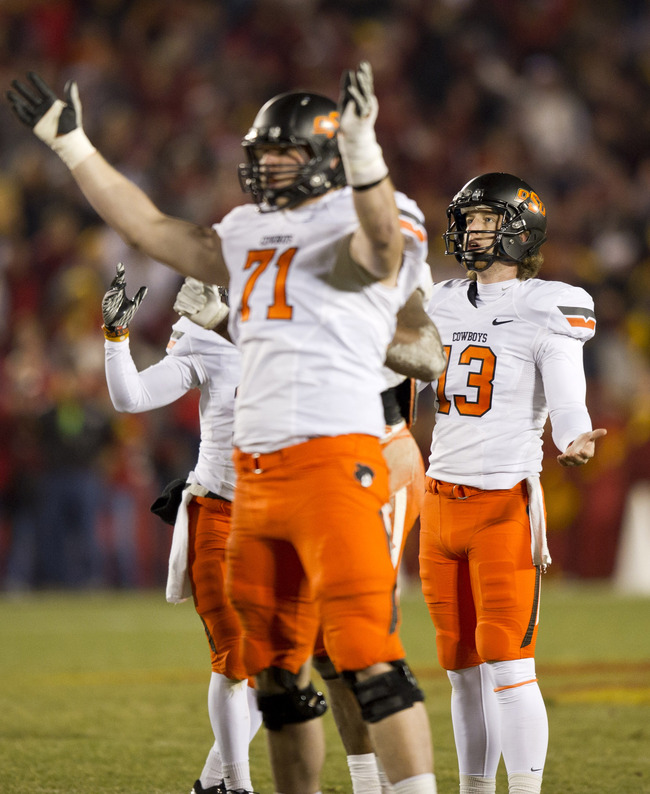 US PRESSWIRE
Grade: C
Parker Graham did well against TCU. Truthfully, there was not much that was memorable about his performance, which is usually a good thing for an offensive lineman. He did have trouble holding his blocks at times against TCU's defensive front, but most of the other offensive lineman did as well. He needs to do better when it comes to run blocking.
Offensive Tackle: Daniel Koenig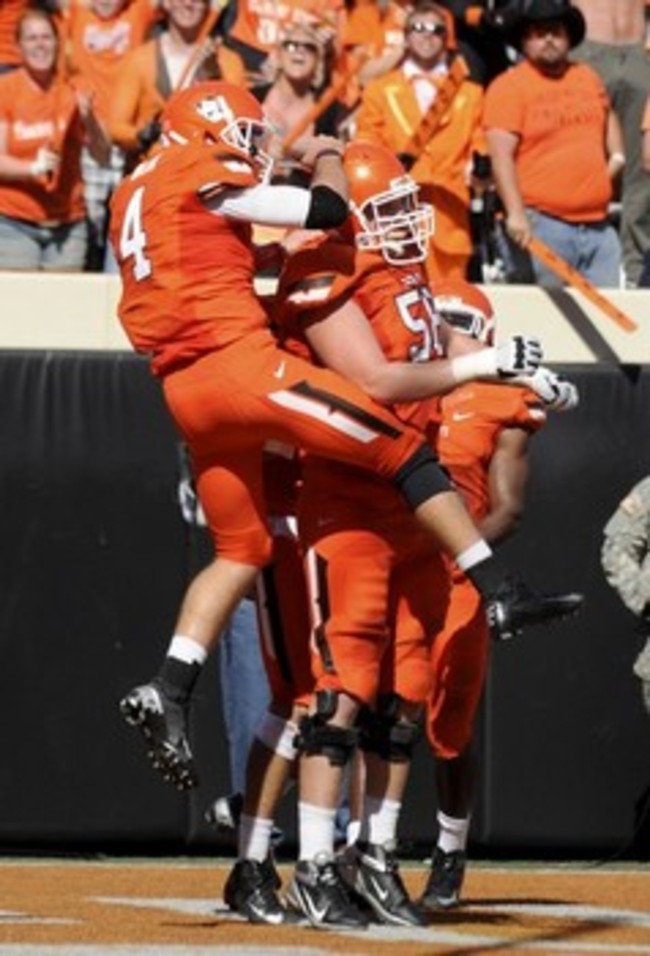 Grade: B
Daniel Koenig did not practice at all in the week preceding this game due to injury, which sheds a completely different light on his performance in this game. If he had not been injured, he probably would be getting a C or lower. Koenig is one of the better lineman on this offensive line, but he did pretty well considering that he was just coming back with no practice under his belt.
Offensive Guard: Jonathan Rush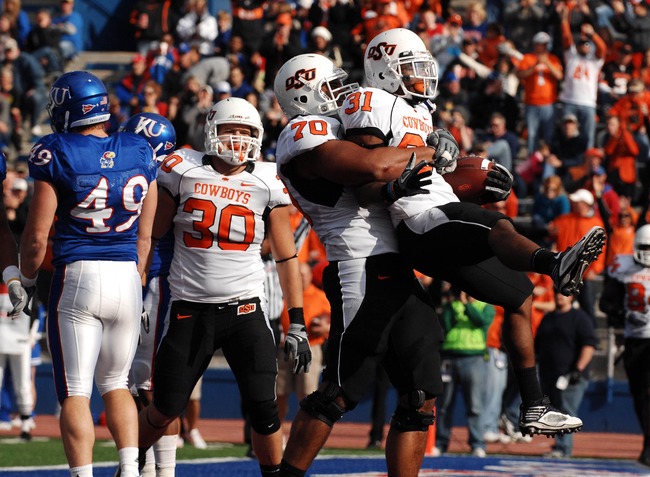 John Rieger-US PRESSWIRE
Grade: C+
Jonathan Rush did a good job of helping secure the middle of the field, and he held his blocks very well. Much like Parker Graham, there really was not much to remember about his performance. He did well, but he could have done better.
Offensive Guard: Lane Taylor
Richard Rowe-US PRESSWIRE
Grade: B-
Lane Taylor is probably the best offensive lineman on this team, and he played like it against TCU. He did a good job of helping keep TCU from rushing Wes Lunt up the middle, and he also did a good job of holding his run blocks to give Joseph Randle a few decent holes. Taylor will be playing on Sundays pretty soon.
Center: Evan Epstein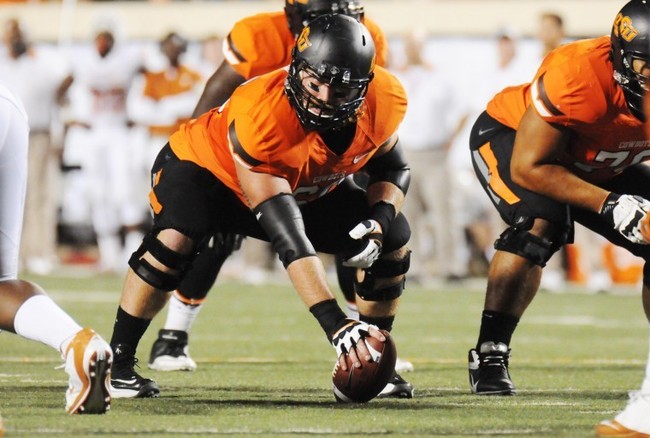 Grade: B
The center position is one of the most underappreciated and important on the offensive side of the ball. Evan Epstein did a good job of helping out Wes Lunt, keeping him upright for most of the game and securing the middle of the pocket. The relationship between a center and quarterback is crucial, and it is clear that Epstein knows how to make Lunt comfortable.
Defensive End: Cooper Bassett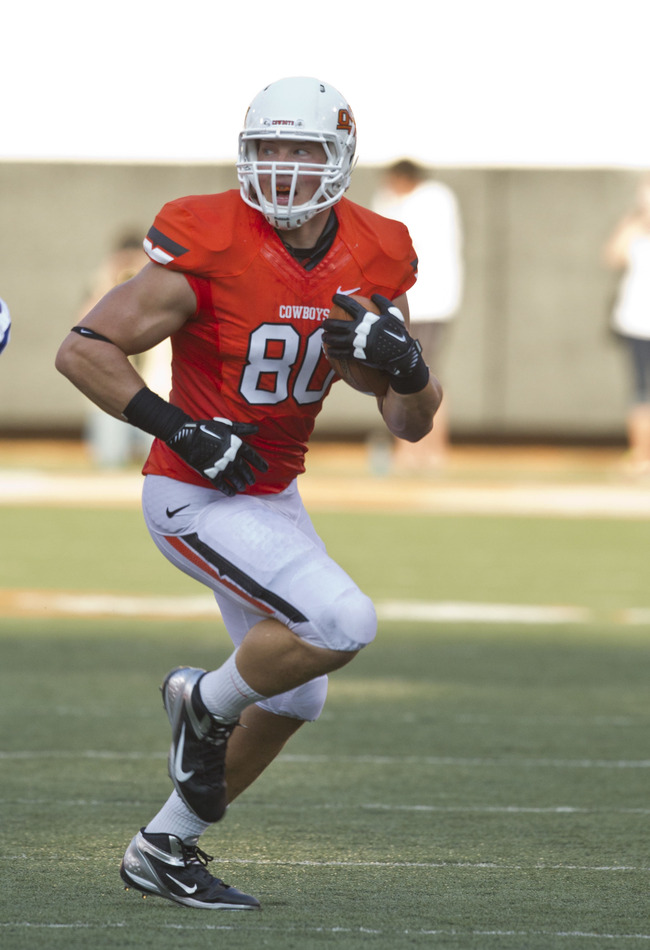 Richard Rowe-US PRESSWIRE
Grade: C+
Cooper Bassett is proving himself as a key part of the Cowboy defense. He only had one tackle against TCU, but he did help contain the Horned Frogs' running game. He also broke up a pass, and made it very difficult for TCU quarterback Trevone Boykin to throw a pass toward that side of the field.
Love for the Backup: Nigel Nicholas played very well while in the game, getting one sack, one forced fumble, and one recovered fumble.
Defensive End: Ryan Robinson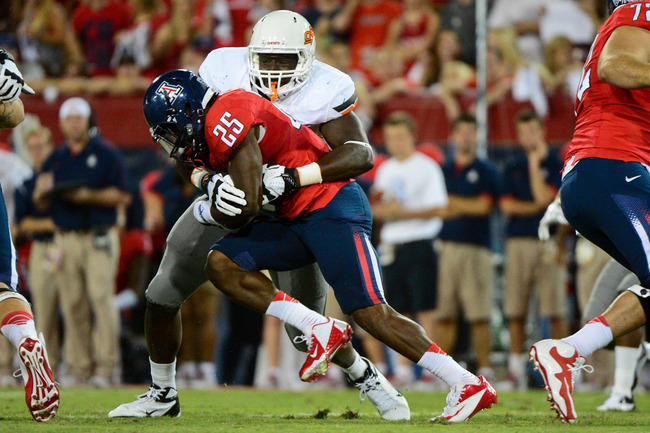 Matt Kartozian-US PRESSWIRE
Grade: C
Strangely, Ryan Robinson's stat line looks exactly the same as that of Cooper Bassett. The reason he gets a slightly lower grade for it goes beyond the stats. Robinson just is not the same presence that Bassett is yet. He has shown the ability to have that kind of impact, but he has yet to do it as consistently.
Defensive Tackle: James Castleman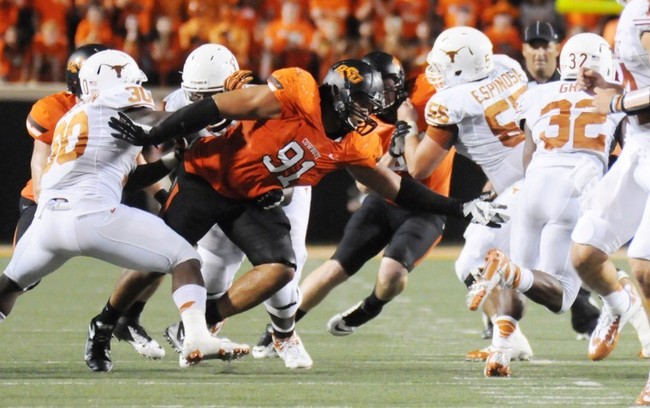 Grade: C
As you can tell by now, the Cowboy defensive front broke up a lot of passes against TCU. James Castleman broke up one pass and accounted for one tackle. It was not a great game by any standard, but he did play pretty well. His help containing the backfield was his biggest contribution.
Defensive Tackle: Calvin Barnett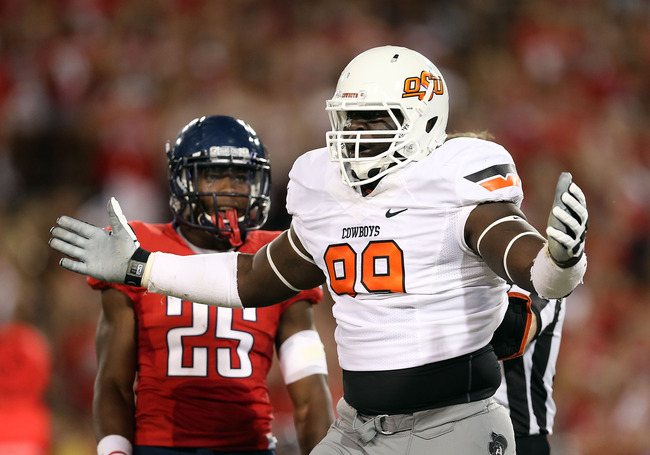 Christian Petersen/Getty Images
Grade: C-
Calvin Barnett did not do much that translates to the stat line. In fact, he accounted for just a single tackle against TCU. However, he has been an integral part of a much-improved Cowboy defensive line. Barnett is still adjusting to the Division I game, but he is doing a fairly good job of clogging the middle.
Linebacker: Alex Elkins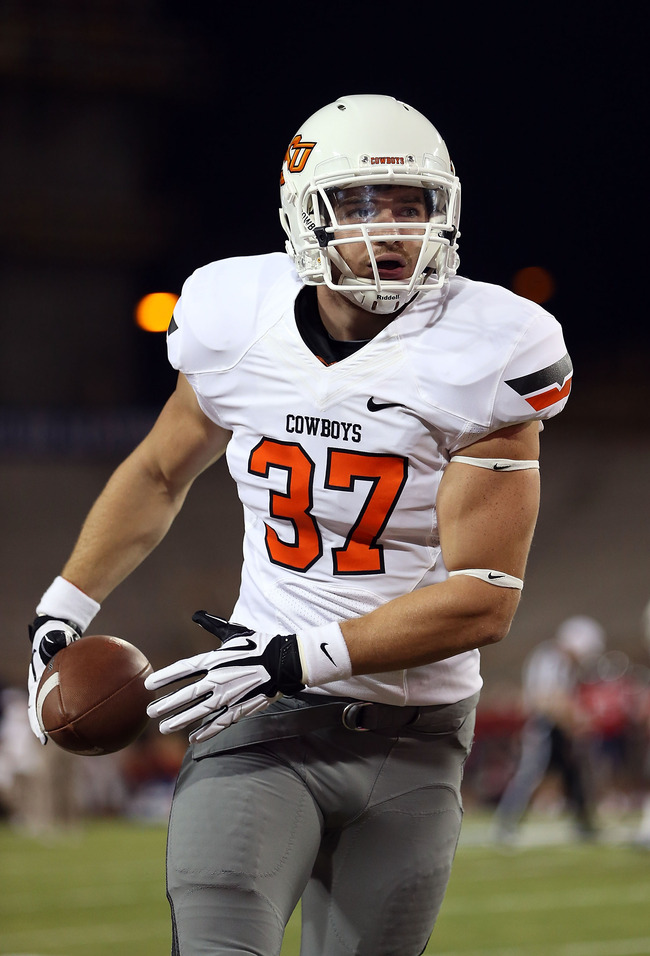 Christian Petersen/Getty Images
Grade: A
The defense as a whole played well, but if you had to pick one player as the defensive MVP, it would be Alex Elkins. The senior linebacker had nine tackles, 2.5 tackles for loss and half a sack. If it seems like he was all over the field, that's because he was.
Elkins displayed the kind of leadership-by-example this team needs a lot more of. He was extremely active against the run and pass and was always in the right area to make the right play.
Linebacker: Shaun Lewis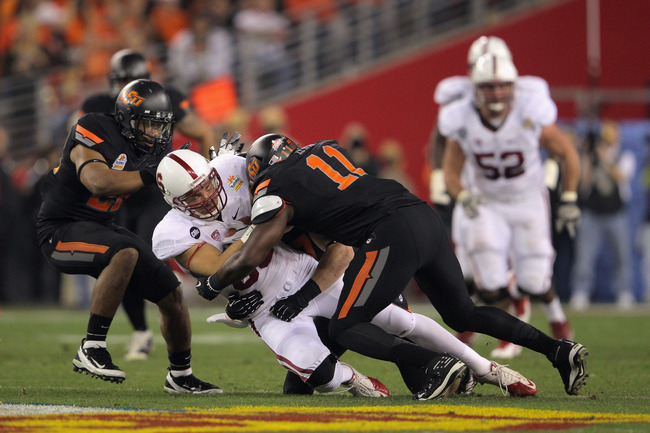 Doug Pensinger/Getty Images
Grade: B+
Shaun Lewis also had a strong game at the linebacker position. He recorded six tackles of his own and was also a big factor in many of the blitz schemes the Cowboys employed to confuse and pressure Trevone Boykin. He did not do much other than those seven tackles, but the pressure he helped bring led to key incompletions and sacks.
Linebacker: Caleb Lavey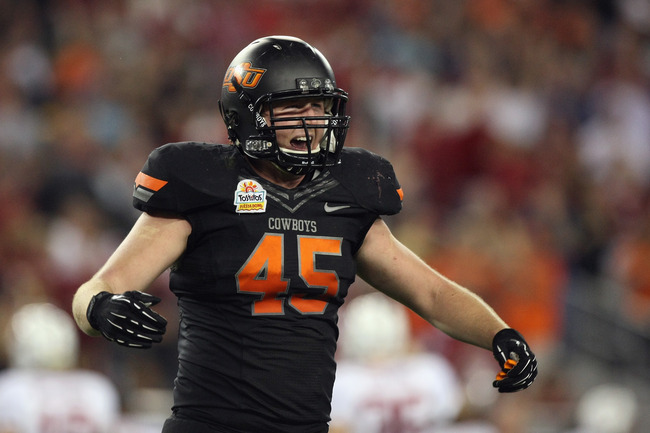 Donald Miralle/Getty Images
Grade: C+
Caleb Lavey accounted for two tackles in this game, and he did not really prove to be much of a factor. He has been injured recently this season, and his backup Ryan Simmons has also been playing quite a bit. Lavey is still an important part of this defense, but his role may be diminishing.
Love for the Backup: Ryan Simmons played well while he was in there. He only accounted for half a sack, but he was also really involved on numerous other plays.
Cornerback: Brodrick Brown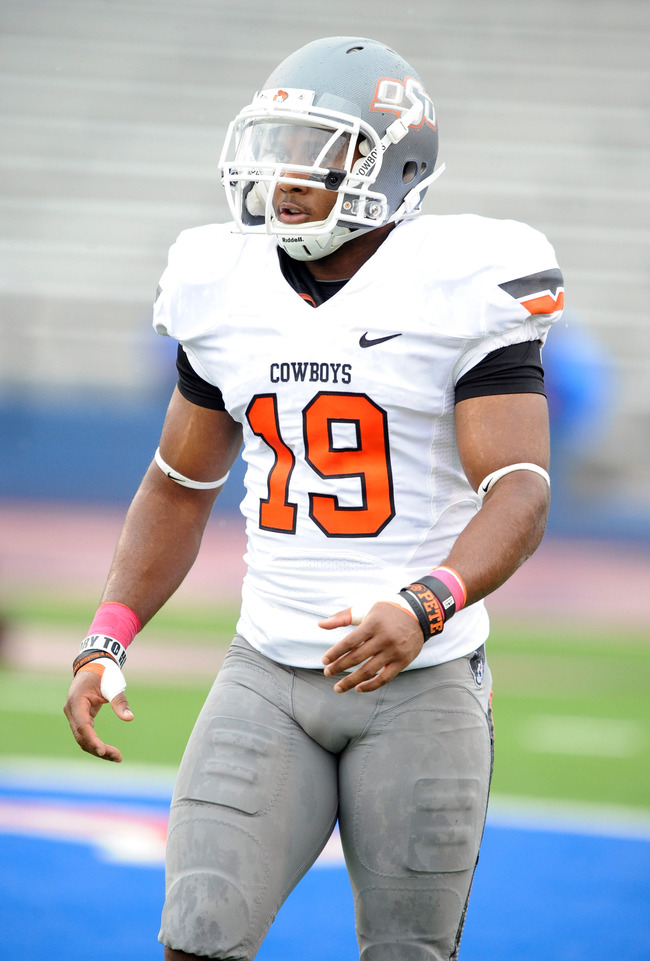 John Rieger-US PRESSWIRE
Grade: B
Brodrick Brown had a very solid game, which is good considering that he has been a bit inconsistent this season. He accounted for five total tackles, and he was very active in defending the passing game. Brown is one of the leaders of this defense. When he does well, it makes them all better.
Love for the Backup: Freshman Kevin Peterson also played very well while he was in the game. One play in particular comes to mind, when Peterson, suffering from a major height disadvantage, broke up a long pass play perfectly. He is showing that he could be a major part of this defense in the coming seasons.
Cornerback: Justin Gilbert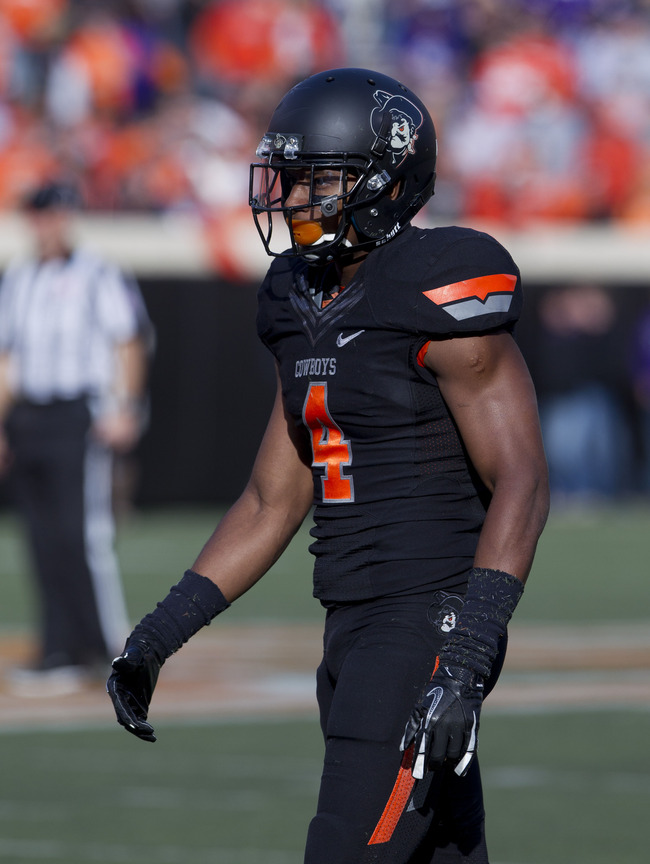 Richard Rowe-US PRESSWIRE
Grade: C-
Justin Gilbert is one of the most talented players on this football team, but he has not played like it this season. He only had two tackles against TCU, and he was beaten on the outside multiple times by TCU's wide receivers. Anyone who was worried about losing Gilbert to the NFL after this season can probably stop worrying. He has the talent, but he also still has growing to do before he is ready for that stage.
Strong Safety: Shamiel Gary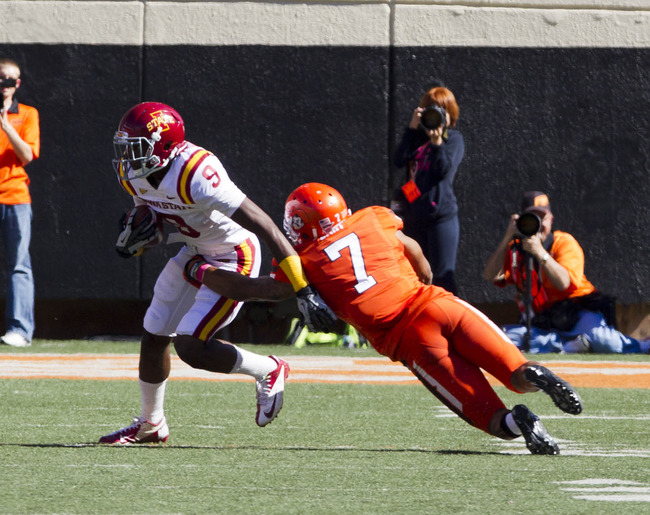 Richard Rowe-US PRESSWIRE
Grade: B+
There have been times this season when Shamiel Gary looked way over his head. The fact that he is replacing Markelle Martin does not help, but he played well against TCU for the most part. He has the second-most tackles on the team with seven and played a major role in defending the run. His coverage skills still need some work though.
Free Safety: Daytawion Lowe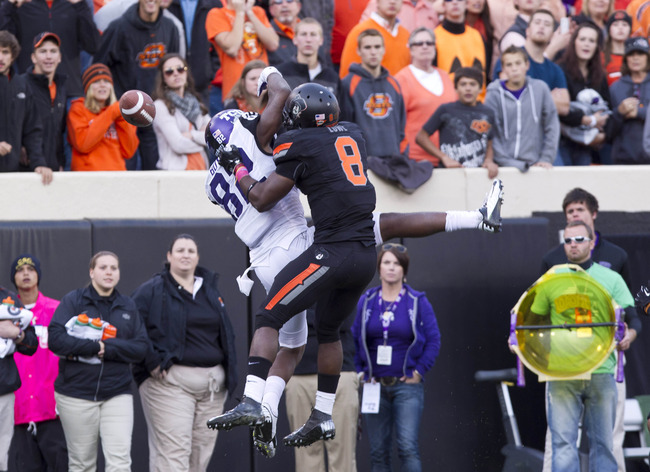 Richard Rowe-US PRESSWIRE
Grade: B+
Daytawion Lowe was among the most impressive defensive players the Cowboys had in 2011. He has not been great in 2012, but he was very good in this game. He only had three tackles, but he also broke up a pass and intercepted another that he nearly returned for a score. Unofficially, he had another interception, but it was called back on a phantom pass interference call on Justin Gilbert.
Punter/Kicker: Quinn Sharp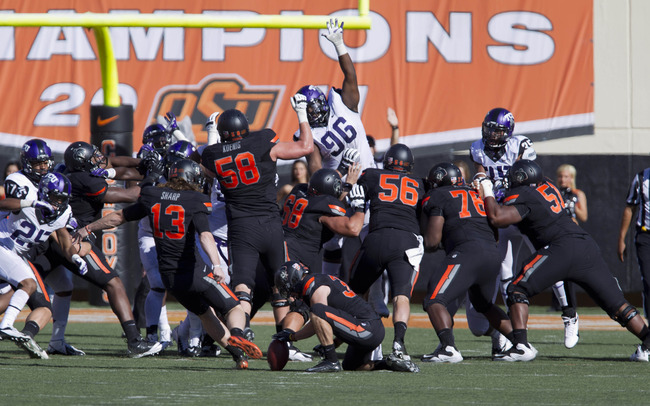 Richard Rowe-US PRESSWIRE
Grade: A+
Rarely do specialists like Quinn Sharp get much of the spotlight, but in this game, he was the MVP. No other player affected the game as much as Sharp did, especially in the first half. The kicker/punter extraordinaire was elite in everything he did against TCU. He went 5-for-5 on field goals, scoring all of the Cowboys' first-half points.
He also buried the Horned Frogs with each kickoff, achieving touchbacks on seven of his nine kickoffs and averaging 64.7 yards for each. Punting was also not a problem, as Sharp averaged 42.8 yards per punt and dropped two within TCU's own 20-yard line. Sharp is likely on his way to winning Big 12 Special Teams Player of the Year for the second consecutive year.
Keep Reading

Oklahoma State Football: Like this team?