USC didn't just spear its own postseason aspirations with its loss to Arizona.
Which team is the least likely to go undefeated?
The latest BCS rankings tell the tale of multiple teams that could ultimately be left out of the national championship game as a result of the Trojans' blunder. Here are those schools, as well as the ones that were helped.
No. 3 Notre Dame
Isn't that ironic?
Fighting Irish fans likely cheered hysterically for the Wildcats to defeat their rival, but Notre Dame may have needed USC. At No. 3 in the nation, Notre Dame is on the outside looking in. and a victory over a Trojans team ranked in the Top 10 could've catapulted the Fighting Irish over Kansas State for the No. 2 spot.
If the Wildcats win out, a triumph over a two-loss USC may not be enough to earn Notre Dame a championship bid.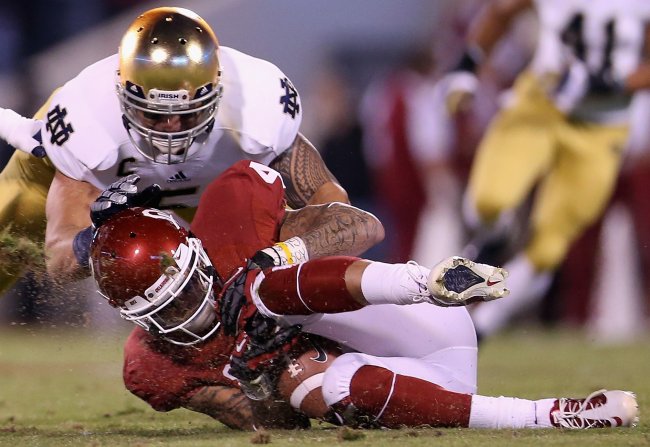 Ronald Martinez/Getty Images
No. 4 Oregon
Like the Fighting Irish, Oregon was relying heavily on USC to be a win that'd make its resume undeniable. While the Ducks still have ranked opponents in No. 14 Stanford and No. 11 Oregon State left on their schedule, again, who knows if that'll be enough to leapfrog an undefeated K-State and Notre Dame. A victory over a one-loss Trojans team would've likely been more than enough, though.
No. 5 LSU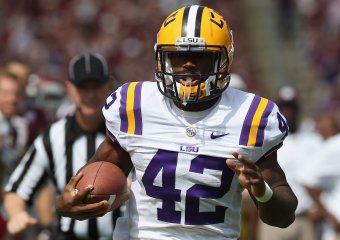 Ronald Martinez/Getty Images
Besides Kansas State, who was obviously helped the most, LSU should also be ecstatic about USC's loss. Now, a victory over Alabama almost guarantees that the one-loss Tigers would receive a national title bid over an undefeated anyone.
Again, a perfect Notre Dame and Oregon would've been extremely difficult to keep out if each had defeated an elite Trojans club. But now, a win over the No. 1 Crimson Tide would outweigh anything the Fighting Irish and Ducks will do the rest of the season.
Here are the updated BCS standings:
WEEK 10

BCS

STANDINGS
1. Alabama
2. Kansas State

3. Notre Dame

4. Oregon

5. LSU

6. Georgia

7. Florida

8. South Carolina

9. Florida State

10. Louisville

11. Oregon State

12. Oklahoma

13. Clemson

14. Stanford

15. Mississippi State

16. Texas A&M

17. USC

18. Texas Tech

19. Boise State

20. Nebraska

21. West Virginia

22. Arizona

23. Texas

24. Oklahoma State

25. Louisiana Tech
David Daniels is a featured columnist at Bleacher Report and a syndicated writer.