The 5 Most Underrated Players of the 2012 NFL Season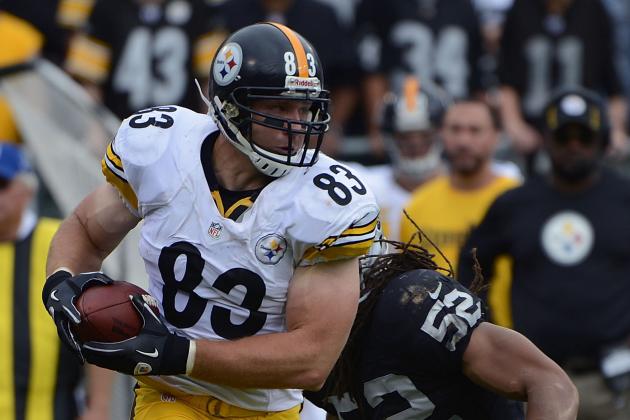 Thearon W. Henderson/Getty Images

In a team sport like the NFL, individual performance is hard to judge.
Often, every player on the field is at least partially responsible for the success or failure of a given play. And that's the beauty of the sport. It's a team battle, where each player relies on his fellow soldiers to get the job done. If his blockers fail, the star quarterback fails. If the nose tackle doesn't do his unheralded, sumo-job at the line, then Clay Matthews can't stand over a downed passer, posing in his trademark sack celebration.
But as amazing and unique the team focus makes football, it also poses some difficulties. A major one is effectively quantifying individual contributions to a team effort, particularly for back-stage positions like offensive linemen and special teams players. Stats like touchdowns and sacks can be very deceiving. Sure, they're the successful end points to a play, but it's naive and unfair to credit that success to just one player.
For instance, in the 2000s, Steven Jackson annually ranked at the top of the league in yards rushed per game, and yards from scrimmage. But he rarely collected the touchdown and yards per carry numbers to match. If you watch Jackson play with an educated eye, you'll immediately realize that he's an elite-level athlete and performer. But if you judged him on his performance statistics alone, yards per carry (4.2 YPC career) and touchdowns (just under seven per season), he'd seem like a much more average player.
Jackson's stats are misleading. The team he plays for, the St. Louis Rams, are one of the game's worst, and his weak supporting cast no doubt affects his on-field impact. Since he took over as the Rams' starting running back in 2005, he's earned three Pro Bowl elections, yet St. Louis has never posted an above .500 record, and they've ranked in the bottom third of the league in point differential in six of the last eight seasons.
Just like the passing game, running backs rely heavily on their blockers. Until they can get past the line of scrimmage, they're at the mercy of the earth movers in front of them. They need enough time to take the hand-off and build up speed before they can really do their own job—picking up yards once they've actually started running.
In Jackson's case, his blockers were among the four worst groups in the NFL from 2007-11. In that period, Rams linemen never ranked better than 26th in the league, and they often posted bottom-three ranked stuff percentages (percent of times the running back is tackled behind the line) and power success rates (how often a running play is successful at picking up a short first down).
After taking a closer look at Jackson's team, his once mediocre-looking stats now appear extraordinary. How did he do so much with so little?
And there lays the problem with measuring individual player performance in the NFL—at least on the surface. So many of the game's top players are overlooked annually, and without using a more in-depth analysis of their performance, it would be difficult to appreciate their contributions.
In sports, like the MLB and NBA, where players are largely the focus, stats can provide a much more honest and detailed view of individual performance. Now, in the Sabermetrics era, Major League Baseball fans can use a spectrum of tools to appraise their favorite players, from batting average and ERA to dWAR and fielder-independent pitching (FIP). The same goes for the NBA, where readily available counting and rate stats can tell you pretty much everything you want to know.
For the most part, NFL fans are still left to use antiquated measures to examine the game—passing yards, rushing touchdowns, etc...But sites like AdvancedNFLStats.com and FootballOutsiders, are starting to pop-up. They're aiming to accomplish what Tom Tango, Baseball Prospectus and Fangraphs did a few years ago for baseball: help the sports world properly credit players for their contributions.
After using a more in-depth analysis to find the NFL's real top performers, I've concluded that the following players are the game's most underrated.
Begin Slideshow

»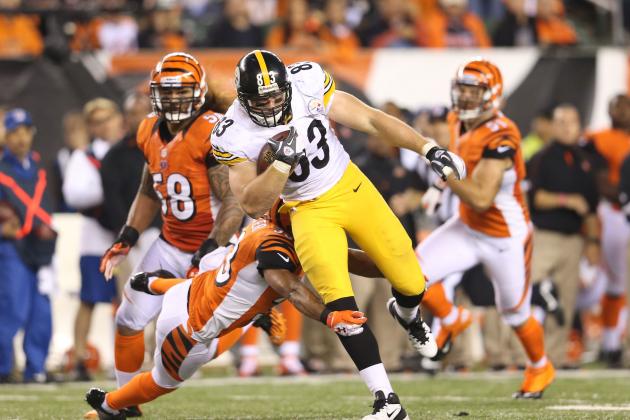 Andy Lyons/Getty Images

Among NFL tight ends, premium athletes like Rob Gronkowski, Jimmy Graham and Tony Gonzalez get all of the fame. They're the game's best at catching deep passes, hauling in touchdowns and busting through coverage.
But the more traditional, smash mouth guys can be just as valuable. Coaches like Gary Kubiak, Mike Tomlin and the Harbaugh brothers, who value power oriented offenses that control the clock, would readily trade Vernon Davis or Greg Olsen for a guy that can throw a game-changing block and catch quick passes effectively.
As far as this breed of playmaker goes—hard-nosed run blocking tight ends with sure hands—Heath Miller is arguably the best in the NFL.
Miller is one of the league's most potent blocking tight ends. Pittsburgh has so much faith in his protection skills, that they regularly use him as an extra lineman when they're using a run-oriented approach. This year, injuries have ravaged their running back corps. But, traditionally, their run blocking rates among the AFC's best—particularly on plays where the ball carrier runs off the end (Miller's area).
In the passing game, Miller's not only a top-shelf receiver, but also a selfless blocker. Among starting tight ends, he annually ranks among the top-five in pass blocking efficiency. That's even more impressive considering the troubles Pittsburgh lineman have had preventing quarterback pressure and sacks during the past few years. His willingness to hang back and tangle up pass rushers is invaluable, as it allows speedy playmakers like Mike Wallace and Antonio Brown to stretch the field and keep safeties from creeping in towards the line.
Miller's value spans far beyond his top-shelf blocking ability, he's also one of the most consistent receiving tight ends of the past decade. Coming in to 2012, he'd averaged 552 receiving yards and four touchdowns annually since his rookie season ('06). He's already racked up 336 yards this season, and he's on pace to post more than 500 receiving yards for the sixth-straight year.
Through seven games this year, he's broken out in a big way. His six touchdown catches rank second in the NFL at his position (fifth overall), and he's fifth in receptions.
A testament to his extraordinary hands, Miller has caught 73 percent of the passes thrown his way this season, the fifth best figure among starting tight ends. He has the sixth lowest drop rate of any NFL tight end over the past three years, though he's had a lower rate of catchable passes thrown his way than other top performers like Jason Witten. He's been so effective that, despite playing on an offense that focuses so heavily on a deep passing attack, he's put together 69 defensive yards above replacement (click here for a DYAR explanation), which is the third best mark in his conference.
In a recent interview with SI.com's Will Graves, Steeler's Pro Bowl quarterback Ben Roethlisberger raved about Miller's value to his team, even naming him the best tight end in the NFL:
He's absolutely the best all-around tight end in the league. People are going to argue with numbers, but all around tight end, there's no doubt about it. Forget Pro Bowl, I'm going to make him president of the United States...He catches it with his hands, he gets hit by a bunch of guys and holds on. You gotta enjoy throwing to a guy like that.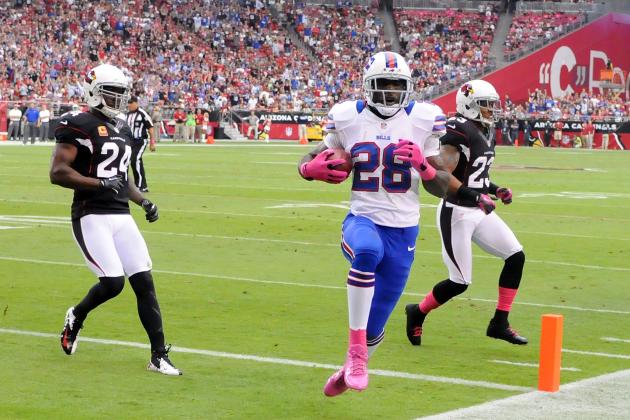 Norm Hall/Getty Images

The NFL has evolved in to a passing league.
Just a few years ago, things were different. The league was in the middle of a running renaissance. Star backs like Barry Sanders, Emmitt Smith, Marshall Faulk, Ricky Williams and LaDainian Tomlinson broke records annually, and championship teams like the '98 Broncos, '99 Rams and '08 Giants used their top-notch rushing attack to win.
But just because the league is in the midst of a pass-happy phase, doesn't mean the running game has lost its value. Many of the league's best teams, like the 49ers and Texans, still lean heavily on their legs. Rather than going for quick scores and big yardage, they fight a battle of attrition and power. Combined with a stingy defense, an effective rushing attack can take over a game, allowing a team to control the clock and demoralize the opposition's defensive front with smash mouth football.
When thinking of star running backs in today's game, names like Arian Foster, Ray Rice and LeSean McCoy come to mind immediately. These are the established Pro Bowlers who have made their name on the field and in the fantasy football world. But, this year, a much more unheralded player is re-writing history books.
C.J. Spiller, the Bills No. 2 halfback for much of the season, is tearing apart opposing defenses. If not for his extraordinary production, that has helped carry Buffalo's rushing offense to the top of their conference, the Bills (3-4 record) would be completely out of the playoff hunt.
Through seven games, Spiller is averaging a phenomenal 7.2 yards per carry, and he's on pace to set a Bills franchise record in that category. In fact, even if his performance declines as the season goes on, and his yards per carry average drops by a half-yard, he's still poised to post the highest single-season figure by a runnigback in a half-century.
Also one of the NFL's better receivers out of the backfield, Spiller now has 696 yards from scrimmage through seven games, and he's totalled five touchdowns in just 91 touches. 50 percent of the plays he's directly involved in are successful, and he leads all running backs in expected points added (EPA explained). In short, Spiller is the most valuable running back in the game right now.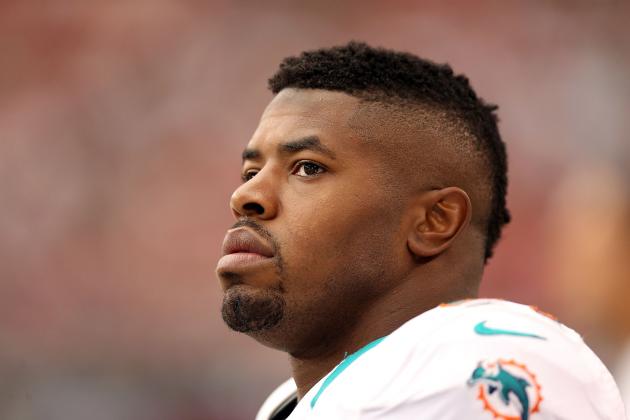 Christian Petersen/Getty Images

Cameron Wake is not only of the most underrated players in the game, he's one of the NFL's most productive, period.
Remarkable for a player of his caliber, Wake was undrafted out of Penn State in 2005. He signed with the Giants but was cut before even starting his rookie season. After kicking around practice squads and free agency for a couple of years, he hooked on with the B.C. Lions of the CFL in 2007. As soon as he put on the uniform, he made an impact. After the team moved him from linebacker to end in training camp, he emerged as the league's most dominant defensive force. He racked up 16 sacks and 72 tackles in 2007, and he was the CFL's first player to take home both Rookie of the Year and Defensive Player of the Year in the same season.
Wake followed his rookie season by winning the CFL's Most Outstanding Defensive Player award in 2008, accumulating 23 more sacks and piling up 65 more tackles. He left the CFL for Miami in the 2009 offseason, but his legacy will always be in the record books. The Washington Examiner named him to CFL's All-Decade team in 2010.
In his first season back in the NFL, Wake filled the Dolphins rush specialist role. He collected 5.5 sacks and 23 tackles in 2009. His phenomenal play earned him a more involved role, and Miami named him their starting rush linebacker. More time on the field allowed him to shine, and he put together a breakout season in 2010. Wake sacked opposing quarterbacks 14 times—good for third in the NFL—and added 57 tackles and three forced fumbles.
Wake ended up making the 2010 Pro Bowl (held in 2011), but, despite the recognition, he still doesn't receive the attention he deserves. Outside of his own organization, players like DeMarcus Ware, Jared Allen and Matthews are viewed as far superior. But, in reality, Wake is the much more valuable performer.
After another star-level campaign in 2011, Wake's quietly established himself as the most productive pass rusher in the NFL. According to ProFootballFocus.com's pass rushing productivity (PRP) statistic, there's no more valuable defensive end since 2009. Wake has outperformed stars like Ware, Allen, Dwight Freeney and Julius Peppers. And this season, he's putting together his finest overall performance.
Through seven starts, Wake already has 23 tackles, and his 7.5 sacks ranks him third in the NFL and first among AFC defensive ends (4-3 formation). He actually didn't collect his first sack until the fourth game of the season, but since then, he's been money. Against the Cardinals, on September 30th, he took advantage of Kevin Kolb's habit of holding the football too long, and he took down the QB four times and assisted another (4.5 total sacks). In the next three games, he added three more sacks and 14 tackles.
Even when he isn't dominating the sack category, though, Wake still punishes the opposing offense. He's hit the quarterback a league-leading 17 times and stuffed seven running plays (third in the AFC).
Wake is outperforming much more revered players like Allen, Jason Pierre-Paul and Jason Babin, and according to win probability added, he's the ninth-best defensive end/outside linebacker in the NFL right now. As far as kill the quarterback goes, there's arguably no better player.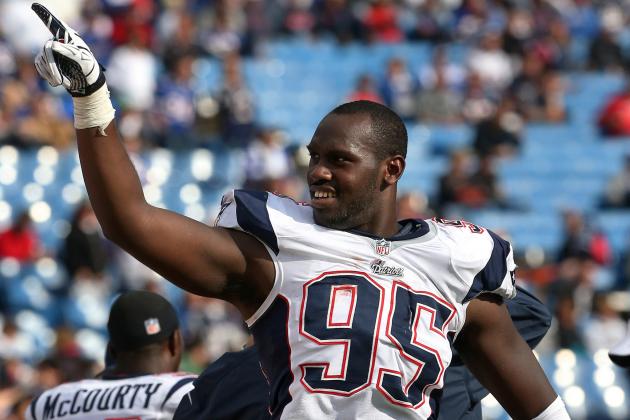 Tom Szczerbowski/Getty Images

To make up for a weak corps of defensive backs, the Patriots defense relies on exceptional play from their linemen. And, for the most part, that's what they get. Veterans like Vince Wilfork and Rob Ninkovich have helped them build one of the game's elite run defenses, and their productive pass-rushing skills have helped keep the air attack at bay (despite facing a large amount of pass attempts).
But their young guns have also chipped in—especially Chandler Jones. The 21st overall pick from last Spring's draft, Jones hasn't needed any past NFL experience on his resume to play like a superstar. Through his first eight pro games, he's racked up six sacks, six tackles for loss and 33 total tackles. Among AFC defensive ends, only J.J. Watt and Wake have more sacks, and he's third at the position in combined tackles.
According to his 1.02 tackle factor, Jones is the fourth most sure-tackling defensive end in the NFL right now, and his 28.9 positive expected points added (+EPA explained) illustrates his tremendous value to his defense. Right now, his expected points added suggest he's already a better playmaker than Pro Bowlers like Peppers (26.9), Allen (17.6), Mario Williams (15.5) and Babin (12.3).
The Patriots are allowing opposing running backs just 3.19 yards per carry this season, making them the second toughest run defense in football. No doubt, Jones' incredible athleticism and power-tackling are a big reason for the team's success so far. On runs to his side of the field (the right from the defense's view), the Patriots are allowing just 3.15 yards per attempt, which rates as the fourth best rate in the AFC.
He may not make the Pro Bowl right out of the gate, but Jones should garner plenty of consideration for Defensive Rookie of the Year.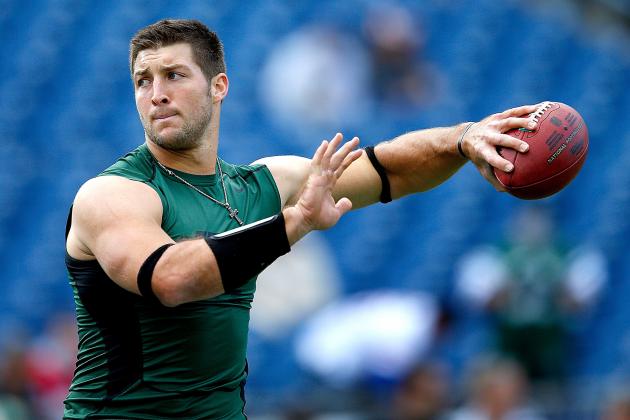 Jim Rogash/Getty Images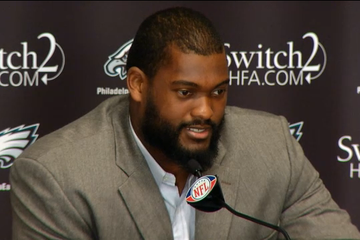 Photo Credit: BleedingGreenNation.com
Colts tackle Winston Justice isn't just underrated, the football world is enormously uneducated when it comes to his performance and overall value.
Offensive linemen are difficult to appraise objectively. Until recently, there weren't any variables that could adequately explain their performance. So, fans and teams had to judge them largely with their eyes (film or in person), and by the performance of the blocker's teammates. Quarterback sacks, for instance, are one of the common tools used to analyze a lineman's pass protection.
But these methods are seriously ineffective. First of all, not all quarterback sacks are created equal. Some QBs hold on to the ball much longer (Jay Cutler) than others (Peyton Manning) before zeroing in on their target. Therefore, QBs like Cutler will naturally hit the dirt more than their quicker-thinking peers. And really, the offensive line's job isn't to protect the quarterback for an infinite amount of time, just long enough for his teammates to do their own jobs. It isn't all J'Marcus Webb's fault that his passer is getting creamed in the pocket, at least when Cutler holds the ball more than three seconds before releasing it. In that case, a hefty portion of the blame should often fall on the indecisive quarterback's shoulders.
Secondly, linemen are often judged as an entire unit. If their team wins, and their quarterback completes a lot of passes, then the entire line reaps the reward of a better reputation. On the other hand, if their teammates play poorly, then the entire core will be judged negatively. But obviously some linemen are better than others, and stars like D'Brickashaw Ferguson shouldn't be penalized for Wayne Hunter or Mark Sanchez's ineptitude.
Of all the offensive linemen that have been misjudged, Justice's case is the most egregious. Both Eagles fans and his fellow players are convinced he stinks. When Justice was a rookie in 2007, former Eagles defensive end Hugh Douglas once tore Justice a new one via the press, saying the tackle wasn't fit for the NFL and never would be.
He became so hated by the Eagles faithful, that he was even referred to as "Winston Bustice." And only a few years, after he signed a lucrative contract extension, the former second-round pick lost his job altogether. The Eagles replaced him with Todd Herremans in 2011 before banishing him from Philly completely. Last offseason, they shipped him to Indianapolis for a bargain basement price.
But a closer look at Justice's performance suggests he wasn't to blame for his offense's shortcoming in pass blocking. In fact, it appears he's actually one of the game's elite blockers.
How is Justice so misunderstood?
First of all, the four starting quarterbacks that he has been asked to block for throughout his career, have all been criminal in the pocket. Michael Vick, Kolb and Donovan McNabb hold the ball longer than the vast majority of QB's, and his newest signal caller, Andrew Luck, is a rookie.
Of Justice's four panic-footed quarterbacks, Vick is actually the worst offender. From 2009-10, other than Vick, the only starting quarterback that was sacked more times after holding the ball more than three seconds was Josh Johnson. A whopping 5.34 percent of Vick's pass attempts ended in a sack of three or more seconds—more than double the league average number of 2.61 percent during that period.
Once again this season, Vick is getting sacked because he's holding on to the ball the longest. Research shows that offensive linemen really only deserve the blame for allowing "quick sacks" (less than 2.4 seconds), and, actually, Vick's blockers are top-shelf in that department.
While Vick's Eagles continue to flounder this season, Justice has shined as one of the NFL's best offensive linemen. According to ProFootballFocus.com's stat, pass blocking efficiency (PBE), he's the best in the league at protecting his quarterback. And that's super important for the Colts, because they're hoping for big things from Luck in the long-term.
Through 173 pass-blocking snaps this season, Justice has allowed just two quarterback pressures, by far the best rate in NFL. Luck has reaped the benefits, and, though he's a rookie, saddled with a group of inexperienced offensive linemen, he's had one of the lowest percentages of short sacks. Justice's effectiveness has made up for weak performances from his fellow bulldozers Jeff Linkenbach (three sacks allowed) and Anthony Constanzo (3.5 sacks allowed). He's outperforming stars like Jake Long, Ferguson and first round picks like Gabe Carimi.
But Justice's 2012 campaign is no fluke. He's broken out in a big way, but frankly, he's always been a top-shelf lineman. From 2009-11, Justice was the NFL's 10th-best tackle at pass blocking. That ranking seems even more impressive considering the sack-prone quarterbacks he has blocked for.
So, Justice is a star. He's super underrated, and the Eagles lost big time when they traded him for a meager 15-slot increase in the sixth round of last Spring's draft.