2013 NFL Mock Draft: Every 1st-Round Team's Greatest Need at Midseason Mark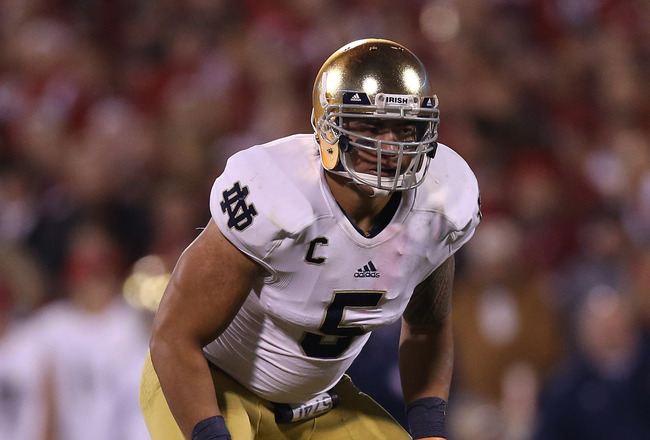 Matthew Emmons-US PRESSWIRE
Manti Te'o is climbing up NFL draft boards, and it's highly likely that he's going to be taken with one of the top-10 draft picks in the 2013 NFL draft.
Marcus Lattimore was easily the No. 1 running back in the nation, and he would have also been a sure-fire first-round pick, but he is out indefinitely after suffering a gruesome knee injury in South Carolina's game against Tennessee.
His injury caused a slight ripple in the upcoming draft, but that's nothing new. Injuries are an unfortunate but real aspect of playing this game, and top players drop off the board on a yearly basis. NFL teams will just move him off the board and put the next guy in his place.
With this in mind, and taking account of each first-round team's most glaring need, I'll investigate the best college player for the circumstances in my official midseason mock draft.
1. Kansas City Chiefs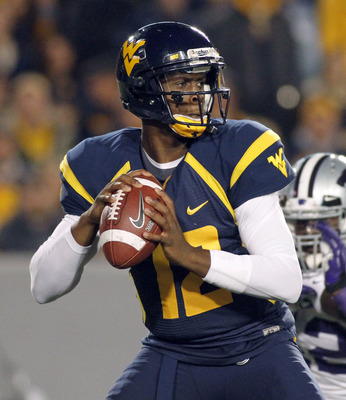 Justin K. Aller/Getty Images
Greatest Need: Quarterback
The Pick: Geno Smith, Quarterback, West Virginia
Whether it's Brady Quinn or Matt Cassel, the Kansas City Chiefs are hopelessly lost at the quarterback position.
Smith is this year's top prospect at this position, and given the Chiefs' desperate need for a competent signal-caller, he's going to be the first man taken off the board next April.
Smith's athleticism, speed and accuracy on the run will be a big help to this ailing offense, but don't expect him to perform flawlessly. He is not as good a prospect as either of the two top prospects of last year. Andrew Luck and Robert Griffin III were both miles ahead of him in terms of being NFL ready.
2. Jacksonville Jaguars
Sam Greenwood/Getty Images
Greatest Need: Pass-Rusher/General Defense
The Pick: Jarvis Jones, Outside Linebacker, Georgia
Through seven games, the Jacksonville Jaguars have tallied seven sacks—the lowest total of any team in the NFL.
The Jaguars are also generally bad on defense, ranking No. 28 in total yards allowed.
Jones is an extremely athletic young man who is just as good in coverage as he is at the line of scrimmage, and he'll give this team a tremendous boost. In just six games this season for Georgia, he has tallied 39 tackles and 7.5 sacks.
3. Carolina Panthers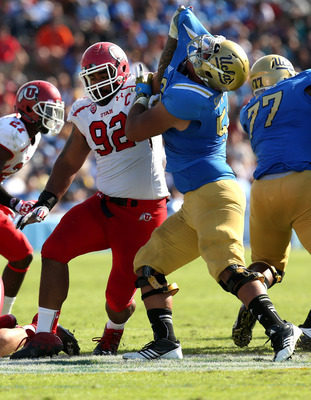 Stephen Dunn/Getty Images
Greatest Need: Defensive Line/Secondary
The Pick: Star Lotulelei, Defensive Tackle, Utah
This team isn't statistically atrocious against the run in general, ranking No. 19 with 120 yards allowed per game, but the Carolina Panthers haven't been able to stop teams from running the ball late in games.
Lotulelei isn't just a big body, though. He's an extremely agile, mobile and quick big man who is strong enough to take on double teams and still penetrate into the backfield. He is the perfect defensive tackle for this team, and his presence in the middle will do a lot to help Luke Kuechly's development.
4. Cleveland Browns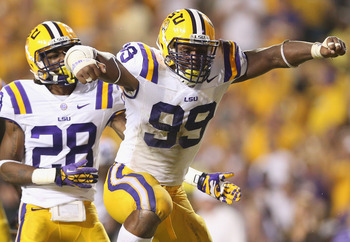 Ronald Martinez/Getty Images
Greatest Need: Pass-Rusher
The Pick: Sam Montgomery, LSU
While there's some debate about whether or not Brandon Weeden has what it takes to be a franchise quarterback for the Cleveland Browns, there's no debating this team's greatest need.
The Browns have not been able to get pressure on opposing quarterbacks this season with a four-man rush. As a result, Dick Jauron has been forced to blitz more than he'd probably like to, and middle linebacker D'Qwell Jackson leads the team with three sacks.
Adding a dominant pass-rusher to this defense will help out the young, talented secondary immensely, and Montgomery is this year's top pass-rushing defensive end for 4-3 teams.
5. Oakland Raiders
Kevin C. Cox/Getty Images
Greatest Need: Young Talent At All Positions
The Pick: Dee Milliner, Cornerback, Alabama
Reggie McKenzie has a big job ahead of him, as the Oakland Raiders need help at every position on the field except for kicker and punter.
Shawntae Spencer is one of the team's two starting cornerbacks, and he's not good enough to even make some NFL teams. It's clear that the Raiders need to bring in some primo talent to put on the corners of their defense, and Milliner is this year's top cornerback prospect.
6. New York Jets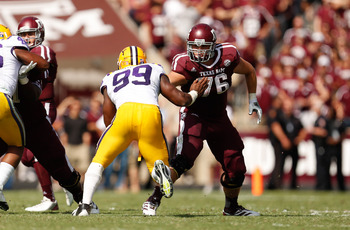 Thomas Campbell-US PRESSWIRE
Greatest Need: Offensive Line
The Pick: Luke Joeckel, Offensive Tackle, Texas A&M
Whenever Mark Sanchez has to try and win games with his arm, things go badly for the New York Jets. The team's offensive line is a veritable turnstile for opposing defenses, and it needs help.
Joeckel is the best offensive lineman of the 2013 NFL draft class. He's long, tall, athletic, agile and strong, and he held Sam Montgomery without a single sack when they met.
Whether he plays on the right side or the left, Joeckel will be an immediate upgrade for the Jets at their greatest position of need.
7. St. Louis Rams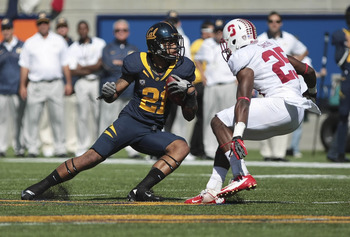 Kelley L Cox-US PRESSWIRE
Greatest Need: Offensive Line/Wide Receiver
The Pick: Keenan Allen, Wide Receiver, California
Sam Bradford is a really good quarterback who has never been given a proper chance to show his stuff in the NFL. Since joining the St. Louis Rams in 2010, he has been without protection up front and without any elite talent on the outside.
The Rams will take care of one of these needs by taking Allen, this year's top wide receiver.
At 6'3" and 210 pounds, Allen has the size and skill to go up top and bring down big plays for the Rams. He is also fast enough to get open deep and has the ability to make big plays after the catch. He's the perfect weapon to plug into the Rams offense next season for immediate production.
8. Tennessee Titans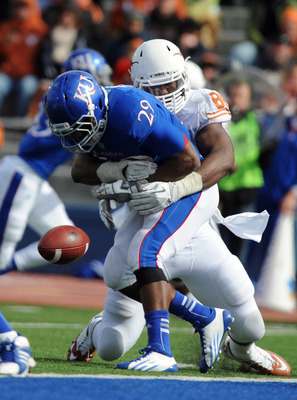 John Rieger-US PRESSWIRE
Greatest Need: Offensive Line/Pass-Rusher
The Pick: Alex Okafor, Defensive End, Texas
The Tennessee Titans have needs across the board, but this team can't go wrong picking up one of 2013's top pass-rushers to pair with Kamerion Wimbley.
Okafor is one of the most diverse defensive linemen in this class, as well as being a ferocious pass-rusher. He is quick enough and strong enough to be an effective pass-rusher from any position on obvious passing situations—much like Julius Peppers.
Taking Okafor here would be a tremendous boon for the entire Titans defense, as he's a disruptive force in both the passing game and as a run stuffer.
9. New Orleans Saints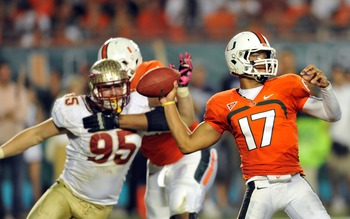 Steve Mitchell-US PRESSWIRE
Greatest Need: Pass-Rusher
The Pick: Bjoern Werner, Defensive End, Florida State
The New Orleans Saints have trouble getting pressure on opposing quarterbacks without sending a blitzer or two—not a strategy that defensive coordinator Steve Spagnuolo is fond of implementing.
Werner is an interesting prospect who reminds me a bit of Kyle Vanden Bosch, except Werner is quicker than Vanden Bosch ever was off the line. He has a relentless motor, strong football IQ and a bright future in the NFL as a pass-rushing defensive end.
10. Buffalo Bills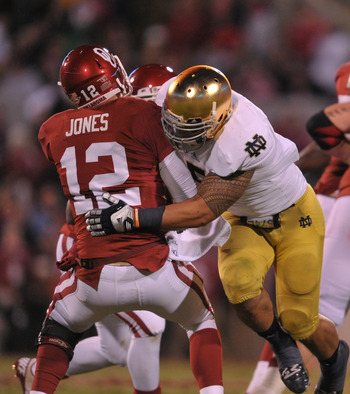 Matt Cashore-US PRESSWIRE
Greatest Need: Linebackers
The Pick: Manti Te'o, Middle Linebacker, Notre Dame
It's hard to believe that the Buffalo Bills feature one of the NFL's worst defenses, given the emphasis the team placed on getting better on that side of the ball this past offseason, but it's certainly the truth.
One of the biggest reasons this defense struggles so much is that there's no strength in the middle to tie the front line and secondary together.
Te'o's ability to dominate in both the running game and in coverage makes him the perfect candidate to revitalize this dead defense.
11. Philadelphia Eagles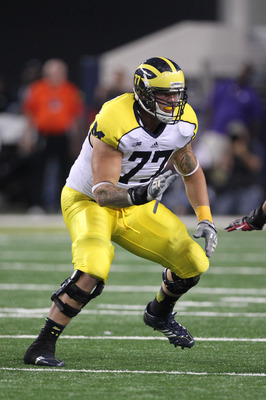 Matthew Emmons-US PRESSWIRE
Greatest Need: Offensive Line
The Pick: Taylor Lewan, Offensive Tackle, Michigan
Whether it's Michael Vick, Nick Foles or some other quarterback behind center for the Philadelphia Eagles in 2013, this team needs serious help on its offensive line.
Lewan has proven to be an excellent tackle at Michigan, excelling in both the passing game and in the running game. He is a big, strong, athletic guy who will be an immediate upgrade for the Eagles, whether he starts out on the left side or on the right.
12. St. Louis Rams (via Washington Redskins)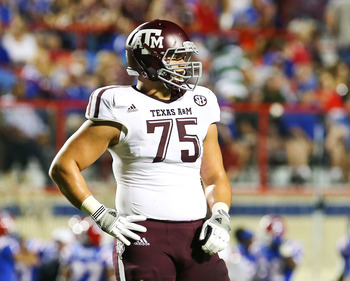 Kevin Jairaj-US PRESSWIRE
Greatest Need: Offensive Line
The Pick: Jake Matthews, Offensive Tackle, Texas A&M
Sam Bradford got his receiver earlier in the draft, and now the St. Louis Rams will finally give him that top-flight offensive lineman he desperately needs.
Matthews isn't just a finesse pass-blocker, though. He is even better than Luke Joeckel as a run blocker—something that will help the Rams pound the ball at the end of games when the defense holds opponents to low scores.
13. Tampa Bay Buccaneers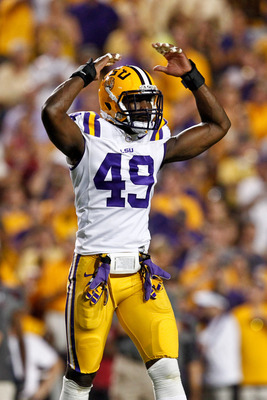 Derick E. Hingle-US PRESSWIRE
Greatest Need: Pass-Rusher
The Pick: Barkevious Mingo, Defensive End, LSU
With Adrian Clayborn having trouble with consistency and Da'Quan Bowers hurt, the Tampa Bay Buccaneers are still without a strong pass rush—something that has a lot to do with this team's inability to stop opponents from passing the ball at-will.
Mingo will likely be taken before No. 13 come next April, but he slid down the board due to team needs for the purposes of this mock draft.
He is an incredibly gifted natural pass-rusher with an explosive first step and excellent lateral mobility, and though he is more raw than the pass-rushers ahead of him on this mock, his potential upside is better than all of them.
14. Detroit Lions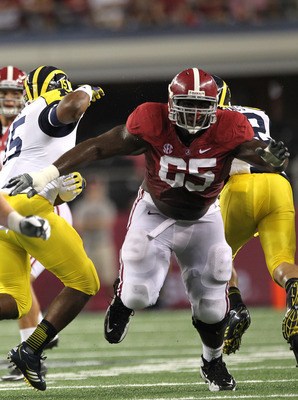 Matthew Emmons-US PRESSWIRE
Greatest Need: Offensive Line/Secondary
The Pick: Chance Warmack, Offensive Guard, Alabama
Matthew Stafford needs better protection up front, and the Detroit Lions need to be able to move the ball on the ground.
Warmack represents a two-fold answer to prayer, as he's the best mauler in the nation in the running game and a willing and able pass-blocker at the guard position.
At 6'2" and 322 pounds, Warmack moves well for a man of his size. His quick feet and excellent balance serve him well, and he uses good technique when faced with all types of defenders.
15. Arizona Cardinals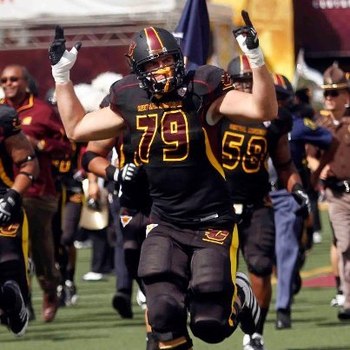 h/t Central Michigan, via Facebook
Greatest Need: Offensive Line
The Pick: Eric Fisher, Offensive Tackle, Central Michigan
If you need stats to show you how much the Arizona Cardinals need help on the offensive line, then I'm guessing you haven't watched this team play in 2012. For the record, the Cardinals have allowed 35 sacks through seven games—the worst showing of any line in the NFL.
Fisher has been rising up draft boards since the beginning of the college season, and for good reason. At 6'7" and 305 pounds, he's reminding me of Joe Staley—one of the best offensive tackles in the NFL, and an alumni of Central Michigan.
Fisher has the frame to add another 20-25 pounds of muscle, and he could well become one of this year's biggest steals here in the middle of the first round.
16. Cincinnati Bengals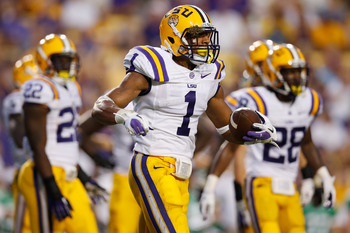 Chris Graythen/Getty Images
Greatest Need: Safety
The Pick: Eric Reid, Safety, LSU
Bengals fans may point to the offensive line as the greatest area of need, but it's important to remember that this team is playing without a couple of starters on that line due to injury.
And while it is also true that the Bengals need another wide receiver to pair with A.J. Green, this team won't reach the next step in the AFC North without a strong defense.
Taylor Mays isn't the long-term answer for this club, and drafting Reid to come in and play on the back end of this up-and-coming team would help make the Bengals into a dynamic, feared defense capable of shutting down the run and playing the pass.
17. Dallas Cowboys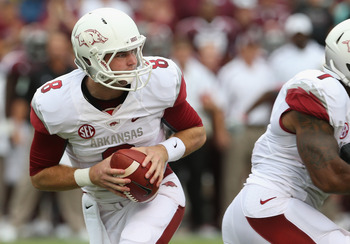 Ronald Martinez/Getty Images
Greatest Need: Quarterback
The Pick: Tyler Wilson, Arkansas
The Dallas Cowboys have other needs, but I've had enough of Tony Romo. He simply has to go, meaning the Cowboys must make finding his replacement their top priority.
Wilson could well be replaced by Matt Barkley, as neither one of them have done enough to solidify the No. 2 quarterback spot on my draft board. That said, I like Wilson's ability to improvise and make things happen under pressure, so he's my preference at this time.
18. San Diego Chargers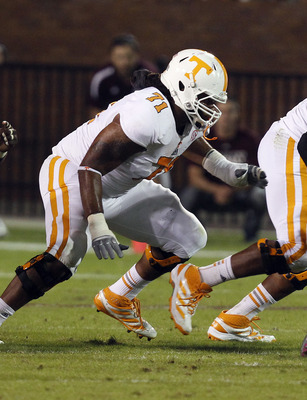 Butch Dill/Getty Images
Greatest Need: Offensive Line
The Pick: Dallas Thomas, Offensive Tackle, Tennessee
Philip Rivers may still be capable of putting up some good numbers for a couple more seasons, but we'll never know unless the San Diego Chargers beef up their offensive line.
Thomas brings the beef, and so much more.
At 6'5" and 310 pounds, Thomas has the ideal size scouts look for in an offensive tackle. Combined with his heavy hands at the point of attack and agile feet, he has the ability to take on bull rushers and speed rushers. He's the most underrated tackle on the board this season, and he'll fit in perfectly with the Chargers in 2013.
19. Seattle Seahawks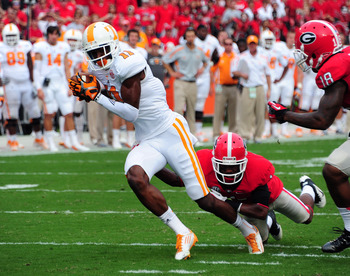 Scott Cunningham/Getty Images
Greatest Need: Wide Receiver
The Pick: Justin Hunter, Wide Receiver, Tennessee
The Seattle Seahawks have committed to Russell Wilson, sink or swim. Given the lack of talent this team has on the outside, he has predictably struggled at times this season to find his receivers.
Adding Hunter to this young team would be like installing a supercharger to a big-block engine. This offense will certainly take off with a guy like him on the outside, as his speed, size, strength and hands will garner some double-team consideration from opposing defenses—a shift that favors this run-heavy team.
20. Indianapolis Colts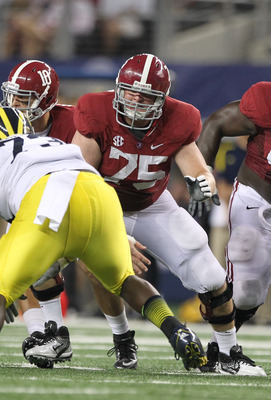 Matthew Emmons-US PRESSWIRE
Greatest Need: Offensive Line
The Pick: Barrett Jones, Offensive Line, Alabama
If you've watched the Indianapolis Colts play this season, then you know Andrew Luck doesn't get much time to get comfortable in the pocket. He's constantly running for his life, yet he still finds ways to get the job done.
Imagine how good he'll be with a competent offensive line protecting him.
Jones can literally play all five positions. He is the ultimate utility lineman, but that doesn't mean he's not a dominant force, like many "utility" guys in the NFL. He is technically sound in both the running game and as a pass-blocker, and he will be an instant starter for whichever team is wise enough to land him.
21. Miami Dolphins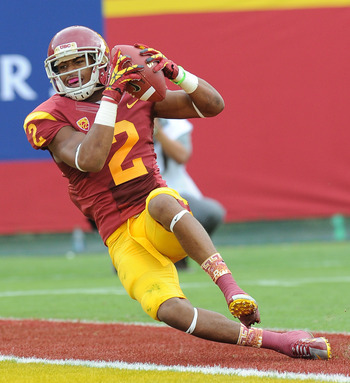 Jayne Kamin-Oncea-US PRESSWIRE
Greatest Need: Wide Receiver
The Pick: Robert Woods, Wide Receiver, USC
Ryan Tannehill has impressed me this season with his poise, leadership and overall ability to play the quarterback position at a high level in the NFL, but he needs help on the outside.
No disrespect to Javone Bess or Brian Hartline, but the Dolphins seriously need a legitimate playmaking wide receiver to take pressure off of Reggie Bush and the running game.
Woods has been impressive this season for USC, hauling in 53 passes for 585 yards and nine touchdowns, and his ability to make plays after the catch will be a tremendous help to Tannehill and the Dolphins offense.
22. Pittsburgh Steelers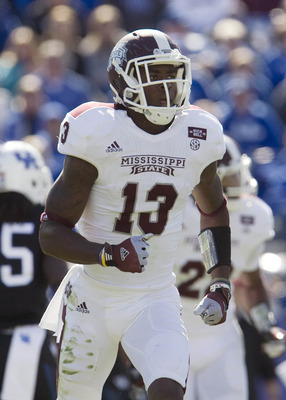 Mark Zerof-US PRESSWIRE
Greatest Need: Cornerback
The Pick: Johnthan Banks, Cornerback, Mississippi State
The Steelers defense has stiffened up the past few weeks, but there's no doubt this team is in need of an infusion of young talent—especially at the cornerback position.
Taking a safety here wouldn't be a terrible idea, either, as Ryan Clark and Troy Polamalu are both on the downside of their careers.
Banks is a big corner, at 6'2" and 185 pounds, who has a knack for getting his hands on passes. So far this season, he has hauled in four interceptions, and teams rarely attempt to challenge him on a regular basis.
Additionally, he's a physical corner who loves contact—the perfect kind of player to plug into Dick LeBeau's defense.
23. Denver Broncos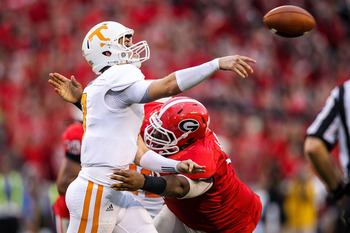 Daniel Shirey-US PRESSWIRE
Greatest Need: Middle Linebacker/Defensive Tackle
The Pick: John Jenkins, Defensive Tackle, Georgia
As well as the Denver Broncos have been playing on defense, the team still has need of a true run-stuffing defensive tackle.
And since Manti Te'o is already gone, it's not likely that they'll reach for a middle linebacker than isn't such a liability in coverage (looking at you, Joe Mays).
The easy pick here is Jenkins—a massive man who will immediately make the Broncos better against the run. He's not just an immovable object in the middle, though. Jenkins has quick feet and good agility, and can be disruptive in the passing game from time to time.
24. Minnesota Vikings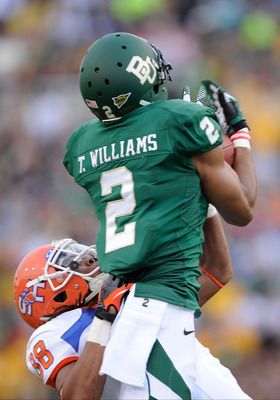 Jerome Miron-US PRESSWIRE
Greatest Need: Wide Receiver
The Pick: Terrance Williams, Wide Receiver, Baylor
Percy Harvin, Kyle Rudolph and Adrian Peterson are tremendous weapons, but teams are starting to figure out how do defend this trio. Meanwhile, Christian Ponder's stats and confidence have taken a hit.
This team needs another legitimate threat on the outside, and Williams is just the big-play receiver to turn this dink-and-dunk offense into the kind that can beat defenses every which way possible.
Williams has caught 60 passes for 1,203 yards and nine touchdowns so far this season, and his ability to stretch the field will do wonders for Ponder and the Vikings offense.
25. Baltimore Ravens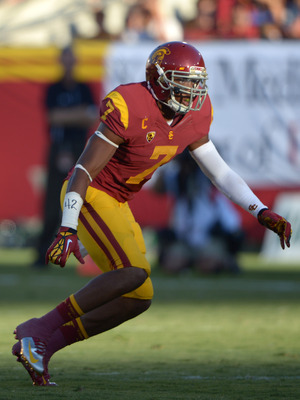 Kirby Lee-US PRESSWIRE
Greatest Need: Free Safety
The Pick: T.J. McDonald, Free Safety, USC
Ed Reed is done. The poor guy just can't stay healthy, and the Baltimore Ravens must do what they can to replace him early in the 2013 NFL draft.
McDonald was one of the top players in the nation leading up to this season, but his draft stock has taken a bit of a hit due to USC's porous defense.
That said, he's still a tremendously gifted young player who doesn't have the same hangups that plagued Taylor Mays when he came out a few years ago, and his ability to cover ground in the secondary makes him a prospect worth considering in the first round.
26. Green Bay Packers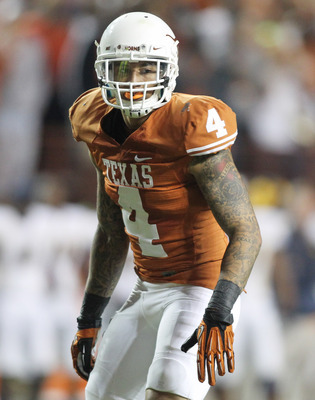 Tim Heitman-US PRESSWIRE
Greatest Need: Strong Safety
The Pick: Kenny Vaccaro, Strong Safety, Texas
The Green Bay Packers need to shore up their secondary next season, or all the work the team has done to make the front seven dominant will go to waste. Charles Woodson's best days are long behind him, and this team needs to look to the future before it's too late.
Vaccaro is ready to start in the NFL right now. He can cover slot receivers one-on-one, has the instincts and range to play the middle of the field effectively and brings some serious wood to the line of scrimmage in the running game.
His addition to this defense would go a long way to making it into the most feared unit in the NFL.
27. New England Patriots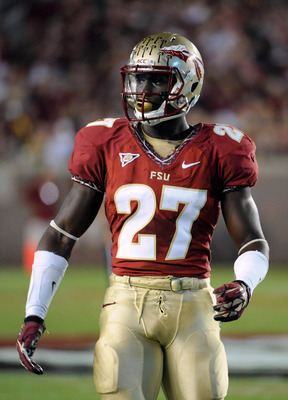 Melina Vastola-US PRESSWIRE
Greatest Need: Cornerback
The Pick: Xavier Rhodes, Cornerback, Florida State
The New England Patriots aren't as deficient at defending opponents' passing games this season as they were last year, but this team still needs help on the corners.
Rhodes is a big, strong defender who loves to jam receivers at the line of scrimmage—a perfect complement to the ever-effective pass-rushing from the front seven, led by rookie Chandler Jones.
Rhodes has plenty of experience, too, as he has been a starter since his freshman year.
28. San Francisco 49ers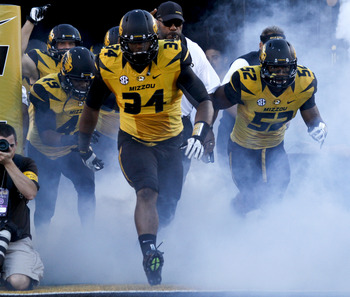 Ed Zurga/Getty Images
Greatest Need: Defensive Line
The Pick: Sheldon Richardson, Defensive Tackle, Missouri
Justin Smith is 33 and on the downside of his brilliant career, Isaac Sopoaga has been pushed around in the trenches all year long and the San Francisco 49ers don't have much depth up front.
As good as this team's front seven is every week, it's only a couple of players away from being an average unit.
Richardson has the body and skill set to become an excellent five-technique defensive end, and taking him here would go a long way towards solidifying the long-term success of the 49ers on the defensive side of the ball.
29. Chicago Bears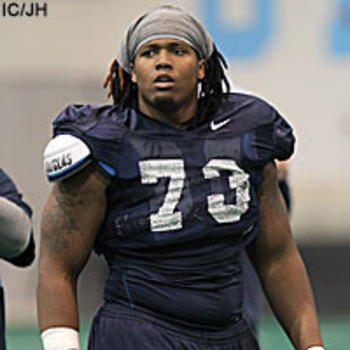 NorthCarolina.Scout.com
Greatest Need: Offensive Tackle
The Pick: Brennan Williams, Offensive Tackle, North Carolina
The biggest need for the Chicago Bears the past two seasons has been on the team's offensive line, and things haven't changed at all in 2012.
Even though the Bears are 6-1, the team still has issues protecting Jay Cutler.
Williams, at 6'7" and 315 pounds, is a guy they can plug in on the right side from day one, and if his current developmental trajectory holds, he'll be a solid left tackle in another year or two.
30. New York Giants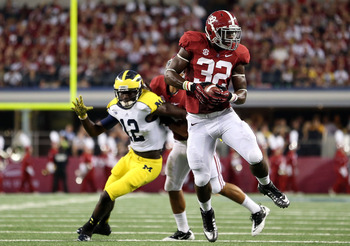 Ronald Martinez/Getty Images
Greatest Need: Linebacker
The Pick: C.J. Mosley, Outside Linebacker, Alabama
The New York Giants could use another safety, too, but the pressing need for this team is at the linebacker position.
If there were any worthy middle linebackers available, that would be the pick, but given the fact that Michael Boley and Mathias Kiwanuka are both getting older, taking an outside linebacker here makes sense, too.
Mosley is a player that could play on the outside in either an 3-4 alignment or a 4-3. He is an excellent pass-rusher, but he is also athletic an skilled enough to make a solid impact in the running game and in coverage.
31. Houston Texans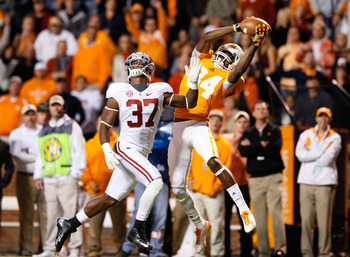 Kevin C. Cox/Getty Images
Greatest Need: Wide Receiver
The Pick: Cordarrelle Patterson, Wide Receiver, Tennessee
Justin Hunter is the wide receiver everyone knows about from the University of Tennessee, but by the time the NFL scouting combine is over, Patterson's name will be on the rise.
The Texans desperately need a complementary wide receiver to take pressure off of the aging Andre Johnson, and Patterson has the skills to do just that.
At 6'3" and 205 pounds, Patterson has the size and athleticism to go up and get balls over smaller defenders, and he has enough speed to run past them, too. Adding him to the Texans' already-explosive lineup will make it hard for teams to decide what to try and stop—the passing game or the Arian Foster-led rushing attack.
32. Atlanta Falcons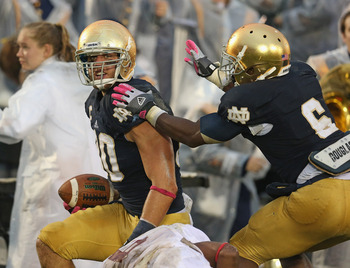 Jonathan Daniel/Getty Images
Greatest Need: Offensive Tackle
The Pick: Tyler Eifert, Tight End, Notre Dame
Given the bevy of offensive tackles already taken off the board at this time, it's not likely that the Falcons would reach to snag one here—especially when you consider that the tackles still on the board will likely still be there in the second round.
So, instead of taking a tackle, the Falcons do the next-best thing and draft Tony Gonzalez's replacement.
Eifert is undoubtedly the most talented tight end of this year's draft class, and in truth, he has better hands than any other receiver in 2013. He is fast, athletic, tall and long, and his tendency to catch balls at the highest point is something that can't be taught.
Follow me on Twitter @JesseReed78 and check out my weekly NFL picks at Pickfactor.com
Keep Reading