UCLA Basketball: Reasons Why Ben Howland Must Win This Year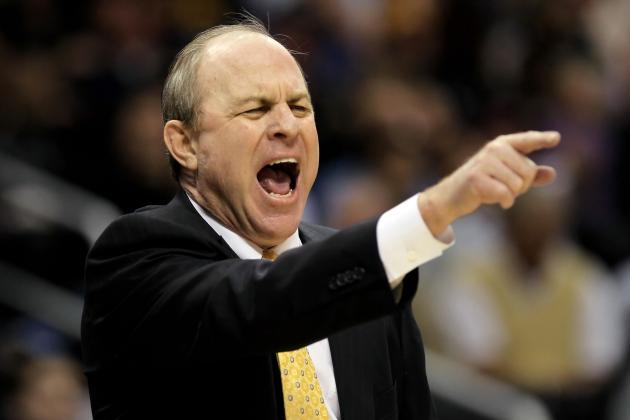 Jeff Gross/Getty Images

Ben Howland is on the hot seat.
Maybe there's not particularly much heat on the veteran UCLA basketball head coach in the media and on the message boards at the moment, but don't be fooled.
Howland's Bruins have struggled on the court and off (according to Sports Illustrated) the past few seasons. If UCLA doesn't come up roses in the first season at the renovated Pauley Pavilion, Howland may be out the door.
He has to win big, and win now, for these specific reasons.
Begin Slideshow

»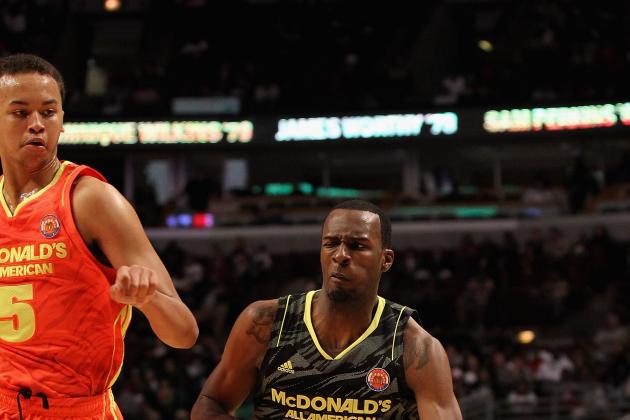 Jonathan Daniel/Getty Images
Kyle Anderson (left) and Shabazz Muhammad.
Unless your name is John Calipari or Mike Krzyzewski, it's not too often you land two top-five recruits in the same class as a head coach.
Yet, that is exactly what has happened for UCLA head coach Ben Howland. Top-five players Shabazz Muhammad and Kyle Anderson (if they're cleared by the NCAA) will take the court in Westwood for their upcoming freshman seasons.
Two more highly touted freshmen—Jordan Adams and Tony Parker—will join forces with Muhammad and Anderson to make for one very talented class of first-year Bruins. Add some solid returning players like Tyler Lamb and Travis and David Wear, and the UCLA roster on paper appears to be a very formidable one.
The talent the Bruins have assembled creates a "no excuses" situation for head coach Ben Howland in 2012-13. If Howland can't win and win big this season with a fully loaded roster, look for a change on the sidelines in 2013.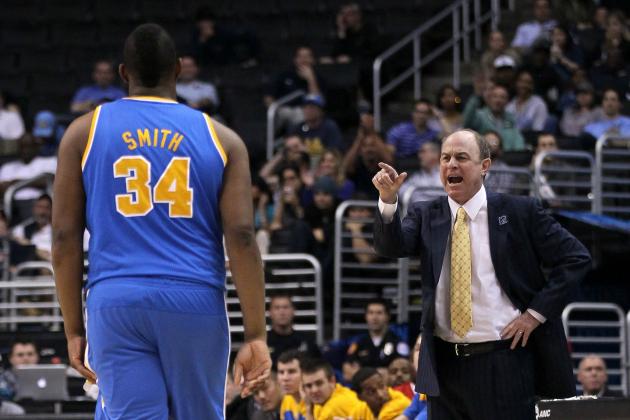 Stephen Dunn/Getty Images

It hasn't exactly been a very rosy past few seasons for UCLA head coach Ben Howland.
Under Howland's watch, the Bruins have missed the NCAA Tournament in two of the past three seasons. That's unacceptable for a program that has won 11 national championships in its illustrious history.
Sure, the Bruins made three straight Final Four appearances from 2006-08 with Howland. But big-time college basketball has become a "what have you done for me lately?" product.
And lately, Howland hasn't done very much in Los Angeles. If the Bruins inexplicably miss the NCAA Tournament yet again in 2012-13, considering the talent they possess, Howland will likely be dusting off the old resume.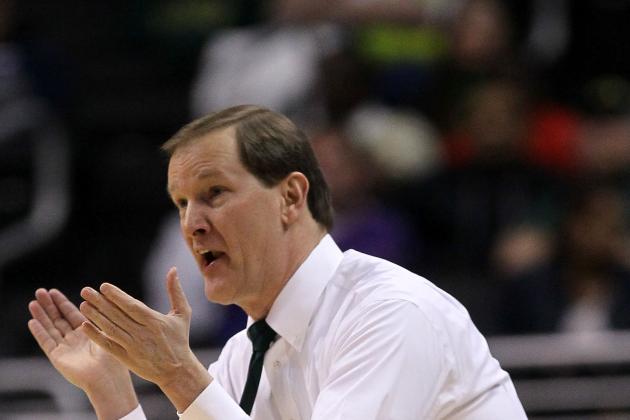 Stephen Dunn/Getty Images
Oregon coach Dana Altman
In case anyone hasn't noticed, the Pac-12 conference has struggled the past couple of seasons when it comes to college basketball.
Last season was a particularly bad one for the west coast power conference on the hardwood. Only two Pac-12 teams (Colorado and California) made the NCAA Tournament this past spring. It's safe to say that's a pretty pathetic output from a BCS conference. Unless the conference significantly improves in 2012-13 (and who's to say if it will), the Pac-12 is up for grabs this season.
That means the Bruins' deep and talented roster must capitalize now, because the conference won't be down forever. It's only a matter of time before coaches like Dana Altman and Sean Miller have Oregon and Arizona competing for regional titles.
That's why it's in Ben Howland's best interest to have his Bruins take care of business in the current Pac-12 conference this season.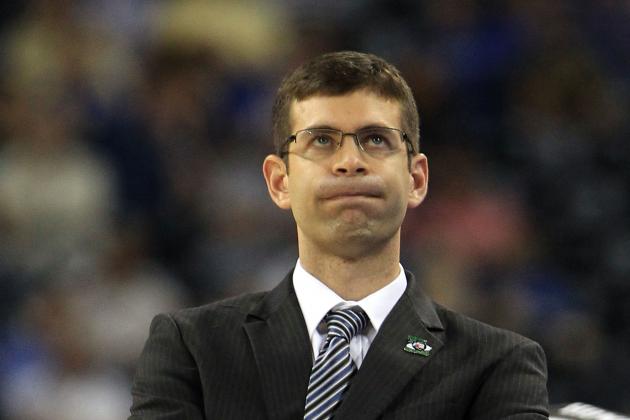 Streeter Lecka/Getty Images
Butler's Brad Stevens
If the UCLA Bruins fall flat on their collective faces once again this season, athletic director Dan Guerrero shouldn't hesitate in pulling the trigger on head coach Ben Howland's firing.
A major reason is because there are several rising coaches in the profession out there ready to make the next step. Young guns like Butler's Brad Stevens and VCU's Shaka Smart have done remarkable things with their respective mid-major teams.
Imagine how they'd fare if they had the resources, brand appeal and tradition of a program like UCLA at their disposal in recruiting? And don't forget about Gonzaga head coach Mark Few.
He's accomplished as much as he possibly can at the Pacific Northwest mid-major power. It might be time for Few to move on to bigger and better endeavors, particularly in Westwood.
With these quality coaching candidates out there, Guerrero should have Howland on a short leash.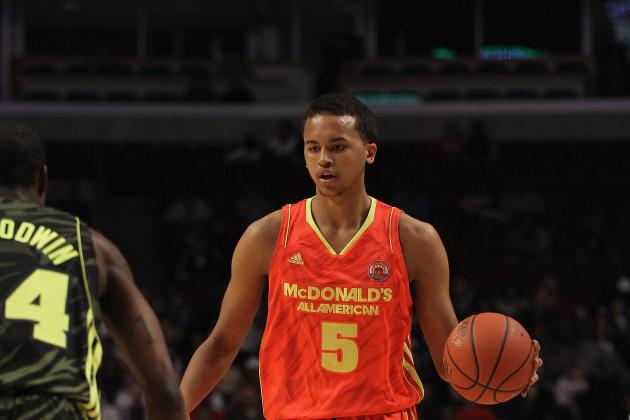 Jonathan Daniel/Getty Images
Kyle Anderson
This may be as good as it gets for UCLA head coach Ben Howland.
He's got three potentially elite freshmen at his disposal in Shabazz Muhammad, Tony Parker and Kyle Anderson this season. However, the downside to this is that this UCLA Big Three is likely to only play one season for the Bruins before going pro.
So it's in Howland's best interest to capitalize on this influx of elite talent while he can. You hate to beat a dead horse, but with such a great balance of young and veteran talent on the roster, there are no excuses for Howland when it comes to getting results in Westwood this season.
And considering how it's likely to be a one-year experiment with Muhammad, Parker and Anderson at the forefront, Howland must strike—and strike big—while the iron is hot.