10 Things We Learned from the Pac-12 in Week 9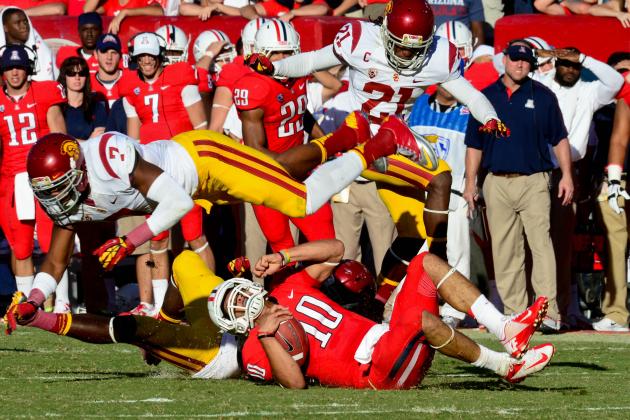 Matt Kartozian-US PRESSWIRE
Arizona upset USC Saturday.
The Pac-12 continues to surprise people with its play.
You have certain teams consistently at the top that find ways to lose, while you have other teams that will never figure things out.
Saturday's games saw Washington upset previously-unbeaten Oregon State, Oregon demolish Colorado and USC again lose a game it should have won.
Here's a look at 10 things we learned from the Pac-12 in Week 9.
Begin Slideshow

»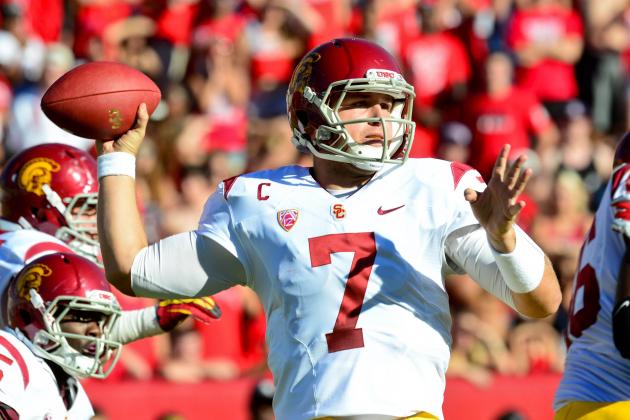 Matt Kartozian-US PRESSWIRE
USC lost another game it should have won.
Every year, USC is thought to have a good enough team to win the national title. And, every year, USC finds ways to lose games it should win.
While the Trojans already had one loss on the year, they still had an outside shot at playing in a BCS game.
After Saturday's 39-36 loss to Arizona, that's not going to happen.
The main difference between a team like USC and the top teams in the SEC is that the SEC teams win games they're supposed to. USC is a different story.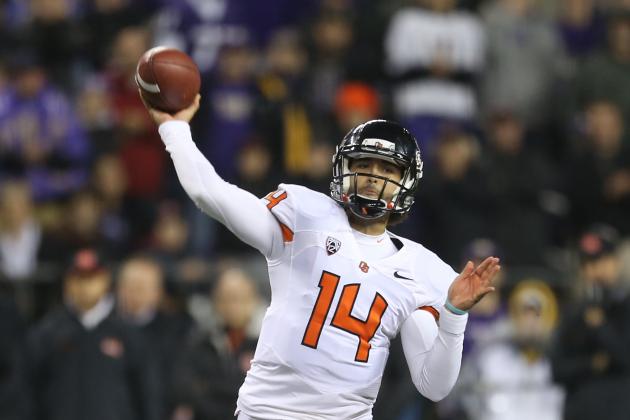 Otto Greule Jr/Getty Images
Oregon State lost its first game of the season Saturday.
While Oregon State entered Saturday with an undefeated record, the 20-17 loss to Washington showed it isn't as good as many thought.
When looking at the previous six games, the signs were there that the Beavers weren't a great team.
Struggles against Wisconsin, Arizona, Washington State and Utah all showed that.
The Beavers haven't been forceful in any games this year, never overpowering any team. The closest they did was an 18-point win over BYU.
With that said, it will all work itself out as the Beavers still have games against Oregon and Stanford.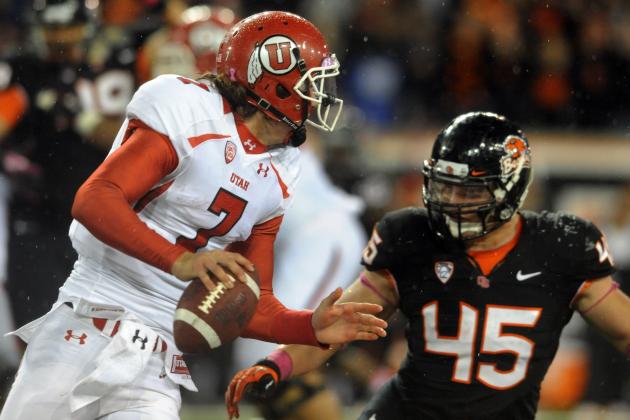 Steve Dykes/Getty Images
Utah won its first Pac-12 game.
Utah finally won its first Pac-12 game by beating California, 49-27.
After losing their first four conference games, the Utes showed good things in all phases of the game. A kickoff return for a touchdown and a fumble recovery for a touchdown provided their first two scores of the game.
While Utah is still a few years away from competing for a conference title, it will still be a team to contend with every week.
With winnable games in their last four contests, the Utes have a good opportunity to end the year with a bowl game. In years past, that would not be enough. But in their first year in the Pac-12, it's a good thing.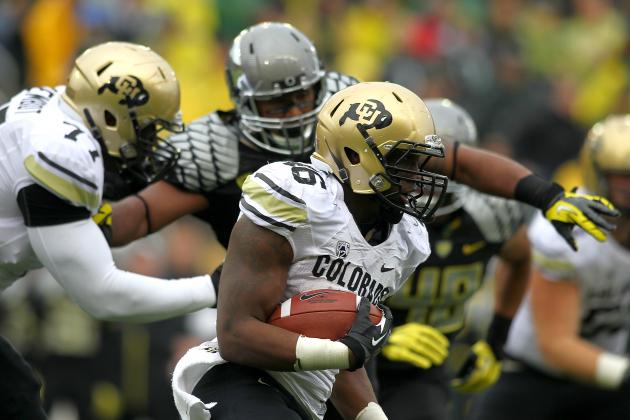 Jonathan Ferrey/Getty Images
Oregon had its way with Colorado Saturday.
To be a fan of the Colorado Buffaloes is not a good thing right now.
In the second game of a tough three-game stretch, Colorado was simply owned by Oregon, 70-14. Then again, most teams get owned by Oregon.
Colorado will next face Stanford before closing the season with Arizona, Washington and Utah.
Think the Buffs are wishing they were back in the Big 12?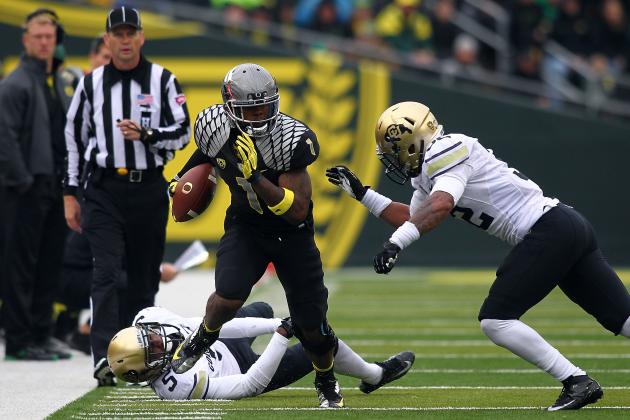 Jonathan Ferrey/Getty Images
Oregon had 425 yards rushing Saturday.
While this is not news to anyone, Oregon continues to show how fast it is every week.
Against Colorado, Oregon rushed for 425 yards, with 10 separate players getting a rush.
With the speed of Oregon, it's impossible for teams to keep up with the Ducks.
Four players have more than 300 yards rushing on the year. To do that anywhere in college football is amazing.
Oregon should continue to dominate on the ground, all the way to the BCS National Championship Game.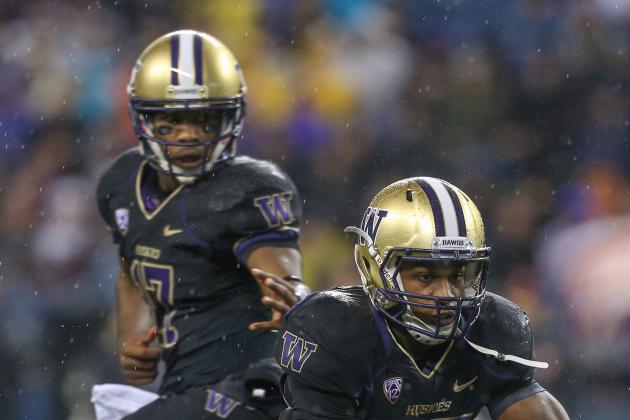 Otto Greule Jr/Getty Images
Washington finds a way to pull at least one upset every year.
Washington's upset over Oregon State just goes to show you that the Huskies have it in them to surprise powerful team.
Usually, the upsets have come against USC, as they did in 2009 and 2010.
While the Huskies struggled against other top teams this year, they still found a way to beat the Beavers and Stanford.
Washington will struggle to win a Pac-12 title as long as USC and Oregon are strong.
However, all conference teams must watch out for the Huskies because they are one of the most capable at pulling an upset.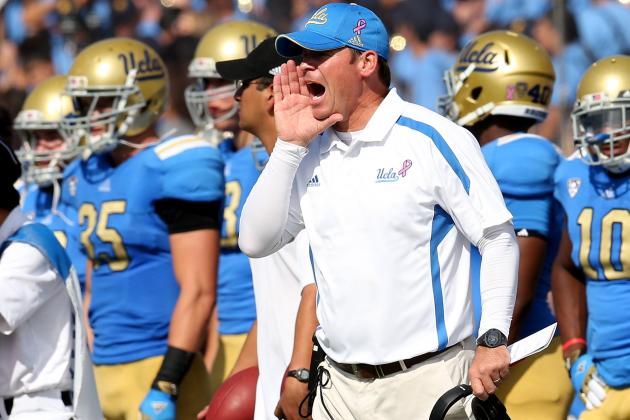 Stephen Dunn/Getty Images
Jim Mora has UCLA at 6-2 on the year.
It was reported last December that incoming UCLA head coach Jim Mora didn't like the ditching tradition at UCLA. The tradition saw senior football players ditching practice because it was tradition.
While nobody can blame the former Bruins players after multiple seasons of mediocrity, Mora brought something the Bruins are responding to.
Sitting at 6-2 this year, the Bruins won't win a Pac-12 title, but things are looking bright again.
The Bruins squeaked out a win over Arizona State Saturday, but they showed their will to fight down to the final whistle.
For a coach like Mora, that's all he wants out of his players. And that's exactly what he got.
Each year the Bruins will continue to improve. By 2014, Mora will have the Bruins in the thick of the Pac-12 race every year.
I don't think any players will be ditching practice now.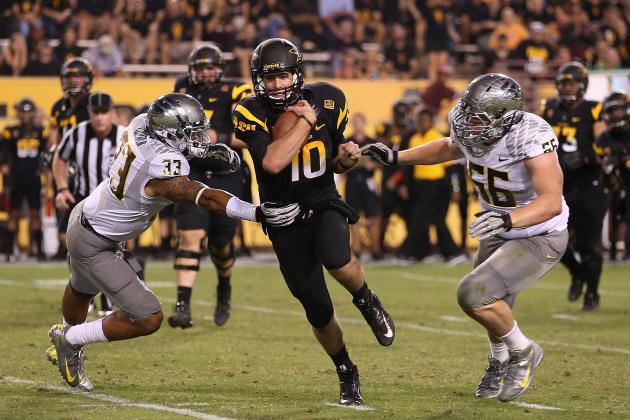 Christian Petersen/Getty Images
Arizona State has been competitive all year, even in its losses.
With teams like USC and Oregon in its conference, Arizona State has never gotten the respect it has wanted.
While the Sun Devils have not given people reason to give them respect over the last few years, they're starting to gain some this year.
Arizona State lost its second straight game Saturday, but it again showed it is a team that will compete every game.
Last week, it was a valiant effort against Oregon. This week, it was a tough loss to UCLA.
The next two weeks will be a sign as to if the Sun Devils are improved as they have road games against Oregon State and USC.
If Arizona State can win those two games, then the respect will start to come back.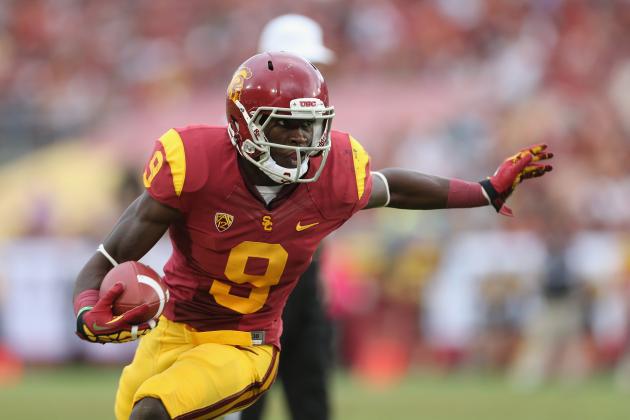 Jeff Gross/Getty Images
Marqise Lee had 345 yards receiving against Arizona.
For those who thought Robert Woods was the only receiver at USC, just look at what Marqise Lee did against Arizona.
With 16 receptions for 345 yards and two touchdowns, Lee was dominant down the field for the Trojans.
Lee had six receptions of 25 or more yards and made the Arizona defense his toy.
While Woods will continue to get the focus from opposing defenses, Lee has made it be known that he can do just as much.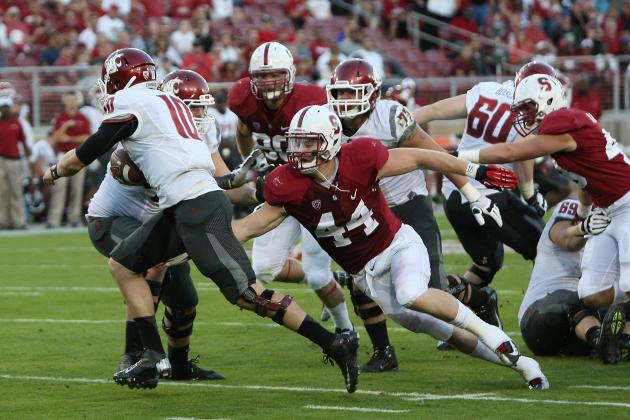 Tony Medina/Getty Images
Winning has become tradition at Stanford.
After years and years of mediocrity, Stanford is showing that winning is the new tradition.
And, they're doing it again this year...without Andrew Luck.
The Cardinal won again on Saturday and should be undefeated on the year. However, a few plays went wrong against Notre Dame and Washington, leaving the Cardinal with two losses.
Still, a 6-2 record is something Stanford fans can be proud of as prior to last year, it was a rarity for that to happen.