Florida Football: Grading All 22 Starters from the Georgia Game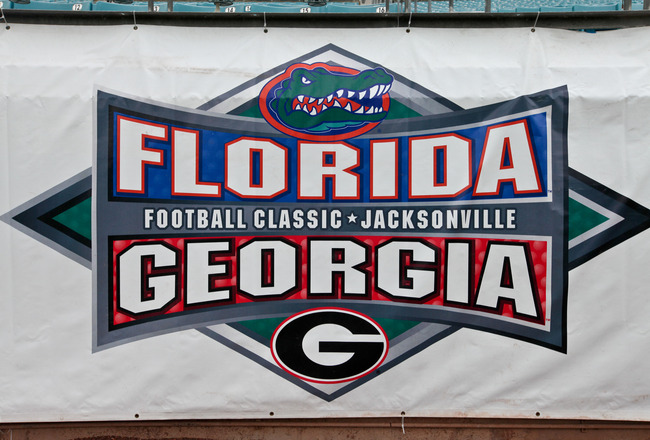 Rob Foldy-US PRESSWIRE
With a chance to win the SEC East for the first time since 2009 and a trip to Atlanta on the line, the Florida Gators came up short against the rival Georgia Bulldogs.
After being called soft by one of their own, the Dawgs came out and punched the Gators in the mouth and Florida couldn't respond or match Georgia's physicality. Florida came out flat, turning the ball over on their first offensive possession, and never really seemed to find a rhythm on offense.
With so much at stake in this game a loss is a tough pill to swallow for Gator fans, but at the end of the day it only counts as one loss. This has still been a successful season for Florida, and there is still a lot of football left to play.
Florida will host Missouri this week in the team's final conference game, but before we look ahead to that game, let's take a look at how the Gators graded out against Georgia.
Quarterback: Jeff Driskel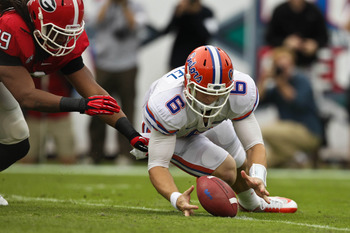 Rob Foldy-US PRESSWIRE
This is a game that Jeff Driskel might want to look at once and then burn the game film.
Since being named the starter before Texas A&M, Driskel has shown improvement each week and hadn't looked the part of a sophomore quarterback who was in his first season as a starter.
Well, he did against Georgia.
Driskel finished the day with respectable passing numbers going 15-of-28 for 185 yards. What killed the quarterback were turnovers. Driskel coughed the ball up on the Gators' first possession and that turnover set the tone of the game. On the day, Driskel threw two interceptions and lost two fumbles. His four turnovers matched the team's total for the season coming into the game.
It wasn't a game Driskel will look back on fondly but definitely a game he can learn from.
Grade: D
Running Back: Mike Gillislee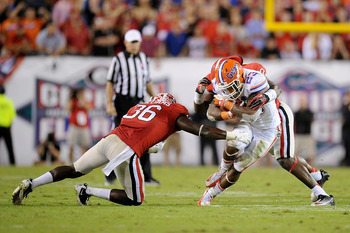 Kevin Liles-US PRESSWIRE
Mike Gillislee was held to under 100 yards rushing for the third straight game.
It's not completely his fault. Florida's inability to at least show a threat of a vertical passing attack has allowed defenses to stack the box and focus in on the Gators' rushing game.
Against Georgia, Gillislee carried the ball 22 times for just 77 yards. His 3.5 yards per carry in the game is a full yard short of his season average.
Grade: C
Fullback: Hunter Joyer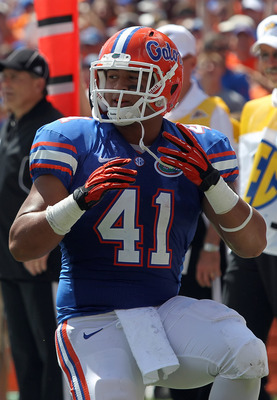 Kim Klement-US PRESSWIRE
Hunter Joyer does all the dirty work for the offense but doesn't receive the credit he deserves.
Joyer has been breaking open big runs with his blocking all season long and is an asset in pass protection as well. Joyer won't fill up the stat sheet, but the job he does blocking allows other players to shine.
Joyer had just one reception for six yards against Georgia, but he played his role well and didn't miss a block the entire game.
Grade: A
Tight End: Jordan Reed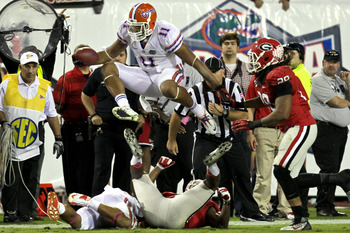 Rob Foldy-US PRESSWIRE
You saw the pain on Jordan Reed's face after he coughed up the ball on the goal line at the end of the game. In trying to make a play, Reed left his feet, as he has been known to do, and had the ball poked out by Jarvis Jones.
One play does not lose you a game.
Reed had a very good game against Georgia, catching five passes for 74 yards. His turnover might have sealed the Gators' fate but it certainly is not the sole reason they lost the football game.
Grade: B
Left Tackle: Xavier Nixon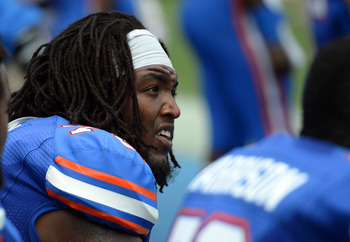 Jake Roth-US PRESSWIRE
It wasn't going to be an easy two weeks for Nixon. After having to deal with Jadeveon Clowney last week, Jarvis Jones would be lining up across from Nixon this week.
Nixon did a better job keeping Clowney in front of him than Jones.
Nixon was called for a false start, struggled to get any kind of push in the running game and was a liability in pass protection.
Grade: F
Left Guard: James WIlson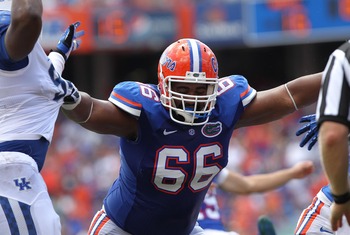 Kim Klement-US PRESSWIRE
As a sixth-year senior, Wilson has seen some pretty big wins over Georgia during his career.
Unfortunately, his career will not end with one.
Wilson struggled badly in pass protection and was unable to contain Jarvis Jones on simple stunts that you would expect someone who has been in the program this long to understand.
Grade: D
Center: Jon Harrison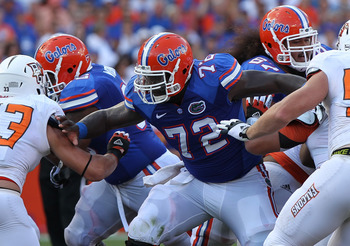 Kim Klement-US PRESSWIRE
For the most part, Harrison was able to hold his own against the big, 6'5'', 358-lb John Jenkins.
However, there were two bad snaps that had a major impact on the game.
The first came on a snap wide to the right that caused Driskel to have to scramble and miss a wide open Trey Burton in the end zone. The second came on a Wildcat play where the snap came in high to Burton and caused a botched handoff between him and Hines. The play was set up with blockers in front of Hines, and a good snap could have resulted in a really positive play for the Gators.
Grade: D -
Right Guard: Jon Halapio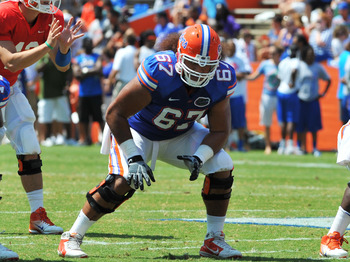 Al Messerschmidt/Getty Images
Like Wilson, Halapio struggled blocking some simple stunts from the Georgia defensive line and was pushed around for most of the game.
Grade: D
Right Tackle: Chaz Green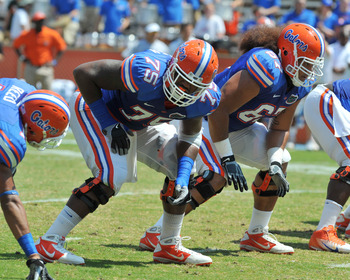 Al Messerschmidt/Getty Images
Chaz Green had the worst game of any of the offensive linemen.
Green was called for an offsides and was constantly pushed off of the line on both running and passing plays. Green allowed the pocket to collapse on a ton of plays and sent Driskel running for his life on most passing plays.
Grade: F
Wide Receiver: Frankie Hammond Jr.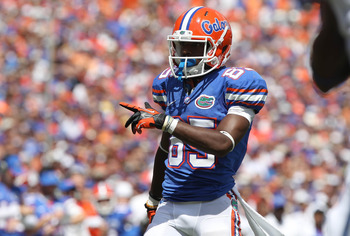 Kim Klement-US PRESSWIRE
You might be surprised to hear this, but yes, Frankie Hammond did play in this game.
Hammond was held without a catch for the first time this season besides being targeted five times this season. Hammond dropped two passes and now leads the team in that category with six on the year.
Grade: D
Wide Receiver: Quinton Dunbar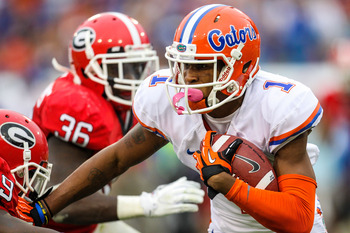 Daniel Shirey-US PRESSWIRE
Quinton Dunbar has been coming on of late.
Dunbar caught three passes for 40 yards against Georgia and is becoming one of Jeff Driskel's favorite targets.
Grade: B
Buck: Lerentee McCray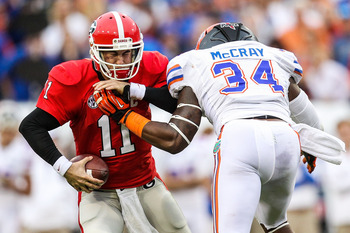 Daniel Shirey-US PRESSWIRE
Lerentee McCray wasn't much of a factor against Georgia.
McCray had one play where he got into the backfield and forced Aaron Murray to scramble and throw the ball away, but McCray was held without any defensive stats for the game and didn't come up with a tackle for the second straight week.
Grade: C -
Defensive Tackle: Sharrif Floyd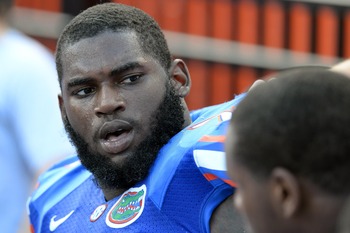 Jake Roth-US PRESSWIRE
Sharrif Floyd looks like a completely different player this season after moving back inside to defensive tackle. Floyd has been a disruptive force all season long and continued that against Georgia.
Floyd finished the game with four tackles, two for a loss and was able to put consistent pressure on Georgia's offensive line.
Grade: B
Nose Guard: Omar Hunter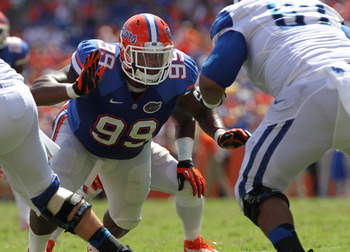 Kim Klement-US PRESSWIRE
Hunter doesn't play a role for Florida that allows the big man to generate a lot of stats. Rather, he is used to clog the middle, take on double-teams and open holes for the linebackers. Hunter does that job well for the Gators.
Hunter finished the game with two tackles and did his job along the defensive line.
Grade: B
Defensive End: Dominique Easley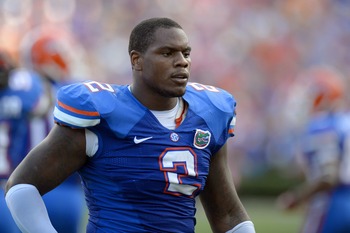 Jake Roth-US PRESSWIRE
Easley finished the game with two tackles and wasn't really able to create pressure from his spot on the outside.
Easley was called for a questionable holding penalty on what would become Georgia's game-winning drive. Easley read a screen pass perfectly and got to Todd Gurley just ahead of the ball. Even though the holding occurred behind the line of scrimmage, a penalty that is normally not called, the flag was thrown. It was a good play by Easley to make the read, it just didn't turn out the way he or the Gators would have liked.
Grade: C +
Sam Linebacker: Neiron Ball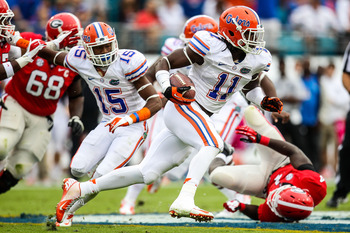 Daniel Shirey-US PRESSWIRE
Neiron Ball came up with his first interception of the season on a pass that was tipped by Josh Evans.
Other than the interception, Ball wasn't much of a factor on defense.
Grade: C
Mike Linebacker: Jon Bostic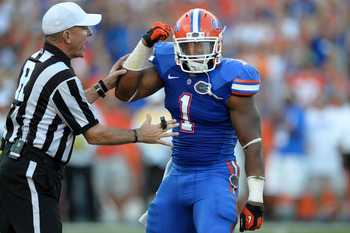 Jake Roth-US PRESSWIRE
John Bostic played a good game and came up with seven tackles against the Dawgs.
However, Bostic was stopped in his tracks on blitzes and wasn't a factor in the Florida pass rush.
Grade: B -
Will Linebacker: Jelani Jenkins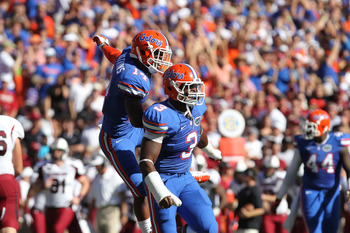 Kim Klement-US PRESSWIRE
Jelani Jenkins left the game early after re-aggravating a hamstring injury. It has been a frustrating junior season for Jenkins, who has missed significant time due to injury.
Grade: Incomplete
Cornerback: Jaylen Watkins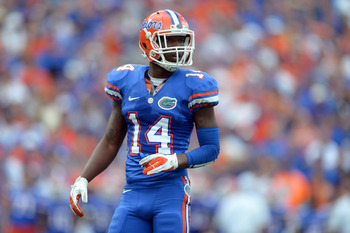 Jake Roth-US PRESSWIRE
As a whole, the secondary played very well and was able to hold the SEC's best quarterback to just 150 yards and one touchdown.
Watkins played an all right game with one tackle and good coverage, but it was an undisciplined penalty that cost the Gators.
Watkins picked up a 15-yard unsportsmanlike penalty for jawing at a Georgia receiver after both teams had been warned to tone it down. The penalty gave Georgia a first down and negated a three-and-out form the Gators defense.
Grade: C
Cornerback: Loucheiz Purifoy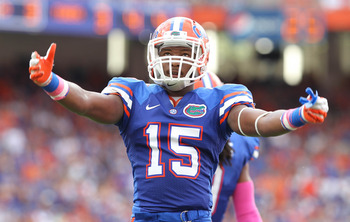 Kim Klement-US PRESSWIRE
Louchiez Purifoy led the Gators with eight tackles, but it was the one tackle he missed that most people will remember.
Purifoy was playing off in zone coverage and missed an open-field tackle that allowed Malcolm Mitchell to score Georgia's second touchdown and final points of the game.
Like we said with Reed, you don't lose a game on just one play, but it's definitely an opportunity Purifoy would like to have back.
Grade: C
Safety: Josh Evans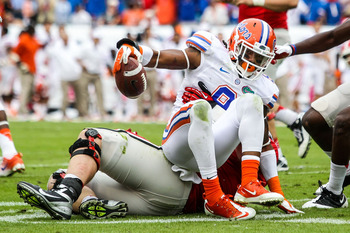 Daniel Shirey-US PRESSWIRE
Josh Evans played his best game as a Gator.
Evans finished the game with six tackles and took much better routes in pursuit. Evans was also in on two of Florida's three interceptions. He tipped the pass that Neiron Ball came up with and was able to come down with a ball that was tipped by Jelani Jenkins.
Grade: A
Safety: Matt Elam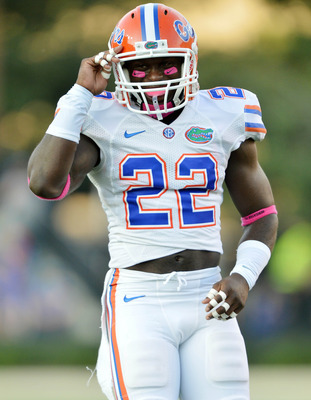 Don McPeak-US PRESSWIRE
Matt Elam was only credited with two tackles in the game but was able to come up with his second interception of the season.
It wasn't Elam's best game, but he still played well for the Gators.
Grade: B
Keep Reading

Florida Gators Football: Like this team?