NHL Free Agency 2013: What the Lockout Means for 2013 NHL Free Agency Class
Use your ← → (arrow) keys to browse more stories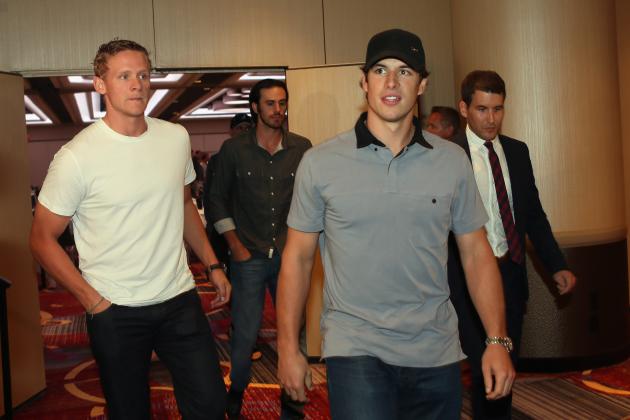 Bruce Bennett/Getty Images
NHL players representatives at NHLPA meeting this summer. Free agents like Corey Perry (left) could not get the max deal they deserve next summer if the lockout continues.
The NHL is looking at being locked out for the entire 2012-2013 season, and this could have significant implications for the 2013 free-agency class.
The biggest thing for any professional athlete in any sport entering free agency at the end of a season is that athlete's performance in the field of play.
For NHL players, it means getting playing time on the ice and making the most of it.
Any other year this would be a non-issue for the players. However, the lockout presents a big problem for the NHL professionals.
NHL players, especially those entering the free-agency market, need to find new teams to play for and somehow integrate themselves into that new team as quickly as possible.
As if that wasn't enough, the players must try and perform at the same high level as they do in the NHL on a nightly basis for their new team against what will likely be inferior competition.
This sounds all well and good at first, but it could actually have bad consequences.
A player's production against inferior competition could hurt their chances at getting the big money that they want in free agency.
When the NHL general managers go to evaluate the production of free-agent players at the end of what would be this season, they may not assign the same value to a player's production on the ice against AHL players as they would against NHL players, for example.
In other words, if a player like Corey Perry has an average season playing in the AHL this season against a mix of NHL and non-NHL talent, he could possibly not get the max level contract that he would have gotten had there been an NHL season this year.
In addition to the possibility of inaccurate evaluation of a season's worth of statistics, the new deal between NHL owners and players could further take away from the money that next year's free agents could earn.
Part of what is driving the NHL labor dispute at the moment is the desire to change free-agency rules. Specifically, the NHL owners want to limit new player contracts to a maximum of five years.
This means that if the owners get what they want, players entering free agency next year can only sign with a team for a maximum of five years and will no longer be able to get guaranteed money anytime past that.
In other words, players can no longer turn in four or five good years of play on the ice over the length of a ten year contract and continue to get paid big bucks for all ten years. Players would now put up big numbers on the ice for more than five years in order to continue making the money they want.
In any case, it looks like if the NHL continues the lockout for the entire season, players entering free agency this summer will likely not be getting paid their full value.