College Football All-Week 9 Team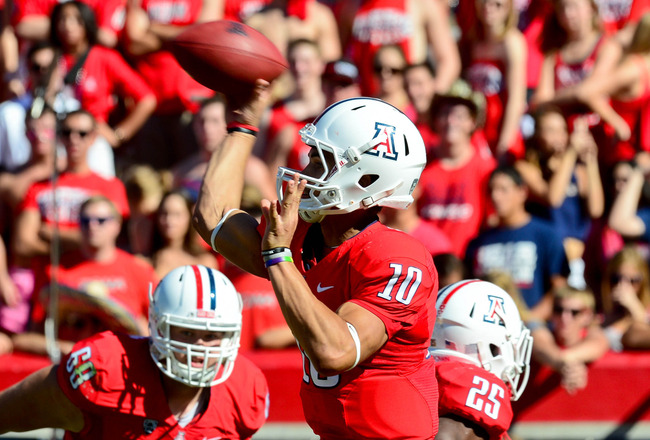 Matt Kartozian-US PRESSWIRE
College football's Week 9 is in the books, and these players should have an extra helmet sticker or two after their performances this week.
These are the players who led the nation at their respective positions this week. Some of them are bound for All-American status, while others just played out of their minds this week.
Who is the All-Week 9 team? Read on.
QB: Matt Scott, Arizona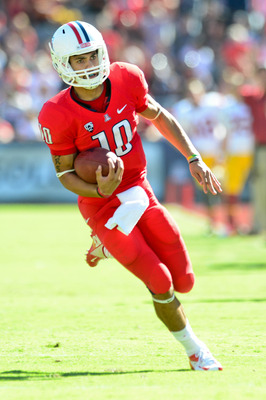 Matt Kartozian-US PRESSWIRE
Although Kansas State's Collin Klein still holds a lead on the Heisman race, Week 9 belongs to Arizona's Matt Scott.
Scott had 369 yards and three touchdowns through the air plus 100 yards and another touchdown on the ground to lead the Wildcats to a thrilling 39-36 upset victory over USC.
RB: Zurlon Tipton, Central Michigan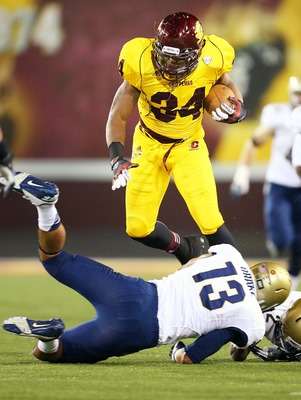 Mike Carter-US PRESSWIRE
Zurlon Tipton and Central Michigan don't get too much attention these days, but it's hard to ignore a 243-yard, three-touchdown effort from the junior running back.
That's more rushing yards than many teams got this week.
True, Akron isn't exactly a quality opponent, but anytime anyone can rush for almost 250 yards, they should get recognition for the rare feat.
RB: Kenjon Barner, Oregon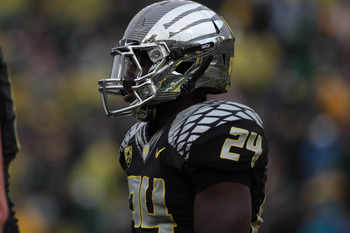 Scott Olmos-US PRESSWIRE
Kenjon Barner only got nine carries before the first-team offense was mercifully pulled against the hapless Buffaloes, but that was plenty of time for Barner to pick up 104 yards and two touchdowns.
Imagine what Barner's stats would have been had Oregon really wanted to run up the score. From what we saw, the Ducks could have scored a whole lot more than 70 points, just as Barner could have picked up a whole lot more than 104 yards.
WR: Marqise Lee, USC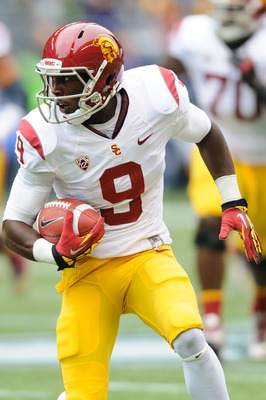 Steven Bisig-US PRESSWIRE
The Trojans may have fallen against Arizona, but Marqise Lee had the game of his career.
Lee had 16 catches for an astounding 345 yards and two touchdowns before the game was over. He added 123 yards on kick returns as well.
Sadly for USC, it just wasn't quite enough for the Trojans to escape with the W.
WR: Sammy Watkins, Clemson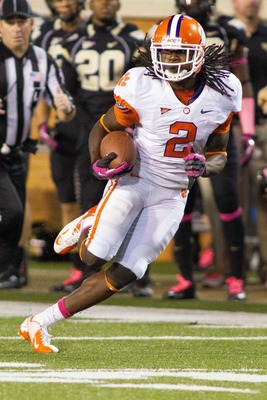 Jeremy Brevard-US PRESSWIRE
After dealing with a suspension and an injury to begin the season, Sammy Watkins finally had his breakout game of 2012.
And what a breakout it was.
Watkins scored his first touchdown of the season while racking up 202 yards receiving on eight catches to help propel the Tigers to the blowout victory over Wake Forest.
WR: Austin Hill, Arizona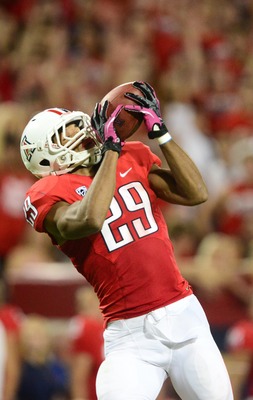 Mark J. Rebilas-US PRESSWIRE
Marqise Lee of USC wasn't the only one putting up big numbers at Arizona Stadium.
Austin Hill had 10 catches for 259 yards receiving. His big night helped power the Wildcats to the thrilling upset victory over the mighty Trojans.
TE: Gator Hoskins, Marshall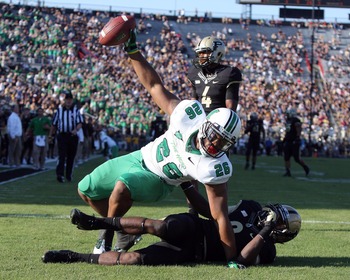 Pat Lovell-US PRESSWIRE
Gator Hoskins continues to cause defenses problems, as he picked up 59 yards receiving against UCF in a Week 9 loss.
After tacking on another score against the Knights, Hoskins leads all tight ends with eight touchdown catches on the year.
OG: Chance Warmack, Alabama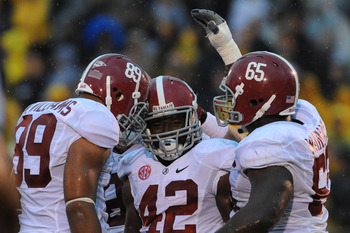 Denny Medley-US PRESSWIRE
If there's any better combination of interior offensive linemen than Chance Warmack and Barrett Jones, I'd like to see it.
Alabama had no trouble moving the ball against the Mississippi State defense, as Warmack made holes for the likes of Eddie Lacy and T.J. Yeldon all night long.
OT: Luke Joeckel, Texas A&M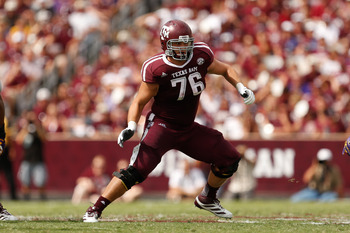 Thomas Campbell-US PRESSWIRE
Want to know a big reason for Texas A&M's Johnny Manziel's success?
The 6'6", 310-pound tackle Luke Joeckel.
Auburn never really could get around Joeckel, and as a result, Manziel did what he does best as the Aggies destroyed the Tigers, 63-21.
C: Barrett Jones, Alabama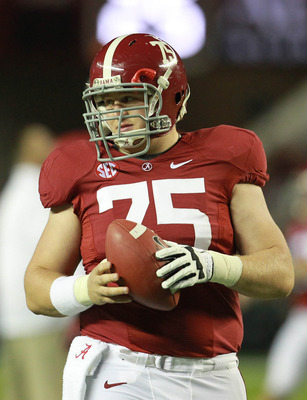 Marvin Gentry-US PRESSWIRE
Barrett Jones continues to have a solid season as the leader of Alabama's formidable offensive line. The Crimson Tide rushed for 179 yards against the Mississippi State defense thanks to Jones and the other big men on the Alabama line.
DL: Quanterus Smith, Western Kentucky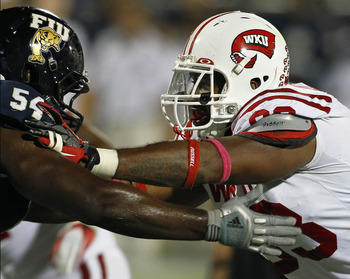 Robert Mayer-US PRESSWIRE
It's not every day that someone can pick up five sacks in a single game, but that's what Western Kentucky's Quanterus Smith did against FIU.
Not sure Smith can do that against some of the better teams in the FBS, but his performance this week certainly deserves some credit.
DL: William Gholston, Michigan State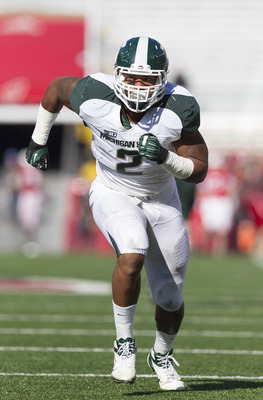 Jeff Hanisch-US PRESSWIRE
William Gholston and the Michigan State defense played inspired football. Gholston was a key part of allowing only 19 yards rushing all game long.
Oh, and by the way, this game went to overtime.
Gholston finished the day with five tackles and one huge sack to help give his team the win.
DL: Mark Fackler, Kent State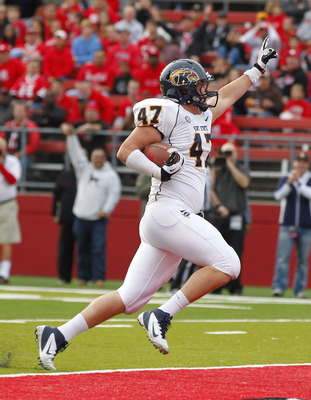 Jim O'Connor-US PRESSWIRE
Mark Fackler did two things that defensive linemen don't normally do in Kent State's upset win over Rutgers:
1. Make two interceptions.
2. Score a touchdown on a interception.
Who would have thought?
DL: Johnathan Hankins, Ohio State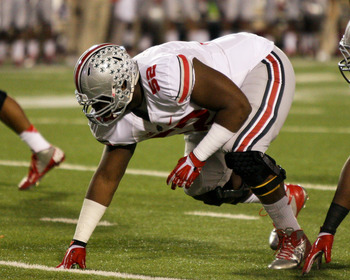 Pat Lovell-US PRESSWIRE
Johnathan Hankins continues to cause problems for teams trying to run up the middle. He picked up five tackles in the Buckeyes' win over Penn State this week.
Will anybody be able to run through this 6'3", 317-lb beast?
LB: Jarvis Jones, Georgia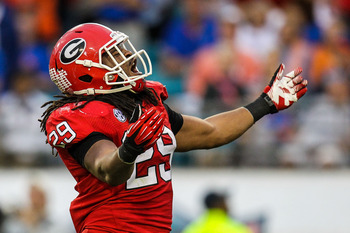 Daniel Shirey-US PRESSWIRE
Jarvis Jones came up big against hated rival Florida.
He forced and recovered two fumbles from the Gators and finished the day with 13 tackles and three sacks. That's a dream game for any linebacker.
But when it's against your rival who also happens to be the No. 2 team in the land at the time, that makes the dream that much sweeter.
LB: Manti Te'o, Notre Dame
Matt Cashore-US PRESSWIRE
Manti Te'o continues to make a strong case for the Heisman Trophy even though he's a linebacker.
The senior forced the only turnover of the night after getting an interception off of Oklahoma's Landry Jones late in the game to help seal the deal. He also had 11 tackles and a sack on the night to keep the Fighting Irish's undefeated season and national championship dreams alive.
LB: Ezekiel Ansah, BYU
Josh D. Weiss-US PRESSWIRE
Ezekiel "Ziggy" Ansah proved to be a menace against Georgia Tech's triple-option attack.
Ansah picked up eight tackles and a sack and helped hold this usually potent rushing attack to just 117 yards.
CB: Bennett Jackson, Notre Dame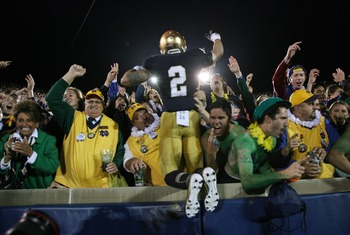 Brian Spurlock-US PRESSWIRE
Bennett Jackson was huge in Notre Dame's win over Oklahoma as he picked up eight tackles, seven of those being solo.
That was huge, as Jackson and the Fighting Irish secondary helped hold Oklahoma to just 13 points.
DB: Robert Lester, Alabama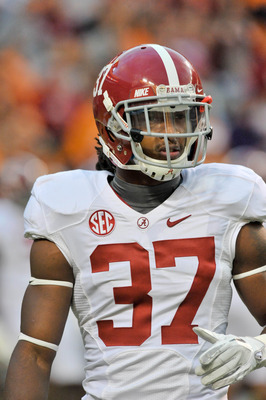 Jim Brown-US PRESSWIRE
Robert Lester helped limit the ability of Mississippi State's usually potent passing game as he picked up an interception against the Bulldogs.
S: Sean Parker, Washington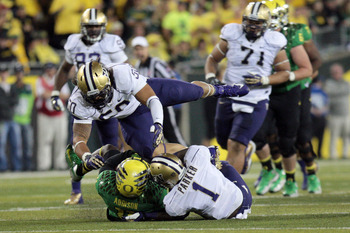 Scott Olmos-US PRESSWIRE
Finally, the Huskies win a game thanks to their defense.
Sean Parker snagged an interception against Oregon State, and he had four tackles as Washington took down the formerly undefeated Beavers of Oregon State.
S: Shawn Williams, Georgia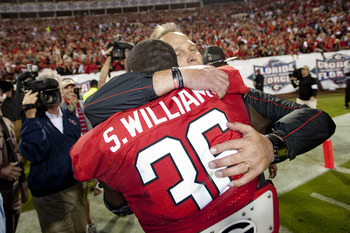 Kevin Liles-US PRESSWIRE
Shawn Williams and the Bulldog secondary held firm as they came away with a memorable victory over No. 2 Florida in a big-time rivalry game.
Williams picked up six tackles and one for a loss as Georgia came away on top.
K: Bryson Rose, Ole Miss
Nelson Chenault-US PRESSWIRE
Bryson Rose was a perfect 3-for-3 against Arkansas from 27, 53 and 31 yards out.
Oh, and the 31-yard field goal was the difference in the Rebels' 30-27 victory over Arkansas.
How's that for clutch?
P: Alexander Kinal, Wake Forest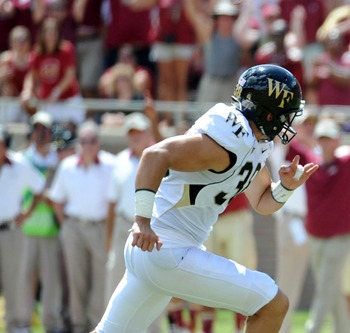 Melina Vastola-US PRESSWIRE
Tough thing when the best player on your team is your kicker, but such was the case for Wake Forest against Clemson.
Alexander Kinal had 10 punts for the Demon Deacons, including a booming 61-yarder.
PR: De'Anthony Thomas, Oregon
I've seen it, but I still don't believe it.
De'Anthony Thomas escapes from the Colorado punt coverage team with all the skill of a magician. How on earth he escaped from pretty much every one of the Buffaloes on the field and ran in for the score is just incredible.
Check it out for yourself.
KR: Reggie Dunn, Utah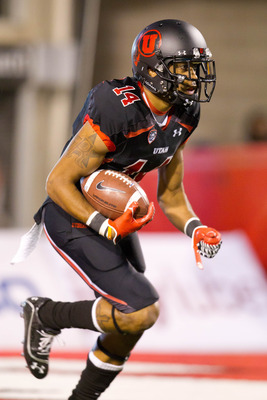 Russ Isabella-US PRESSWIRE
Reggie Dunn had not just one, but two 100-yard kickoff returns for touchdowns.
Need I say more?
Keep Reading