Sheamus: Ranking the 7 Best Title Defenses of His WWE Career So Far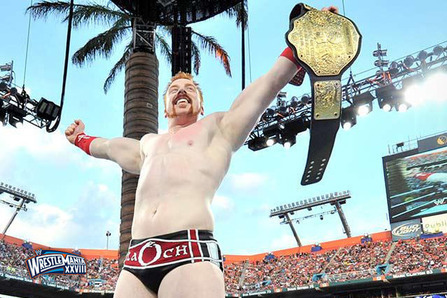 Photo courtesy of WWE.com
Three years, three World title reigns.
That sums up the career of Sheamus, who debuted in June 2009 and has already racked up two WWE Championship reigns and a seven-month World Heavyweight title reign that was just ended by The Big Show at Hell in a Cell.
Although Sheamus has more runs with the WWE's top two prizes than some Hall of Famers, his two WWE title reigns were rather short, and his World title reign was marred by a rather boring feud with Alberto Del Rio.
As a result, that's hurt the quality of the matches during all three of Sheamus' title reigns. But he has still put together some impressive World title defenses throughout his career.
Just which ones are the best, though?
Here are the top seven title defenses of Sheamus' career so far.
Begin Slideshow

»
At the 2010 Royal Rumble, Sheamus successfully defended his WWE Championship against Randy Orton by disqualification.
In hindsight, that was a huge match between two of the WWE's top names. But at the time both Orton (even though he was in the process of turning) and Sheamus were still heels, which made for a weird dynamic that turned this match into a disappointment.
Eight months later at SummerSlam, however, these two would go at it once again, with Sheamus walking in as the heel WWE Champion and Orton as the newly babyface No. 1 contender.
While not a classic by any means, Orton's new stance as a good guy helped make this match significantly better than their Royal Rumble one, with the crowd firmly behind Orton rather than sitting on their hands like they were just eight months prior.
Orton and Sheamus battled it out in a 19-minute match that, although it was hurt by a non-finish of sorts (a DQ), it was one of the better bouts of the beginning of Sheamus' career and his second WWE title run.
Sheamus and Alberto Del Rio spent a large part of 2012 feuding in one of the most lackluster World title rivalries in recent memory.
They wound up facing each other several times on pay-per-view for Sheamus' World title, including in a Fatal 4-Way at Over the Limit and three singles matches. Most of those singles bouts were only OK, hurt by both a lack of great chemistry between the two and bad booking of the feud.
But at least for me, their match at Night of Champions was the most entertaining one. Not a must-see match by any means, but that one that had some good storytelling, with Del Rio working Sheamus' arm before Sheamus battled back and picked up the victory.
This feud could have been much better if ADR wasn't so stale and if anyone actually believed he had a chance at winning any of these matches, but after he and Sheamus had two less than stellar bouts at Money in the Bank and SummerSlam, I was pleasantly surprised by this one.
It was nothing special, but hey, at least their abysmal feud ended on somewhat of a high note.
Fatal 4-Way matches tend to be somewhat predictable and very formulaic, which is why I'm not really a fan of them.
But every once in a while we get a four-way dance that involves four very talented guys and is actually booked pretty well. We got one of those back in May at Over the Limit.
Then-World Heavyweight Champion Sheamus defended his title in a star-studded Fatal 4-Way match that included Randy Orton, Alberto Del Rio and Chris Jericho. At the time, all four of these stars were criss-crossing rivalries with one another, so it made for a good story between four guys who consistently deliver in the ring.
It was a very strong match that saw Sheamus pick up the victory by getting the pin on Jericho and featured a ton of entertaining spots involving all four guys. Though these matches can be tricky to book and often become too clustered, all four stars were on their A-games and made sure that didn't happen.
Sheamus would be saddled with that awful feud against ADR for a while, and oddly enough, the one PPV match between that wasn't a singles match actually turned out to be the best one of their rivalry and one of the best Fatal 4-Ways in recent memory.
In February 2010, Sheamus went into the Elimination Chamber PPV as the WWE Champion, meaning that he was one win away from defending the company's most prestigious title at its biggest PPV in his rookie year.
But Sheamus had his toughest challenge yet that night: An Elimination Chamber match against Triple H, Randy Orton, John Cena, Ted DiBiase and Kofi Kingston.
As many of us remember, Sheamus didn't leave that match with the win, as it was John Cena who emerged as WWE Champion. But what Sheamus did have was arguably the best match of his career up to that point.
Sheamus was still early on in his development at the time, so the Elimination Chamber match was able to hide some of his limitations. Of course, EC matches tend to be pretty damn good, so that was an added bonus as well.
Throw in three of the WWE's biggest stars—Cena, Orton and Triple H—and two top up-and-comers (Kingston and DiBiase), and we had the ingredients for a very good Hell in a Cell match that would set the stage for WrestleMania 26.
While I don't think this Elimination Chamber match was particularly memorable, it was a solid WWE Championship match that provided us with 30 pretty entertaining minutes of action and, despite the loss, helped solidify Sheamus as one of the WWE's brightest rising stars.
I did not want to see Sheamus vs. The Big Show at Hell in a Cell—had absolutely zero interest in it at all, in fact.
But after watching the match on Sunday, I have to say that I was pretty damn impressed. Although Big Show usually struggles in matches against other big guys, he and Sheamus definitely made it work here.
These two had a fight (which we know Sheamus loves) that had a slow pace at first, but gradually picked up steam until we got to one of the most exciting finishing sequences in recent memory: Sheamus kicking out of the pin after a WMD, Big Show kicking out after a Brogue Kick and then Sheamus going for a Brogue Kick only to get destroyed with a WMD from Big Show, allowing him to pick up the victory.
Although I still would have preferred to see Sheamus against someone else, this was an all-out slugfest between two big, strong dudes who looked like they were beating the living crap out of each other.
The story was good, the action was good and so was Sheamus. He showed a ton of heart that night in what was arguably the best losing effort of his career.
At No Way Out 2012, it was supposed to be Sheamus defending the World Heavyweight title in one of his millions of matches against Alberto Del Rio.
But Del Rio suffered a concussion just before the pay-per-view, and Ziggler was named the last-minute replacement. Thank gosh.
Instead of sitting through one of many boring Sheamus/ADR matches, we got Ziggler vs. Sheamus in the show-opening match--but oddly enough, the one that turned out to be the best match of the night.
Although the majority of No Way Out was rather lackluster, Sheamus and Ziggler had a very good match that was also kind off odd because Sheamus was treated like a heel by the crowd while Ziggler received a rather warm, babyface-like reception.
This wasn't the must-see match that we might have expected from these two, but I'll take 15 minutes of great action over the main event of this show (Cena vs. Big Show) any day of the week.
Wrestling fans across the world felt like they got robbed when Sheamus defeated Daniel Bryan in just 18 seconds to win the World Heavyweight Championship at WrestleMania 28.
But the WWE more than made up for it at the following pay-per-view, Extreme Rules.
Bryan invoked his rematch clause, and he wound up challenging Sheamus for the World title at Extreme Rules in a rare match type, a 2-out-of-3 Falls match. It would be a tough task for Bryan and Sheamus to steal the show on a stacked Extreme Rules card, but that's exactly what they did.
I thought that these two had the match of the night (yes, even better than CM Punk vs. Chris Jericho) and made us forget about the booking nightmare that took place at WrestleMania 28.
Bryan was his usual fantastic self here, delivering a match that was better than anything he's done in the WWE, other than his match with Punk at Over the Limit. Sheamus had the match of his life, too.
Other than a few other matches (like his Ladder Match against John Morrison at TLC 2010), Sheamus hadn't had a whole lot of memorable matches up until this point. But at Extreme Rules, he proved that he is indeed a main event caliber guy, wrestling his best match he's ever had in the WWE.