New Orleans Saints vs. Denver Broncos: Live Score, Highlights and Analysis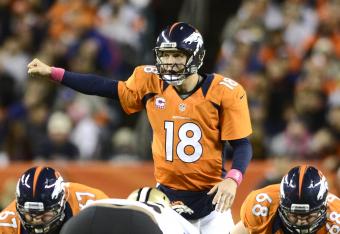 The Denver Broncos have defeated the New Orleans Saints 34-14 in Denver.
The Broncos offense executed well, running up 503 total yards on the Saints defense, which currently looks like one of the worst in the NFL.
The Saints offense was stagnant tonight, only gaining a total of 252 yards and scoring two touchdowns, with one of those touchdowns coming in garbage time.
Denver is now in first place in the AFC West at 4-3, while the Saints are now 2-5, with their playoff hopes slipping away quicker than they could've anticipated it would at the beginning of the season.
Here's a look at how this Sunday Night Football matchup of two of the greatest quarterbacks of the last decade turned into a Bronco-blowout.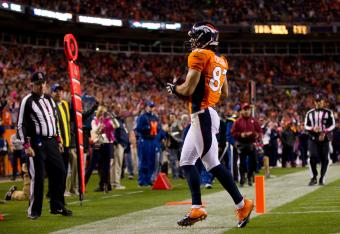 End of The Game
That just about wraps it up, as the Denver Broncos have dominated the New Orleans Saints 34-14.
This game was a joke on New Orleans' side, as their defense was torched for 530 total yards, while their offense struggled in a way we haven't seen since the Aaron Brooks/Jim Haslett-era.
Denver now controls their own destiny in the AFC West at 4-3, one game up on the San Diego Chargers, who lost to the Cleveland Browns earlier this afternoon. That itself is pretty funny to think about (unless you're a Chargers fan).
Thank you for reading everybody!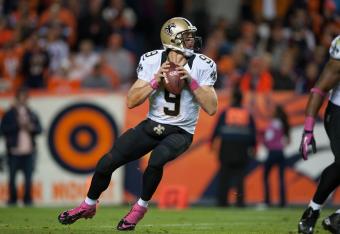 2:00 warning in the Fourth Quarter
It's hard to believe that Drew Brees just surpassed the 200-yard mark this evening.
You read that correctly, Brees has only thrown for 213 yards, two touchdowns and an interception against Denver.
Color me shocked, I expected a shoot-out tonight. Instead we got to see pure domination.
If it's any consolation to Brees, he did keep Manning from a Super Bowl ring, but Denver this season looks like they could give Manning a good chance at another.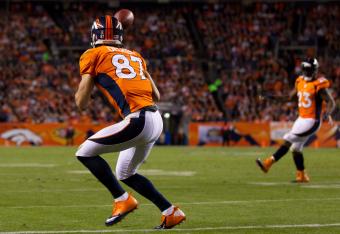 13:03 left in the Fourth Quarter
As the Broncos march on the field for another offensive posession, here's an interesting stat courtesy of Russell Baxter of profootballguru.com:
#Broncos: since trailing #Chargers, 24-0 at halftime in Week 6, have outscored Chargers and Saints by combined 66-7 score #NFL

— Russell S. Baxter (@BaxFootballGuru) October 29, 2012
That is quite a stretch of offensive dominance for six quarters, the scary thing is it might not be over yet tonight.
14:54 left in the Fourth Quarter
With the way the Broncos defense has manhandled the Saints' offense, it feels pretty safe to call this latest Manning-to-Decker touchdown pass a dagger.
Denver now leads 31-7, and thus far have looked tremendous doing so. The rest of the AFC from Houston out east to New England and Baltimore will have to keep an eye out for the Broncos this year, as this game makes them look like a sure contender to win the AFC.
Of course you could just chalk up this performance to the opposition, but while I might agree with you with Denver's offense, Denver's defense says that they're dangerous. Holding Drew Brees to one touchdown through three quarters is the sign of a great defense.
But why read my take on the game, when a former Saints running back has his much more succinct analysis?
Peyton putting on a show now. What was once a close one is becoming a nightmare for the saints #SNF

— deuce mcallister (@dmcallister26) October 29, 2012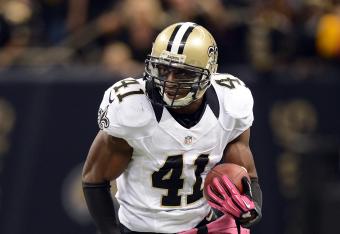 3:22 left in the Third Quarter
Despite being checked out for a concussion, it appears that Roman Harper is alright and is back into the game, per Michelle Tafoya:
TAFOYA: Roman Harper has been cleared to return to action

— SNF on NBC (@SNFonNBC) October 29, 2012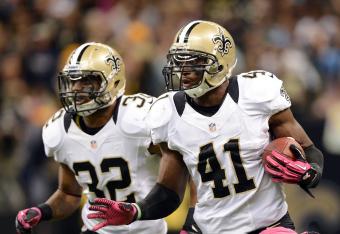 7:48 left in the Second Quarter
Another potential injury for the Saints, per Michelle Tafoya via Twitter:
TAFOYA: Roman Harper being evaluated for a concussion

— SNF on NBC (@SNFonNBC) October 29, 2012
We will continue to monitor Harper's status throughout the game, but based off of the concussion test as well as the hit he took, it doesn't appear likely that he will be back.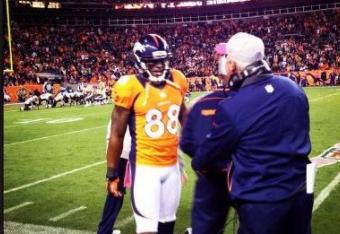 9:30 left in the Third Quarter
Denver received the kickoff to open up the second half, and then managed to make quick work of the Saints defense, resulting in a Manning-to-Thomas three-yard touchdown pass.
This despite the fact that their opening drive started at their own seven-yard line. Their placement on the field doesn't seem to matter, as the Broncos have managed to use not only Manning's arm, but their running game to march down the field on New Orleans.
The Saints defense is creeping into all-time bad territory, which is the main reason why they're 2-4. Even Fake John Madden has something to say about them:
The Saints defense is so bad even Peyton Manning is breaking off four yard runs on them.

— Faux John Madden (@FauxJohnMadden) October 29, 2012
Of course after an effort like tonight's, 2-4 will be 2-5 unless the whole team can turn it around.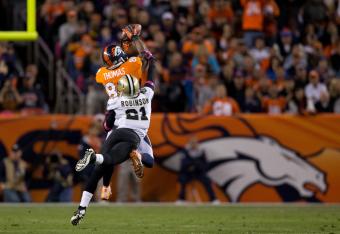 HALFTIME
Peter King has some strong words about Peyton Manning's 24-yard throw to Eric Decker that put them into field goal range:
That has to be Manning's throw of the year. Third-and-7, getting nailed in the chin, perfect 24-yard throw to Decker.

— Peter King (@SI_PeterKing) October 29, 2012
Considering some of Manning's other throws this year, that's high praise.
The Broncos go into halftime on top 17-7, but looking back, I'm sure they can see that it could just as easily be 21-7 or 24-7. New Orleans is lucky to only be down by 10 at this point in the game.
The Saints offense has had problems, while their defense has played like their defense usually plays, which is not very good.
This will be an interesting half coming up. Will New Orleans' offense wake up, or will Denver "sweep the leg"?
It will be fun to find out.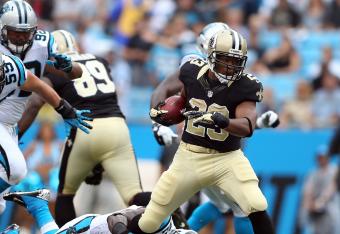 2:14 left in the Second Quarter
Just in case you thought there couldn't be worse news for the Saints, comes this via NBC's Sunday Night Football Twitter feed:
TAFOYA: Saints trainers looking at Pierre Thomas' left leg

— SNF on NBC (@SNFonNBC) October 29, 2012
Thomas is the workhorse back for the Saints, whose main job is to pick up those tough yards on the ground. Without him their offense becomes very one-dimensional.
We will keep you updated as to his status throughout the evening.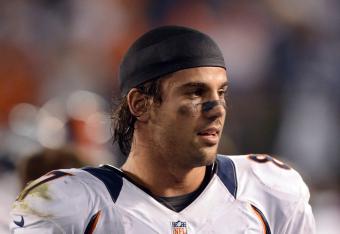 5:43 left in the Second Quarter
Remember how I said this wouldn't end well for the Saints?
Peyton Manning made sure of that, leading the Broncos on a quick 56-yard, five play drive, punctuated by a pass to Eric Decker for a touchdown and a 14-7 Denver lead.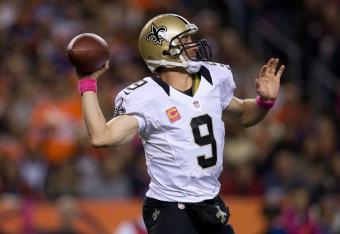 9:17 left in the second quarter
So is this the right call for New Orleans? Should the go for it on fourth-and-2?
It turned out that the answer is no, as Brees throws an interception (not like it mattered), giving the ball back to the Broncos at the Denver 44-yard line.
This won't likely end well for the Saints, barring a big stop.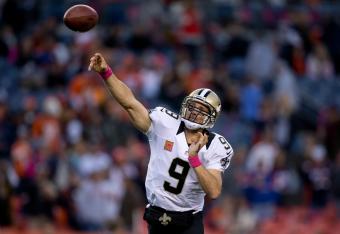 14:53 left in the Second Quarter
Drew Brees has just entered the 300-touchdown club with a 29-yard pass to Darren Sproles
The game is now tied at 7-7, and it looks like it will be a shootout where the last team to score will win.
Broncos 7, Saints 7
End of the First Quarter
After getting a turnover from New Orleans, Denver gives the ball back at the New Orleans 45-yard line thanks to a Willis McGahee fumble.
It looked on the play like McGahee didn't notice that he didn't have the ball anymore as he was pushing towards the first-down marker, as the ball was recovered by Curtis Lofton.
The Saints are now driving going into the second quarter.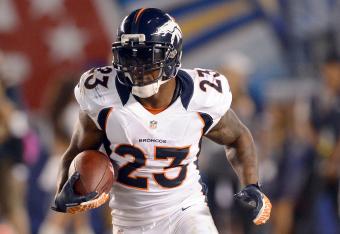 3:37 Left In the First Quarter. Broncos 7, Saints 0.
Denver ran a great drive to score the first points of the game, led mostly on the ground by Willis McGahee, who rushed for 33 yards on six attempts.
Peyton Manning completed two great passes during the 98-yard drive, one of them being a 41-yard pass to Demaryius Thomas, followed by a 15-yard pass to Willis McGahee, who would run it into the end zone on the following play.
Following this, New Orleans would go three-and-out, giving Denver the ball back at midfield on the punt. A Denver score on this drive wouldn't exactly doom the Saints due to their powerful offense, but by giving Denver some breathing room at home, it wouldn't be an ideal situation for the Saints to go into.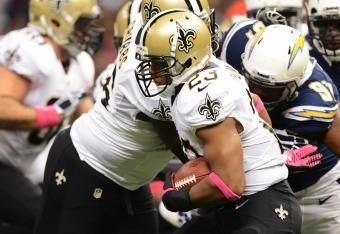 9:27 left in the First Quarter
An inauspicious start for both offenses, with both Peyton Manning and Drew Brees going a combined 0-for-4 on their first four passes. However Brees has picked it up by completing his last two passes for 18 yards.
The Saints are still on the move, however some miscommunication with the officials that followed a Brees fumble (on a free play thanks to a penalty on Denver's Elvis Dumervil) led to New Orleans calling a timeout, only for the officials to give it back due to their own miscommunication.
Of note is Pierre Thomas, who's off to a very good start with 13 yards on two rushes. The Saints should use more of Thomas along with Darren Sproles instead of 2011 first-round pick Mark Ingram, who has been very disappointing this season.
New Orleans' special teams also provided a jolt, thanks to a 52-yard punt by Thomas Morstead that backed Denver up to their own two-yard line.
This article is
What is the duplicate article?
Why is this article offensive?
Where is this article plagiarized from?
Why is this article poorly edited?