MLB Awards 2012: Odds and Predictions for Baseball's Top Awards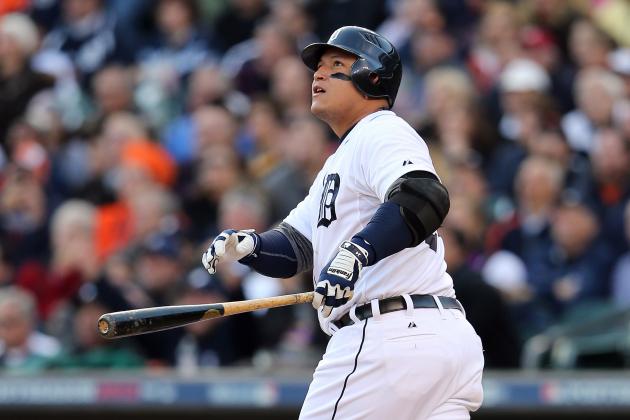 Leon Halip/Getty Images

While the front office of each major league club is busy during the offseason, so are some of the top baseball writers in the country.
Yes, the writers are busy writing, but they are also making important decisions as well. They are the ones who vote for some of the most prestigious awards, including Rookie of the Year, Manager of the Year, Cy Young and MVP.
This year features some of the tightest races that we've seen in recent memory.
All eyes will be on the American League MVP race between Detroit Tigers third baseman Miguel Cabrera and Los Angeles Angels rookie outfielder Mike Trout. Also, did Bob Melvin do a better job with the Oakland Athletics than Buck Showalter did with the Baltimore Orioles? And did Bryce Harper do enough to win the NL Rookie of the Year award over Wade Miley and Todd Frazier?
Here are the odds for each top candidate of winning their respective award, as well as my predictions of who will come out on top when the awards are announced.
The AL and NL Rookie of the Year awards will be announced on Nov. 12, according to the official website of the Baseball Writers' Association of America. The AL and NL Managers of the Year will be announced on Nov. 13, the AL and NL Cy Young Award winners will be announced on Nov. 14 and the AL and NL MVP award winners will be announced on Nov. 15.
Begin Slideshow

»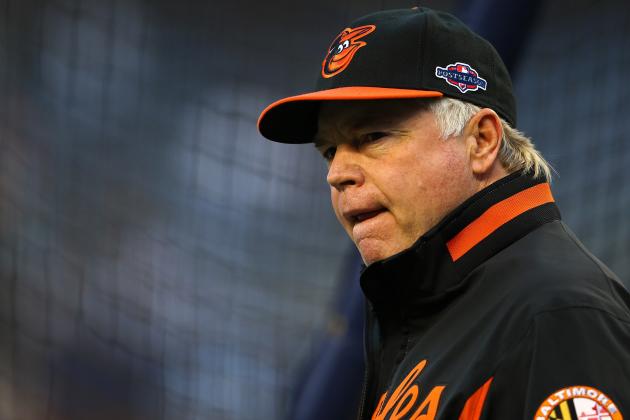 Al Bello/Getty Images

Buck Showalter, Baltimore Orioles
Buck Showalter single-handedly turned the Baltimore Orioles around, taking a cellar-dweller into a playoff contender. The Orioles had not made the postseason since 1997, and they hadn't even finished higher than third place since then.
Sure, 2011 wasn't a good first year for Showalter's Orioles, but 2012 was a completely different team. They played well early and just never stopped, and a lot of credit goes to Showalter.
Odds: 3/1
Bob Melvin, Oakland Athletics
In just his first season with the Oakland Athletics, Bob Melvin took his team all the way to the postseason—and in magical fashion.
Oakland sat in the middle of the AL West for the majority of the 2012 season before making a miraculous comeback to win the division on the last day of the season over the Texas Rangers. Oakland's 94 wins were the most by an A's team since 2003.
Odds: 4/1
Robin Ventura, White Sox
For someone who had never managed a professional baseball team before, Robin Ventura did a fantastic job with the Chicago White Sox.
Although the White Sox missed the postseason, they had a successful year. Ventura had his club in first place in the AL Central for nearly the entire season before the Detroit Tigers came all the way back to take the division.
Odds: 10/1
Predicted Winner: Buck Showalter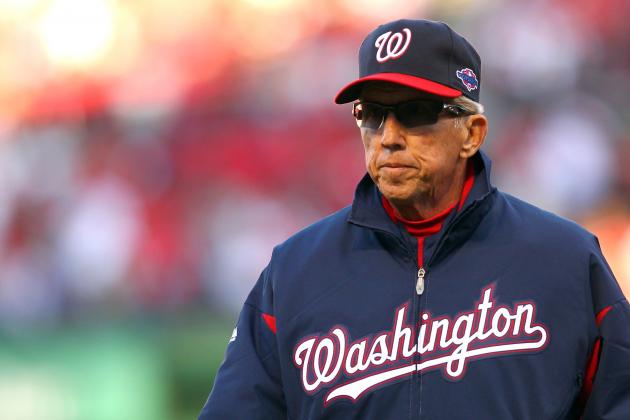 Dilip Vishwanat/Getty Images

Davey Johnson, Washington Nationals
Davey Johnson only had the opportunity to work with the young Washington Nationals for half a season in 2011, but he worked wonders with the club in 2012.
He had to deal with injuries throughout the year, as well as the innings cap on Stephen Strasburg. But he still led his team to the postseason after playing in first place for nearly the entire regular season.
Johnson worked well with the hype surrounding Bryce Harper, and he was one of pieces that brought the Nationals to the playoffs for the first time ever.
Odds: 3/1
Bruce Bochy, San Francisco Giants
Bruce Bochy has recently made the San Francisco Giants into postseason contenders year after year. And 2012 was no different, obviously, with the team winning the World Series.
He finds a way to get the best out of every player on his roster no matter what the situation. He's a genius when it comes to the pitching staff, and he positions his fielders perfectly time and time again. He's easily one of the best managers in baseball.
Odds: 5/1
Dusty Baker, Cincinnati Reds
Dusty Baker has had a couple of good years with the Cincinnati Reds, as well as some more unfortunate ones. 2012 was a good one.
The Reds managed to stay in first place after early July with strong pitching and hot hitting. The Cincinnati bullpen was nearly unstoppable the entire season, and the credit for putting the right reliever in for the right situation goes to Baker.
Odds: 6/1
Predicted Winner: Davey Johnson
Stephen Brashear/Getty Images

Mike Trout, Los Angeles Angels
If Mike Trout doesn't at least win the American League Rookie of the Year, there's something seriously, seriously wrong. He produced one of the greatest years, period; forget about how experienced he is.
Trout started the year in Triple-A, missed the first month of the season and still led the league in runs and steals. He also had 182 hits, 30 home runs and 83 RBI. He wins this one easy.
Odds: 3/2
Yu Darvish, Texas Rangers
A team never knows what they're going to get when a player comes over from Japan, but the Texas Rangers found a gem in Yu Darvish. Not only was Darvish one of the best first-year pitchers in baseball, but he was also one of the best in general. He won 16 games for the Rangers with a 3.90 ERA and nearly 10.5 strikeouts per nine innings. He should be the ace of their staff for years to come.
Odds: 8/1
Yoenis Cespedes, Oakland Athletics
The Oakland Athletics won the war to get Yoenis Cespedes, and their investment paid off. Cespedes had a great rookie year in Oakland, nearly hitting .300 with a .861 OPS, 23 home runs and 82 RBI.
He got the attention of pitching coaches and managers across the league early that he should be pitched to like one of the top offensive players in the league.
Odds: 9/1
Predicted Winner: Mike Trout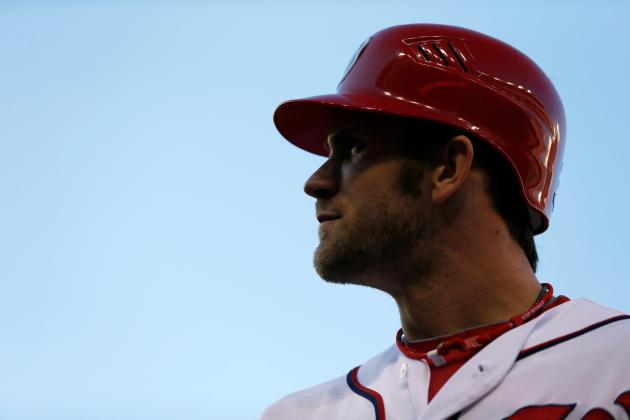 Rob Carr/Getty Images

Bryce Harper, Washington Nationals
The hype surrounding Bryce Harper before he was even drafted proved to be well-warranted, as he finally arrived as a regular in the Washington Nationals outfield in 2012.
Harper had a very good year with the first-place Nats, hitting .270/.340/.477 with 22 home runs and 98 runs at just 19 years old. He made the NL All-Star team, but unfortunately didn't get to play. However, he still made his impact as one of the top young stars in the game.
Odds: 3/1
Wade Miley, Arizona Diamondbacks
Wade Miley turned out to be quite the surprise for the underachieving Arizona Diamondbacks in 2012. He won a team-high 16 games and also led all starters in ERA and WHIP.
Miley tended to beat up on the weaker National League teams, but he did win against the Los Angeles Dodgers and San Francisco Giants as well. One of the best parts of Miley's year was that he rarely walked guys, allowing just 1.7 walks per nine innings on average.
Odds: 3/1
Todd Frazier, Cincinnati Reds
Todd Frazier came into 2012 with 41 games of experience under his belt, though they weren't a very productive 41 games. He picked up the pace in 2012, though, and finished the season hitting .273/.331/.498 with 19 home runs and 67 RBI.
Frazier was a solid corner infielder for the NL Champion Reds, and he really gave them the extra boost to win the division.
Odds: 4/1
Predicted Winner: Bryce Harper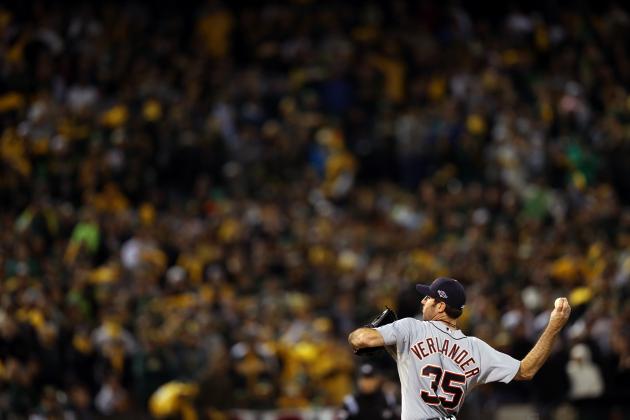 Ezra Shaw/Getty Images

Justin Verlander, Detroit Tigers
Justin Verlander won the Cy Young in 2011 and is a great candidate to repeat as the top pitcher in the American League—and probably in all of baseball.
He won 17 games, posted a 2.64 ERA and led the league in innings pitched and strikeouts. It's the second straight year that he's finished on top in both of those categories.
He did have some help on offense, but without Justin Verlander, the Detroit Tigers might not be AL Central champions.
Odds: 4/2
David Price, Tampa Bay Rays
In 2010, David Price was the second-best pitcher in the American League following a fantastic year in which he placed second in the Cy Young vote. And in 2012, he topped it.
He set a new career high in wins with 20 (which was tied for the league lead), led the league in ERA and struck out over 200 batters for the second straight year. Can he finally get over the hump and be deemed the best pitcher in the American League?
Odds: 5/1
Jered Weaver, Los Angeles Angels
Jered Weaver put together another ace-like campaign in 2012 with the Los Angeles Angels. He won a career-high 20 games for the Halos and posted a sub-3.00 ERA for the second straight year.
This was the first season since 2008 where Weaver didn't pitch 200 innings, but he was still just as effective. His unorthodox pitching style and forever-moving pitches continue to keep batters off-balance each year.
Odds: 6/1
Predicted Winner: Justin Verlander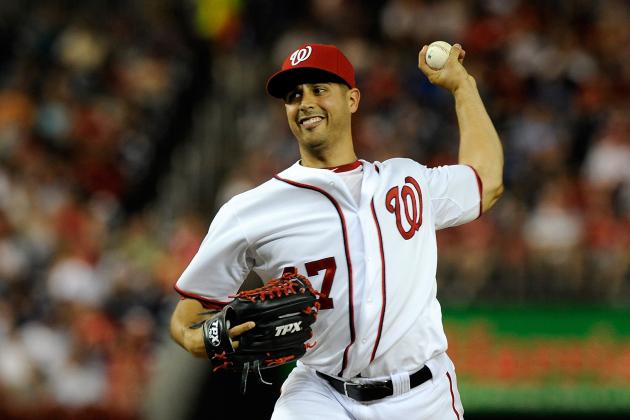 Patrick McDermott/Getty Images

R.A. Dickey, New York Mets
A 37-year-old New York Met won 20 games this season and led the league in innings, strikeouts, shutouts, complete games and games started. And no, it's not Johan Santana from the future or Tom Seaver from the past. It's R.A. Dickey.
The knuckleballer was incredible in 2012, without a doubt. No one expected him to pitch as well as he did. He definitely deserves the Cy Young Award, but that doesn't necessarily mean he will win it. His numbers, however, speak for themselves as one of the best performances by a veteran in recent memory.
Odds: 3/1
Gio Gonzalez, Washington Nationals
Being traded to the Washington Nationals from the Oakland Athletics really seemed to help Gio Gonzalez out. He won a career-high 21 games, which led the league, and posted a sub-3.00 ERA for the first time ever.
He was two outs shy of tossing 200 innings for the third straight year, but that shouldn't be held against him. He does walk a fair amount of guys, but makes up for it with around nine strikeouts per nine innings on average.
Odds: 4/1
Craig Kimbrel, Atlanta Braves
Craig Kimbrel is easily the best closer in baseball, but is he the best pitcher in the National League? In his second full season, he led the league in saves for the second consecutive season with 42—but it's his ERA that really stands out.
He only allowed seven men to score this year in 62.2 innings. That equates to a 1.01 ERA. He also finished the year out with a 16.7 strikeouts-per-nine-innings average. No closer has won the NL Cy Young since Eric Gagne in 2003.
Odds: 10/1
Predicted Winner: Gio Gonzalez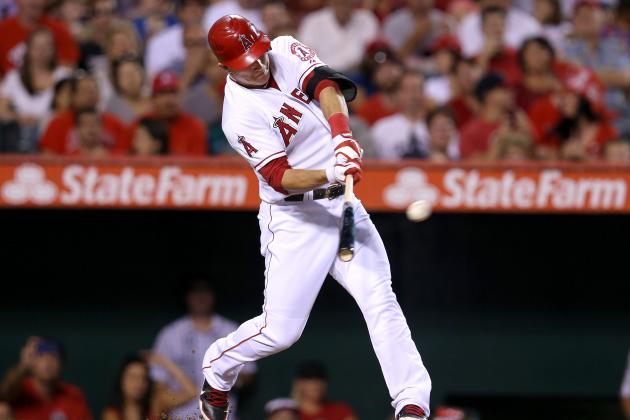 Stephen Dunn/Getty Images

Miguel Cabrera, Detroit Tigers
Miguel Cabrera accomplished something that hadn't been done since Carl Yastrzemski in 1967: He won the Triple Crown. Yes, Cabrera led the league in hitting, home runs and RBI in 2012.
Cabrera is the most feared hitter in baseball, and the only reason he doesn't draw more walks is because he has Prince Fielder behind him. He hits to all fields with extreme power and turns any mistake into extra bases or a bomb into the bleachers.
He's a bad defender, which could hurt him in the voting, but it may be easy to ignore since he's an offensive powerhouse.
Odds: 4/2
Mike Trout, Los Angeles Angels
With the season that Mike Trout had—even after missing the first month of the year—he's already one of the top hitters in the game. He literally does it all.
He hits with consistency and power, he runs extremely well and is a defensive mastermind. He didn't play for a postseason team, but what more could you really ask for from the guy?
Oh yeah, and he's only 21 years old.
Odds: 5/2
Josh Hamilton, Texas Rangers
Josh Hamilton started the 2012 season hotter than anyone on the planet. He was much hotter than Cabrera, and Trout was still in Triple-A.
Hamilton eventually slowed down, but he still managed to put up great numbers by season's end. He finished the year with a .285/.354/.577 line, 43 home runs and 128 RBI. He also scored over 100 runs and drew 60 walks.
He won the MVP in 2010, and I don't think that 2012 will be his second.
Odds: 7/1
Predicted Winner: Mike Trout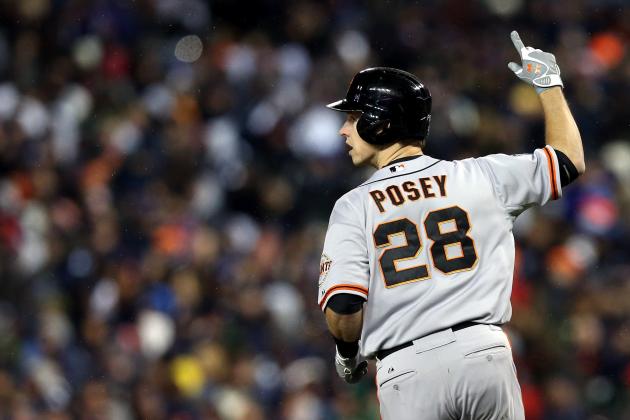 Ezra Shaw/Getty Images

Buster Posey, San Francisco Giants
Coming off of a year in which he missed nearly all of the season with a broken leg, Posey was back with a vengeance in 2012, winning the NL Comeback Player of the Year award.
He led the league in hitting with a new career-high BA at .336. He also led the league in OPS+ and set new career highs in runs, hits, doubles, home runs, RBI and walks.
He's only 25 years old and has really only played two full seasons—yet he's already been the Rookie of the Year and an All-Star. Is the MVP next?
Odds: 3/1
Ryan Braun, Milwaukee Brewers
Winning the National League MVP in back-to-back seasons actually isn't that rare, and Ryan Braun could be the first to do it since Albert Pujols in 2008 and 2009.
Braun led the league in runs, home runs and OPS in 2012 with another spectacular year. He's the ultimate hitter at the plate, with power to all fields, the ability to draw a walk, hit consistently and score whenever he's given the opportunity. He's also a former Rookie of the Year and has won a Silver Slugger in each of the last four years.
Is Ryan Braun the NL's best overall player?
Odds: 3/1
Andrew McCutchen, Pittsburgh Pirates
Andrew McCutchen has turned into one of the best overall players in baseball over the last couple of seasons, but he truly put himself into the elite category in 2012.
McCutchen hit .327/.400/.553 with 31 home runs, 96 RBI, 107 runs and 20 stolen bases. He's already won one of the three outfield position Gold Glove awards and could soon be adding some more hardware to his mantle. He led the league in hits and continues to improve in all categories with each year of experience. Remember, he's only 26 years old.
Odds: 8/1
Predicted Winner: Buster Posey