25 Key Storylines to Watch Heading into Week 10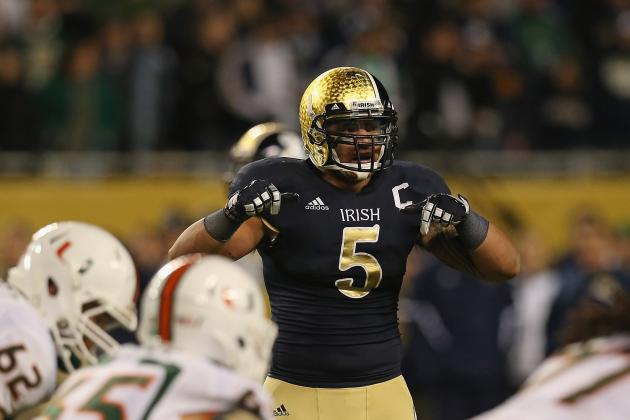 Jonathan Daniel/Getty Images

In the middle of your dreary work week, there is an oasis that you can look forward to filled with football, food and plenty of drama.
That oasis is Saturday, and it's approaching rapidly.
in case you totally missed last week, due to visiting in-laws, a trip to a rural neighborhood or a stupid friend that scheduled a wedding during football season, this list runs down the top 25 stories you might want to catch up on going into another weekend filled with football.
If you hate Notre Dame and/or Alabama (Big Ten fans), this might not be the place for you.
Begin Slideshow

»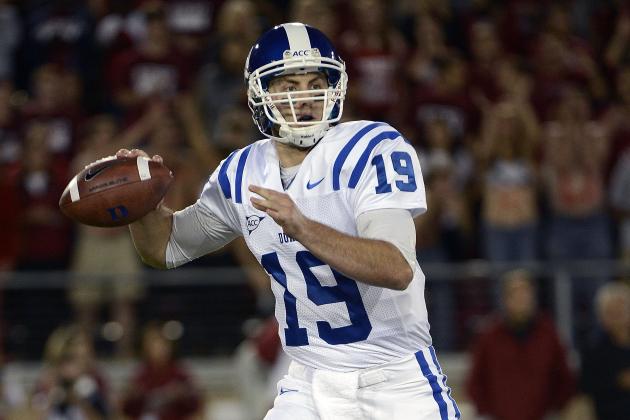 Thearon W. Henderson/Getty Images

Despite their tough loss to Florida State, Duke is currently poised for a shot at the ACC title.
The Blue Devils control their own destiny within the conference and have a very real shot at not only reaching the ACC title game, but winning it as well.
The team already achieved bowl eligibility for the first time since 1993, and with a few breaks, might achieve something it has not done since 1989 and win the ACC.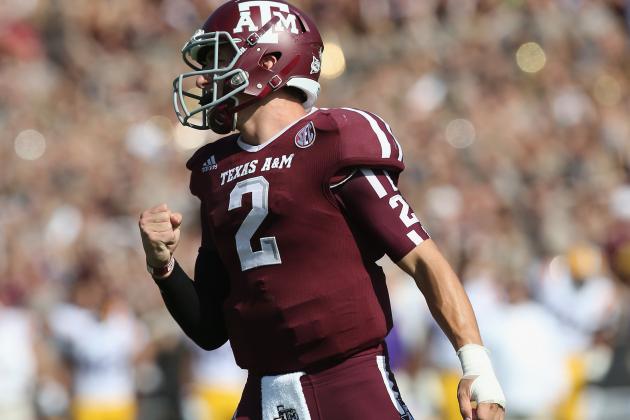 Ronald Martinez/Getty Images

Texas A&M quarterback Johnny Manziel continues to put up huge numbers.
He's scored 29 times this season and has found the end zone at least four times in five different games.
He's averaging 6.8 yards per carry, has thrown for over 2,200 yards and continues to be a nightmare for opposing defensive coordinators.
All of this, and we seem to forget that he is only a freshman.
A trip to Davis-Wade Stadium to take on Mississippi State will again give him the opportunity to prove he is more than just a flash in the pan.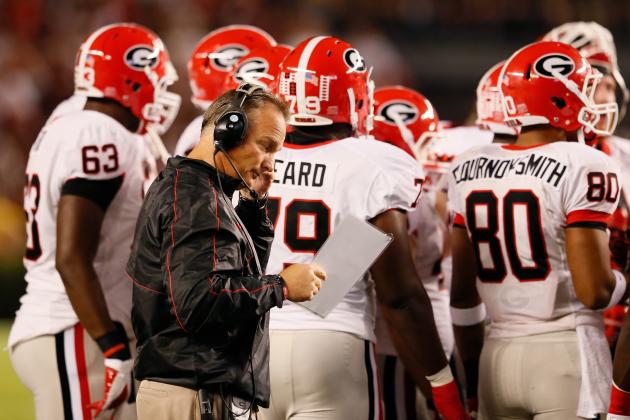 Kevin C. Cox/Getty Images

The SEC East is a mess.
South Carolina beat Georgia, Florida beat South Carolina and Georgia beat Florida.
Go figure.
So who wins the division?
Nobody else is even close to within striking distance, and these three teams are within a game of each other in the SEC standings.
Pay attention, folks, this race is going to be an interesting one.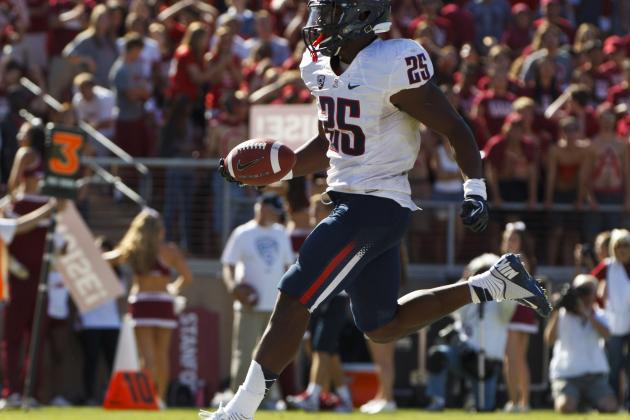 Jason O. Watson/Getty Images

Let's think about this for a minute.
Right now, USC is atop the Pac-12 South with a 4-2 conference record.
However, UCLA, Arizona and Arizona State are all right behind and have more favorable schedules ahead of them.
The Trojans are still the favorite to win the division, but after Arizona upset the Trojans, the Wildcats appear to be very vulnerable, and the division could wind up in the hands of a totally unexpected squad.
Otto Kitsinger III/Getty Images

Fresno State is having a solid season with a 4-1 record in the conference, and it has a legitimate shot at taking the MWC title home if Boise State slips up somewhere.
It's time to give credit where it is due.
Fresno State quarterback Derek Carr continues to have an excellent season, approaching the 3,000-yard mark, and he has already thrown 26 touchdowns this season.
Because he plays in the MWC, Carr does not get all the press that he deserves, but he has already matched his touchdown total from last season and is completing over 68 percent of his attempts.
With three more big games this season, Carr can establish himself as the MWC offensive player of the year.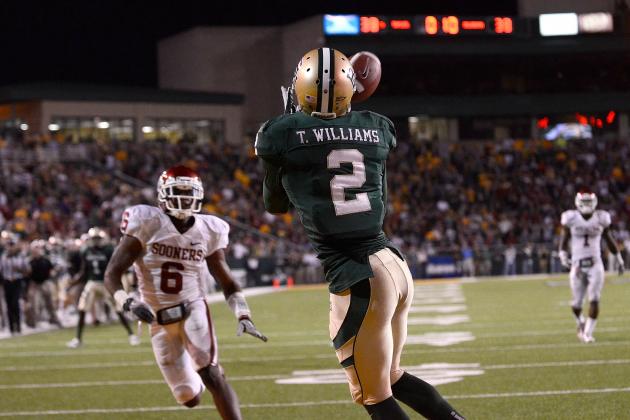 Sarah Glenn/Getty Images

Robert Griffin III and Kendall Wright are gone, but Terrance Williams continues to have a great season for Baylor.
He leads the nation in receiving yards with 1,203 yards to date and has scored nine times this season.
He's only had one game this season with fewer than 131 yards receiving, and he had a huge 314-yard day against West Virginia.
The Big 12 is loaded with explosive offenses and guys that put up huge numbers, but none is close to touching the numbers that Williams is putting up so far this year.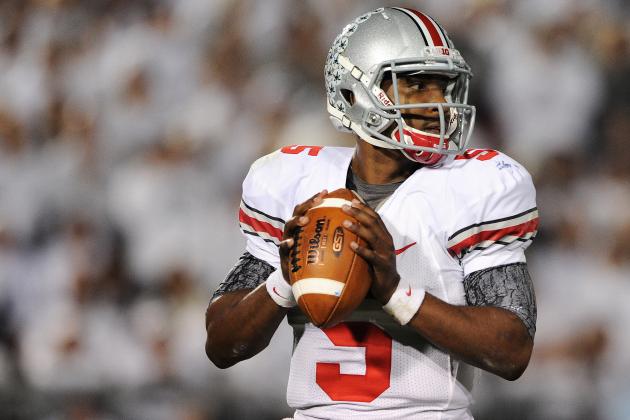 Patrick Smith/Getty Images

Yes, Ohio State is banned from postseason play.
However, this team is very, very good and continues to reel off the wins.
The Buckeyes sit at 9-0, are ranked sixth in the AP poll and have a very legitimate shot at finishing the season without a blemish.
But it means nothing, except for a precursor to what the Buckeyes are going to do next season with another year of experience under their belts.
Braxton Miller will be even more dangerous next season, and that should scare the dickens out of opposing Big Ten teams.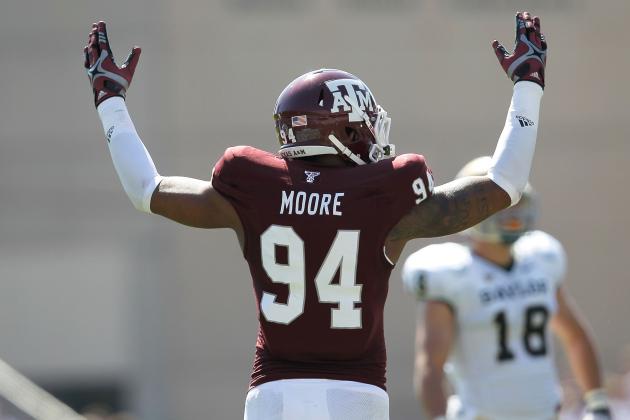 Sarah Glenn/Getty Images

Not to beat a dead horse, but the road to the Heisman for a defensive player is extremely difficult.
Texas A&M defensive lineman Damontre Moore is having a monster year, and he should be earning some of that Heisman hype that is so difficult to obtain for a defensive player.
He leads the nation in tackles for loss with 18, including 11.5 sacks and is one of the nation's premier pass-rushers.
Quarterback Johnny Manziel gets all the attention for the success the Aggies enjoy, but Moore is putting up some pretty impressive numbers, as well.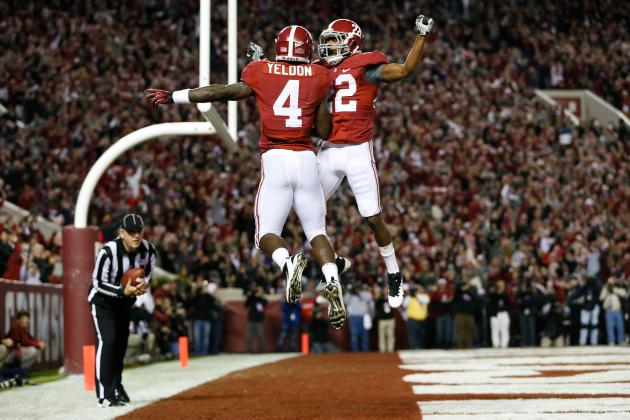 Kevin C. Cox/Getty Images

We all know about the 'Bama defense.
It's extremely stout, allowing only 8.1 points per game and routinely shutting down opponents.
I think it is about time to give a shout out to the offense.
This unit, led by a balanced attack that features 222 yards passing per game and 214 rushing, Nick Saban's offense is putting up 40.6 points per game.
That average will be severely tested against LSU, as the Tigers are third in the nation in total defense, and despite occasional breakdowns, continue to play extremely well.
While we don't often mention the offense, it has been having a huge season and is on pace to set a 'Bama record for scoring.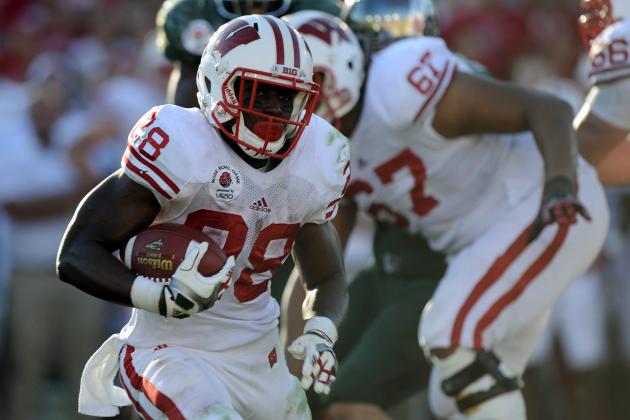 Harry How/Getty Images

Montee Ball is six touchdowns away from making history.
Because of Wisconsin's woes and Ball's struggles so far this season, his campaign to break Travis Prentice's record for career rushing touchdowns has gone largely unnoticed.
Prentice is the NCAA's current career leader with 73 touchdowns, but that number is in serious jeopardy.
The Badgers' next game is against Indiana, and in each of Ball's last two meetings with the Hoosiers, he has scored three rushing touchdowns.
With at least three regular-season games, a possible Big Ten title game and a bowl game left for Sconnie, Ball is poised to set a new record before his career is over.
Andy Lyons/Getty Images

Louisville is one of the few remaining unbeaten teams heading into its next tilt against Temple.
The Cardinals have not finished undefeated since, well, ever.
With four games left, this seems like a very real possibility in the 2012 season.
The season-ending meeting with Rutgers is going to be tough, but with Syracuse, Temple and UConn as three out of their four remaining games, Louisville may be another unit to finish the season without a loss.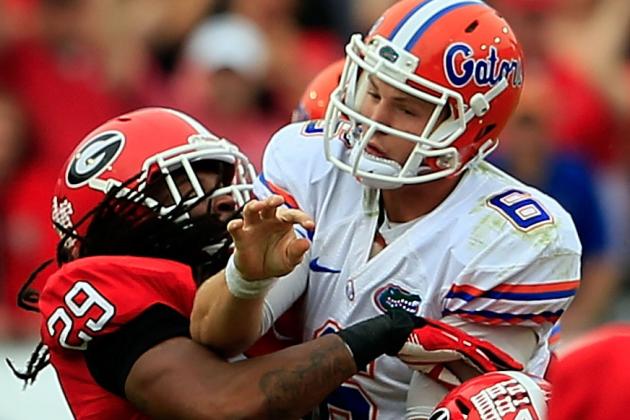 Sam Greenwood/Getty Images

Seriously, who is it?
LSU, Georgia, Florida, South Carolina and Mississippi State can all stake a claim to the title, behind the far superior Alabama Crimson Tide.
Since Georgia, Florida and South Carolina have all played each other already, clearing up this question is going to be extremely difficult, especially if LSU by some miracle knocks off the Tide over the weekend.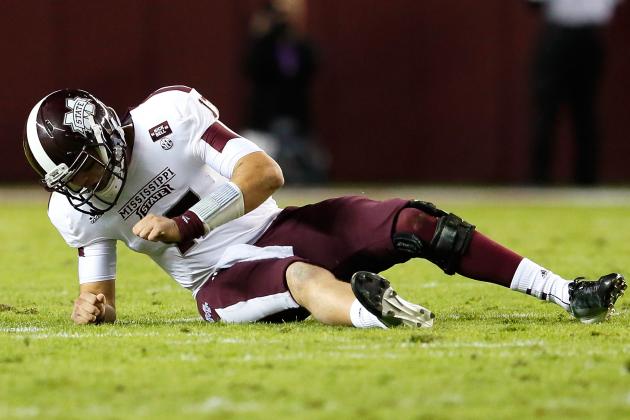 Kevin C. Cox/Getty Images

Mississippi State was absolutely destroyed in their meeting with Alabama, 38-7.
Now it must face an offense that has been surprisingly hard to contain against Texas A&M.
The Bulldogs are at home and have the defensive playmakers to make the sledding tough for Johnny Manziel and the Aggies, but if they aren't tackling better than they did against the Tide, things are not going to end well.
If you are looking for some middle-tier SEC action, this game is for you.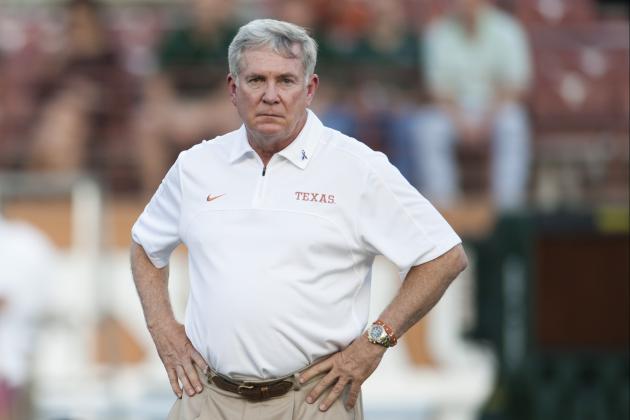 Cooper Neill/Getty Images

As the Big 12 standings currently sit, Texas Tech and Texas are tied at 3-2 in the conference.
After this weekend, one of them will have established some small measure of dominance.
Mack Brown is again fighting with his back to the wall, trying to get his team to win at least one semi-meaningful game, while Texas Tech looks to rebound from a tough loss against Kansas State.
Whoever wins this game has a chance at still having a pretty productive season.
A loss this week for either team, but especially the 'Horns, would demonstrate that the program has not come far from where it was a year ago.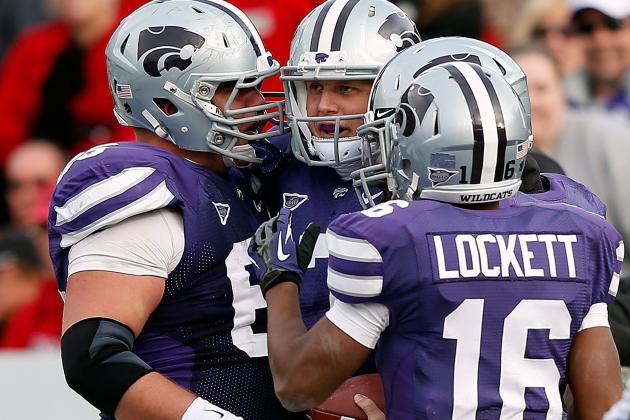 Jamie Squire/Getty Images

Forgive the nickname reminiscent of a children's cartoon, but this guy has been ridiculous and earned the nickname.
Klein belongs at the front of every Heisman race update, especially given his penchant for coming up big in huge games.
The man is the unquestioned leader of an offense that continues to overpower any opponent that tries to get in its way.
He has scored 28 times this season, only thrown two interceptions and has led the Wildcats to victory over three ranked opponents thus far this season.
Klein's Heisman hype is heating up, and if he continues these stellar performances, he will run away with it.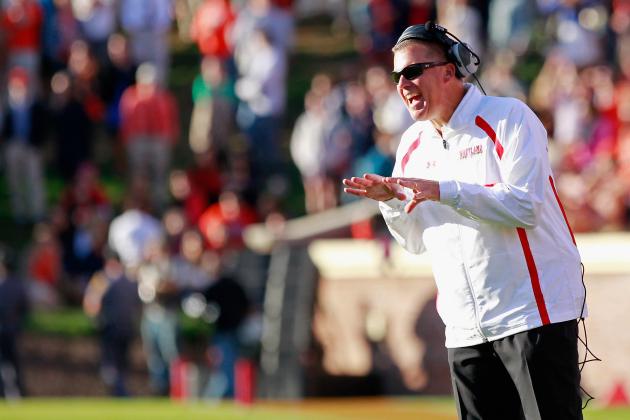 Geoff Burke/Getty Images

Maryland quarterback Caleb Rowe suffered an ACL tear last weekend against Boston College, ending his season.
He's was the Terp's fourth starting quarterback this season to suffer a season-ending injury.
Enter Shawn Petty, a linebacker who ran a bit of the option back in high school.
According to the Baltimore Sun, he gets the nod this weekend for Randy Edsall's squad against Georgia Tech.
Talk about being one-dimensional...this game will be worth watching to see if the Terrapins even attempt a pass.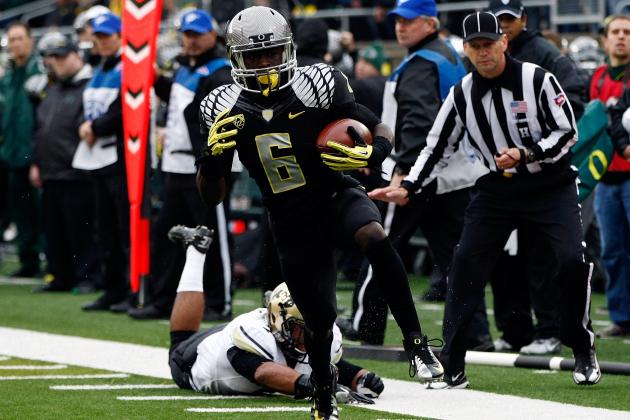 Jonathan Ferrey/Getty Images

Chip Kelly and the Oregon program have plenty of reason to complain about the BCS this season.
The Ducks have done nothing but consistently annihilate opponents, but they have seen both Kansas State and Notre Dame jump them in the rankings.
The Ducks are in trouble.
With USC and Oregon State now suffering losses, neither matchup will carry as much weight in the computer rankings, and there is a very real possibility that the Ducks could face an unranked Pac-12 South opponent in the conference title game.
Puddles and friends are going to have a hard time finding their way to the BCS title game if teams keep leapfrogging them because of their weak schedule.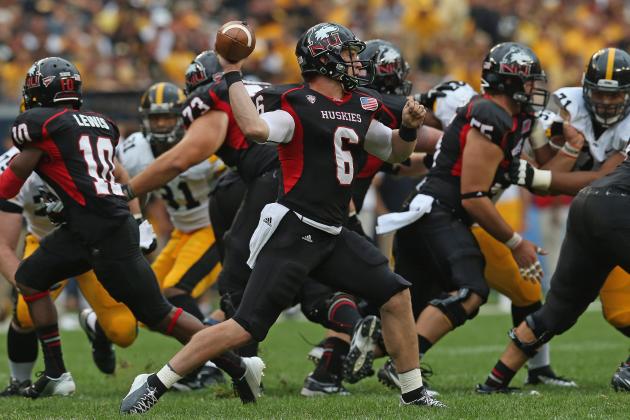 Jonathan Daniel/Getty Images

Thirty-two.
That's the number of touchdowns that NIU quarterback Jordan Lynch has already scored this season.
He's scored 17 times through the air and 15 times on the ground, and he continues to be the catalyst for a team that is 8-1 and on pace to win the MAC.
He's approaching 3,500-yard mark when his rushing and passing yards are combined, and he continues to produce for the Huskies.
He's near the top of the country in rushing touchdowns, total touchdowns and combined yards, and with a relatively mild schedule remaining, he has the potential to break the 5,000-yard mark.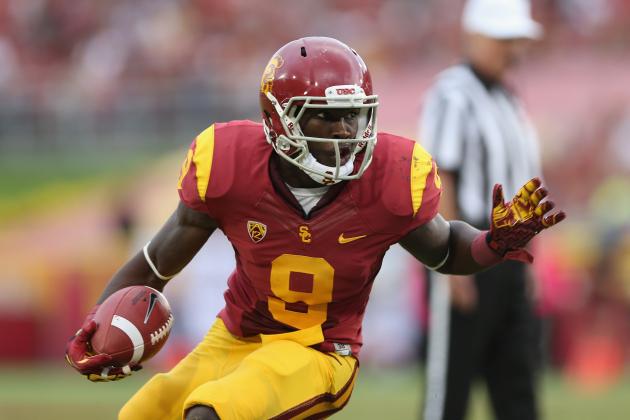 Jeff Gross/Getty Images

This game has lost much of its luster with the two losses USC has already suffered this season.
Even so, it remains a huge matchup in the Pac-12.
The Ducks need to make a huge statement to better their BCS ranking, while the Trojans need this win badly to help their chances of winning the Pac-12 South.
Expect tons of scoring and plenty of big plays, as Kenjon Barner, De'Anthony Thomas, Matt Barkley and the explosive USC receivers fight it out in the Coliseum.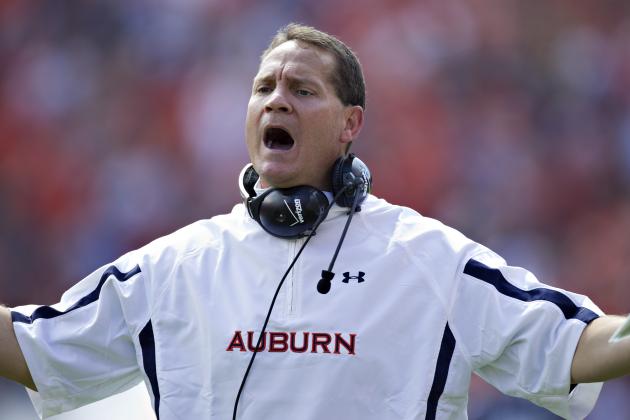 Wesley Hitt/Getty Images

How far can one national championship carry a coach?
Gene Chizik is testing that question, apparently trying to find the answer by putting his job on the line.
Auburn, a proud SEC program with plethora of fans scattered across the country, has already been eliminated from bowl contention with seven losses, six of them coming in SEC play.
The program is two seasons removed from a BCS title game, but it has fallen apart this season and finds itself dwelling on the bottom of the SEC barrel, mentioned in the same breath as Kentucky.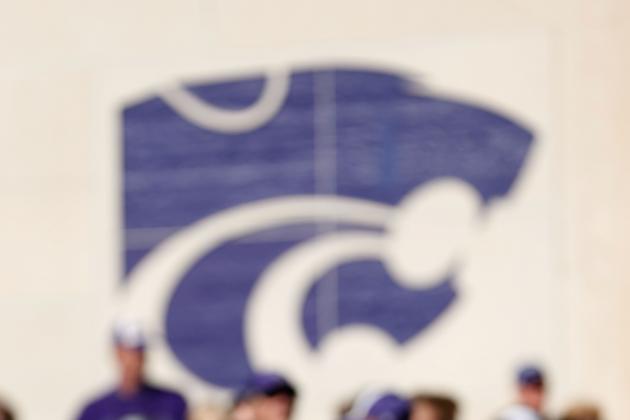 Jamie Squire/Getty Images

If you predicted that Kansas State would be undefeated at this point, much respect to you.
There are not many, outside of Manhattan, Kansas, that did.
Look at them now.
The Wildcats, led by quarterback Collin Klein and a stout defense, are undefeated and on a collision course for a BCS title game trip if they can win out.
While each of the last four games are winnable, none of them will be a cakewalk.
The Wildcats host No. 24 Oklahoma State before traveling to TCU and Baylor in back-to-back weeks, then finishing off the season against Texas.
Keep an eye on Coach Snyder's team for the next few weeks.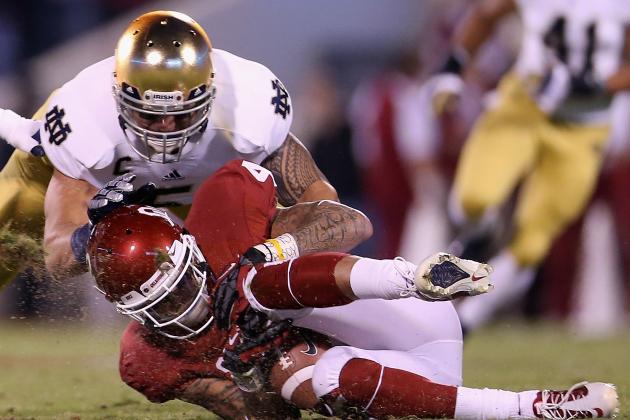 Ronald Martinez/Getty Images

It's about time to admit the Irish are back.
The team's undefeated record is due, in large part, to a defense that has been extremely good at limiting teams' scoring and production.
The Irish are allowing only 293 yards per game, and they have given up only 9.9 yards per contest.
The defense has been anchored all season by Te'o, who posted his sixth double-digit tackle game against Oklahoma, along with his fifth interception.
The Heisman race is ridiculously limited to offensive talent, and the offensive bias will be hard to overcome.
However, if there is anyone that can do it, it might be Te'o with his highlight reel of huge plays in big-time games.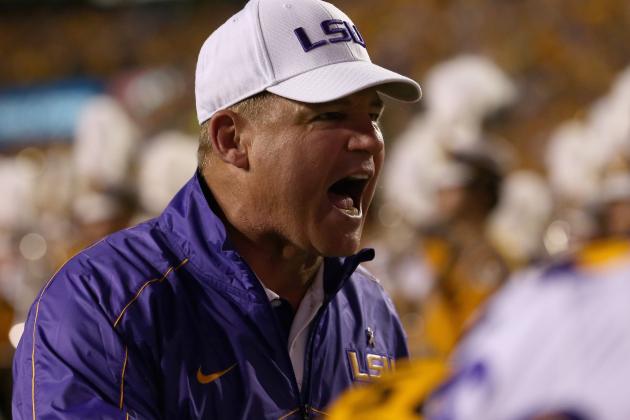 Ronald Martinez/Getty Images

Last season's games between these two were about as exciting as watching paint dry.
Especially for those of you who like to see an occasional touchdown.
In this meeting, LSU will be working to forge a path to the SEC title game, and they must take down Alabama to do so.
The Tigers don't often lose at home in a night game, but given their offense's inability to move the ball with any sort of regularity, this one could be another nightmare for Les Miles' squad.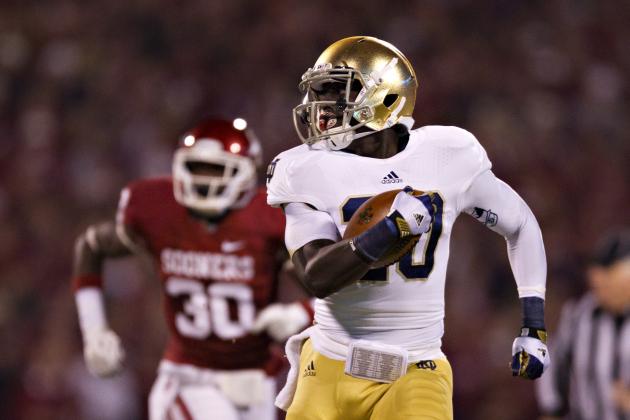 Wesley Hitt/Getty Images

You might be sick of all the Irish hype by now.
Get over it.
This team is going to finish undefeated, and find a way back to the title game, bringing on a wave of Irish bandwagon fans, along with the regular die-hards that have been faithful throughout the entire championship famine.
Lou Holtz will be talking about this for years to come, and the truth is, this is only the first of what could be several great seasons for the Irish.
They are currently 8-0, with their remaining four contests against Pitt, Boston College, Wake Forest and USC.
Barring some catastrophic failure by Brian Kelly's team, it is going to complete the Irish resurgence with an undefeated season.
Leon Halip/Getty Images

There are only six remaining undefeated teams in the FBS, Ohio State, Alabama, Oregon, Kansas State, Notre Dame and Louisville.
Each one faces some stiff tests coming up in the very near future, however, the possibility is there that all of them could finish undefeated.
Alabama and Ohio State appear to be the most likely to finish unblemished, but the Buckeyes are banned from postseason play.
Notre Dame still has to play USC, as does Oregon, and Kansas State must continue to wade through the minefield that is the Big 12.
There will not be resolution to this issues for several weeks, so you are better off just buckling up and hanging on for the ride.