WWE vs. TNA: Who's Been Better This Week? (Oct. 21-27, 2012)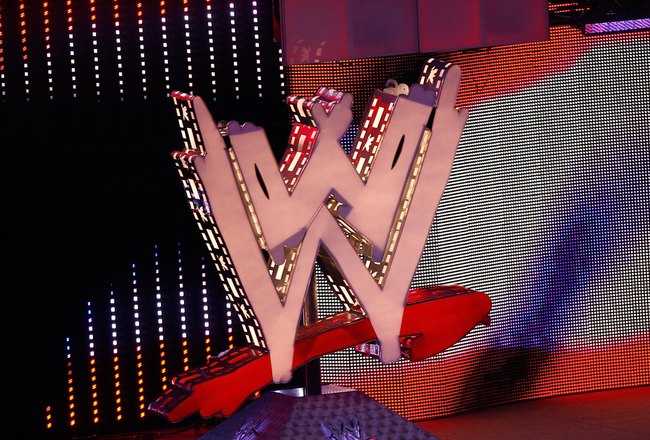 Jim Rogash/Getty Images
Hello there and welcome to the latest article in my WWE vs. TNA series, in which I review and analyse the output of both promotions every week and pick a winner.
While the WWE was in the final build before its Hell in a Cell pay-per-view, TNA had several titles on the line for Impact's Championship Thursday. Let's have a look how they got on.
WWE Raw, Oct. 22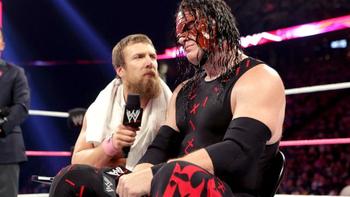 Image: wwe.com
Raw opened with a fairly important match as the Rhodes Scholars defeated Rey Mysterio and Sin Cara in a good, unpredictable match blighted slightly by a double 619, which is one of the stupidest moves in wrestling.
CM Punk's big problem, which I've identified here before, is that since turning heel, he's looked weak. His smiling and walking to the ring to answer John Cena's challenge after a typically good promo looked quite brave. Whether he then stopped because Paul Heyman dissuaded him or whether he was just winding Cena up a little wasn't clear. But a bit more of that attitude from Punk would help his character a lot.
AJ's over-long sob story promo was unnecessary and awkward. They really should just end general managers now. If Vicki Guerrero being called something other than GM will see the concept phased out entirely, then that's good. If her getting the position means she'll be quietly distanced from Dolph Ziggler, that would be even better.
A bigger question raised is how can AJ be having an affair with John Cena?
Neither of them are in any storyline relationship. It's fairly well known that Cena recently got divorced in real life, but they're not going to tie it in with that. But if a stupid and baseless accusation of an affair that wouldn't actually be an affair even if it was true is what it takes to get AJ out of the GM role, then so be it.
Dolph Ziggler vs. Daniel Bryan was a great match with the sadly required silly ending. Given the due time and prominence, I hope the match up will be a great PPV headliner one day.
With Team Hell No understandably and probably rightly given such ongoing prominence, it's no doubt hard to come up with new things to do with them. This week though, their segment was one of their best. Kane's loss to the Big Show after being distracted shows he may be a little more protected than Daniel Bryan, who lost to Show cleanly the previous week.
Lumberjack matches seem very much to be in fashion at the moment. They get old fast, in my view, considering they're meant to ensure no interference. But I can't remember the last time one finished cleanly (if you do, let me know in the comments).
The other issue was that the attention was almost more focused on the Big Show watching the match than the bout itself, so we were constantly distracted from some pretty good action.
Raw was a good show overall. Less filler than last week and enough going on to keep me interested throughout. I'm excited for the WWE Championship match at Hell in a Cell, so it did its job in that regard—though my excitement is just as much due to curiosity as to how Ryback performs in a proper match than as a result of the build up to it.
TNA Impact, Oct. 25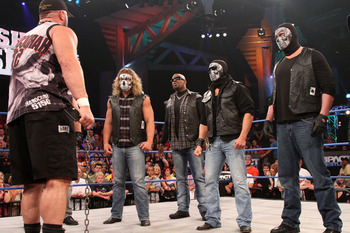 Image: impactwrestling.com
It's Championship Thursday, brother, which, as you'd expect, meant some championships would be defended—including the world championship.
After the usual recaps and promos (including a very odd Jeff Hardy segment where we heard his thoughts as he walked past his possible competitors), the show kicked off with Zema Ion's X-Division title rematch loss against Rob Van Dam. I like RVD (who doesn't?), but I think it's better for the division that a true high flyer holds the championship.
Some great promos followed, firstly between the former and current tag team champions, and then between Austin Aries and Mr Anderson—and a quick interlude where Devon and the Aces and Eights picked their target for the night.
Samoa Joe saw off Robbie T quickly, then a more competitive match followed as Austin Aries defeated Mr Anderson. Continuing the theme of champions retaining, Tara defeated Miss Tessmacher.
Bully Ray and Devon had an in-ring promo that was absolutely fantastic. Perhaps it takes two people who have such a long and close history to generate that much interest and feeling. I can't think of another promo with that much feeling from either TNA or WWE in a long time.
Jeff Hardy vs. Kurt Angle was absolutely gripping—even jaded old me, who should be able to see they wouldn't have the title change hands on TV for loads of reasons, thought Kurt may just have it at various points.
Impact was a great show. Even with no titles changing hands on Championship Thursday, it delivered great matches and equally great promos. Its best outing in a long time.
WWE SmackDown, Oct. 26
Image: wwe.com
SmackDown opened with a promo between Randy Orton and Alberto Del Rio, which was as interesting as the notion sounds. Just when I thought the lid would close on another forgettable waste of time, Wade Barrett whacked Orton from behind. Thankfully Orton vs. Barrett was made for that night, rather than this attack hinting that they may have yet another feud after Hell in a Cell.
Kane defeated Cody Rhodes in near squash-like fashion while Daniel Bryan and Damien Sandow did some great commentary.
The Miz defeated Yoshi Tatsu in the biggest upset of the decade so far.
Wade Barrett defeated Randy Orton after a distraction from Del Rio. It was a surprisingly good match, considering how their feud and matches at the end of last year were average at best.
The ongoing storyline with Eve Torres, Kaitlin, Layla and the Divas title isn't great, but it is at least better than that title's situation has been for a while—since Beth Phoenix was champion anyway. I do hope the story moves along after Sunday though.
SmackDown closed on a segment that was about as good an attempt to build excitement for Sheamus vs. Big Show as is possible. I was even a little engaged with what Sheamus had to say. Sheamus Brogue Kicked some security men, which isn't a face thing to do in my old-fashioned view.
Again, another average SmackDown with a bit too much filler. I've said for some time that the things the WWE really has going for it are CM Punk and Team Hell No, but I think Damien Sandow can reasonably be added to that list as well. Any time he has the mic, entertainment follows—and he's a great in-ring competitor too.
Conclusion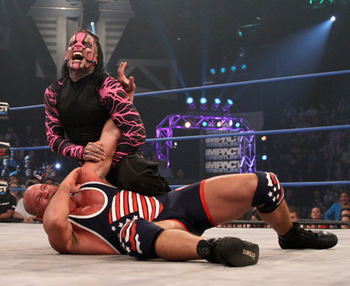 Image: impactwrestling.com
Show of the Week: TNA Impact
Impact was in fine form this week. Raw was good and could have won any other recent week, but this was the best Impact for some time. SmackDown just seems to continue to bob along around the average mark.
Match of the Week: Jeff Hardy vs. Kurt Angle
There's been some good matches on all shows this week with Dolph Ziggler vs. Daniel Bryan, CM Punk vs. Sheamus and Wade Barrett vs. Randy Orton all worthy of note. Impact's main event, however, was a PPV quality contest.
Thanks for reading and all comments are welcome.
Keep Reading