10 Fighters That Should Be Considered to Coach on TUF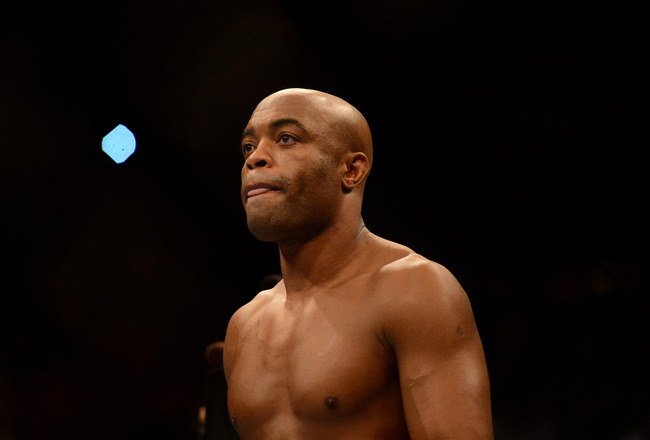 Mark J. Rebilas-US PRESSWIRE
When The Ultimate Fighter finally dies, it's going to be a bittersweet day for MMA.
Most fans think the show is irrelevant, the level of talent has gotten noticeably worse over the last few years, and the format as a whole has become stale.
But no matter how bad it gets, there is always going to be that group of fans (including myself) that got their first taste of MMA due to the show.
No one can deny the impact the show had on the sport, and that's likely one of the reasons the UFC seems determined not to let the show die.
With ratings hitting an all-time low, the UFC and FX are doing everything possible to ensure that TUF makes a full comeback when it returns to television next year, moving the show off of Friday nights and booking a duo of coaches in Jon Jones and Chael Sonnen that are guaranteed to get fans talking.
Next season could easily see a nice boost in both ratings and hype due to the amount of promotion that will likely go along with the high-profile coaches, but after Jones and Sonnen finish up their rivalry, the UFC is going to need to make sure the next coaches they select have something that will draw in viewers.
The UFC has plenty of fighters that can move the needle in terms of ratings, but most of those guys have been on the show before, and in all honesty, TUF needs all the new blood it can get.
Here are a few fighters who would not only be coaching on the show for the first time, but would be interesting enough to draw some viewers in the process.
Nick Diaz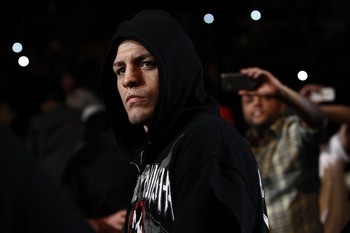 Photo Credit: Esther Lin/MMA Fighting
Possible Opponents: Georges St-Pierre, Carlos Condit, Josh Koscheck
Nick Diaz would be the best- and worst-case scenario for the UFC when choosing a TUF coach.
He has a strong following, he invokes strong emotions out of fans, and he's so unpredictable that people would tune in to make sure he didn't do anything crazy.
But as great as that unpredictability would be for TV, it would be a nightmare for the UFC.
Diaz already has a reputation for simply not showing up in places he's expected to be, and if Diaz decided he would rather go run a few miles than show up for his team's practice, it would look bad on both himself and the UFC.
As much fun as it would be to watch Diaz on TUF, it's not likely to happen unless the UFC can find a way for the reward to outweigh the risk.
Stephan Bonnar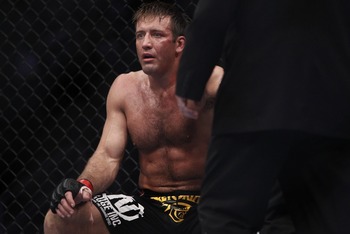 Photo Credit: Esther Lin/MMA Fighting
Possible Opponent: Forrest Griffin
There's only one way that making Stephan Bonnar a coach on TUF makes sense, and that's if you match him up with Forrest Griffin.
The two have been tied together ever since their epic battle to conclude the first season of the show, and with both of their careers winding down, this would be the perfect way for both fighters to come full circle and walk away from the sport.
The eventual fight would at the very least be a fun scrap, but if both men decide that they are walking away after the fight, there is a good chance that caution could be thrown to the wind and we could see a repeat of their fight from 2005.
Bonnar's been asking for this opportunity for a long time, and after stepping up for the UFC and fighting Anderson Silva on short notice earlier this month, they should give him whatever he wants.
Cain Velasquez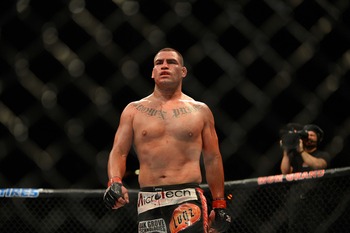 Ron Chenoy-US PRESSWIRE
Possible Opponents: Alistair Overeem, Frank Mir
Cain Velasquez is one of the most well-known heavyweights on the UFC roster, so it seems a bit strange that he hasn't found himself on the set of TUF at some point.
The UFC loves to showcase their big men, and since Velasquez was the guy who took the title away from Brock Lesnar, it shouldn't have any trouble selling him to the casual fan.
Velasquez isn't the most outspoken fighter, so the UFC would be wise to match him up with someone that loves to talk, like Alistair Overeem or Frank Mir.
The number of high-caliber coaches that Velasquez could bring in with him would only help the fighters on the show, and my gut tells me that Velasquez would be one of the better coaches in the show's history.
Daniel Cormier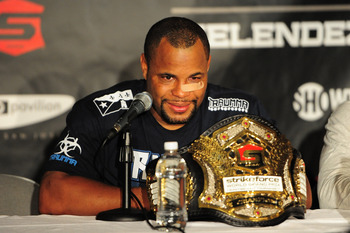 Kyle Terada-US PRESSWIRE
Possible Opponents: Jon Jones, Junior dos Santos
As soon as he gets that pesky Strikeforce fight out of the way, Daniel Cormier is going to be headed to the UFC, and he'll likely be looking for a title when he gets there.
Cormier is not only one of the best fighters in the sport; he's also one of the best coaches, and he runs the American Kickboxing Academy wrestling practices at the gym that features guys like Jon Fitch, Gray Maynard and Cain Velasquez.
A Cormier coaching stint likely depends on the outcome of the Junior dos Santos and Cain Velasquez fight, and if "Cigano" is victorious, we could see him on TUF for the second time in just a few years, this time opposite Cormier.
Frankie Edgar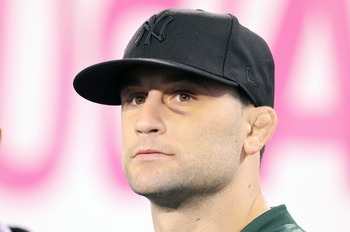 Ed Mulholland-US PRESSWIRE
Possible Opponents: Clay Guida, Gray Maynard
One of the most successful active fighters to have never been a part of the show, Frankie Edgar deserves a spot on TUF if he wants it.
"The Answer" became one of the most respected fighters in MMA during his title run, with his two fights against Gray Maynard highlighting the toughness and durability that Edgar brings to the cage.
His drop to featherweight is going to turn into an immediate title fight against Jose Aldo, but if he's unsuccessful in that, he could be a prime candidate to coach TUF.
If he decides to stick around at featherweight, a season opposite Clay Guida would showcase two of the most popular fighters in the lighter weight classes, but a move back up to 155 could lead to a fourth fight against Maynard that would decide a definitive winner in their series, which is stuck at 1-1-1.
Diego Sanchez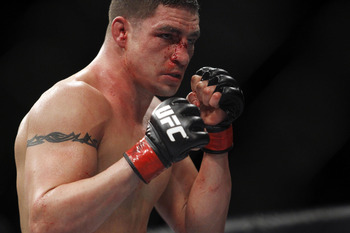 Matt Ryerson-US PRESSWIRE
Possible Opponents: Nate Diaz, Kenny Florian
Technically speaking, Diego Sanchez is the first-ever Ultimate Fighter since his finale win over Kenny Florian was earlier in the night than the Forrest Griffin-Stephan Bonnar fight that earned all the headlines.
That accomplishment, along with the fact that Sanchez is still one of the most popular fighters in the lightweight division and that he's expressed interest in coaching before, should be enough to earn him the opportunity to go back to his roots.
Matching up Sanchez with any of the top lightweights will result in a fight to remember following the season, but the fight with the most potential could be a rematch with Florian.
"Kenflo" recently retired, but improvements in his health have opened the door a bit for a comeback, and judging by his recent conversation with B/R's own Jonathan Snowden, a fight with Sanchez may be enough to motivate him to come back for one last scrap.
Donald Cerrone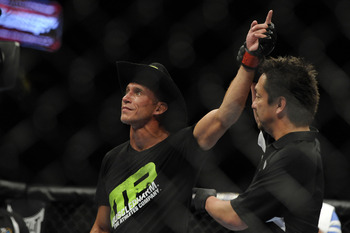 Rafael Suanes-US PRESSWIRE
Possible Opponents: Benson Henderson, Anthony Pettis
Donald Cerrone continues to work his way toward title contention, and he's gaining a ton of fans in the process due to his exciting style and his "fight anyone, anytime" mentality.
Cerrone's been on a massive hot streak since joining the UFC roster early in 2011, going 6-1 with his only loss coming to current No. 1 contender Nate Diaz. He's picked up quite a few Fight Night bonuses during his run.
Getting Cerrone on TV would result in some memorable moments for the TUF series, and if it were opposite Benson Henderson, it would throw a nice wrinkle into their friendly rivalry.
Joseph Benavidez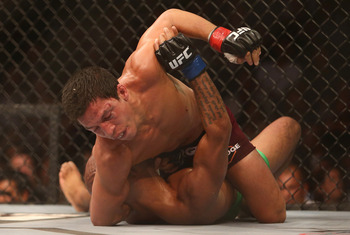 Tom Szczerbowski-US PRESSWIRE
Possible Opponents: Ian McCall, Demetrious Johnson
It has become an unpopular choice among fans when the UFC decides to throw a champion on The Ultimate Fighter since it causes the belt to be held up for months at a time, so Joseph Benavidez gets the nod over Demetrious Johnson here.
The UFC's new 125-pound division is in need of an influx of talent, and historically the best way to add depth to a division in the UFC is to feature that weight on TUF.
Throwing two flyweight coaches in the mix with fighters that they could potentially compete against in the future would be a nice touch, and after watching John Dodson go from TUF winner to top contender in the division, the stakes would be a bit higher for this season.
Benavidez is one of the most charismatic fighters on the roster—he just hasn't gotten a chance to prove how entertaining he can be. A season opposite Ian McCall would not only highlight two of the most fun fighters on the roster, but allow them to showcase their personality as well.
Chris Leben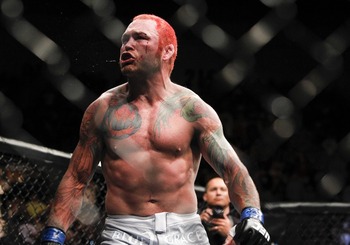 Photo Credit: Esther Lin/MMA Fighting
Possible Opponent: Josh Koscheck
As the members of the original cast of TUF start to fade away, it wouldn't be surprising to see the UFC attempt to bank on the popularity of these guys one last time.
While Griffin and Bonnar stole the headlines once the show was over, the most talked-about fighter during the course of the show was Chris Leben. Due to their rivalry Josh Koscheck earned his fair share of exposure too.
Leben and Koscheck were the focal points of one of the craziest episodes in the history of the show, and their fight, meant to resolve the chaos, left a bitter taste in the mouths of fans.
Koscheck was just a wrestler with basic striking skills back then, and he used his takedowns and top control to earn the decision win.
A rematch has been brought up a few times over the years, especially when "Kos" teased a move to middleweight about a year ago. Both fighters are entertaining and outspoken and could attempt to recreate whatever it was (other than alcohol) that made them clash back in 2005.
Anderson Silva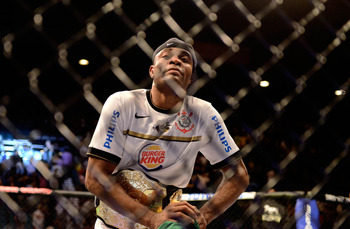 Mark J. Rebilas-US PRESSWIRE
Possible Opponent: Georges St-Pierre
Since the UFC debuted The Ultimate Fighter, nearly every fighter worth mentioning as one of the best in the world has been a coach on the show.
Everyone from Chuck Liddell and Randy Couture to Brock Lesnar and Junior dos Santos have coached on the UFC's flagship program, but the one exception has been the greatest fighter in the sport: Anderson Silva.
Silva has never been a fighter who particularly enjoys being on camera unless he's committing some form of violence, so it's not all that surprising that he has been reluctant to give the show a shot.
However, if a superfight with Georges St-Pierre does end up coming to fruition, there would be no better way for the UFC to promote the biggest fight in the company's history than by using TUF.
It's unlikely to happen, and the UFC doesn't really need the reality show to promote this fight, but there's no doubt it would draw viewers.
Keep Reading