An Optimist's Guide to the Chicago Bulls' 2012-13 Season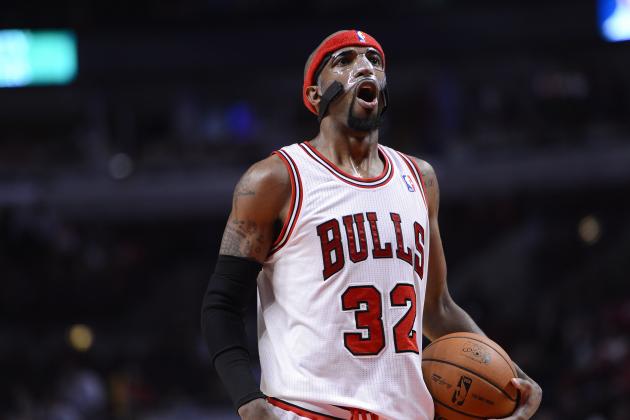 Mike DiNovo-US PRESSWIRE

The Chicago Bulls are getting set for their third season under the tutelage of Tom Thibodeau. With their superstar, Derrick Rose, injured, it looks like it could well be the least successful. Certainly, the Bulls enter the season with lower expectations than they did last year.
That doesn't mean there is no reason for optimism, though. They might be absent their superstar. They might be bringing on a new set of bench players. But there are plenty of reasons they can defy expectations and do better than expected during the regular season, and even make a deep run during the postseason.
Defying expectations has been status quo for the Bulls the last two seasons. Two years ago, they settled for a bunch of players that were too one-dimensional, made a big mistake in signing Thibodeau and were going to finish fourth or fifth in the East, behind Milwaukee in the Central Division.
They won the most games in the NBA.
Last year, they weren't going to catch teams off-guard again. This time, everyone was going to be ready for them. When Derrick Rose went down, they were going to be exposed.
They won the most games in the NBA again.
They won't be winning the most games in the league this year, but they will do better than most are giving them credit for. If you're tired of all the pessimism surrounding the Bulls, here is The Optimist's Guide to the Chicago Bulls' 2012-13 Season.
Begin Slideshow

»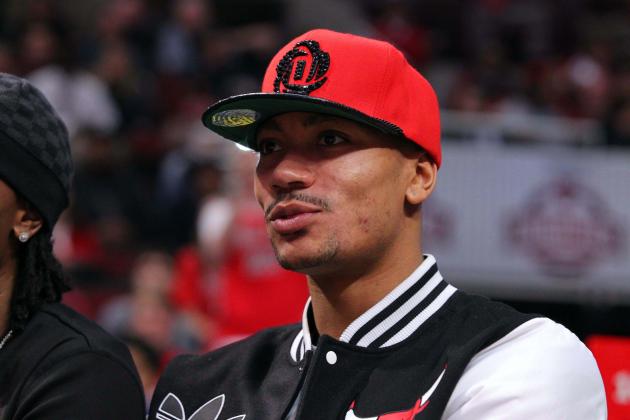 Dennis Wierzbicki-US PRESSWIRE

Even the cloud in front of the Bulls' silver lining of a season isn't that bad. If worst come to worst, and the Bulls are even worse than the prognosticators expect them to be, it only makes them stronger in 2013-14.
If they are positively horrid, they can play Marquis Teague and develop him more. They can improve their draft position considerably over the 29th or 30th pick they've had the last two seasons.
The worse they do, the better pick they get and the better player they can take to set alongside Derrick Rose next year.
In essence, there's no "losing" for the Bulls this year, because even if they lose, they still win.
In the 1996-97 season, the San Antonio Spurs, playing without David Robinson, were able to draft Tim Duncan and ride that to four NBA titles.
There's not much chance the Bulls land a "Duncan" in this draft, but they can add a quality player to help the Bulls for the future.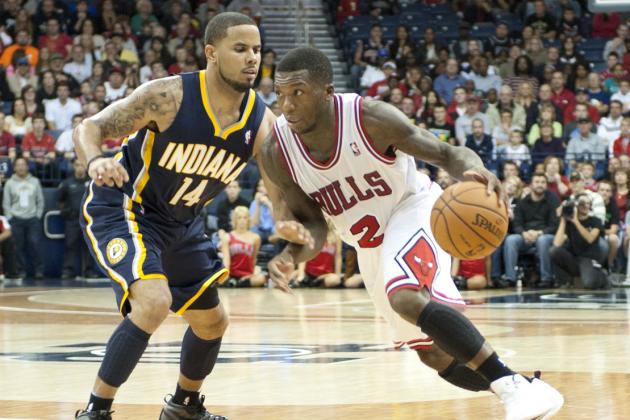 Jerry Schultheiss-US PRESSWIRE

Yes, I know it's "just preseason," but the Bulls were 5-2 during the preseason. That's certainly better than being 2-5 or 0-7.
Preseason results should be largely discounted for very good reasons. Teams aren't playing their starters much and rotations as they normally would. New players are getting used to new systems and to new teams. When the game comes down to "crunch time," the starters aren't always in.
Teams aren't playing to win down the stretch.
But when you factor all that in, it's actually better news for the Bulls.
Perhaps most importantly, the Bulls starters outplayed the opposing team's starters in all seven games based on plus/minus number per box score analysis and personal observation.
As to the new players getting used to the new systems, the Bull added as many new cogs into their system as any team they played. That should be working against them, and it did. In particular during the early part of the preseason, they struggled with their bench.
Finally, the Bulls could have been 6-1, but when Thibodeau left the bench in to close out more than one game, and in particular in the Cleveland game, it cost the Bulls a "W."
No, the preseason doesn't count and there are good reasons for that, but a 5-2 preseason is a good sign for the Bulls. The things which can be gleaned from the preseason are all positive for the Bulls. The starters are an in amazing rhythm already, and the new bench is coming together quickly.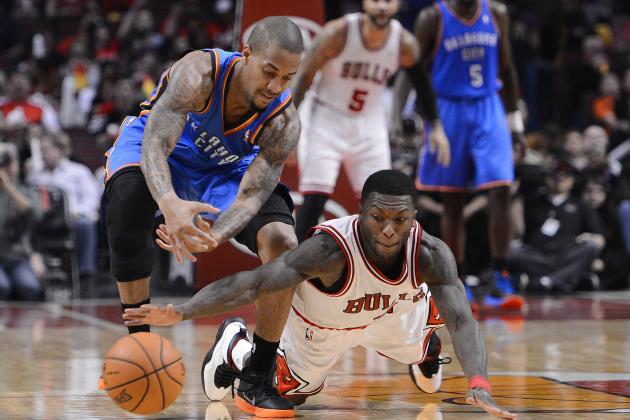 Mike DiNovo-US PRESSWIRE

There has been a lot of talk about how much "worse" the Bulls bench is last year than this year, but the Bulls are still looking impressively deep; you just have to look a little deeper to see it.
In fact, the Bulls actually have two of the best bench players in the NBA. In terms of Player Efficiency Rating, Chicago boasts two of the 10 best bench players in the Association.
According to the Play Index on basketball-reference.com, among all bench players who started less than 10 games, but played at least 1,000 minutes, Nate Robinson had the fifth-best PER in the NBA at 18.0 and Gibson was seventh with a PER of 16.9..
Nazr Mohammed has been outstanding during the preseason, averaging 6.6 points and 4.9 rebounds per game in only 16.2 minutes of action. That translates to roughly 15 points and 11 rebounds per 36 minutes. That's more than adequate filling in for Omer Asik.
While again, "this is only preseason," those numbers are completely in line with his career stats, suggesting that perhaps Oklahoma City just wasn't using him well.
Jimmy Butler has shown he can play the same type of defense that Ronnie Brewer, and with a bit more of an offensive instinct.
The only disappointment, Marco Belinelli, finally made a three-point shot in his last preseason game, as he went 3-for-5 from the field.
This new unit may be better than the old one, they may be about the same, or maybe they'll be a bit worse. They won't be the shambles that some are predicting, though. They certainly won't be the difference between a team that won 67 percent of their games without Rose and a team that's below .500.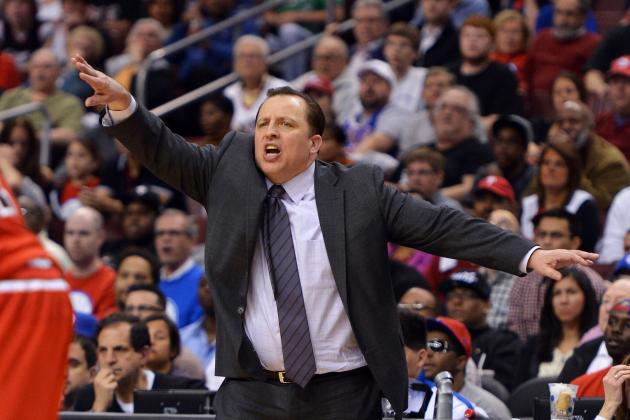 Drew Hallowell/Getty Images

Over the last decade, if you take the total span of time of where Tom Thibodeau has been, whether it was Houston, Boston or Chicago, his defenses have been one of the top three over the last 10 years and at least tied for the best defense over the last five.
Tom Thibodeau is, quite succinctly, the best defensive mind in the game. Not only do the numbers prove it, they prove it decisively.
Derrick Rose being out doesn't change that. In fact, he changed Rose into a premiere defensive player. And let's be realistic, the only defensive player the Bulls lost that came in with a defensive reputation was Ronnie Brewer.
Omer Asik was viewed as a player with defensive potential, but he was extremely raw coming in and no one was predicting great things from him.
There may be some impact on the defense at the start of the season, but the same brain and scheme that shaped that unit into one of the best in the game can do the same with this one.
The Bulls will still be one of the best defensive teams in the game, and because of that, they'll still be in most games.
David Banks-US PRESSWIRE

Last year, even with all the injuries, the Chicago Bulls' starting five from night to night was fifth-best in the NBA in terms of net efficiency, according to hoopsstats.com. That includes all of the many, many injuries the Bulls had last year.
Even with all the injuries to Derrick Rose, they were fifth-best among starters. Even with the 12 games missed by Luol Deng, they were fifth-best in the NBA with their starting five. Even with Richard Hamilton missing more games than he played, they were a top-five team with their starting five.
So it's not a stretch to say that even with their injuries this year, they are still a top-five team with their starting five, particularly if they can stay healthy.
In fact, every member of the starting five has either been an All-Star or All-Defense at some point in their careers. They aren't five great players that are starting for the Bulls, but they are five very good players. They don't have five "All-Stars," but they do have five "Near-Stars."
It is a balanced starting five too. Who is the best of the starting five without Rose? You could make an argument for Joakim Noah, who finished eighth in the NBA in Win Shares. You could make an argument for Carlos Boozer, who led the team in points last season. You could make an argument for Luol Deng as well, who was an All-Star and made the All-Defense team last year.
There backcourt might be older and past their prime, but they are more energetic than many a younger backcourt. Both Richard Hamilton and Kirk Hinrich have played the preseason like they spent the offseason at the Fountain of Youth.
Hinrich will wear you out just watching him, and Hamilton wears out whoever is guarding him with his relentless running around the court. In fact, Hamilton is being picked by some to be the Bulls' leading scorer without Rose.
The starting five is so balanced that if you had 10 fans rank them in order, you'd have 10 different lists.
The balance itself is cause for optimism. You can't simply clamp down on a single player and shut down this team. Anyone can lead the team in scoring on a given night.
And as to the injures, sooner or later, there has to be a "progression to the mean" right? Sooner or later, the averages have to balance out and the injury bug has to leave Chicago alone. If the Bulls can just stay injury-free for three months, they can be well-situated when Rose returns.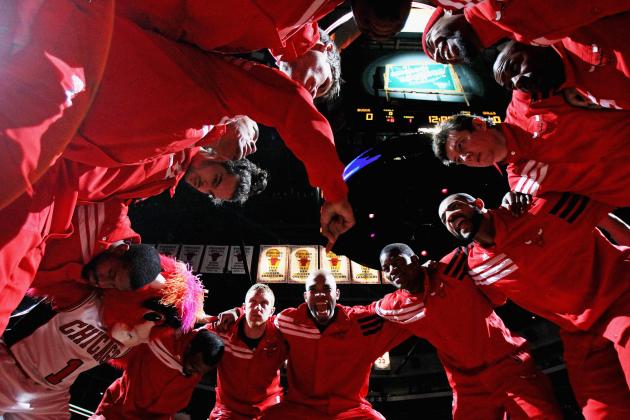 Jonathan Daniel/Getty Images

One of the biggest reasons the Bulls win night after night, even when Derrick Rose went down, is that they are one of the hardest working teams in the game.
No wonder Taj Gibson, he of "hard hat, lunch-pail" fame, would want to stay here. This team just brings work every night.
It's true that talent wins in the postseason, but hard work wins in the regular season. Some have criticized Tom Thibodeau for "trying to win every game," but that's not just Thibodeau; that's the entire team. This team plays with tremendous pride.
Whether you're talking about Luol Deng, Joakim Noah or Taj Gibson, the core of this team has fortitude. They don't quit until the last buzzer sounds. They hate losing, which is more important than loving winning.
Because of that, they do all things they have to do to win. They work extra hard for rebounds. They dive for loose balls. They defend fiercely. They do all the little things all the time.
Because Derrick Rose isn't there, those things aren't going to go away. Those are the reasons the Bulls win a lot more than 50 percent of those "50/50" games, and they are the reason they still will.
It's doubtful that anyone else in the league who is vying for a top-five seed is going to add a former MVP to their roster halfway through their season. The Bulls will, though.
There is a lot of debate about when Derrick Rose should return. Some say he shouldn't return early. Others say...well, pretty much everyone says that Rose shouldn't return early. In fact, I can't find a single article or quote where anyone of significance is actually arguing the contrary.
There must be some kind of debate, though, because everyone keeps saying that Rose shouldn't return early. There will come a time, though, when further time away from the game will seize to factor into his recovery. At that point, Rose should return, whenever it is.
If that's in January, he should return in January. If it's in May, he should return in May. If it's next season, it should be next season.
Perhaps the only real debate is whether he should return when he is ready because some arbitrary timeline of a select group of fans with no medical background has not been met.
Forget meaningless percentages, like 100 percent (because then some will insist he needs to be a mythical 110 percent) when resting stops being a factor in his recovery process he should return. In other words, he should return when he's ready, not a day sooner or a day later, and his body, his doctors and his team should determine when that is.
Based on his doctors claim that he is ahead of schedule, the initial timeline of eight to 12 months looks like it will be closer to the eight month target.
A conservative estimate is the first home game after the All-Star Game. The Bulls have used that extra time to hold players the last two years. They brought back Noah after the break two years ago and Hamilton after the break last year.
One would expect they would love to bring back Rose for his first game at home for the fans sake, and with that game being against Miami, it would be frankly huge for him to come back that game.
Beyond the fact they'd have their best player back, there's the impact of having him will invigorate the Bulls enormously. It will be similar in impact to when he went down last season in the playoffs, only in reverse.
That kind of energy should propel the Bulls on a late season run and a deep postseason run.
These reasons might seem optimistic, but they are rational. The Bulls' season is not over yet. See red Chicago. See red.