Heisman Watch 2012: Power Ranking Top Candidates Heading into Week 10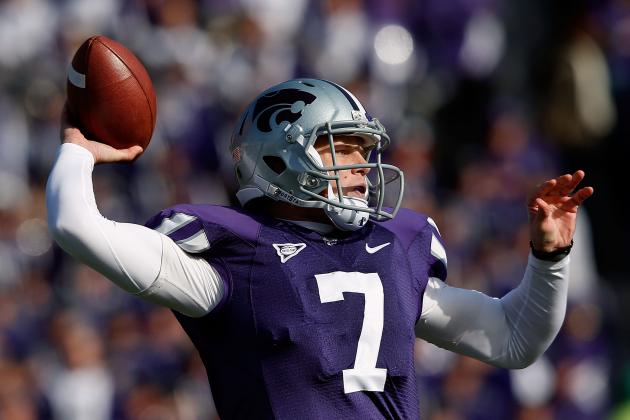 Jamie Squire/Getty Images

The race for the Heisman Trophy is beginning to take shape now that nine weeks of college football are behind us. Collin Klein is the undeniable leader of the pack that holds a few surprising names heading into Week 10.
The race will go down to the wire this season with a number of key players in crucial matchups as the year closes. This season has witnessed the rise of Manti Te'o, who is hoping to be the second defensive player in history to take home the award.
2012 has also brought a host of quality quarterbacks to the field, making this race quarterback-heavy as it heads into the home stretch. Here is how the current top Heisman candidates stack up against each other heading into Week 10.
Begin Slideshow

»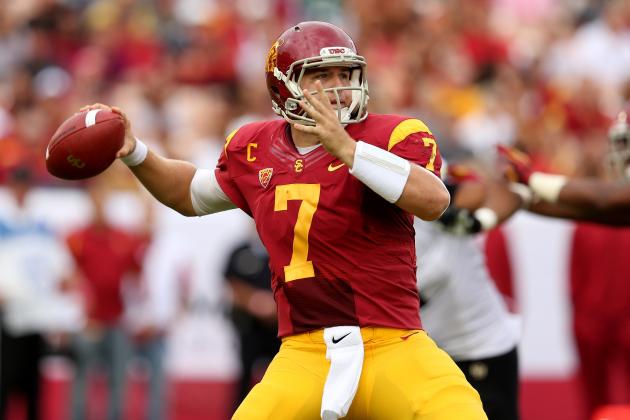 Stephen Dunn/Getty Images

At this point, Matt Barkley is a long shot to win the Heisman in his final season with the Trojans. A year that was expected to be a national-title type of season has now seen two losses where key turnovers have come from Barkley.
Of all the quarterbacks making calls across the country, Barkley is a guy that almost any team would want to guide their squad. When it comes to the most elite signal callers in the country, Barkley is getting overshadowed.
There isn't much opportunity that remains for Barkley to climb back into this race, but crazier things have happened. As it stands, he is No. 7 in the Week 10 power rankings.
Key Stats
Passing: 171-of-262 for 2,266 yards; 65.3 CMP%; 25 TDs; 8 INTs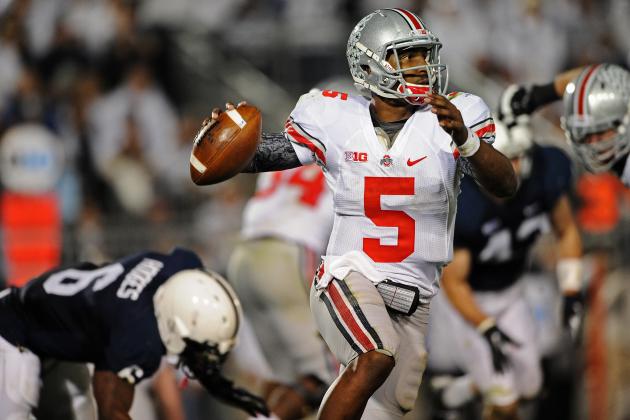 Patrick Smith/Getty Images

The Buckeyes are simply playing for pride this season as a postseason ban and NCAA sanctions are hanging over this Braxton Miller-guided Ohio State squad.
Urban Meyer has taken his first year in Columbus by storm, leading the Buckeyes to an undefeated run and helping develop the young Miller into one of the best signal-callers in the game.
Miller has been an integral part of the Ohio State offense; without him, the Buckeyes are vulnerable. Miller had a great game against Penn State this past Saturday after coming off of a nasty neck injury sustained against Purdue the week before.
His tenacity and leadership have this sophomore gaining ground in the Heisman discussion.
Key Stats
Passing: 112-of-198 for 1,527 yards; 56.6 CMP%; 12 TDs; 6 INTs
Rushing: 166 carries for 1,093 yards; 6.6 YPC; 12 TDs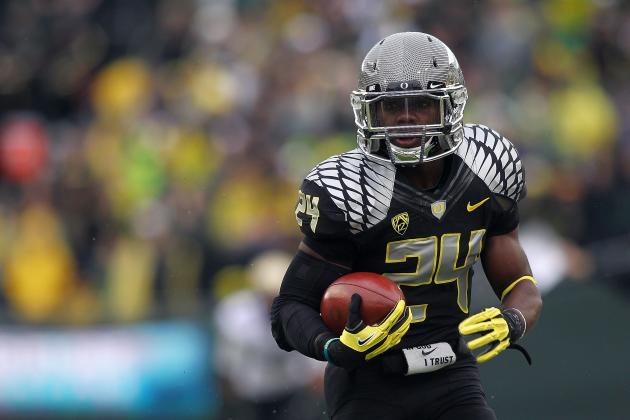 Jonathan Ferrey/Getty Images

Kenjon Barner is the lone running back on this list. He and teammate DeAnthony Thomas have taken over the offensive stat lines for the country, helping Oregon become the most prolific offense in the country.
Barner is the feature back for the Ducks, and he has become increasingly important in the ground game as the weeks have worn on. Barner has rushed for touchdowns in six of eight games, five of which were multiple scores.
He also has added a dynamic to the passing game, having snagged 13 receptions for 153 yards so far this season. Barner is the workhorse for the Oregon attack and will continue to see his stock rise with the Ducks wins.
Key Stats
Rushing: 141 carries for 974 yards; 6.9 YPC; 14 TDs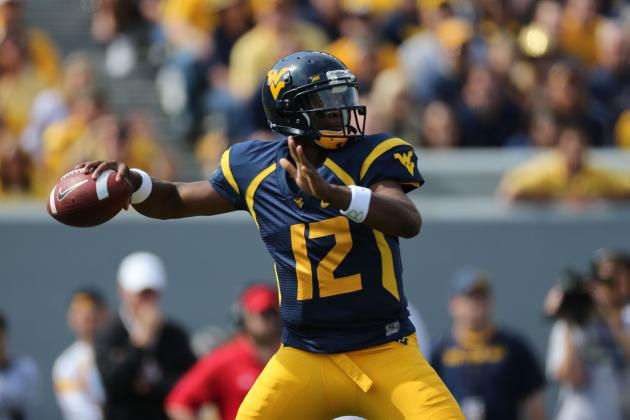 Rob Christy-US PRESSWIRE

Geno Smith was the hot name on the Heisman circuit when he was guiding an undefeated West Virginia squad. Since the Mountaineers have lost two games, his stock has dipped a bit with his stats.
Smith was a quarterback with no interceptions nearly three weeks ago when he tossed two to Kansas State. He is still the most vital piece of the West Virginia offensive and team success. Smith is also one of the best quarterbacks overall in the country.
This season, Smith has seen some struggles, but the remaining games should help him raise his stock back to elite status in short order.
Key Stats
Passing: 216-of-291 for 2,414 yards; 74.2 CMP%; 26 TDs; 2 INTs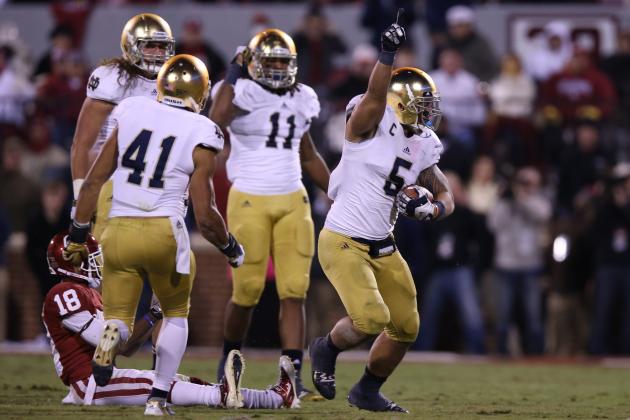 Matthew Emmons-US PRESSWIRE

What started as a bit of a longshot campaign has now turned into a legitimate candidacy for Manti Te'o. After Saturday's key performance that included a game-sealing interception, Te'o finds himself firmly entrenched in 2012 Heisman Trophy talk.
Te'o has pushed through personal tragedy and layers of adversity to become the most elite linebacker in college football today. He has led this Notre Dame defense to one of the best showings in school history and a possible national title run.
This Irish team is a legitimate title contender with Te'o roaming the middle third of the defense. Te'o may need a few more huge games to make an actual run at the trophy, but if he maintains his current level of output, he will assure himself a spot in New York at the very least.
Key Stats
Defense: 80 total tackles (34 solo); 1 sack; 5 INTs; 1 Fumble recovery; 3 pass breakups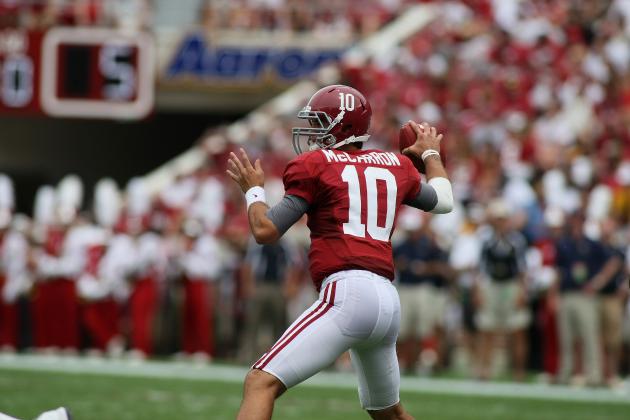 Greg McWilliams/Getty Images

A.J. McCarron has quietly become one of the most elite signal-callers in the country. McCarron is No. 1 in passer rating this season, carrying a 182.40 mark. He has also tossed 18 touchdowns and no interceptions.
McCarron is leading the No. 1 team in the country to one of the most impressive single seasons in recent college football history. The Tide have yet to be challenged, and the offense has been a big part in sealing victories early.
There is a lot of big football left for McCarron—most notably a game at LSU this coming Saturday—but if he continues to lead this Crimson Tide team as efficiently as he has this season, he should get a call to the Big Apple this December.
Key Stats
Passing: 122-of-177 for 1,684 yards; 68.9 CMP%; 18 TDs; 0 INTs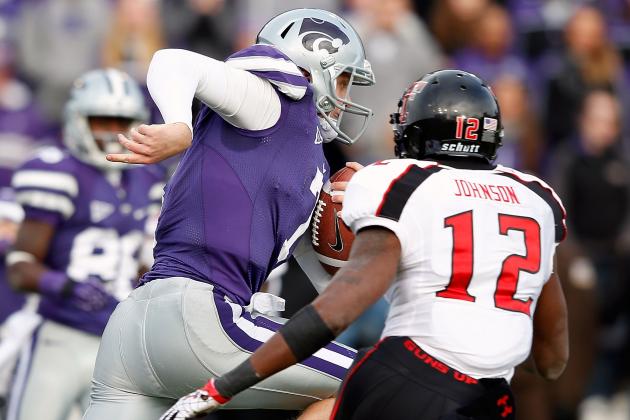 Jamie Squire/Getty Images

Collin Klein has continued his climb to the top this season. Two years ago, it was apparent that Klein was a special signal-caller for the Wildcats, and his senior year has done everything to solidify his Heisman candidacy.
Klein has led the Wildcats to some big wins this fall, the most notable being this past Saturday's win over Texas Tech. Klein finished the game with two passing and two rushing touchdowns.
There is not a more proficient signal-caller in the country right now. Klein is the most important player to his team, and he is in the driver's seat for the Heisman in 2012.
Key Stats
Passing: 117-of-165 for 1,630 yards; 70.9 CMP%; 12 TDs; 2 INTs
Rushing: 122 carries for 634 yards; 5.2 YPC; 16 TDs