Chiefs vs. Raiders: Live Game Grades, Player Analysis for Kansas City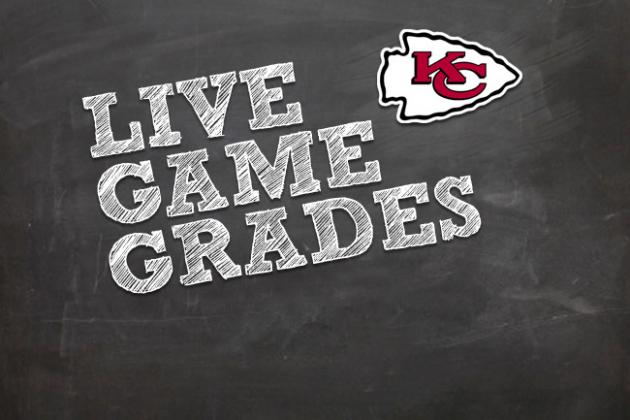 This is rock bottom if you are a Kansas City fan as division rival Oakland came into Arrowhead Stadium and beat the Chiefs for the sixth straight time.
It didn't matter who was under center and the Chiefs might just be in line for the first pick in April.
Up next for Kansas City is the San Diego Chargers on Thursday night and lets see how embarrassing this franchise can be on national television.
Begin Slideshow

»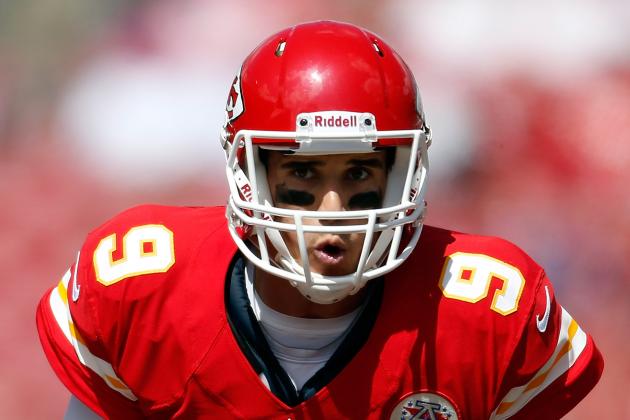 J. Meric/Getty Images

Overall Grade - D
After a brief stint in the second quarter, the play at quarterback as more of the same. Ineffective play and turnovers all game long.
The quarterback play has to get better for this team to be competitive.
Matt Cassel is a tough customer but not an NFL signal caller.
Third Quarter - C
Cassel has cooled off a bit and the Chiefs' offense has slowed because of it. More turnovers from the quarterback are all too familiar and Kansas City finds themselves behind late again.
Second Quarter - B
Cassel has came in and delivered a spark to this offense. Since he came into the game, the Chiefs drove into the red zone twice and tied the game.
The USC product is 7-of-10 for 110 yards and is playing well.
First Quarter - D
Brady Quinn has not thrown the ball much, but has made a couple of good decisions. It's easy to see that Quinn has much more pocket awareness and is a better decision maker than Matt Cassel.
As I wrote that last sentence, Quinn launched a terribly overthrown pass into the arms of Matt Giordano for an interception
The quarterback issues still remain in Kansas City.
Matt Cassel is now coming in for an injured Brady Quinn.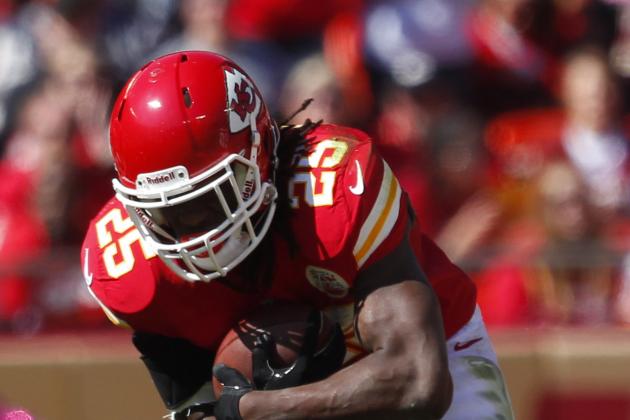 Kyle Rivas/Getty Images

Overall Grade - F
Horrible execution besides a brief moment of competence in the second quarter makes this a failing grade without question.
Matt Cassel was the team's leading rusher and the Chiefs have scored one touchdown in their last 33 offensive possessions.
Jamaal Charles wasn't utilized and was a non-factor.
The quarterback play is still the Achilles heel for this unit and it doesn't seem to be getting better anytime this season.
Third Quarter - F
Jamaal Charles and the rushing attack have been non-existent. The passing game had one good quarter and now its more of the same. This offense won't be anything until they get a capable quarterback under center.
Second Quarter - C
Cassel has came in and got the ball rolling for the offensive unit.
That being said, the offensive line is having a tough game. The rushing attack is stagnant and they have done a poor job protecting Matt Cassel.
The Chiefs also have to find a way to score touchdowns instead of field goals.
First Quarter - D
The offense has had trouble finding any sort of groove against Oakland and the problem was compounded with a late interception by Brady Quinn.
Jamaal Charles has also yet to get started as well, and the Chiefs need to look to receiver Dwayne Bowe on some slants and in routes.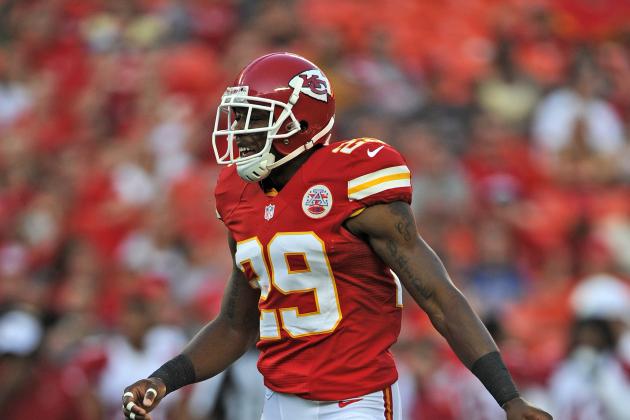 Peter Aiken/Getty Images

Overall Grade - C
They are fighting a losing battle every week, and today was no different. They start out well but are gassed by the end of the game.
Lost in the losing effort today were great games by Eric Berry, Ropati Pitoitua and Derrick Johnson.
Dontari Poe also played well and made an impact inside.
Third Quarter - C
It his hard to watch the efforts of this defensive unit get wasted week after week. Turnovers have given opposing offenses short fields and many chances to score.
Eric Berry and Derrick Johnson have played extremely well today.
Second Quarter - B
Romeo Crennel has this squad playing well despite some very tough circumstances and Derrick Johnson is having a tremendous game so far.
Eric Berry seems to be almost back to his normal self and the defensive line is getting some real push up the middle.
First Quarter - B
Despite a long bubble screen to Denarius Moore, the Chiefs' defense has done a good job of keeping the Raiders in check.
Darren McFadden has only 14 yards on nine carried and Stanford Routt had an early interception, so this unit is the only reason why Kansas City is competitive.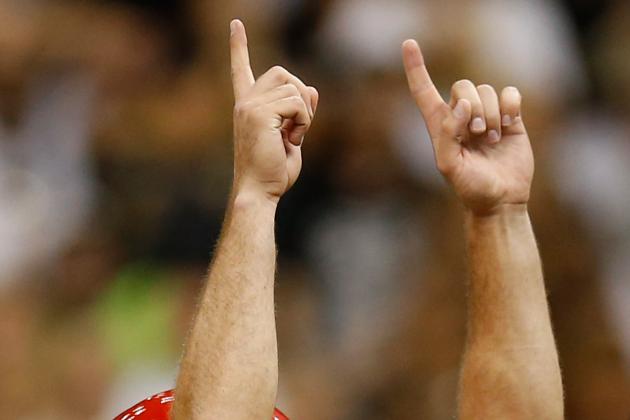 Chris Graythen/Getty Images

Overall Grade - D
This could be a "B" but the huge fumble by Javier Arenas really took the sails out of the Chiefs today and killed the momentum that Kansas City was building in the second quarter.
Ryan Succop has gotten back into from and Dustin Colquitt was solid as usual.
Third Quarter - D
Another quarter with not much to speak of in regards to special teams, besides a decent punt return by Oakland.
Ryan Succup is still perfect on the day.
Second Quarter - F
A huge punt return fumble punt by Javier Arenas makes this a failing grade. The turnover gave Oakland a very short field and the lead.
Ryan Succop is perfect on his two field goal attempts and Dustin Colquitt is punting well.
First Quarter - C
Nothing much to speak of here. Dustin Colquitt has done a good job thus far.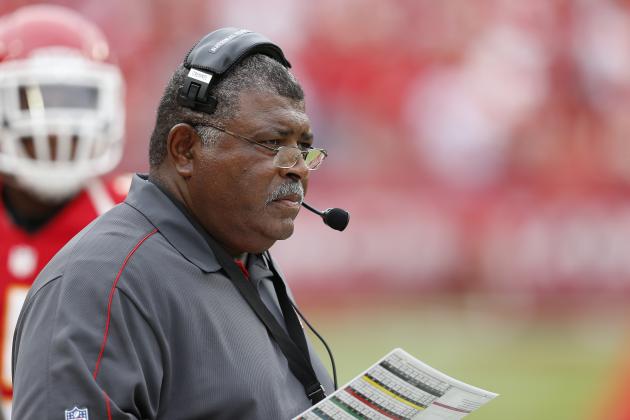 Joe Robbins/Getty Images

Overall Grade- F
Read the previous post. This Chiefs are the worst team in the league and they showed it today. They lead the league in turnovers and they look to be in line for the first overall pick in next year's draft.
This grade is an absolute "F" and I would not be surprised at all to see changes made at the top sometime this week.
Third Quarter - F
Kansas City has not scored an offensive touchdown in a month. Changes need to be made quickly. Enough said.
Second Quarter - D
Offensively, the Chiefs improved but still need to find a way to get touchdowns. It looks like Romeo Crennel and company might find a way to waste another excellent defensive performance.
Jamaal Charles only has 4 carries so far, which is ridiculous.
First Quarter- D
The offense continues to be terrible under Brian Daboll. The Chiefs have failed to score a first quarter touchdown all season and have been outscored 54-6 in the opening frame in 2012.
Daboll has failed to ignite the running game today and Jamaal Charles has not been a factor.
Defensively Romeo Crennel has his defense playing well today.