Young NBA Free Agents Ready to Explode This Season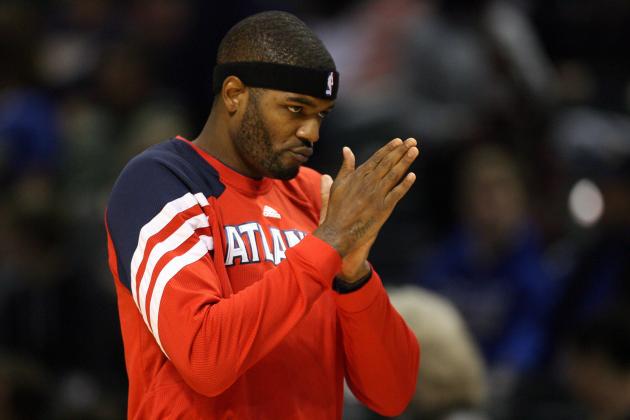 Brian Spurlock-US PRESSWIRE

Sure, money's the root of all evil. But in today's NBA, it's also a hell of a motivator. There's a fresh crop of prospective free agents that's almost ripe for the picking, but before these guys get paid in the summer of 2013, they're going to have to use this season to show they're worth it.
Free agency is complicated, so let's set the parameters for exactly what it means to be a "young free agent" for our purposes.
If you're over 30, you're out—hit the rocking chair, Grandpa. If there's no way a great season can earn you a huge payday (because your current employer will just pick up your team option), you're also ineligible.
If you're one of a couple dozen guys who falls into the "restricted free agent" pool, you're in a gray area. Guys like Ty Lawson and Stephen Curry are eligible to receive qualifying offers from their teams before October 31, which they can either agree to or reject.
Obviously, if they agree to those offers, they're not free agents anymore. But if they reject them, they're restricted, meaning any other team can sign them to offer sheets during the summer of 2013, but the player's original team can match. Because of the complications and uncertainty, those guys are excluded, too.
So that leaves us with a pool of "young" players who are either unrestricted free agents (playing this season with the knowledge that they can sign anywhere they want next summer), guys with player options who can tear up their deals for next year if they have good seasons in 2012-13 and a pair of players with the very exciting "early termination option."
So, which young players with free agency on the horizon are primed to explode this year?
Let's check out the list of this season's potential contract-year wonders.
Begin Slideshow

»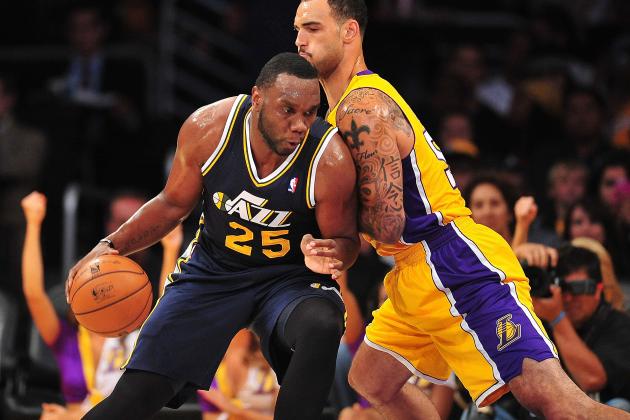 Gary A. Vasquez-US PRESSWIRE

Al Jefferson, probably the NBA's best one-on-one post scorer, will hit unrestricted free agency this summer with a set of talents that could make a lot of teams very happy.
The last of a dying breed of big men who like to work on the block, Jefferson is a potential offensive centerpiece who's still just 27 years old.
It seems clear that Utah is looking to the future with Derrick Favors and Enes Kanter up front, so it seems like Jefferson will end up elsewhere next year.
It's safe to say that with a big performance this year (at least 20 points and 10 rebounds on better than 50 percent shooting), teams will be lining up to max out Jefferson.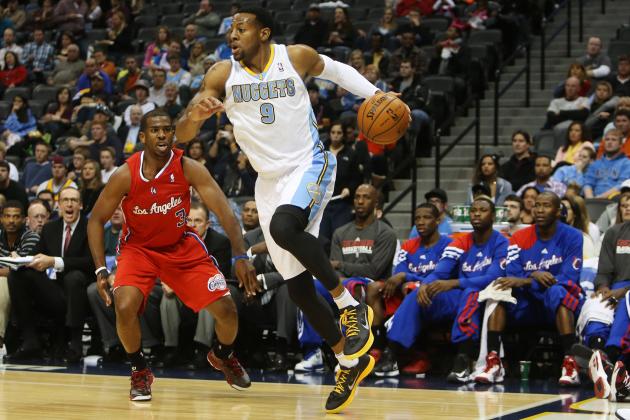 Chris Humphreys-US PRESSWIRE

Andre Iguodala's change of scenery couldn't have been better timed.
Free from the offensively anemic shackles of Doug Collins' Philadelphia 76ers offense, Iguodala finds himself smack in the middle of a pack of thoroughbreds in Denver.
And he's ready to run.
Although, at age 28, Iguodala's already been an All-Star and averaged more than 18 points per game three times, his numbers have been down for the last three seasons in a row. The decline culminated with a scoring average of just 12.4 per game last year.
Don't be misled, though. Iguodala's percentages have remained consistent, which means he just needs more opportunities. He'll get them in Denver's high-octane offense.
Iggy's got an early termination option in his contract, meaning he can decide to opt out of the nearly $16 million he's owed in 2013-14 and become an unrestricted free agent a year early.
Expect Iguodala to have a huge year in Denver, opt out of his deal and sign a max contract next summer—possibly one that will keep him a Nugget.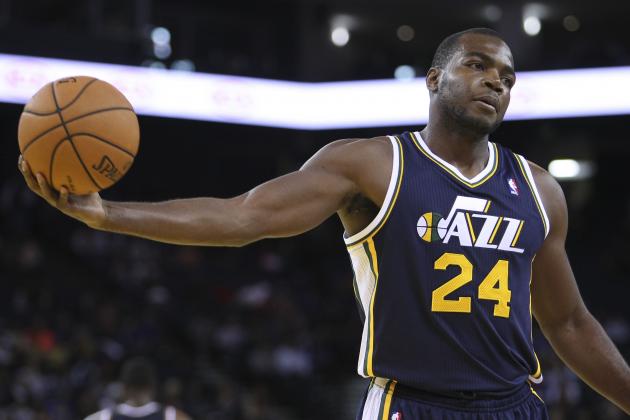 Kelley L Cox-US PRESSWIRE

Like his frontcourt partner in Utah, Paul Millsap will be an unrestricted free agent in the summer of 2013. But unlike Al Jefferson, Millsap has already received (and turned down) a max offer from the Jazz.
Of course, the offer Utah made wasn't the type of max contract players get after their rookie deals are up. Still, the three-year, $25 million offer sheet was the most Millsap could get from his team.
Knowing he could simply put up a monster year in 2012-13 before hitting free agency, Millsap said "thanks, but no thanks" and will head into this season with the chance to go big.
Expect him to get his field-goal percentage up from the career-low 49 percent he shot last year, along with bumps to his scoring and rebounding numbers.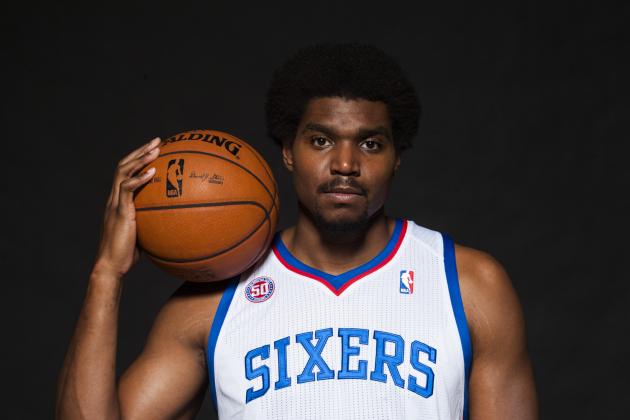 Howard Smith-US PRESSWIRE

Andrew Bynum, the man whom the 76ers gave up Andre Iguodala to get, is primed to explode this year…health permitting.
Bynum is on his own now, without Kobe Bryant and Pau Gasol to share touches with. That'll be a major boon to Bynum's numbers, although he might miss L.A.'s winning ways.
Plus, with Dwight Howard taking his place in Los Angeles and few (if any) centers with the size to match him in the Eastern Conference, Bynum has a shot to bulldoze his way through the 2012-13 season.
And when he hits unrestricted free agency in the summer of 2013, he'll be sure to earn a maximum deal.
Hopefully, then he'll be able to afford a haircut.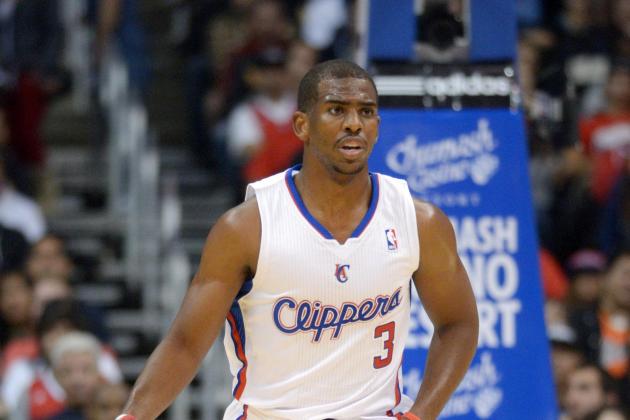 Kirby Lee-US PRESSWIRE

The L.A. Clippers haven't managed to reach a deal to extend Chris Paul's stay in Los Angeles past this season.
That might be because Paul knows he can put together a big year—and possibly a deep playoff run—before he becomes an unrestricted free agent in 2013. And besides, by turning down the Clippers' most recent offer of three years and $60 million, Paul can play out this season and make another $45 million on top of that.
With a healthy Blake Griffin, an improving DeAndre Jordan and a bevy of new free-agent help on the wings, CP3 has his best-ever supporting cast. Though he's a perennial All-Star, Paul is primed to return to MVP status this year.
When he does that, he'll be all set to cash in next summer. Whether that money will come from the Clippers or another team remains to be seen, though.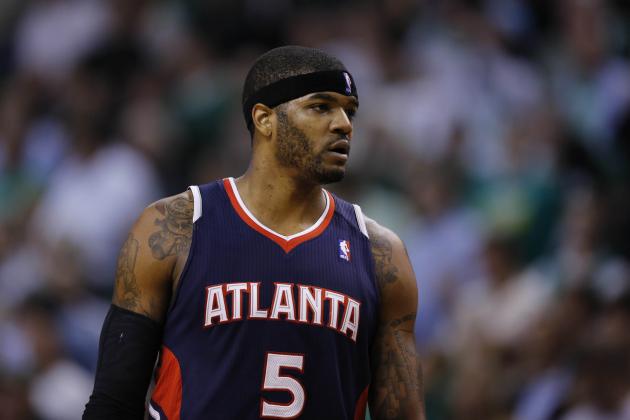 Greg M. Cooper-US PRESSWIRE

It's hard to believe that Josh Smith is just 26. But I guess that's what you get when you enter the league at age 18 in 2004. The rangy, hyperathletic forward is coming off his best statistical year, finally having combined his natural gifts with some veteran discretion.
Smith has been a terrific player for a while now, but he's edging into his prime at the perfect time. Watch for J-Smoove to improve on his career-best averages of 18.8 points and 9.6 rebounds in a big way this year as he looks to impress before he hits the free-agent market.
Here's the other thing: We know Smith is capable of more than his 1.7 blocks of a year ago—he's had four seasons with an average of 2.1 or better. And he's had a number of years in which he's shot better than the 45 percent he logged in 2011-12. If he cuts down on the three-point attempts—and the ridiculous long twos—he could get back up to the 50 percent he shot in 2009-10.
With Joe Johnson in New Jersey, there'll be a few more shots and plenty more shine for Smith this year. Plus, he'll have a healthy Al Horford to take pressure off of him up front.
It's unclear who'll end up maxing out Smith in the summer of 2013. He could stay in Atlanta or end up with the cash-rich Rockets, Mavericks or Magic, but however it shakes out, Smith is poised to blow up this year to earn a monster deal.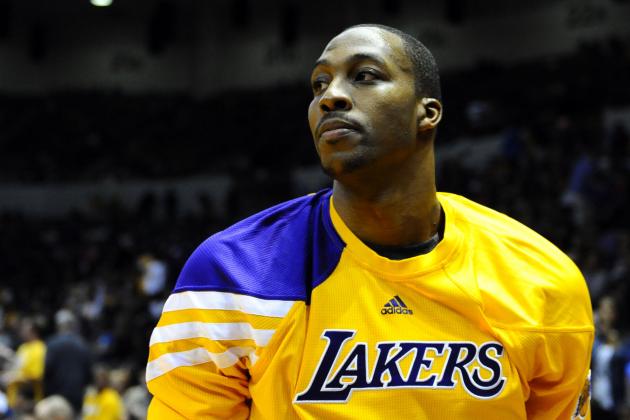 Christopher Hanewinckel-US PRESSWIRE

Lost in the ridiculous shuffle of the Dwight Howard Sweepstakes last year was the fact that D12 never signed an extension with the Lakers.
That means he's playing this year without any obligation to stay in L.A.
With the Dallas Mavericks, Atlanta Hawks and Houston Rockets (among others) still poised to have enough money next offseason to offer Howard a max deal, his future is very much undecided.
Combine the potential to play virtually anywhere he wants next year with his desire to answer critics on all sides, and it's clear Howard is motivated to have the biggest year of his career in 2012-13. And that's saying something, considering he's already among the five most valuable players in the league.
Still, it seems like the stars are aligning for Howard this year. He can shut his doubters up and position himself to earn huge bucks from a number of teams with a monster season.
Expect big things from Howard.