Over the past few years, Patrick Sharp has developed into one of the most valuable players for the Chicago Blackhawks hockey club. However, like many NHL players, Sharp is currently sitting on the sidelines as the NHL and NHLPA try and sort out a collective bargaining agreement that the two sides can live with.
During this downtime, Bleacher Report was able to catch up with Sharp and chat with him on a variety of subjects.
The 30-year-old Sharp acknowledged that dealing with the lockout has been tough, especially coming off a career-best season that saw him score 71 points. However, Sharp has more occupying his time than conditioning and weight programs. "I have a nine-month old daughter at home so I'm staying in shape chasing her around the house," he said.
Other than that, "I'm just staying in shape as much as I can and preparing for when the season starts."
Sharp has also kept himself occupied by being a spokesman for Gillette's "My City is My Gym" program, a program that encourages individuals to take their workouts outside and make the city landscape a part of their everyday fitness program.
Over the summer, Sharp helped launched the program in Chicago. "I got involved with Gillette's 'My City is My Gym' program and it was great. I have a pretty active lifestyle and obviously training and physical fitness is important for my job, so the match was there as far as I was concerned and it really went well. It's all about promoting an active lifestyle and encouraging men of all ages to take their workout outdoors and get a workout that way. "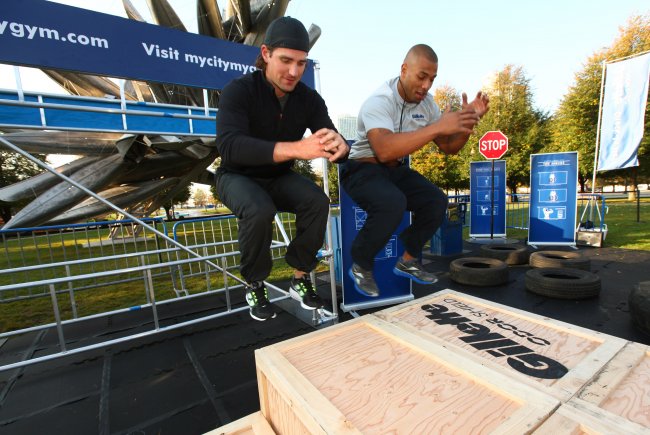 By the sound of things, Sharp will be ready when the season does begin, something he is hopeful will happen in the not-too-distant future. That optimism and his family commitments have led Sharp to not seek employment elsewhere, but that's not to say that we will not see Sharp ply his trade overseas if things continue to drag on.
"I'm still hopeful that something can get done. I'm optimistic that we'll be playing hockey in the NHL so I'm still holding out hope for that and based on how things go, I'll definitely explore my options going overseas." Sharp continued, "I'm in a situation where I'm taking it week by week and just staying informed and making my decision that way."
Any team would be happy to have the highly skilled and ever-improving Sharp on their club. Over the last three seasons, Sharp has not fallen below fourth in team scoring.
In addition, over the past two years, he has been the team's top goal scorer, putting up two consecutive 30-plus goal campaigns, the first Blackhawks player to do so since Eric Daze accomplished the feat during the 2001 and 2002 seasons.
For his efforts, Sharp was rewarded with a five-year contract extension worth $29.5 million, a deal that was to kick in at the start of the 2012-13 season. When asked if he felt any pressure playing under a contract that would more than double his previous deal with the Blackhawks, Sharp said, "No, not at all. I think that every season I have improved and my numbers have reflected that and coaches will tell me that and that's the goal. I'm 30 years old and I feel like I have a lot of hockey left in me and I want to improve in a lot of areas and score goals."
Sharp has not always been seen as the highly skilled player that he has developed into. Drafted in the third round of the 2001 NHL Entry Draft by the Philadelphia Flyers, Sharp struggled to stay in the NHL early in his career. He spent the first three seasons in Philly rotating between the Flyers and the club's AHL affiliate, the Philadelphia Phantoms.
On December 5, 2005, the Flyers shipped Sharp to the Blackhawks along with Eric Meloche in exchange for Matt Ellison and a third-round draft pick.
From there, Sharp's fortunes changed.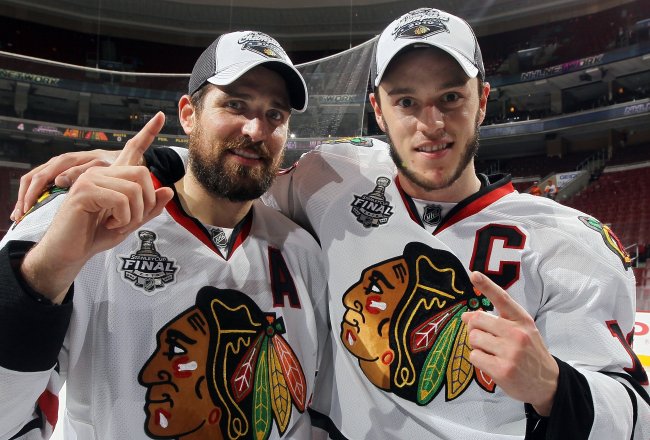 Jim McIsaac/Getty Images
When asked about the difference between his time in Chicago and Philadelphia, Sharp replied, "I think it goes with opportunity and experience. Coming to Chicago, we had a team that allowed me to play in every situation and gain experience that way and when a coach has confidence in you and when an organization is willing to give you chances it helps quite a bit. Also, I think I'm getting older and getting more experience and getting better and better every season."
With that being said, Sharp holds no ill will toward the Flyers organization, the team he and the Blackhawks defeated for the 2010 Stanley Cup.
"It was kind of neat to go back to Philadelphia. I always liked playing there and it's kind of like my career came full circle playing against the Flyers in the Stanley Cup. I've got great memories playing with Philly, a Calder Cup in the minors in the building that I happened to win a Stanley Cup in with the Blackhawks. I have nothing bad to say about Mr. Snider, Mr. Clarke or Mr. Holmgren over there in Philly, they treated me well and I enjoyed my time there."
For now, memories like those are all that Sharp and his NHL brothers have of playing in the NHL. Here's hoping we don't have to wait too long to see Sharp suited up and playing on NHL ice.