New England Patriots vs. St. Louis Rams: Live Score, Highlights and Analysis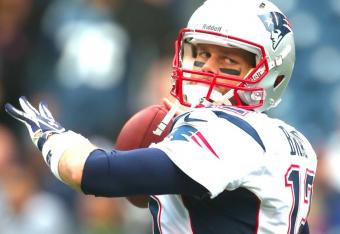 In the next step of the NFL's crusade to expand American football, the New England Patriots are "visiting" the St. Louis Rams in London. Why the NFL chose to send a team nicknamed the Patriots to England with this task is beyond me.
All semantics aside, the Pats came off a tough division game and needed a blowout win to assert their dominance.
The Patriots did just that, showing the world a one-sided beat down.
Final Score
Patriots- 45
Rams- 7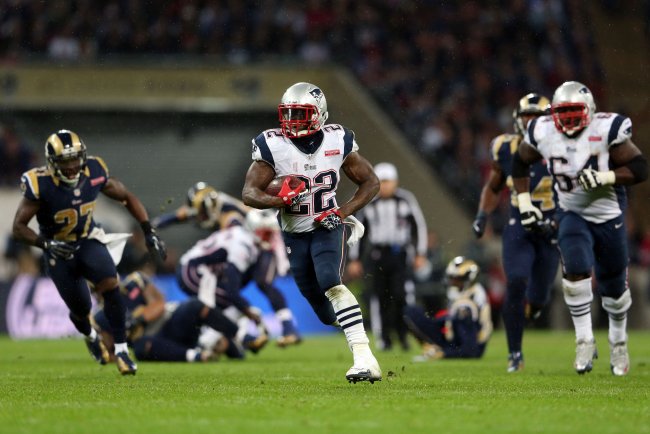 Scott Heavey/Getty Images
It's finally over.
Rumor has it that the Patriots will be extradited back to the United States to face murder chargers. The 45-7 drubbing of the Rams was the equivalent of a homicide by blunt force trauma.
Today as a big fantasy day for a few Patriots.
Brady had four touchdowns, two of which were grabbed by Gronkowski and the other two by Lloyd.
Ridley also had some fun with 127 yards and a score.
Good night from London.
I lied.
I said that St. Louis was forcing Clemens to hand off. He did and it worked quite well as the Rams actually made it to the red zone.
Then Clemens threw the ball.
The Pats picked it off and began running it back to the house. In a display of sportsmanship, the defensive back took a seat at about the New England 45-yard-line.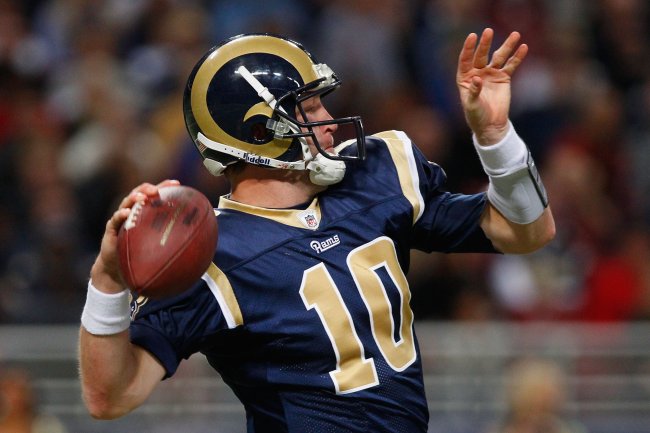 Whitney Curtis/Getty Images
Paying respect to British tradition, the Rams have officially waved the white flag to the Patriots.
Kellen Clemens will be finishing things up for the St. Louis offense. However, he's mostly just handing the ball off as everyone just wants to go home.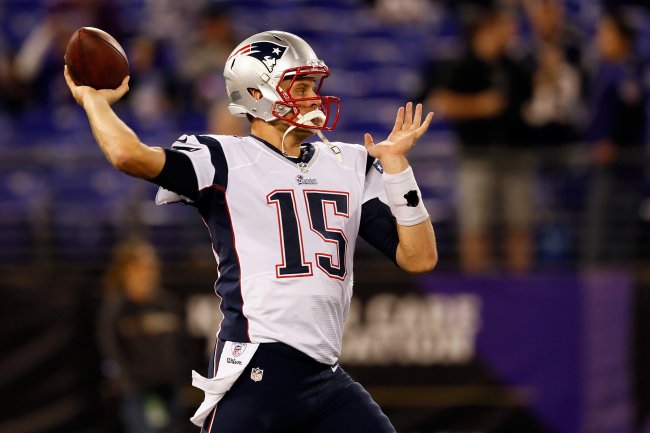 Rob Carr/Getty Images
As if the Rams fans needed anymore embarrassment, New England has turned the game over to Ryan Mallett.
Maybe Belichick has gone soft. Instead of waiting for the NFL to step in and end the madness, he was preemptive and pulled Tom Brady, who finished with 304 yards and four touchdowns.
The Rams have achieved another first. As difficult as it is to believe in a contest where they are losing by 38, the Rams had yet to turn the ball over.
Bradford chucked a desperation pass high in the air and watched as the Patriots brought it down.
It's been that kind of day for St. Louis.
Still waiting to hear from the commissioner regarding a mercy rule.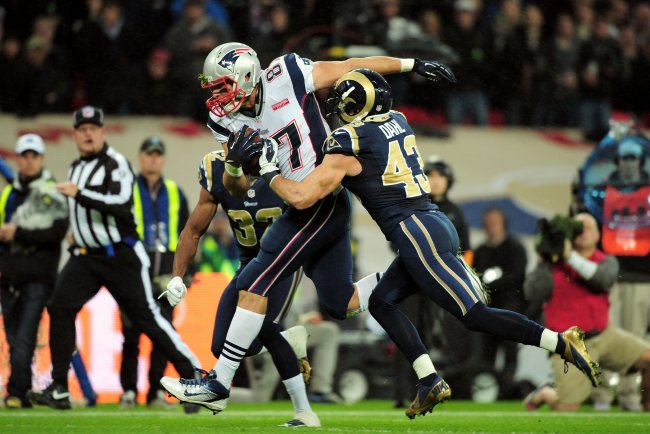 Jamie McDonald/Getty Images
Apparently, Belichick heard what I said about New England easing off the throttle and was offended. He didn't want the league to assume he's gone soft in his old age.
The Pats ran Ridley through the Rams defense and then busted out a pass to Gronkowski for yet another touchdown.
The game is now 45-7 with over eleven minutes remaining.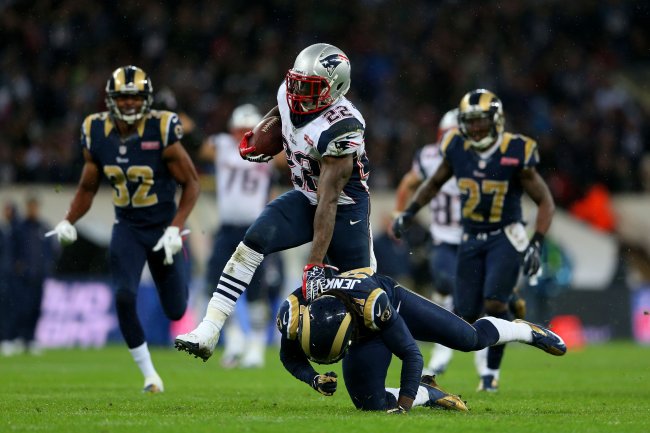 Scott Heavey/Getty Images
There's really nothing to report at the end of the third quarter. This is an absolute butt kicking in every sense of the phrase.
The Pats have eased off the throttle just a touch as evidenced by their ONE punt.
Seriously, they've only punted once. I know I keep hammering on this, but that's incredible.
The Rams were supposed to bring some defense to the game. Instead, they've been offensive in every way.
Well, except on offense.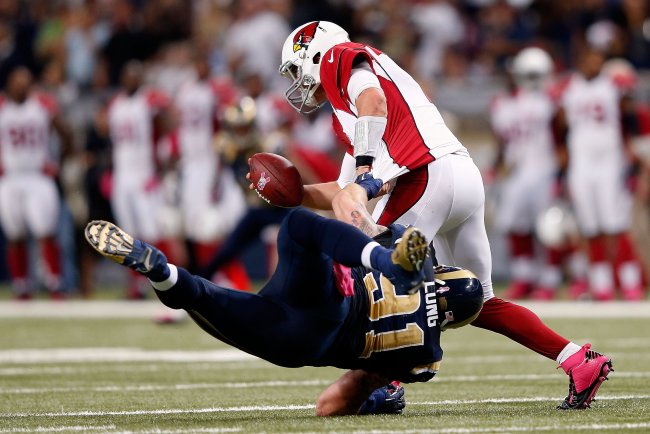 Jamie Squire/Getty Images
Congratulations, Rams fans! They've done it.
St. Louis has finally forced New England to punt.
No word on if CBS will be returning to the action due to this dramatic turn of events.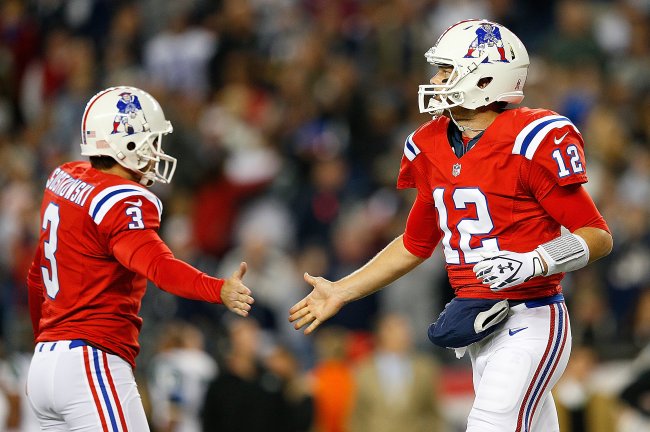 Jim Rogash/Getty Images
When I saw the injury list for the Pats, I started to feel squemish about my Patriots (+7) pick. Glad I didn't pull a last-minute ditch.
The loss of Branden Bolden worried me. It did not, however, worry Stevan Ridley.
He has had a monster game with 13 carries for 119 yards. Then there was the Marshawn Lynch impression he pulled over the Rams safety.
Oh, and the Pats added another field goal. The score is so out of hand that CBS just jumped ship and went to the Packers game.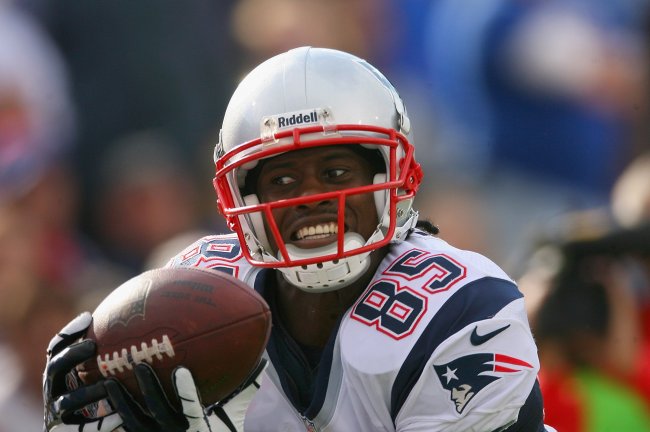 Rick Stewart/Getty Images
If the Patriots have any respect for their fellow human beings, they will refuse to run another offensive play. Instead, they should opt to take three knees and punt.
Or maybe even just take four knees. Call it good karma.
Brandon Lloyd hauled in a nine-yard pass from Tom Brady for his second touchdown on the day.
The drive looked just like all the others. Great offensive execution against a defense left grasping at air.
The Pats now lead by 28. Call the coroner.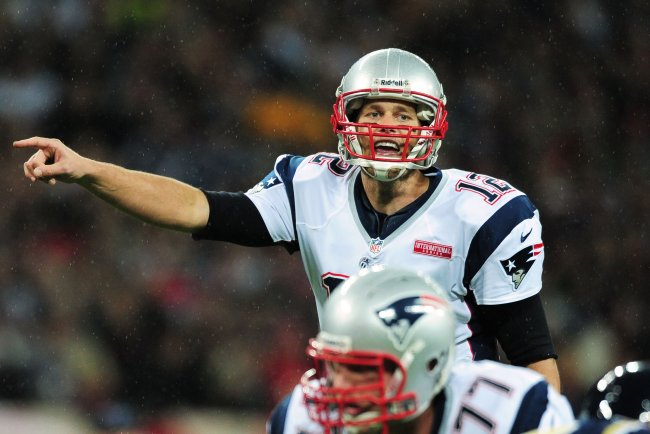 Jamie McDonald/Getty Images
It's halftime in the U.K., but the Rams wouldn't know it. They haven't even arrived at the stadium yet.
This game has taken on a Revolutionary War reenactment vibe, with the Patriots continuously marching down the field and mowing down the opposition.
St. Louis hasn't forced a single New England punt and has only put together about 1.5 drives. The Pats have almost 100 yards more of total offense through two quarters.
Another advantage for the Pats has been the penalties committed by the Rams (seven for 64 yards). Most of them were the right call.
If the Pats score on the second-half opening drive, the league might need to step in and institute a running clock.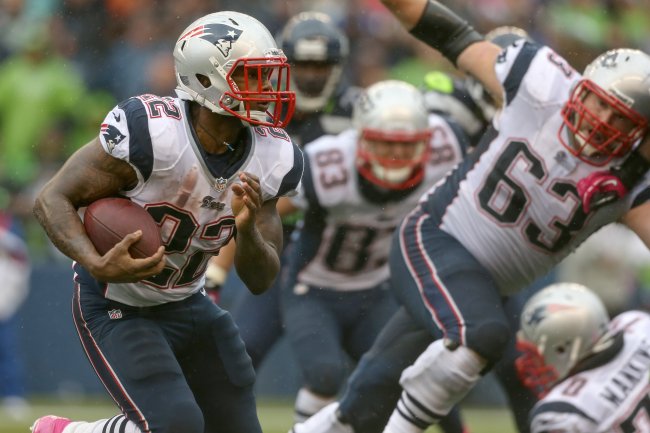 Otto Greule Jr/Getty Images
Turn away, Rams fans. This one looks to be over already.
Ridley pounded his way to pay dirt as New England now takes a 28-7 lead.
The Rams committed two costly pass interference to extend the drive. The physical transformation that Fisher has implemented does have some drawbacks.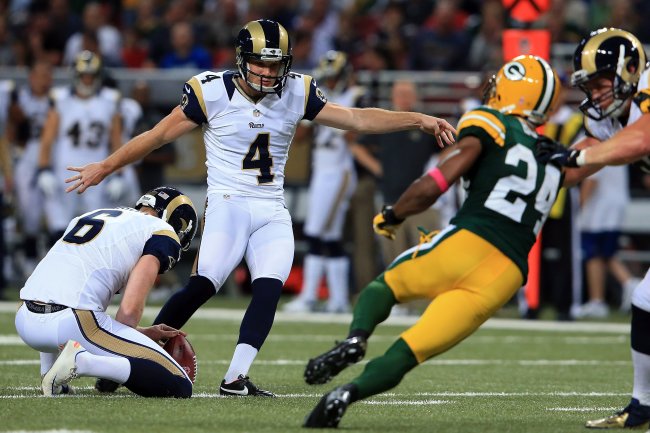 Doug Pensinger/Getty Images
When it rains, it pours.
Considering this game is in England, you knew it was likely to rain.
The Rams lined up for a 54-yard field goal (easily within Greg Zuerlein's range), but the snap and hold was botched, resulting in New England taking over on their own 45-yard line.
I'm surprised Jeff Fisher didn't elect to go for it. Field goals won't do much for his team at this point. They need touchdowns. The distance was manageable since they only needed five yards.
I don't like that call.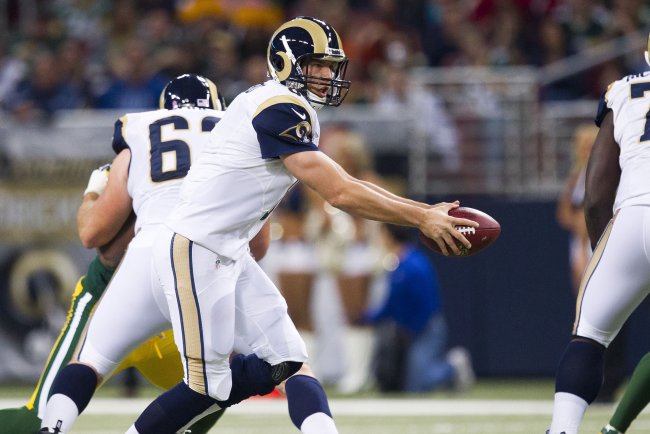 David Welker/Getty Images
Just when the Rams looked to be getting things back on track, Bradford had his shoulder driven into the Earth by Dont'a Hightower.
There wasn't any overly malicious or illegal about the play. Just a tough football tackle.
Bradford writhed in pain before sitting up. St. Louis then wisely called timeout and he has reentered the game.
All's well that ends well.
Jim Rogash/Getty Images
This is getting ugly.
Tom Brady hooked up with Gronkowski for a seven-yard score after the Pats just methodically moved the ball down the field. St. Louis has no answers on defense right now.
Gronk celebrated with a wooden British solider routine before spiking the ball. It was excellent.
The Rams need a touchdown. Or at least a first down.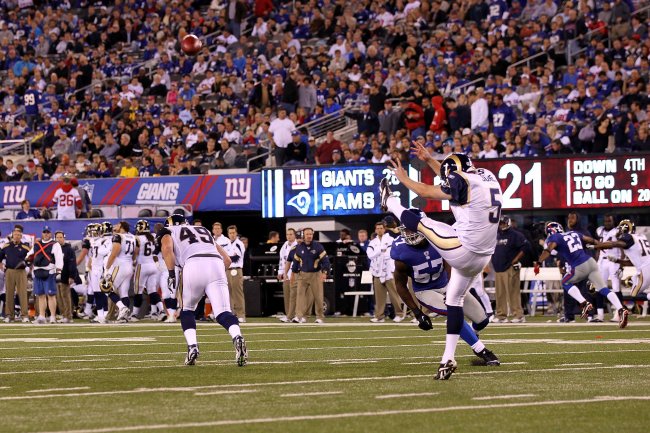 Al Bello/Getty Images
The referees disagreed and have ruled an incompletion. After reviewing the play, I'm inclined to agree.
There wasn't enough control by the receiver. St. Louis is punting from approximately their own 30 and the ball did not stop until the New England 22-yard line.
Now the Rams need a stop. Badly.
Kyle Arrington injured his head and is questionable to return.
<blockquote class="twitter-tweet">
From the Patriots Bench: CB Kyle Arrington left the game with a head injury. His return is questionable.
— New England Patriots (@Patriots) October 28, 2012
His replacement, Marquice Cole, has wasted little time helping the team move on. He stripped a Ram receiver of the ball and it appears, pending review, that the Pats will have excellent field position.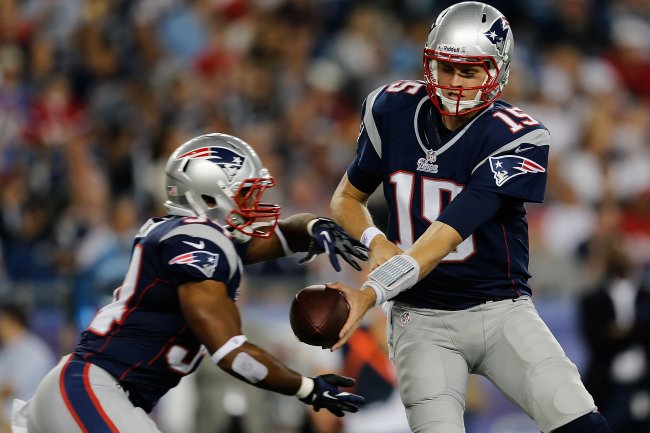 Jim Rogash/Getty Images
Bill Belichick didn't leave his gumption in the states.
New England went for the score on fourth down and Shane Vereen plunged in from one yard out.
Brady finally threw an incompletion when a Ram defender knocked down a potential touchdown pass.
The play of the drive was easily Gronkowski's catch to put the Pats on the doorstep. It was a beautiful-yet-awkward-over-the-shoulder catch.
Pats 14, Rams 7.
14:12 left in the second quarter.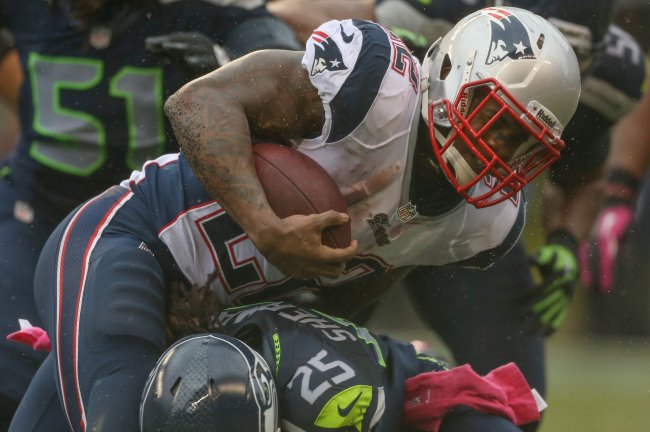 Otto Greule Jr/Getty Images
Maybe that effect should include Stevan Ridley. That dude likes to talk some trash.
At the end of the first quarter, we're all knotted at seven. However, the Pats are knocking on the door with the ball at the one-yard line.
Ridley has ran well with 30 yards on six carries. Brady and Bradford have both been on point as well with only one incompletion between them (a Bradford throw away).
Givens is questionable to return. This is obviously a big blow for the St. Louis offense.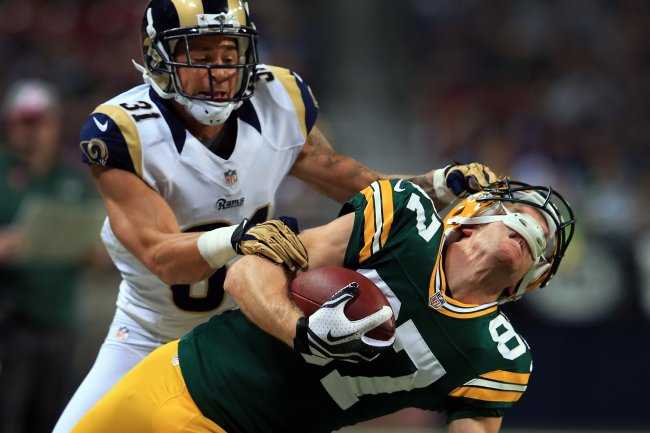 Doug Pensinger/Getty Images
I've developed a new theory: the Cortland Finnigan Effect.
There was some serious chippiness exhibited during the New England offensive drive. The theory states that anytime Finnegan is on the field, the game's feistiness will be elevated by 27 percent.
Discuss amongst yourselves.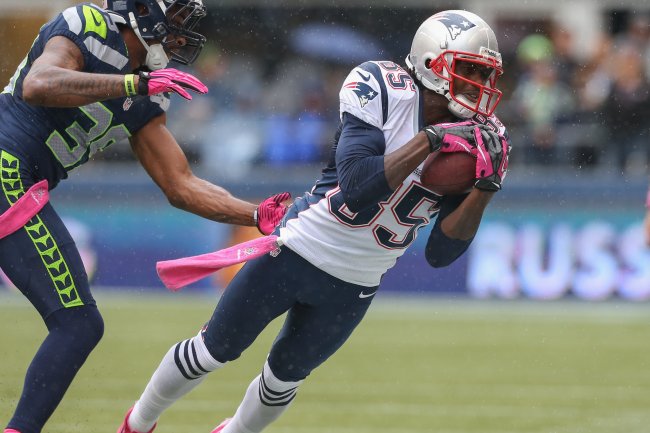 Otto Greule Jr/Getty Images
So much for the lead.
The Pats meandered their way down the field and tied it up with a 19-yard touchdown pass to Brandon Lloyd. The Rams helped New England convert one third down with a pass interference by London Fletcher, but if he hadn't, the pass would have probably been completed.
This game is shaping up to be a fantasy football owner's dream.
Patriots 7, Rams 7.
7:46 left in the first quarter.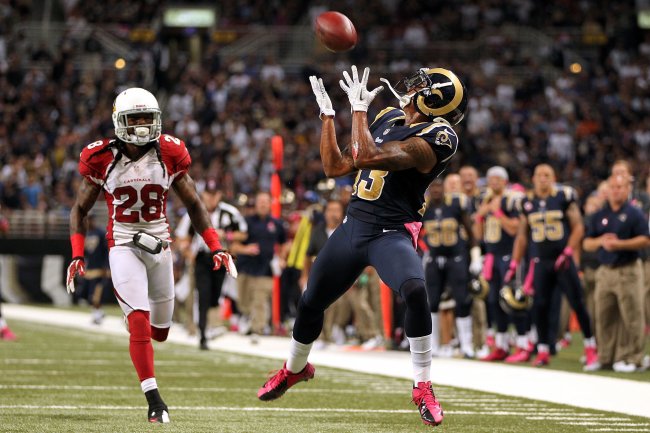 Jamie Squire/Getty Images
So much for the Rams having difficulties putting up points. They've come out swinging.
They pounded Steven Jackson a couple times and then play-actioned their way to a 50-yard Chris Givens touchdown reception.
Great start for St. Louis. No negative plays and they stretched the field when given the chance.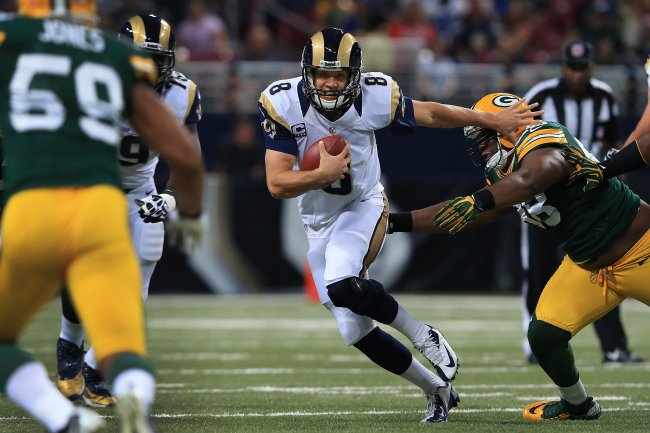 Doug Pensinger/Getty Images
The Pats won the toss and deferred, the Rams will be trotting out Sam Bradford and the offense first.
And how about that singer from England? How could her voice be so deep and guttural with such a high pitch?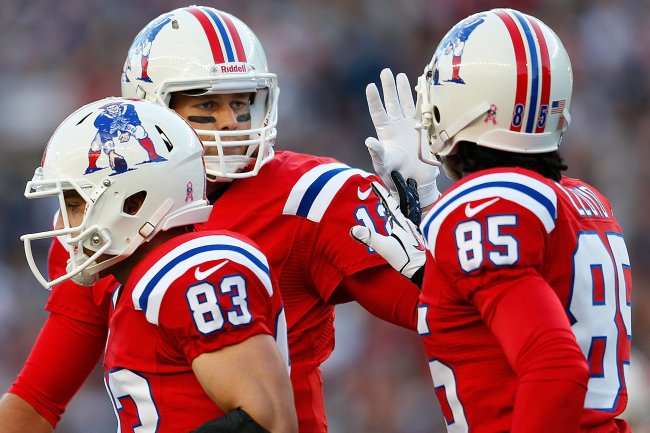 Jim Rogash/Getty Images
I'm not the only one who keeps singing about taking Baxter to foggy London town, right?
He's such a little gentleman.
Anyways, the injury report is scary for the Pats. However, so long as Tom Brady has Rob Gronkowski and Wes Welker on the field, the offense should be fine.
So this game will rely on the Rams being able to score points. That doesn't bode well for a team averaging just over 18 points a game.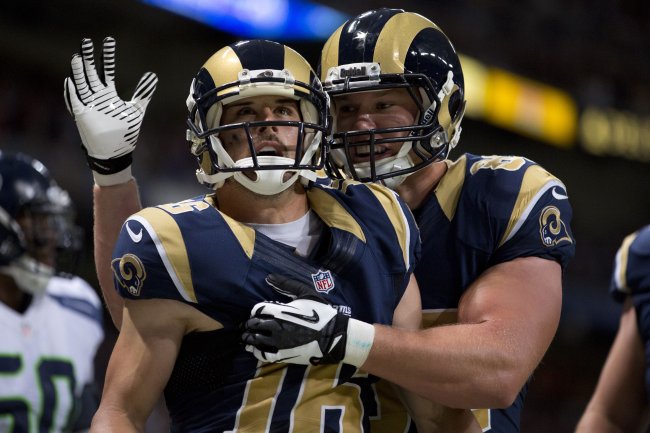 David Welker/Getty Images
The injury report for today's European match up.
Patriots
RB Brandon Bolden (Knee, Out)
DT Ron Brace (Back, Questionable)
S Patrick Chung (Shoulder, Out)
WR Julian Edelman (Hand, Questionable)
S Steve Gregory (Hip, Out)
TE Rob Gronkowski (Hip, Questionable)
LB Dont'a Hightower (Hamstring, Questionable)
WR Brandon Lloyd (Knee, Questionable)
DT Kyle Love (Knee, Probable)
G Logan Mankins (Calf/hip, Questionable)
LB Jared Mayo (Elbow/Illness, Questionable)
G Nick McDonald (Shoulder, Questionable)
S Sterling Moore (Knee, Questionable)
LB Trevor Scott (Hamstring, Out)
T Sebastian Vollmer (Back/Knee, Questionable)
WR Wes Welker (Ankle Questionable)
LB Tracy White (Foot, Out)
NT Vince Wilfork (Illness, Probable)
Rams
WR Danny Amendola (Shoulder, Questionable)
DT Matthew Conrath (Knee, Questionable)
WR Brandon Gibson (Illness, Probable)
LB Mario Haggan (Thigh, Questionable)
T Wayne Hunter (Back, Questionable)
TE Mike McNeill (Knee, Questionable)
DE Eugene Sims (Knee, Out)
WR Brandon Gibson (Illness,
This article is
What is the duplicate article?
Why is this article offensive?
Where is this article plagiarized from?
Why is this article poorly edited?