The NHL's 11 Heaviest Hitters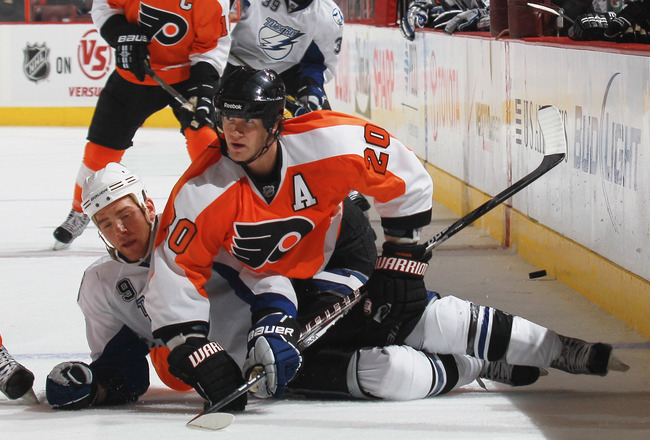 Chris Pronger of the Philadelphia Flyers.
Bruce Bennett/Getty Images
When putting together a list of the top hitters in the National Hockey League, it's important to take frequency into just as much consideration as the force of any one check delivered by a given player.
Excuse the pun, but no one wants to see a one-hit wonder make the list, while a player that consistently doles out love taps has about as much place here as they do in the entire NHL, which is about as much place in turn as, say, a Zamboni on the street.
While some things clearly aren't sacred anymore (via theScore), it's probably as good an explanation as any for Andrei Kostitsyn.
Here are the top 11 heaviest hitters currently in the league:
11) Chris Pronger

Chicago Blackhawk Jonathan Toews runs into Philadelphia Flyer Chris Pronger.

Philadelphia Flyers defenseman Chris Pronger makes this list on a bit of a technicality, seeing as no one is sure if he'll play again. Of course, technically speaking, this list is of the heaviest hitters currently in the NHL, and there aren't any players actually in the NHL as I write this.
In any case, technicality or no, Pronger, during his time in the league, established himself as a player with which not to be trifled. Sure, he was dirty, probably the dirtiest in the game. But, by the same token, he was nicknamed Captain Crunch for a reason, and it's not because he goes well with milk.
He is, however, bad for you, as Chicago Blackhawk Jonathan Toews discovered in Game 3 of the 2010 Stanley Cup Finals.
10) Matt Martin

New York Islander Matt Martin hit then-Montreal Canadien Hal Gil.

Nashville Predator Hal Gill is a big guy. In fact, he's 6'7" and 240 pounds. New York Islander Matt Martin? 6'3", 210, and yet he hits his larger opponent hard twice during one game on October 29, 2010.
Many might not know this about Martin, but he led the league in hits in 2011-12 with 374 in 80 games. That's a lot.
To put it in the proper context, Paul Martin of the Pittsburgh Penguins had 24. Yikes. Maybe one of them was switched at birth. Or, you know, maybe they're not actually related at all. Just theorizing here.
9) Jordin Tootoo

Then-Nashville Predator Jordin Tootoo levels Buffalo Sabre Ryan Miller.

After taking some time off from hockey to find himself in 2010-11 (by entering into the league's substance abuse program), Detroit Red Wing Jordin Tootoo clearly came to the conclusion that healing himself and hurting others need not be mutually exclusive.
Take this hit on Buffalo Sabres goalie Ryan Miller in a December 3 game from last season, in which he takes his "Tootoo Train" nickname a bit too seriously, not slowing down the least bit to try and avoid the netminder.
After finding himself, Tootoo should probably now focus on finding a rulebook.
8) Douglas Murray

Douglas Murray of the San Jose Sharks.

What may surprise you is San Jose Shark Douglas Murray is Swedish, but of Scottish descent.
From wherever he hails, it's clear he knows how to hit, taking out the competition person by person as if straight out of Highlander. There can be only one, you know. In terms of Scottish-Swedish hockey players, someone should probably let him know he probably is.
7) Dion Phaneuf

Then-Calgary Flames hits then-Ottawa Senator Denis Hamel.

From the man that brought us the infamous "Double Dion" in the 2005 World Junior Hockey Championships* comes this beauty on Denis Hamel of the Ottawa Senators back in 2006-07.
Hamel didn't play so well after that…or before, actually, with only 192 career NHL games to his name. But I'm sure it hurt a whole lot anyway.
*Analyst Pierre McGuire coined the play on which Phaneuf hit two Russian players with one check in that tournament a Double Dion for obvious reasons.
It may not have been the most clever use of alliteration, but the incident certainly helped Phaneuf to establish a reputation as a hard-hitting defenseman capable of lowering the boom on unsuspecting career minor-leaguers, and, of course, the occasional legitimate NHLer.
6) Milan Lucic

Boston Bruin Milan Lucic hits Toronto Maple Leaf Mike Van Ryn.

Boston Bruin Milan Lucic apparently doesn't like to be called Lurch, just as an FYI, even if the nickname may be incredibly apt and one of the best you'll ever hear in hockey. The widespread insistence on substituting second syllables in players' last names for "sie" will tend to do that.
In any case, former Toronto Maple Leaf Mike Van Ryn must have called Lucic just that in this October 23 game in 2008. No word yet on what the glass did to Lucic to piss him off. It was unavailable for comment, what with getting shattered and all.
This was just one example of Lucic's physical dominance, even if he did have to leave his feet to throw the check. Maybe he should find a rulebook too. I hear Ryan Miller is carrying around a few extra copies these days.
5) Cal Clutterbuck

The Minnesota Wild's Cal Clutterbuck hit then-San Jose Shark Jed Ortmeyer.

Kudos to the Minnesota Wild's Cal Clutterbuck for establishing himself as a triple threat. He hits, he scores more often than you'd think and he clearly moonlights as an adult film actor from the 1980s on the side.
If not, his signature 'stache at least screams, "I'm not afraid of anything." If anything, NHL players should fear him and the prolific nature of his hits, as former San Jose Shark Jed Ortmeyer found out back in 2010, before becoming a teammate of his over the past two seasons.
If you can't beat 'em, join 'em…but only playing hockey. Not at his night gig, please.
4) Dustin Byfuglien

Then-Chicago Blackhawk Dustin Byfuglien hits Philadelphia Flyer Chris Pronger.

In Game 5 of the 2010 Stanley Cup Finals, Dustin Byfuglien threw this check on one Chris Pronger, making him look like a fly being swatted away.
We all know Pronger is big (6'6", 220 lbs.), but Byfuglien is big too (listed at 6'5", 265 lbs.), and, according to recent reports (via Puck Daddy), he's only getting bigger. One can only guess how hard he'll be throwing checks once hockey starts up again, assuming he can fit in his skates, that is.
3) Dustin Brown

Dustin Brown of the Los Angeles Kings.

Los Angeles Kings captain likes to hit hockey players. I'm pretty sure that only applies to on-ice action, though, and that he doesn't go around NHL dressing rooms slapping the faces of everybody within arm's reach. Call it an educated guess. And please refer to the accompanying video as proof of the first statement.
2) Niklas Kronwall

Niklas Kronwall of the Detroit Red Wings.

Those Detroit Red Wing fans that are worried their blue line has been irreparably damaged due to what has turned out to be the incredibly timely retirement of one Nicklas Lidstrom, let me introduce you to Niklas Kronwall.
It's his duty to irreparably damage other teams, and up to this point, he's done a real bang-up job of it, to the point that the term "kronwalled" was coined to refer purely to opposing players on the receiving end of one of his dilapidating hits.
As for not-so-dilapidating hits? "Nikked." "Kronned," of course, is just gibberish.
1) Zdeno Chara

Boston Bruin Zdeno Chara hits Washington Capital Alexander Ovechkin.

Everyone knows Boston Bruin Zdeno Chara can lower the boom. Unfortunately, no one knows better than Montreal Canadien Max Pacioretty. His dirty hit on the Hab back in March 2011 is proof positive that Chara is a heavy hitter.
However, what he did to Washington Capital Alexander Ovechkin during these past playoffs is just as much proof that first hit was no fluke.
In the accompanying clip, taken from Game 4 of the two teams' first-round series, Ovechkin launches himself into Chara, who simply seems to brace for impact, but instead ends up crushing the former.
Chara is 6'9" and 255 pounds, meaning it's not hard for him to hurt somebody. That Pacioretty is one of the only instances that come to mind of someone being taken off on a stretcher shows arguable restraint on the part of Chara over the course of his career. Still, the few notable checks he's thrown build a solid case that he's the heaviest hitter in the game today.
Keep Reading