San Diego Chargers vs. Cleveland Browns: Live Score, Highlights, Analysis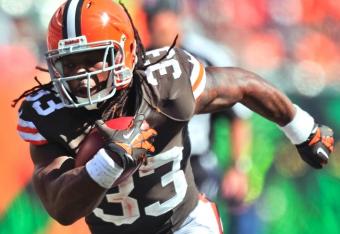 The San Diego Chargers continue their losing ways as they fall to the Cleveland Browns 7-6 for their fourth loss on the season.
The Browns struck first with a 26-yd TD run by Trent Richardson in the first quarter, and that was all they needed to put away the Chargers. San Diego replied with two Nick Novak field goals but failed to produce anything more. Philip Rivers was unable to deliver on the last drive the game, finishing the contest with an incomplete pass intended for Malcom Floyd.
The wet weather wreaked havoc for both teams as dropped passes were plentiful in this one. There was no shortage of muffed punts and fumbles as well. Ryan Mathews played well for the Chargers, rushing for 95 yards on the day but he was outmatched by the performance of Richardson. With the help of his fellow rookie teammate, Brandon Weeden, Richardson carried Cleveland on his back with 122 yards and a TD.
In what was supposed to be a recovery game for the Chargers, San Diego must now return home to face the Kansas City Chiefs on Thursday night. Meanwhile, the Browns will savor their second win of the season before they face the Baltimore Ravens at home next week.
Browns 7 Chargers 6. Thanks for reading folks!
That should be it. Great play by Buster Skrine tipping that ball. Rivers was trying to get that ball to Malcom Floyd who was tripped up anyway.
This is the game right here...
Oh my goodness! That could have went seriously wrong for San Diego. I applaud Eric Weddle for pulling double duty today but he can't be making mistakes like that when his team is down by one so late.
Bravo, Richardson:
With his 122 rush yards against the San Diego Chargers, #Browns rookie Trent Richardson has set a new career high.

— Cleveland Browns (@OfficialBrowns) October 28, 2012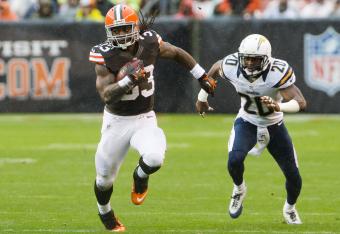 And just like that Trent Richardson bails out Cleveland with that 12-yd reception on the swing pass. He's been the player of the game in my mind.
Wow. That tipped pass had Atari Bigby's name all over it. That could have been the turnaround San Diego needed. That's a definite pick-six.
Malcom Floyd with back-to-back catches on this drive. Did you notice he's making plays without receiver gloves today?
End of the third quarter! The Browns lead the Chargers 7-6.
Slim lead for the Browns going into the fourth quarter, but it's going to take a valiant effort by San Diego's offense to march down the field and get a score. This is where Philip Rivers has the opportunity to redeem himself. If he can take care of the ball and lead a scoring drive then he can silence the critics this week.

Field goal San Diego! The Browns lead 7-6 with 2:33 remaining in the third quarter.
Nick Novak just barely hits the 31-yd field goal to put the Chargers down by one with 2:33 remaining in the third quarter.
The Chargers are inching closer to the red zone. The last thing they need is a turnover. Both Ryan Mathews and Philip Rivers are taking extra care to keep two hands on the football during exchanges.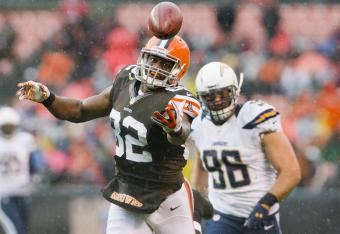 Things have really slowed down here with a little less than nine minutes left in the third quarter. Neither offense has been able to score since the first half, and we've seen a ton of missed opportunities.
The Browns have done a good job holding back Ryan Mathews, but they need to capitalize on Rivers' mistakes throwing the ball. A key turnover could put this game even further out of reach for the Chargers.
Philip Rivers had a little bit of mental breakdown there after the incomplete pass to Antonio Gates. Screaming at himself isn't going to win football games, and it's a little disturbing to watch.
#Browns DL Emmanuel Stephens will not return to the game after suffering a neck injury in the first half.

— Cleveland Browns (@OfficialBrowns) October 28, 2012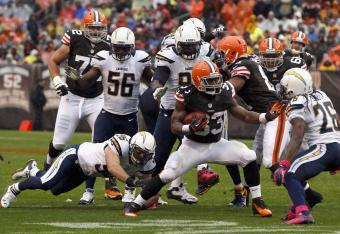 Cleveland picks up right where they left off in the first half. Trent Richardson continues to punish San Diego's defense and Brandon Weeden is still making smart throws.
In case you missed Trent Richardson's TD run in the first half:
Halftime highlights! Check out Richardson's 26 yard TD Run here! bit.ly/VV01WI #SDvsCLE

— Cleveland Browns (@OfficialBrowns) October 28, 2012
San Diego gets on the board with a field goal! The Browns lead 7-3 after the first half.
Rivers nearly throws an interception with that tipped pass at the line. For once, that wasn't his fault.
Trent Richardson has 86 yards on 15 carries. That's 15 yards more than Chargers allowing on average through first six full games.

— UTKevinAcee (@UTKevinAcee) October 28, 2012
Two-minute warning before halftime! Cleveland still leads San Diego 7-0.
The Browns have been the better team thus far as the Chargers attempt to muster up a score before the end of the half. Trent Richardson has had no trouble running against this top-ranked defense.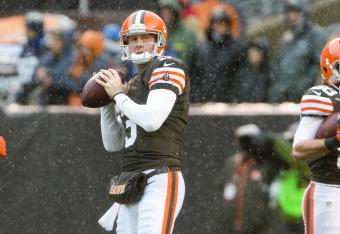 Brandon Weeden has been the better passer today, completing 6-of-11 passes. He's not trying to force passes in tight coverage, and he's opted to throw it away when a play isn't there. Talk about growing up quickly.
Nothing going for Philip Rivers today. Just 5-for-10 passing and 35 yards. He's been under pressure all day from Cleveland's defense, and the rain isn't making things easier.
Richardson excelling in his rookie year:
Trent Richardson's 5 rushing TDs this season are the most by a #Browns rookie since William Green had 6 in 2002

— Dan Murphy (@DMurph_BrownsPR) October 28, 2012
Ryan Mathews doesn't appear to have lost Norv Turner's trust despite the fumble. He's still out there carrying the load for San Diego.
Rare shank from one of the best punters in the NFL, Mike Scifres. Just goes to prove that he's human in these wet conditions
This article is
What is the duplicate article?
Why is this article offensive?
Where is this article plagiarized from?
Why is this article poorly edited?