World Series 2012 Game 4: Live Score for San Francisco Giants vs. Detroit Tigers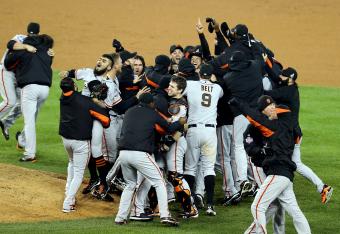 Jonathan Daniel/Getty Images
2012 WORLD SERIES CHAMPIONS: SAN FRANCISCO GIANTS
GIANTS BEAT TIGERS 4-3 IN 10 INNINGS
W: Santiago Casilla
L: Phil Coke
S: Sergio Romo
Scherzer: 6.1 IP, 7 H, 3 ER, 1 BB, 8 K, 90 Pitches
Smyly: 0.1 IP, 0 H, 0 ER, 0 BB, 0 K, 5 Pitches
Dotel: 1,1 IP, 0 H, 0 ER, 1 BB, 1 K, 18 Pitches
Coke: 2.0 IP, 2 H, 1 ER, 1 BB, 4 K, 27 Pitches
Cain: 7.0 IP, 5 H, 3 ER, 2 BB, 5 K, 102 Pitches
Affeldt: 1.2 IP, 0 H, 0 ER, 1 BB, 4 K, 29 Pitches
Casilla: 0.1 IP, 0 H, 0 ER, 0 BB, 0 K, 5 Pitches
Romo: 1.0 IP, 0 H, 0 ER, 0 BB, 3 K, 15 Pitches
Scoring Summary:
Top 2: Brandon Belt RBI Triple: Giants 1 - Tigers 0
Bottom 3: Miguel Cabrera 2-Run HR: Giants 1 - Tigers 2
Top 6: Buster Posey 2-Run HR: Giants 3 - Tigers 2
Bottom 6: Delmon Young Solo HR: Giants 3 - Tigers 3
Top 10: Marco Scutaro RBI Single: Giants 4 - Tigers 3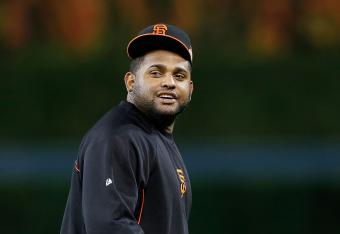 BREAKING: @sfgiants 3B Pablo Sandoval named #WorldSeries MVP after hitting .500 (8-for-16) with 3 HRs in Game 1. #MVPanda

— MLB (@MLB) October 29, 2012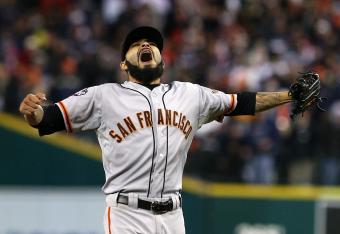 The Detroit Tigers put up a valiant effort tonight, but the momentum stemming from Marco Scutaro and the Giants was just too much to handle.
Matt Cain led another dominating pitching performance, giving up just five hits and three runs on a night he did not have his best stuff. Jeremy Affeldt came on in relief and was stellar, striking out four of the five batters he retired and Sergio Romo did his thing, stiking out the side in the 10th inning to win the Giants their second World Series title in three seasons.
For Detroit, it is a disappointing ending to an otherwise incredibly successful season. Victor Martinez will return next year surrounded by two of the best hitters in baseball including the reigning triple crown winner Miguel Cabrera. The pitching will remain excellent with Verlander, Fister, Scherzer and possibly Sanchez in the rotation for an entire season.
But tonight and this offseason belongs to the San Francisco Giants.
Congratulations to the city of San Francisco and their fans. Here's to the amazing 2012 season!
Last NL World Series sweeps: NY Giants '54, Dodgers '63, Reds '76 and '90, #SFGiants '12.

— Bill Shaikin (@BillShaikin) October 29, 2012
Miguel Cabrera strikes out looking as Sergio Romo strikes out the side to earn San Francisco their second World Series Title in the last three seasons.
YOUR 2012 WORLD SERIES CHAMPIONS: SAN FRANCISCO GIANTS
Romo strikes out the first two. It's all up to Miggy to save the Tigers' season.

— Mark Feinsand (@BloggingBombers) October 29, 2012
Don Kelly strikes out swinging. 1 out to go, and it's the best hitter in all of baseball. Miguel Cabrera to the plate
Romo throws one of his nasty sliders, Jackson chases and the Giants are two outs away from their third title in three years. GIANTS 4 - TIGERS 3 BOTTOM 10
Infante update:
Infante suffered a non-displaced fracture of fifth metacarpal on left hand - the exact same injury A-Rod had. No surgery will be required.

— Mark Feinsand (@BloggingBombers) October 29, 2012
So, it will be Jackson, Kelly, Cabrera.

— Jon Morosi (@jonmorosi) October 29, 2012
Sandoval grounds out to third and we are officially three outs away from handing out the 2012 World Series trophy. The Tigers have the top of their order coming to the plate. I'm thinking it comes down to Prince with a runner in scoring position
It's Scuturo's world and we're just watching in awe.

— Bryan Fischer (@BryanDFischer) October 29, 2012
Scutaro lines a single to center field, Jackson's throw is way too late as Theriot scores easily. What a story Scutaro has become
SCUTARO STRIKES AGAIN. GIANTS 4 - TIGERS 3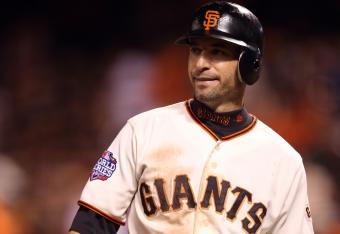 As he comes to plate, Scutaro has 106 swings at the plate this postseason. Has missed just twice.

— Alex Pavlovic (@AlexPavlovic) October 29, 2012
Pagan strikes out swinging, hits Laird in the head with his backswing. He appears to be OK. Two down with Scutaro coming up. Can he come through in the clutch again?
1st Tigers extra-inning World Series game anywhere since Game 6 of 1945 at Wrigley Field. That 12-inning affair is Cubs' most recent WS win.

— Freep Tigers (@freeptigers) October 29, 2012
Crawford lays down a beautiful bunt. Perfect fundys as Theriot advances to second with just one out. Crawford continues to impress in just about every facet of the game
Ryan Theriot bloops a base-hit to left off Coke. Giants have the lead-off man on base with Crawford up to bunt in the 10th
A-Rod ended up missing two months
Looks like that ball got Infante in the same spot A-Rod got hit on when he fractured his hand in July.

— Mark Feinsand (@BloggingBombers) October 29, 2012
Gerald Laird hits a slow roller to third as Panda throws to second for the force out. We're going to extra's ladies and gentlemen as the Tigers fight for their baseball lives. GIANTS 3 - TIGERS 3 END OF 9
Ouch. Infante HBP in the left hand. Very well could be a broken bone, the infamous "hammate" bone that would definitely be season ending. He's being pinch-run for, Danny Worth coming into the game
This article is
What is the duplicate article?
Why is this article offensive?
Where is this article plagiarized from?
Why is this article poorly edited?