10 Things We Learned About the SEC in Week 9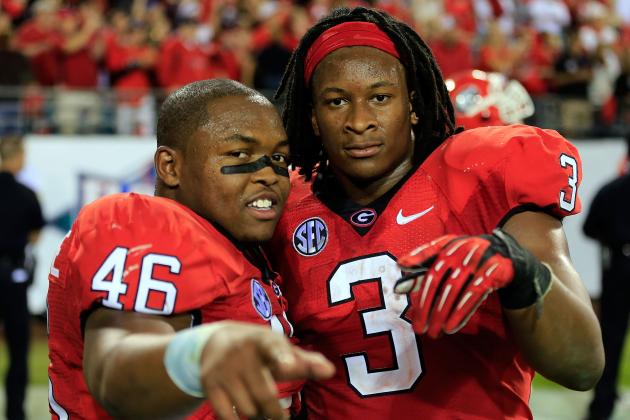 Sam Greenwood/Getty Images

After Week 9 transpired in the SEC, fans learned that Georgia's bite is more fierce than a Gator chomp.
In a game that was hyped as the battle for the SEC East, fans bore witness to one of the sloppiest games of the year. Florida and Georgia combined for nine turnovers, and after Georgia won 17-9, the Bulldogs are the only team that controls its own destiny in the SEC East.
But that wasn't the only big matchup in the SEC this past weekend. Two undefeated teams in Alabama and Mississippi State fought for first place in the SEC West, and Alabama dismantled the Bulldogs 38-7.
The leaders in both divisions are visible for the time being, but what else did we learn from Week 9's games?
Begin Slideshow

»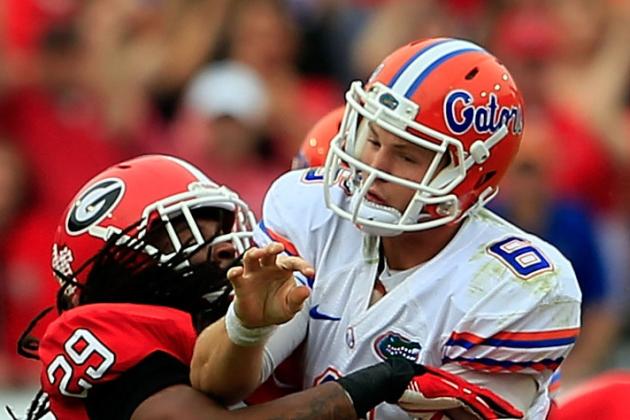 Sam Greenwood/Getty Images

Georgia is not only the leader in the SEC East, but the Bulldogs have already won it.
In order for Florida to still win the SEC East, Georgia has to lose another SEC game, and with the Bulldogs' only games remaining coming against Ole Miss and Auburn, Georgia losing is highly unlikely. Both teams are a combined 2-8 in SEC play this season.
Ole Miss has gotten a lot better this season with a new direction under Hugh Freeze, but Auburn is a flat-out embarrassment this season. Going 1-7 and 0-6 in conference is inexcusable.
With studs like Jarvis Jones and John Jenkins on defense and playmakers like Malcolm Mitchell and Todd Gurley on offense, Georgia's remaining schedule should be a cake walk.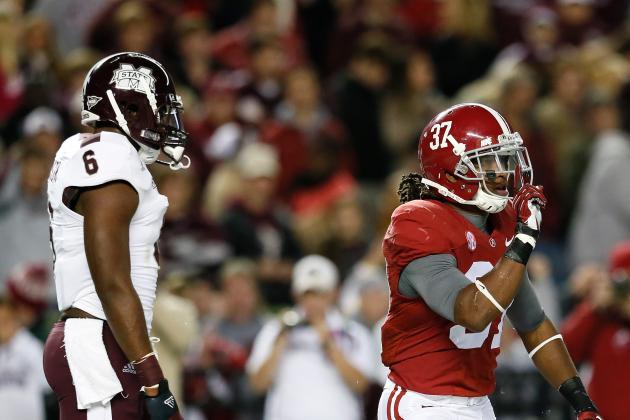 Kevin C. Cox/Getty Images

Seriously, who can beat Alabama?
Is it LSU? Can LSU really beat this well-oiled machine with Zach Mettenberger at quarterback? Forget beating Alabama—can LSU even compete? Well, it looks like the Tigers are the only team left that might have a chance.
Honestly, Alabama is just on a whole different level right now. It's almost unfair, really. It's like Nick Saban is training Ivan Drago in high-tech facilities, as if this is Rocky IV. Alabama's opponents are training in the woods, and by the time both teams get into the ring, the superiority shows. Hey, at least it makes for a cool montage.
In all seriousness, Alabama has no holes in its game right now, as this team has a dominant defense, efficient passing game and bone-smashing running game. Can LSU prove to be the Rocky to Alabama's Drago next week? It's going to take a near-perfect outing.
Life just isn't fair sometimes.
Marcus Lattimore, a man who does all the right things and is always humble, is out indefinitely after he broke his femur and tore all four knee ligaments. As bad as the injury looked, a season-ending injury might be the best-case scenario.
If you haven't seen the video, check out the footage of Lattimore's femur shatter embedded in the slide. It's quite gruesome. To see a man's dream nearly shatter along with his leg is truly heart-wrenching.
But when Lattimore was being evaluated on the field, both South Carolina and Tennessee gathered around to show their respect and admiration for him. That, my friends, is what sports is all about.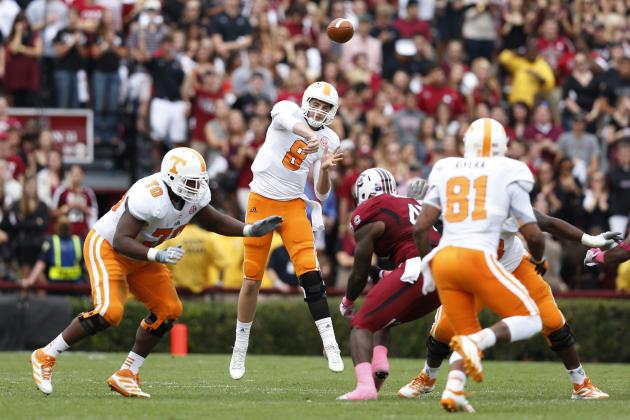 Joe Robbins/Getty Images

Close but no cigar.
Derek Dooley's Tennessee team is good, but the Vols are far from great. As you already know, you have to be great to compete in this league.
So while the Vols are capable of giving teams such as South Carolina and Georgia good games, Derek Dooley's bunch have proven to be incapable of winning the big one.
In fact, Dooley is 4-17 against conference teams, and that's not going to fly in Tennessee. Are Dooley's days numbered? Perhaps it was forward thinking for Dooley to have his hip surgery done during the season, while he was insured.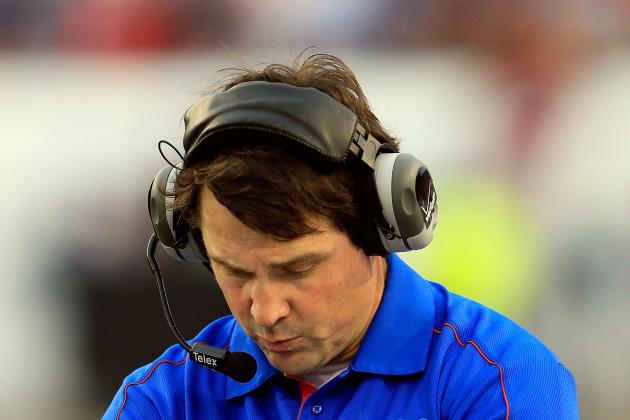 Sam Greenwood/Getty Images

Florida's style of play cannot overcome major turnovers.
Heck, there aren't many teams in football that can overcome six of them. For the Gators to beat teams, they must take care of the football, run it often and play dominant defense. Well, two out of three isn't that bad.
The fact that Florida was able to keep it close, after committing so many turnovers, speaks volumes about the Gators' defense.
In fact, Florida had a chance to win the game in the closing minutes of the game, but then Jordan Reed committed Florida's sixth turnover near the goal line. Because the Gators coughed up the ball so many times, Will Muschamp and his team can only stand by and ponder "what ifs."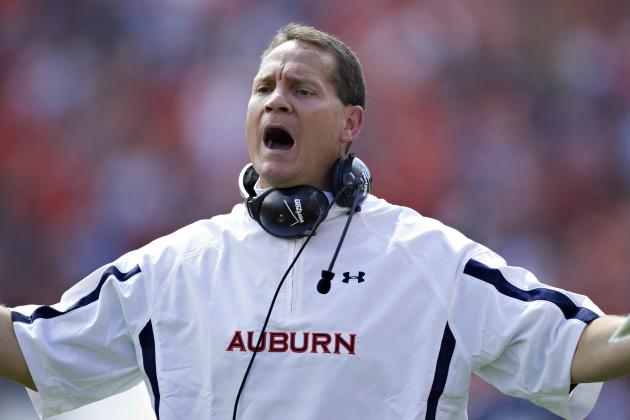 Wesley Hitt/Getty Images

Oh Auburn, we misjudged the situation.
Look, it was apparent that trouble was surrounding Auburn University, but laying down against Texas A&M and allowing the Aggies to post 63 points is ridiculous.
Sure, ol' Johnny Manziel is a great quarterback, but 350 total yards and five touchdowns against a team that's supposed to be somewhat functional on defense is sad. After all, wasn't it Auburn's offense that was under the most scrutiny?
It seems as if Chizik's team has quit on him, and a move at head coach seems inevitable at this point.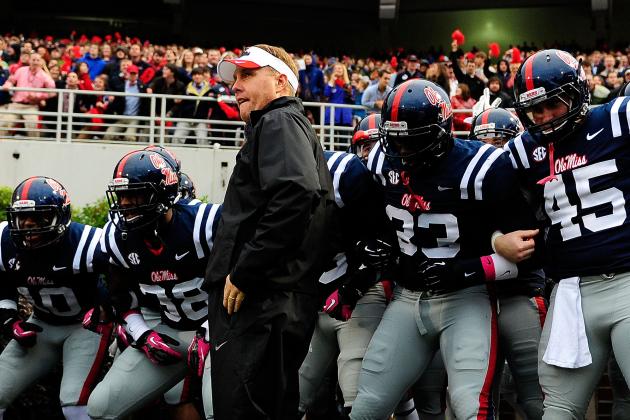 Stacy Revere/Getty Images

Ole Miss can compete in the SEC this season.
With a 2-2 record in the SEC and both losses coming respectively against Texas A&M and Alabama, the Rebels look leaps and bounds better than they did a year ago. And by the way, those two SEC wins have come in the past two weeks, so these Rebels are building momentum.
Unfortunately for Ole Miss, three of their four remaining SEC opponents this season are ranked teams. And though the Rebels will most likely lose those three games, expect Ole Miss to play tenaciously.
Gone are the days of beating up Ole Miss and moving on. These Rebels have some fight in 'em this season.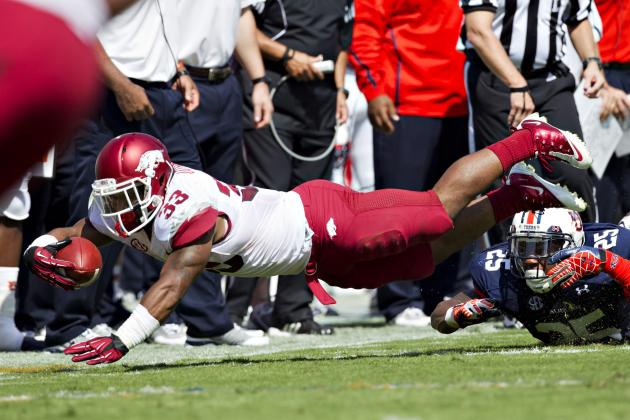 Wesley Hitt/Getty Images

This game truly is unpredictable, isn't it?
It took Arkansas half of a season to find a rushing game, and the Hogs found one with Dennis Johnson, instead of Knile Davis.
Though he entered the season coming off of a season-ending injury last year, Davis was thought to be one of the best running backs in the league, but he never looked the same. The vigorous downhill runner with lightning speed became a distant memory, and after Arkansas chose to make Johnson the starter, this offense started to flourish.
Johnson turned in 161 yards and a touchdown scamper against the Rebels.
Sam Greenwood/Getty Images

Like Phil off of Duck Dynasty, fans tuned in to the Georgia/Florida game happy, happy, happy.
Once they found out how sloppy of a game it would be, their moods became crappy, crappy, crappy.
A defensive struggle is treasured in this day and age of college football by football purists, but when both quarterbacks throw a combined five interceptions, the perception of the game turns from being a great defensive struggle to clumsy offensive play.
That perception was accurate. With nine total turnovers, both teams were not executing on offense, and it was a shame to see for such an important battle in the SEC East.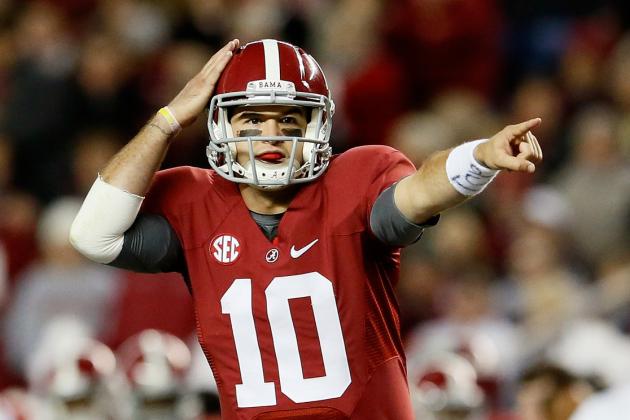 Kevin C. Cox/Getty Images

Who deserves to win the Heisman this season?
Optimus Klien? Yeah, he's a great dual quarterback, who's led his team to an undefeated season thus far.
Manti Teo? Oh yeah, he's a fantastic defensive player that plays passionate football. But as good as both players are, they are no A.J. McCarron. That's right, the quarterback that manages the game over there in Alabama deserves the most prestigious trophy in college football, and it's all because of his efficiency.
Just watch this guy play. He throws the ball away when nothing is there, he makes accurate throws near the sideline where only his receiver can make the play, and he has an accurate deep ball. Yeah, 1,684 yards, 18 passing touchdowns and no interceptions is Heisman worthy.