Last Minute Odds, Picks Against the Spread for NFL Week 8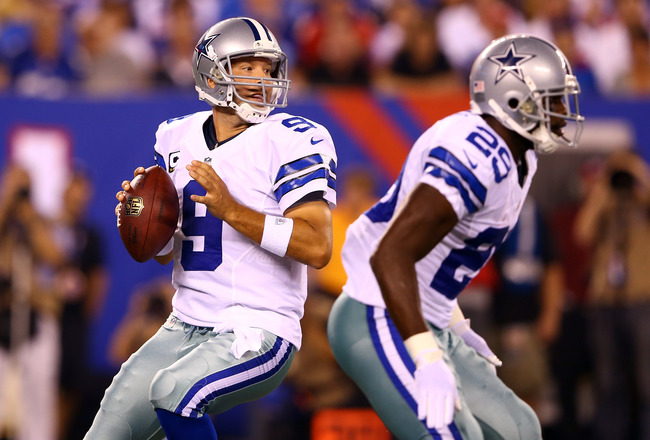 Al Bello/Getty Images
Planning on placing some last minute picks against the spread for Week 8 of the NFL season?
We have you covered (no pun intended) here.
Betting on the NFL is a difficult and risky endeavor, but we'll attempt to give you everything you need—odds, betting trends and predictions—to help you make your own decisions.
In the following slides, we'll break down and pick every game for you on the Week 8 schedule from a betting perspective.
Also, you can find all of my outright picks here.
Panthers-Bears, Chargers-Browns, Seahawks-Lions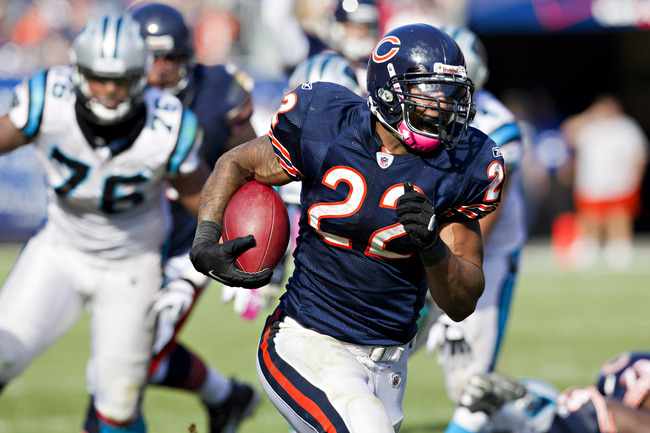 Wesley Hitt/Getty Images
Carolina at Chicago (opened -7.5, current -9.0)
While the betting trends don't give away much, the Panthers are 2-4 against the spread (ATS) and the Bears are 4-2, including 3-1 as the favorite.
A nine-point spread is a little scary, especially with Chicago coming off a short week Monday night against a division rival. But I picked the Bears by 11, so I think they'll cover the spread at home against a team in transition.
ATS: Chicago
San Diego at Cleveland (+2.5, +2.5)
Oddsmakers in Vegas are coming around on Cleveland, even if the line stuck at 2.5 in favor of San Diego. The Browns can handle that line after several weeks of big lines against them, though.
This has been a trendy upset pick too, but picking a far inferior team against one that is angry and desperate doesn't sound like smart betting. Take the Chargers to cover and hope the offensive line can keep Philip Rivers upright for most of Sunday.
ATS: San Diego
Seattle at Detroit (-1.5, -1.0)
This quietly looks like one of the best games of Sunday, and Vegas has had trouble finding a clear winner. The Seahawks, coming off a long layoff, are road underdogs despite a vastly superior record (4-3 to 2-4). The Lions are a team with its back against the wall, so the line is understandable.
Take the Seahawks, if for no other reason than Detroit is 0-3 against the spread at home in 2012.
ATS: Seattle
Patriots-Rams, Dolphins-Jets, Falcons-Eagles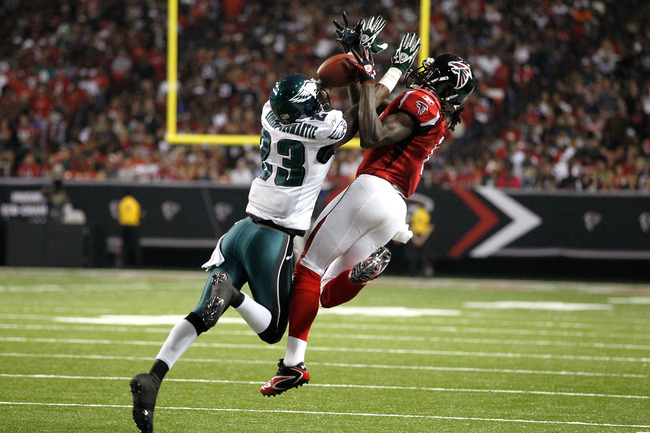 Kevin C. Cox/Getty Images
New England at St. Louis (+6.0, +7.0)
This line has continued to creep New England's way as the week has progressed. It doesn't take a rocket scientist to figure out why.
While Jeff Fisher has brought the Rams back to respectability, the Patriots are clearly the better club overall. The week in London favors New England's staff in preparation too. The Patriots (3-1 against the spread away from New England) should cover.
ATS: New England
Miami at New York Jets (-3.0, -1.0)
Slowly but surely, bettors have brought this line to nearly a tossup. Obviously, that means more and more are going to Miami's side of the equation.
The betting trends are favorable for both teams, with Miami 3-1 against the spread as an underdog and the Jets 2-0 as the home favorite. I like the Dolphins' run game (3rd in run defense; over 180 rushing yards in previous meeting vs. Jets) to lead the way to a Miami cover.
ATS: Miami
Atlanta at Philadelphia (-2.5, -3.0)
Hard to believe that the NFL's last unbeaten team is coming off the bye as an underdog on the road, but that's where we sit in Week 8 with Atlanta. Bettors should avoid this line. The Eagles made changes at defensive coordinator and on offense to win this game outright, but the betting trends (1-4 as the favorite) are atrocious.
I'll take Philadelphia to cover, but with zero confidence in doing so.
ATS: Philadelphia
Redskins-Steelers, Jaguars-Packers, Colts-Titans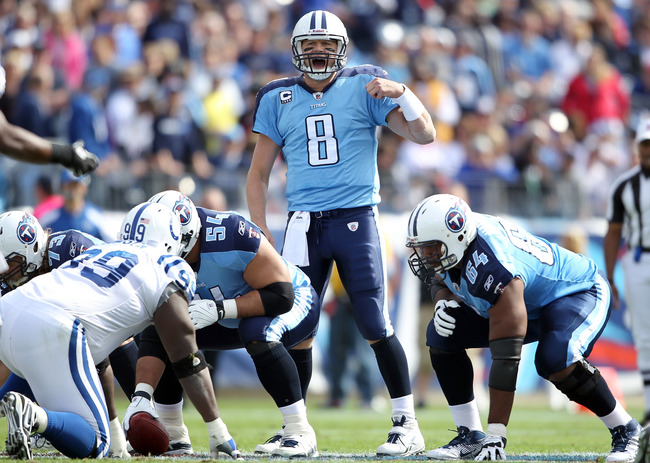 Andy Lyons/Getty Images
Washington at Pittsburgh (-4.0, -4.0)
A savory line in terms of betting trends, as the Redskins are 3-0 as the away underdog and the Steelers just 2-3 as the favorite in 2012. It's actually a little surprising that this line didn't move Washington's way.
That said, I think this is the week that Robert Griffin III has an off day. It's bound to happen. On the road in Pittsburgh has tamed many good quarterbacks in its day.
ATS: Pittsburgh
Jacksonville at Green Bay (-12.5, -14.5)
What a scary line. The Packers are clear favorites to win the football game, but a line over two touchdowns in this NFL is just asking for trouble. Your bet will hinge on how much you trust the Packers. A good team really should cover this line at home against a reeling club that will be without its best player.
ATS: Green Bay
Indianapolis at Tennessee (-2.5, -3.5)
The Matt Hasselbeck comeback tour rolls on in Week 8. What do we know in terms of betting trends? For starers, this is Tennessee's first time as the favorite this season. But more importantly, the Colts are 0-2 ATS as away underdogs. Take the savvy veteran at quarterback over the rookie still learning how to win on the road in the NFL.
ATS: Tennessee
Raiders-Chiefs, Giants-Cowboys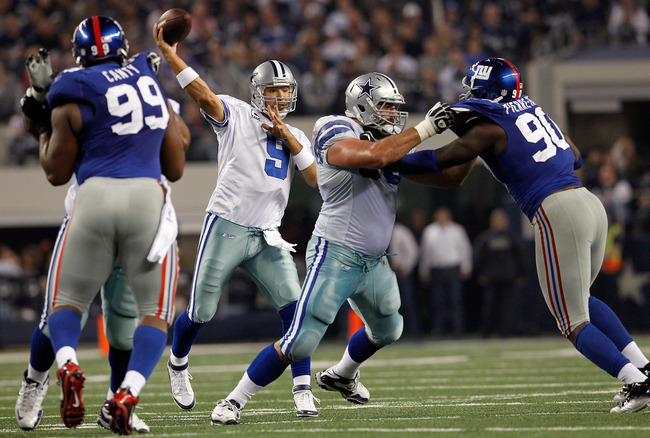 Tom Pennington/Getty Images
Oakland at Kansas City (Even, even)
Tossup games are always fun, but dangerous. Vegas can't get a handle on the line, so it's all on you to make the call. Considering Brady Quinn is the Chiefs' starting quarterback, this pick seems pretty cut and dry. The Raiders should win outright for the sixth straight game in Kansas City.
ATS: Oakland
New York at Dallas (+2.0, +1.0)
Interestingly enough, Dallas is 2-0 against the spread as the underdog this season but 0-2 at home. Which side gives? I think Dallas is better as the underdog, and the Cowboys need this game 100 times more than the Giants do. With very little confidence, I'd take the Cowboys as the underdog against the spread Sunday afternoon.
ATS: Dallas
Saints-Broncos, 49ers-Cardinals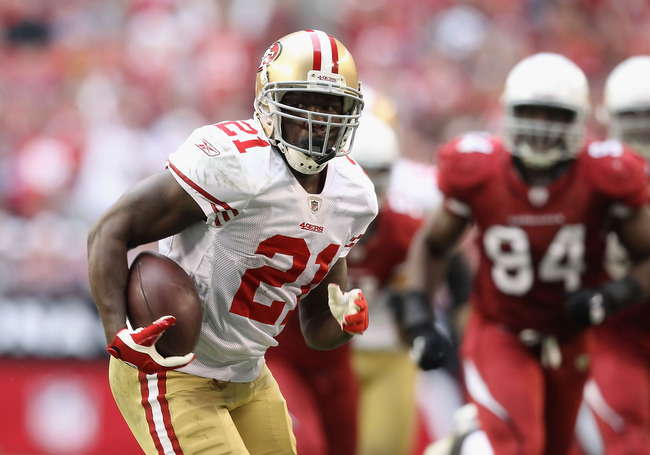 Christian Petersen/Getty Images
New Orleans at Denver (-4.5, -6.0)
All bettors needed to do was look at the stats for Peyton Manning (almost 1,000 yards, nine touchdowns over last three games) and the Saints defense (32nd in yards, 29th in scoring defense in 2012) for this line to start creeping Denver's way.
However, given the current six-point line, I like Drew Brees and the Saints (2-1 against the spread on the road) to cover. They'll still lose, but by less than two field goals.
ATS: New Orleans
San Francisco at Arizona (+4.0, +7.0)
The betting trends just scream Arizona in this Monday night matchup.
As an underdog this season, the Cardinals are 3-0 against the spread. The 49ers are just 3-3 against the spread as the favorite. The rest of the equation screams San Francisco, however, as the Cardinals have lost three straight. But the football side screams a little bit louder for me in this one. 49ers cover.
ATS: San Francisco
Keep Reading