Miami Dolphins vs. New York Jets: Live Score, Highlights and Analysis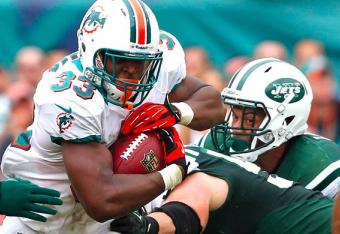 After a week of heated smack talk, the Dolphins and Jets met for the second and final time this season on Sunday afternoon.
In short, things got ugly.
Really ugly.
Despite losing Ryan Tannehill to a left knee and quad injury early in the game, the Dolphins received huge boosts from their special teams. Miami successfully recovered a surprise onside kick, returned a blocked punt for a touchdown, and blocked a field goal to end the first half.
However, the story of this game wasn't about the Dolphins and their dominant performance; instead, it was all about the Jets' horrendous play.
Mark Sanchez completed only 28 of 52 passes for 283 yards, including one touchdown and one interception. He finished the game with a 65.6 quarterback rating, but not everything falls directly onto his shoulders.
New York's offensive line yielded four sacks and seven quarterback hits.
Entering their bye week, the Jets will face unprecedented heat from the media in the wake of this blowout loss at home. Calls for Tebow will dominate the national landscape, but based on how the Jets played as a team today, it won't matter who's under center.
The Dolphins quietly improve to 4-3 as they embark on a stretch of very winnable games.
Your final score: Dolphins 30 - Jets 9
Thanks for reading, and those of you in Sandy's path—stay safe.
Jets' upcoming schedule: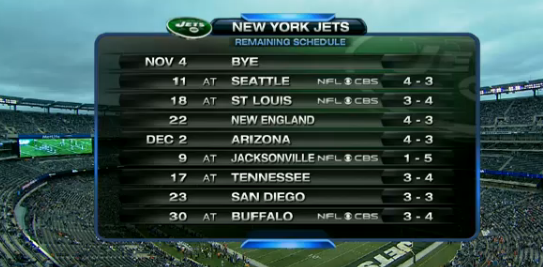 Dolphins' upcoming schedule: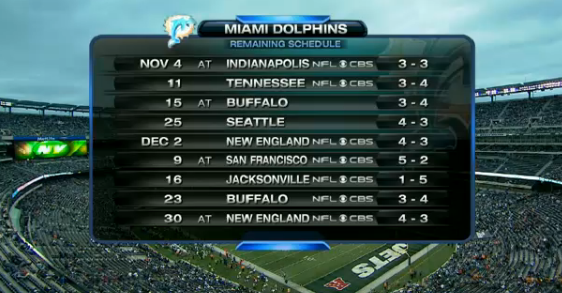 Richie Incognito blowing kisses to the Jets as he walks off the field: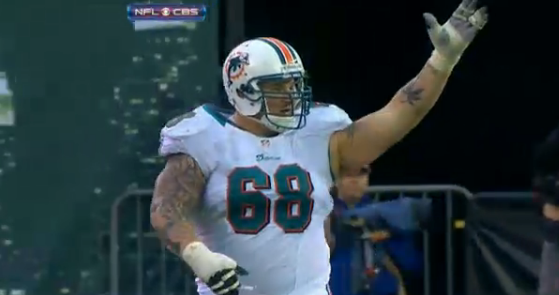 4Q - 4:30
FIELD GOAL DOLPHINS
Dan Carpenter hits his third field goal of the afternoon, further sealing a win for the Dolphins.
Dolphins 30 - Jets 9
Mike Westhoff struggleface: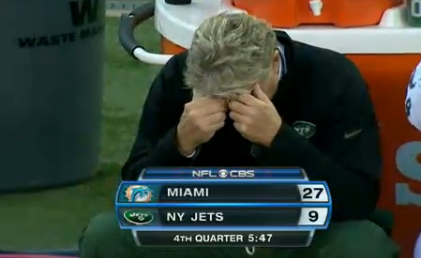 Jets scoring-drive summary:

Two point conversion is unsuccessful:
#RL Sanchez 2-pt pass to Keller incomplete. Jets' last successful 2-pt conversion: Sanchez to Braylon Edwardsvs NE at home in 2010.

— New York Jets (@nyjets) October 28, 2012
That's Schilens' first touchdown catch as a New York Jet.
4Q - 7:20
TOUCHDOWN JETS
The Jets cross the plane for the first time today as Mark Sanchez connects with Chaz Schilens for a five-yard touchdown pass.
It's too little too late for New York, but if Mark Sanchez can finish this game strong, then some—albeit not much—of the criticism about to come his way will be subdued.
Dolphins 27 - Jets 10
Another catch for Gates:
#RL WR Clyde Gates, who had 4 receptions in his 1st 19 games as a pro, has 6 receptions for 73 yards today.

— New York Jets (@nyjets) October 28, 2012
Ex-Dolphin Clyde Gates now has five receptions for 53 yards.
Gates and Sanchez have a nice rapport—perhaps he's blossoming into the wideout Jeff Ireland hoped he'd become in Miami.
Doctors are looking at Karlos Dansby's right hand.
Now Dansby looks like he hurts a finger or something, Spitler into the game

— Ben Volin (@BenVolinPBP) October 28, 2012
Jets fans have seen enough:

Another unbelievable punt by Brandon Fields goes out of bounds at the 6. Having a Pro Bowl season

— Ben Volin (@BenVolinPBP) October 28, 2012
The third quarter comes to a close and the Jets look absolutely lifeless.
This is not a good way to enter a bye week.
It'll be interesting to see if Rex Ryan plays Tim Tebow in the fourth quarter...what does he have to lose?
Reshad Jones drops a sure-interception and Jets fans are screaming for Tebow.
At this rate, Rex Ryan has nothing to lose.
Breaking down Mark Sanchez's interception:
Dustin Keller is running a post route to the endzone: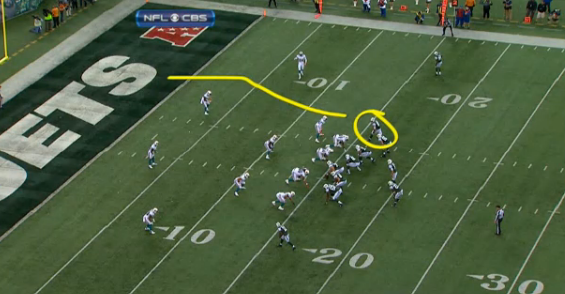 Karlos Dansby makes contact with Keller and disrupts his route and timing with Sanchez: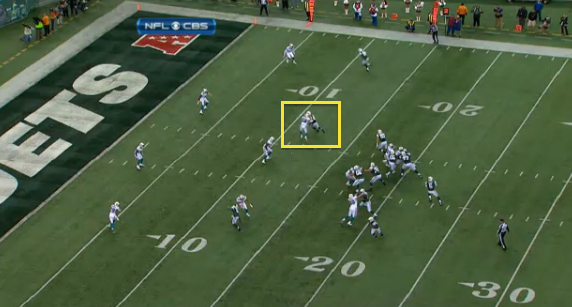 Sanchez tries to force the ball in to Keller anyway and throws it directly into the hands of Chris Clemons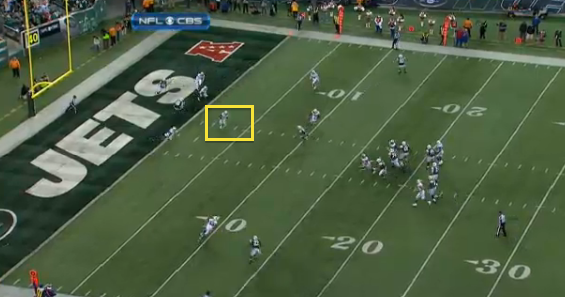 Does Drew Brees lose his man card for doing that Pepsi comercial with One Direction?
Reggie Bush fumbles, Jets recover at the Dolphins' 34

— Ben Volin (@BenVolinPBP) October 28, 2012
Mark Sanchez is intercepted by Chris Clemons, who returns it to the Dolphins 29 yard-line.
Oh, boy.
The Tebow chants are underway.
3Q - 5:37
The Jets finally catch a break as Reggie Bush loses his first fumble of the season at the Dolphins 32 yard-line.
If New York can't punch the ball into the endzone here, then these fans might literally storm the field.
Hit to the head was rather blatant: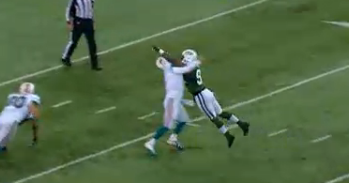 Marcus Dowtin saves the #Dolphins with a 15 yard roughing the passer penalty after Moore throws incomplete on third down

— Ben Volin (@BenVolinPBP) October 28, 2012
This article is
What is the duplicate article?
Why is this article offensive?
Where is this article plagiarized from?
Why is this article poorly edited?