UEFA Champions League: 5 Teams That Could Still Qualify for Knockout Rounds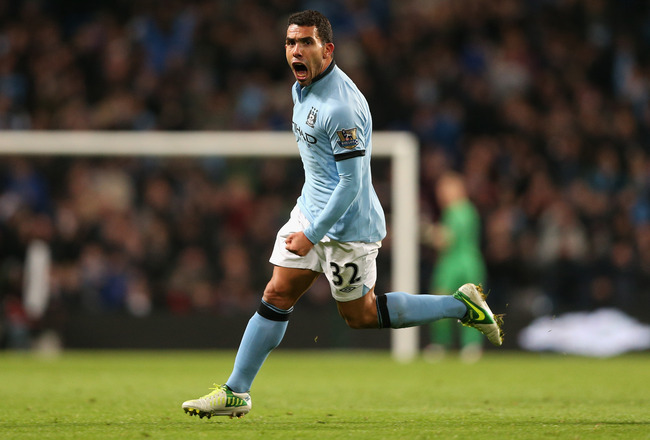 Clive Brunskill/Getty Images
The UEFA Champions League is three weeks old—meaning we're halfway through the group stages—and halfway to the knockout stages of the tournament.
Some teams are cruising through the group stages like Porto and Malaga, whilst others face a much tougher ask—with their qualification chances seeming nearly impossible.
But despite their seemingly helpless situation, several of Europe's top teams could still qualify for the group stages of the Champions League. Read on to see five teams that could still make it through to the knockout rounds of the competition.
5. Sporting Braga
Richard Heathcote/Getty Images
Current standings
3rd, Group H, three points
Upcoming fixtures
Home to Manchester United, away to CFR Cluj, home to Galatasaray
Comments
Braga are currently only one point off second-place CFR Cluj with three matches to play in their Champions League group and, with two home games ahead, could definitely sneak into the top two of Group H in this year's competition.
The Portuguese outfit were very strong against Manchester United at Old Trafford, and whilst they did end up going down 2-1 to the Premier League giants, they showed that they are more than capable of mixing it with the top teams this season.
Away to CFR Cluj is the fixture that will either make or break their qualification dreams.
4. Manchester City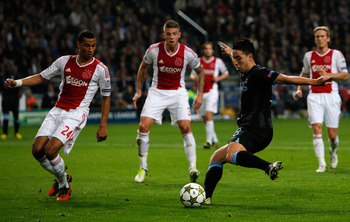 Dean Mouhtaropoulos/Getty Images
Current standings
4th, Group D, one point
Upcoming fixtures
Home to Ajax, home to Real Madrid, away to Borussia Dortmund
Comments
Despite going through the opening three Champions League matches without a single win to their name, it's hard to count out a side like Manchester City from any qualification discussion, given the depth of talent current available to the reigning English champions.
The Citizens were unlucky not to walk with something to show from their efforts away to Real Madrid and, whilst they were comprehensively beaten by Ajax last week, are at home at the Etihad for their next two fixtures—a place where they play their best football and rarely slip up.
City could very well be sitting on seven points heading into their final Champions League group match, and whilst playing Dortmund in Germany is a very tough ask, anything can happen on the final day of competition—something that Manchester City know all too well.
3. Benfica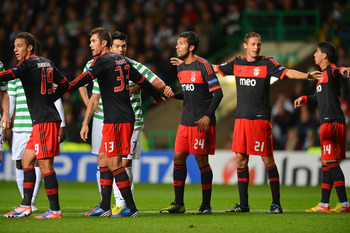 EuroFootball/Getty Images
Current standings
4th, Group G, one point
Upcoming fixtures
Home to Spartak Moscow, home to Celtic, away to Barcelona
Comments
If you're looking for a real outsider to cheer on in the remanding three Champions League group matches, look no further than Portuguese side Benfica, who currently sit last in Group G with just one point through their three opening matches.
But despite this, Benfica could well find themselves in the group stages of the tournament, should a couple of results fall their way in the group stages.
They are at home to both Celtic and Spartak Moscow—two games they could very easily win given the strong home performance they put out against Barcelona earlier in the competition. And whilst they do have to play the Spanish giants at Camp Nou, an upset could well be on the cards there too.
Barcelona will most likely have wrapped up their place on top of the group as well as their qualification spot in the process. The Catalan side are away to Real Betis the following weekend and may choose to give some of their more senior players a rest heading into their Champions League match, which won't have any affect on their standings for the remainder of the tournament.
Is it a stretch? Absolutely. But should they win their next two matches, we could well see Benfica in the knockout rounds of the competition.
2. Olympiakos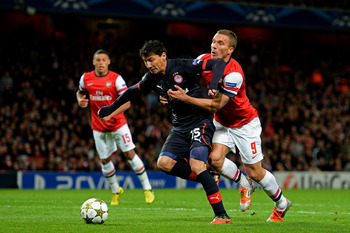 Mike Hewitt/Getty Images
Current standings
3rd, Group B, three points
Upcoming fixtures
Home to Montpellier, away to Schalke, home to Arsenal
Comments
The biggest thing standing in the way of Olympiakos progressing through to the knockout stages of the competition is the fact they sit a full three points behind second-place Arsenal will just three matches remaining on their schedule.
However, despite that, the Greek giants can certainly still make it through to the knockout rounds—starting with their match at home to struggling French outfit Montpellier. Olympiakos look likely to win that match, and with Arsenal playing away to Schalke, they could very well find themselves tied on six points with two matches remaining.
They do have the tough ask of traveling to Schalke themselves, but this is a side that travels well. With their final match of the group stages at home to Arsenal, they could very well pull an upset and make it through to the final 16 of the competition.
1. Juventus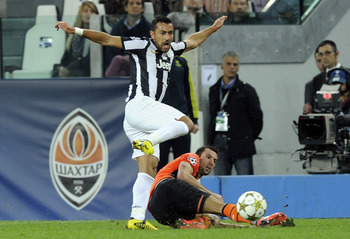 Claudio Villa/Getty Images
Current standings
3rd, Group E, three points
Upcoming fixtures
Home to Nordsjaelland, home to Chelsea, away to Shakhtar Donetsk
Comments
But my top side that I still think is a red-hot chance at progressing for the knockout stages of the UEFA Champions League is Italian champions Juventus, who sit just one point behind defending champions second-place Chelsea heading into the final few weeks.
The Italian giants start their final three matches with a home game to Nordsjaelland—surely providing them with a victory—whilst Chelsea must take on a red-hot Shakhtar Donetsk side that hasn't been beaten in the Champions League yet this season.
Chelsea will then travel to Turin to take on Juventus, and if the home side can snare all three points there, they might well have a large enough break over the defending champions that regardless of how they fare against Shakhtar in the final group match, they could make it through to the competition.
It would be the first time that the defending champions have been eliminated in the group stage of the tournament, but with Chelsea holding just a one-point lead and Juventus having two home fixtures to come, it could well turn out to be reality for both teams this year.
Who do you think is still a real chance at qualifying?
Comment below or hit me up on Twitter: Follow @dantalintyre
Keep Reading