Fantasy Hockey 2012-13: Top 25 Fantasy Hockey Team Names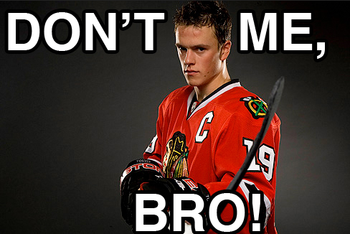 photo: steamerhockey.blogspot.com
Fantasy hockey isn't for everyone. Let's be very clear about that from the start. The attention required over a (normally) 82-game season means that there are daily roster adjustments, constant checks on the injury wire and scheduled time set aside for belligerent trash-talking to the other members of your league.
It's just one more thing to miss as the NHL lockout drags on. Pretending to be a general manager of your fictitious team broadens your knowledge of the NHL talent pool and has the ability to make a meaningless Wednesday night game that much more interesting if you have players from your roster on either team.
Naming your fantasy team is an endeavor in and of itself. Picking the right team name can give you a mental advantage over the rest of your league. While most leagues have censors to prevent the obviously profane, correctly choosing your words can give you a winning combination.
The following are the top 25 fantasy hockey names I found. They are offensive by design. They are sophomoric, juvenile and mostly inappropriate. Prepare to laugh or be offended and in some cases both.
The creativity in these names is obvious, and the good news is that you can't copyright a fantasy hockey name. That means that on the odd chance the NHL decides to play, one of these team names can be yours. Enjoy now!
Callahan Auto Parts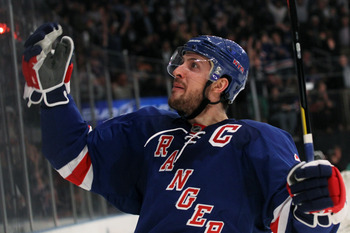 Bruce Bennett/Getty Images
A classic play on words using the name of New York Rangers captain Ryan Callahan and the fictional auto parts company from Sandusky, Ohio in Tommy Boy.
Benn There, Doan That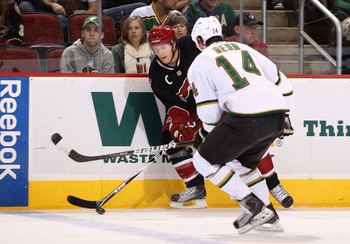 Christian Petersen/Getty Images
Another example of a clever play on words combines Phoenix Coyote Shane Doan and Dallas Star Jamie Benn. It's a tasteful classic for those who wish not to offend with their team but would rather like to say, "see what I did there?"
Sedin: 2 Girls No Cup
Jeff Vinnick/Getty Images
As we creep into the offensive content, this team pays homage to Chicago Blackhawk Dave Bolland's comments about two of his least favorite Vancouver Canuck players.
Taxicab Kanefessions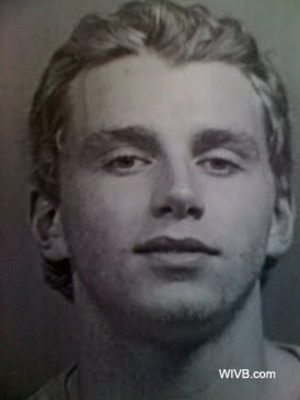 photo: hfboards
An old favorite that rekindles the love affair between Chicago Blackhawk Patrick Kane and taxi cab drivers. Also fun to do is incorporate Kane's resulting moniker of 20-cent into a team name.
Every Day I'm Byfuglien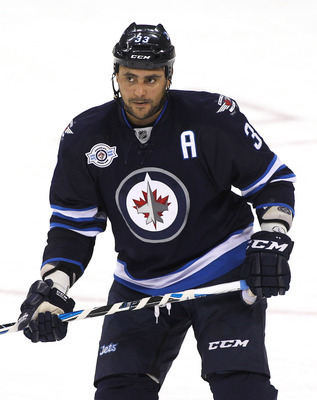 Marianne Helm/Getty Images
Big Dustin Byfuglien has a wonderful name that can be incorporated into several different titles, but the one I chose to run with is a play on the LMFAO lyric "Every day I'm shuffling." A subtle reminder that hatin' is bad.
The Girl with the Dragon Tootoo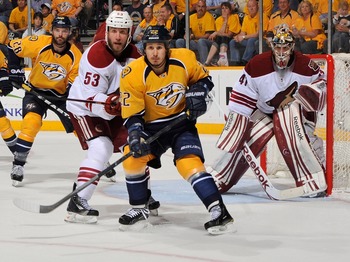 Frederick Breedon/Getty Images
With an awesome name like Jordin Tootoo, you have to assume his name has a few incarnations into the fantasy hockey team list. It's topical, trendy, seamless and just plain fun to say.
Vanek! at the Disco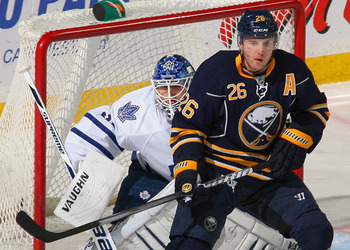 Rick Stewart/Getty Images
Thomas Vanek's name almost seems like it needs an exclamation point anyway, so using the Austrian winger's name seems almost natural. I know I'm showing my age when I say that I have no idea what kind of music Panic! At the Disco plays.
In my old man opinion though, their greatest societal contribution thus far is to provide an excellent fantasy hockey name.
Eberle Hills 90210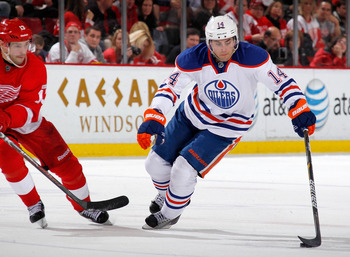 Gregory Shamus/Getty Images
A dated but still impressive reference to the late 1980s television show, Edmonton Oiler wing Jordan Eberle's name provides a fun play on words. Honorable mention to (Rich) Peverley Hills 90210.
Koekkoek for Coco Puffs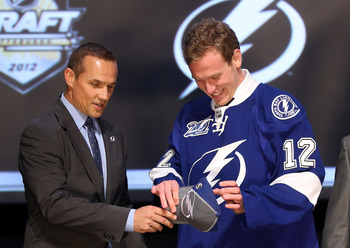 Bruce Bennett/Getty Images
He may not hit the NHL for a couple years, but 2012 first-round draft pick Slater Koekkoek (pronounced "kook-kook") of the Tampa Bay Lightning has one of the most fantastic names out there.
Double Penner Tration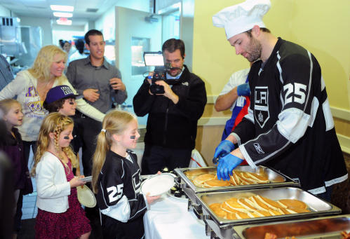 photo: whatsupyasieve.com
Los Angeles King Dustin Penner has a list of things that can be associated with his name. Though Penner's House of Pancakes has a fun ring, I went with a more sordid title.
Chara's in Charge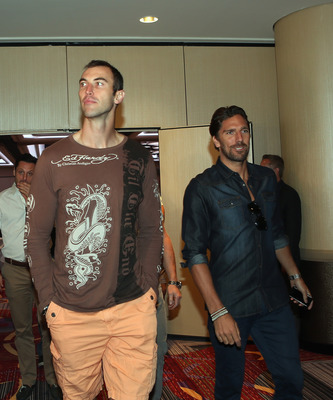 Bruce Bennett/Getty Images
Any chance to make a reference to 1980s teen idol Scott Baio is a win in my book. Add in Boston Bruin grizzly bear-sized defenseman Zdeno Chara and you have a can't-miss team name.
Side note: How many Ed Hardy's were used to make that plus-sized t-shirt? And where does Henrik Lundqvist get those shiny, denim jump-suits?
BawitDaba Letang Letang Diggy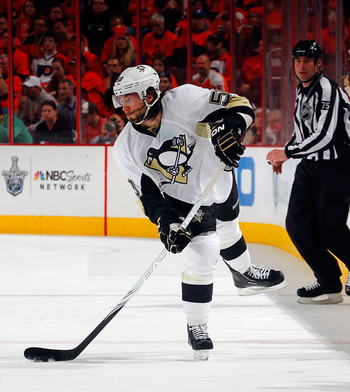 Paul Bereswill/Getty Images
Detroit screamer/artist Kid Rock had a song a few years back that was heavy with guitars and, you guessed it, yelling. The title of the song is "Bawitdaba." Seriously, that's the title.
If you'd like to watch the music video then click here. There are a lot of people walking in slow-motion, and then there's some tough-guy behavior from the 115-pound Kid Rock.
Prusty Trombones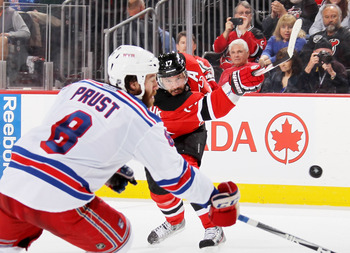 Bruce Bennett/Getty Images
Brandon Prust is one of my favorite players. He's not one of the biggest guys on the ice, but he won't back down from anyone. He is a good follow on the Twitter for all of you young spark plugs. His name also can be used to describe a well-worn musical instrument that should never be performed in public.
Oshie's Eleven
Dilip Vishwanat/Getty Images
Let's pretend for a minute that there was never an Ocean's Twelve or an Ocean's Thirteen, so that "Oshie's Eleven" seems more original. The second two "Ocean's" movies were terrible anyway, so St. Louis Blues forward T.J. Oshie can keep his name on an original and decent flick.
Kesslemania LXXXI (81 in roman numerals)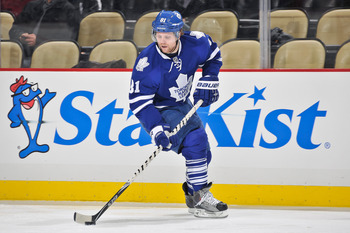 Jamie Sabau/Getty Images
Toronto Maple Leaf Phil Kessel plays for one of the largest and most vocal fanbases in the world. Though there were several ways to use his name, my favorite and most creative was the Kesselmania using the roman numerals.
Natural Born Hillers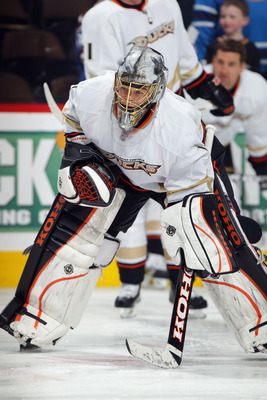 Doug Pensinger/Getty Images
Anaheim Duck goaltender Jonas Hiller has a name, first and last that can be used creatively to name a team. I liked the "Natural Born Hiller's" because I loved the movie namesake and because Ducks are some of the least menacing of all creatures.
Teach Me How to Doughty
Christian Petersen/Getty Images
Another instance of me not knowing what the real version of the song is. "Teach Me How to Doughty" refers to a hip-hop song "Teach me how to Dougie" by some guy who you'll forget about 10 minutes from now.
The only reason I knew the song even existed is because of Daniel Tosh and this video. Still one of the funniest things I have ever seen.
Tyutin in the Staal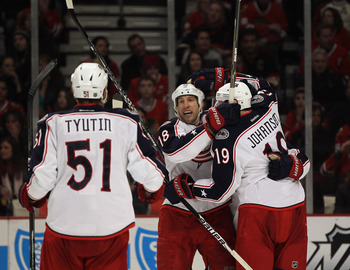 Jonathan Daniel/Getty Images
Here's the bathroom humor I promised you, but you have to love the name. It would be better of course if they played on the same team, but it still works for me.
Peter's North Stars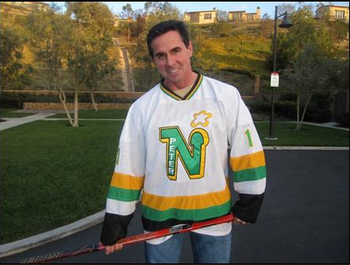 photo: blogs.thescore.com
This was my personal team name for a couple of years. I thought I was being terribly creative until I learned that there was literally a men's league team with the same name.
I have since changed my recurring team name to "The Turd Ferguson's," which is another that cannot be named due to content standards.
Lucic and Chong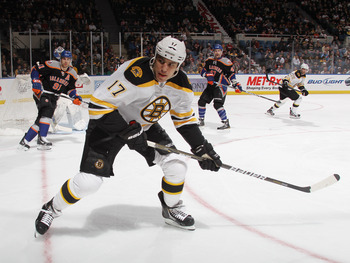 Bruce Bennett/Getty Images
When you correctly pronounce Boston Bruin winger Milan Lucic's name, this one makes the most sense.
While I'm not suggesting that he partakes in some of the same recreational activities that the team name suggests, I'm guessing Mike Komisarek wishes he did. Turn down the volume if you don't want to listen to Jack Edwards.
Bros Before Hossas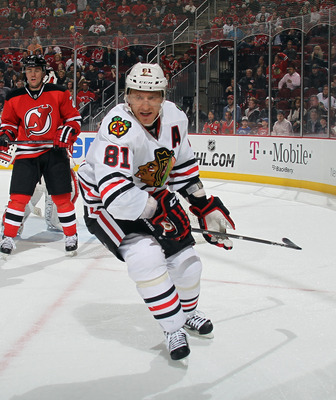 Bruce Bennett/Getty Images
I like this name for the time-honored saying it references. It's a little bit edgy without being profane, and it incorporates one of my favorite hockey surnames—Hossa.
Teemu's Salami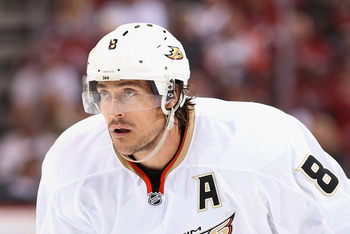 Christian Petersen/Getty Images
Oh, don't act surprised when you read this. If you didn't know this one was coming, then shame on you. Selanne has been in the league for 77 years, and he is an awesome fantasy player. It would be offensive if I didn't use his name with a marginally inappropriate play on words.
Straight Outta Conklin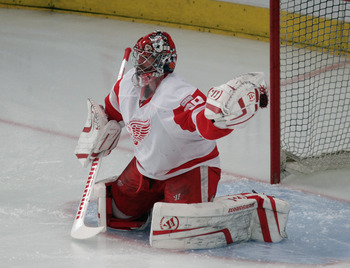 Bruce Bennett/Getty Images
If you're like me and you remember the original gangsta rap of the late 1980s and early 1990s, then this name is particularly enjoyable. The not-so-family-friendly rap group N.W.A. released their first album in 1988 titled "Straight Outta Compton," referring to their hometown of Compton, California.
Music lesson of the day from old, bitter guy:
For all of you young Sparkys out there listening to that "Teach me how to Dougie" crap, take a little trip into the YouTube time machine to listen to some real rap music.
Ovechkin Laich Semin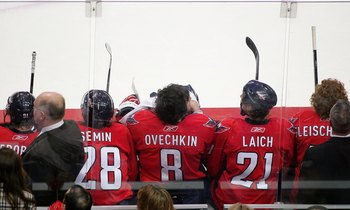 Len Redkoles/Getty Images
You can substitute any name for Ovechkin, particularly a player that you may not like. I threw Ovechkin's name in here because they all play(ed) for the same team and because I had a picture with all three names.
Brooks Laich has a name made for fantasy hockey team names. Feel free to incorporate it into the middle of any combination.
Don't Toews Me Bro!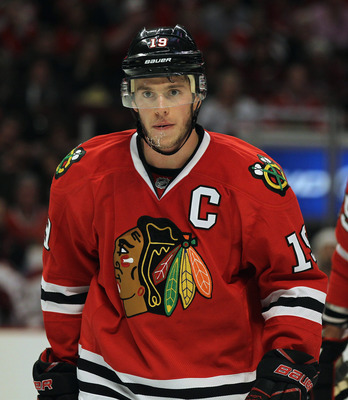 Jonathan Daniel/Getty Images
Thank Chicago Blackhawk captain Jonathan Toews for his last name and the ability to use it as an adverb. The origin of the phrase evokes political discussion, so I'll steer clear of that. Let's just hope there's some hockey soon, so we can put some of these names to good use.
Keep Reading