49ers vs Cardinals: Final Game Grades, Analysis for San Francisco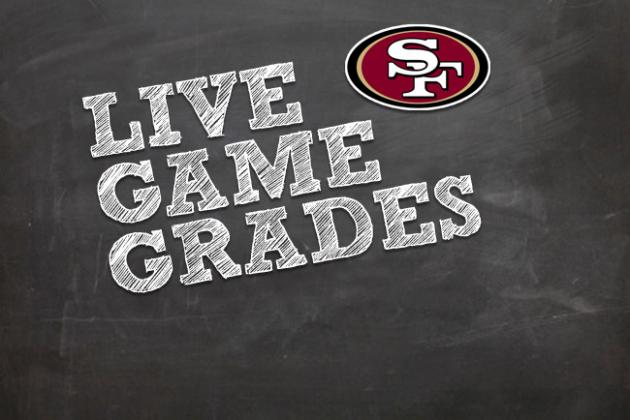 I can be bribed into changing these.
It's all over, as the 49ers easily stomped on their division rival Cardinals 24-3 to run their record to 6-2, while Arizona dropped their fourth straight to fall to 4-4.
The Niners dominated every facet of the game and it was the fourth time in eight games this season they held an opponent without a touchdown.
Alex Smith tied a career-high with three touchdown passes, set a personal-best with a 157.1 passer rating and set an NFL record for best completion percentage with a minimum of 15 attempts, completing 18-of-19 passes.
They go into their bye week full of momentum and have two weeks to get ready for another division games, hosting the Rams at home.
Begin Slideshow

»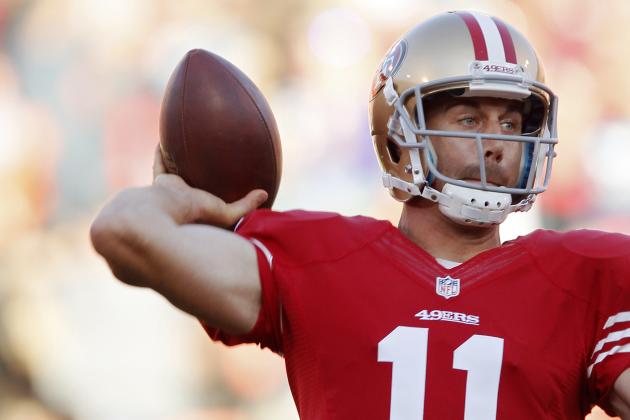 Brian Bahr/Getty Images
Hoping to reduce the Cardinals secondary to Smith-ereens.
Alex Smith: A+
Smith hardly broke a sweat in the fourth quarter, with just one pass, and finished just one attempt shy of qualifying for an NFL record for highest-completion percentage in a game as you have to have a minimum of 20 passes to qualify.
As it is, he completed 18-of-19 passes, including all four attempts in the second half and all six on third down (with three touchdowns) for 232 yards, three touchdowns and a career-high 157.1 passer rating. He had a 156.3 rating game against Buffalo a few games ago.
Smith was deadly accurate, even if most of his attempts were for short yardage, but his decision making was almost perfect and the only criticism you can lay at his feet at all is that he took a couple of unnecessary coverage sacks.
Still, it's hard to imagine there'll be too much chatter against him on sportstalk radio this week, and it's fair to say his "slump" is over.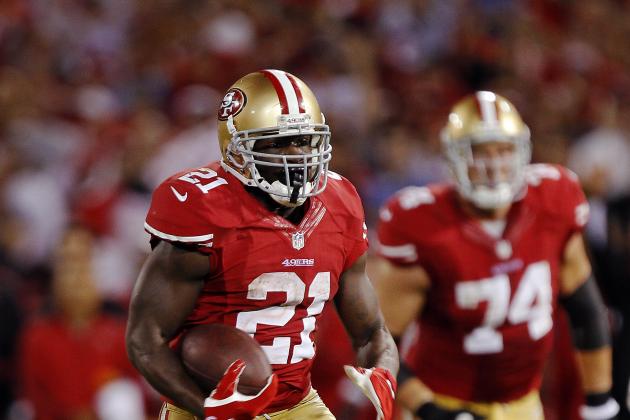 Brian Bahr/Getty Images
Gore is coming off a rib injury, so thankfully he's playing at Arizona tonight, where nothing bad has ever happened to him.
Frank Gore: C-
Gore had a great first quarter, with 42 rushing yards and an 11-yard reception, but finished with just 55 rushing yards for the game, on 16 attempts.
He had very little running room the final three quarters of the game and didn't find the Cardinals front seven nearly as charitable with their tackling as the secondary was to the Niners wideouts.
Gore also didn't have his best game in blitz pickup, as he took on the wrong guy a couple of times and was simply overwhelmed in another instance.
The good news for Gore, besides the win of course, is that he came out of the game okay after suffering a rib injury in the last game.
Kendall Hunter: B-
Hunter had 43 yards on 10 carries, and he too like Gore found himself with less and less room as the game went along.
The coaching staff would've liked to see Hunter churn out some garbage time yards to keep the chains and clock moving, but he was unable to do that, though to be fair to him the play-calling at the end was too predictable and the linemen did not have their best showing.
Bruce Miller: B-
Had a pretty good game as a lead blocker and plowed for a first down on a late short-yardage situation carry.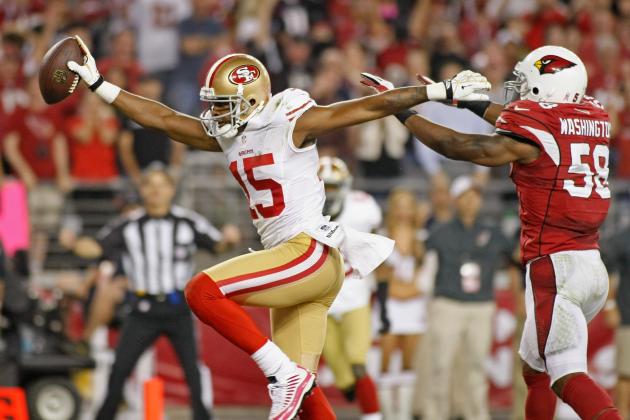 Ralph Freso/Getty Images
Crabtree looked positively Rice-like after the catch on Monday night.
You would've thought going into the game that a Michael Crabtree-Patrick Peterson match-up would've been a win for the Cardinals, but Crabtree dominated head-to-head, burning Peterson for two short touchdowns, leaping over him for one and suckering him on a screen on another, and deked him for big yardage on a pair of third down situations as well.
Crabtree had five grabs for 72 yards and had the second multi-touchdown game of his career, with the other one also coming on the road against a division rival, at St. Louis in the regular season finale last season.
Mario Manningham: C
Had four short catches for 20 yards in the first half but wasn't targeted in the second, when the Niners only had four pass attempts. He's emerged as a possession receiver in this offense, and is being used differently than he was with the Giants.
Randy Moss: B+
Was only targeted once, but made the most of it, turning a simple third down out pass into a 47-yard touchdown, the 155th receiving score of his illustrious career.
Moss opened up things underneath for other receivers when he was in the game and has scored in all six of meetings against the Cardinals.
Kyle Williams: C-
Had one short reception in a 3rd-and-long situation but otherwise didn't see much action. He's lost the return man job to Ted Ginn too, so Williams isn't playing a lot these days.
Ted Ginn: C-
Caught a pass for no gain on a hitch outside and saw a few plays of action as a receiver, but like usual most of his contributions came on special teams.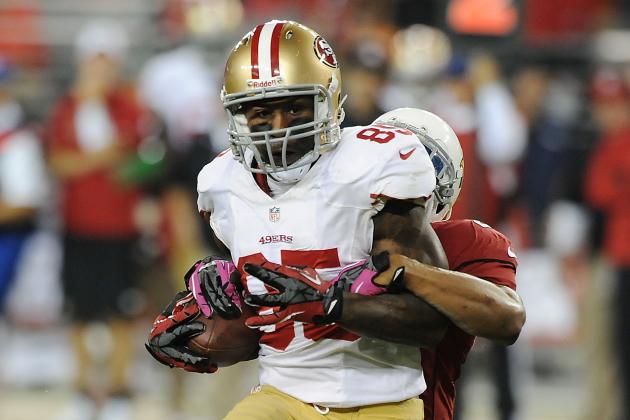 Norm Hall/Getty Images
Trying to tackle Davis when he's got a full head of steam doesn't seem like it would be fun or easy.
Vernon Davis: C+
After going catch-less last week Davis had a pair of receptions for 34 yards, including a 25-yarder that set up a touchdown. He was still drawing plenty of attention in the Arizona secondary, which helped Michael Crabtree have a big game.
Davis' run blocking was uncharacteristically poor.
Delanie Walker: B
Had a 23-yard reception to set up the Niners first score and added another 10-yard catch along the opposite sideline by hauling in a deflected pass and staying in bounds on his tiptoes, but also had a drop in the game, Alex Smith's only incompletion all night.
Garrett Celek: C-
The only rookie on the team to suit up, Celek had a holding penalty and was so-so as a blocker when he was in there. Was not targeted as a receiver.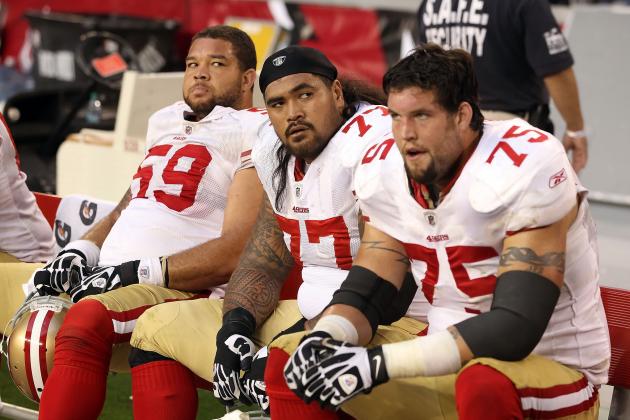 Christian Petersen/Getty Images
It was a night to forget for the interior three.
Joe Staley: B+
Staley missed a few days of practice and wasn't feeling his best physically coming into the game, but he neutralized his man as a pass blocker and was able to get out ahead of a couple of toss plays. Overall though, he wasn't able to muscle his guy as much as usual.
Mike Iupati: C-
Iupati, a definite Pro Bowl candidate, had his worst game of the season.
He couldn't open up any holes for Frank Gore or Kendall Hunter in the second half and he was pushed back by Calais Campbell quite a bit as well. The Cardinals confused the Niners with some A-gap twists between Iupati and Jonathan Goodwin.
Jonathan Goodwin: D+
Goodwin didn't have any bad snaps, but that was the highlight of his game.
He was responsible for at least two sacks, didn't do a good job of reading the Cardinals' stunts at all and just didn't seem to be on the same page with Alex Smith or his fellow linemen in a lot of situations. The offense had a number of clock miscues where they were forced to call time out or take delay of game penalties, and Goodwin had a role in that.
Alex Boone: B
The Cardinals shot through his gap on an occasion or two as well, but he had a better run blocking game than Iupati, at least.
Anthony Davis: B+
Probably the best 49ers lineman on the night, as he consistently shoved his man well past Smith and helped open some holes on the right side for the backs.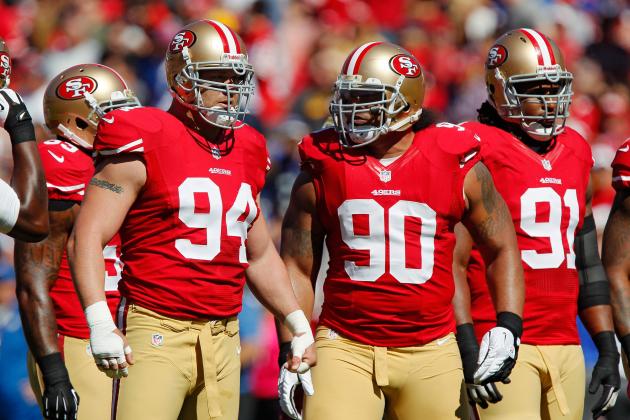 Brian Bahr/Getty Images
How'd we allow seven rushing yards? We stink.
Justin Smith: B
Smith had almost no impact on the stat sheet, but he was in John Skelton's face quite often, had a couple of hits on the Arizona QB and had a tip on an early third down when he surprisingly dropped into coverage.
Ray McDonald: A-
He lived in the Cardinals backfield, had two tackles for loss and consistently shoved the pocket back into Skelton. A nice bounce-back game for him.
Isaac Sopoaga: B+
Didn't play much as the Niners were rarely in base defense the last three quarters, but the Cardinals couldn't do anything on the ground while he was in the game and Sopoaga had some to do with that.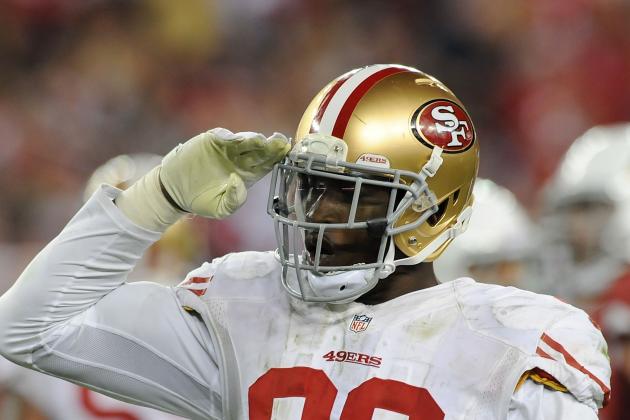 Norm Hall/Getty Images
We see you, Aldon.
Patrick Willis: B+
Tied for the team lead with seven tackles, had a really strong game in coverage with a couple of deflections, laid a couple of hits on John Skelton on blitzes and always wrapped his guy up securely after short receptions. Just a real solid game all around for Willis.
NaVorro Bowman: B-
Had his second sack of the season on a second quarter blitz and was allowed to rush the passer quite often by defensive coordinator Vic Fangio. As a consequence, he wasn't involved in as many tackles as he would normally be.
Ahmad Brooks: B
Very active early and late with a couple of tackles for loss and a fourth quarter sack. Lost some playing time in dime packages and was suckered on a couple of screen plays.
Aldon Smith: B+
Had two fourth quarter sacks and a couple of other near misses in the game and continues to be a weekly terror in that regard.
As far as his efforts to be an all-around linebacker, the past couple of games have been setbacks for Smith. He didn't drop back nearly enough on a wheel route and showed really poor technique on the play. He's a pretty good open field tackler, but has a ways to go in other respects.
Clark Haggans: B
The ex-Cardinal got to play a few snaps when Justin Smith was taking a breather and he chased down Skelton for a minimal gain in the second half.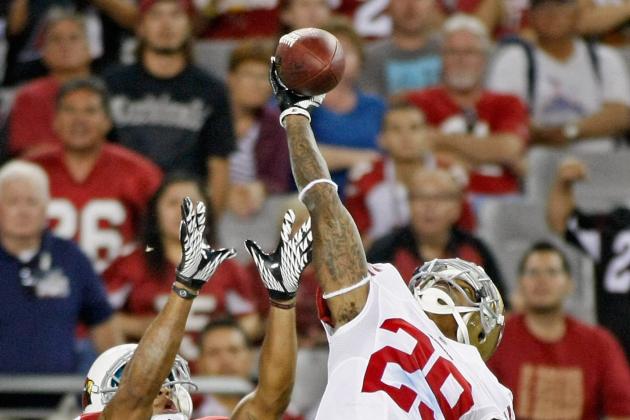 Ralph Freso/Getty Images
For the second straight season the Niners have the league's most underrated defender.
Carlos Rogers: B
Gave up a handful of short receptions on hitches, out routes in bunch formations and short crossing routes, but always tackled well and didn't get burned for a big play. Rogers was known as a guy who shied away from physical play before coming to the 49ers, but has been quite the opposite in his two seasons here.
Tarell Brown: A-
Had one of his best games of the season as the Cardinals really didn't test his side of the field much at all. Very surprising to see, but credit has to go to Brown.
Chris Culliver: A+
Who in the NFL is playing corner better than Chris Culliver? N-O-O-O-BODY, that's who.
Cullliver has hardly been tested most of the seasons, but the Cardinals went at him all night, with negligible results. Culliver had FIVE passes defensed in the game, including an interception on an end-of-half Hail Mary.
He shut down any and all attempts for Larry Fitzgerald and helped keep Fitz out of the end zone even on the final Cardinals play of the game.
Perrish Cox: D
Played a lot in the dime package and the Cardinals targeted him early and often. He gave up quite a few completions, badly misplayed a screen that went for good yardage and missed a couple of tackles on plays where the safeties bailed him out.
Cox had one pass defensed, but overall it was the kind of game that will make future offensive coordinators want to go at him even more.
Dashon Goldson: B+
No turnovers for Goldson, but no stupid penalties or bad routes to the football either, so those cancel each other out.
What he did contribute was five crunching tackles, including a couple that made the announcers really take notice. I'm not sure any safety in the league hits harder than him when he gets going.
For whatever reason, playing against Arizona always seems to get Goldson going, whether it's the chance to go against Larry Fitzgerald, bad blood from last year's game with Early Doucet, or another opportunity to show that he, not Adrian Wilson, is the best safety in the division.
Donte Whitner: B
One of Whitner's better games of the season, as he tied for the team lead with seven tackles. He allowed a few in coverage, but didn't allow anyone to get behind him, and he moved up to stop a couple of runs too.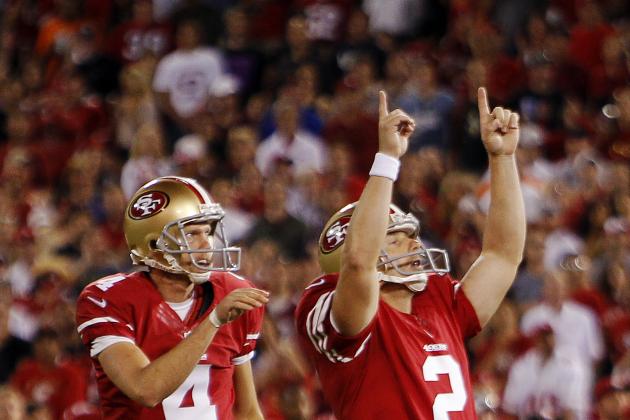 Brian Bahr/Getty Images
Back-to-back great showings for the Niners' kickers.
David Akers: A
Made his only field goal attempt, a 43-yarder, and both of his kickoffs were touchbacks.
Andy Lee: A
Averaged a very good 45.8 yards net and 48.8 yards gross on his five punts, planted three of them inside the 20-yard-line and Cardinals return man Patrick Peterson had only 15 return yards on four returns.
Brian Jennings: A
Perfect as always for the veteran long snapper.
Ted Ginn: B
Had a 35-yard punt return where he broke a tackle to set up the offense at midfield for a second quarter score and averaged 11.8 yards overall on his five returns. Also had a 31-yard return on the opening kickoff.
It sure looks like Ginn's won back the full-time returner job for good.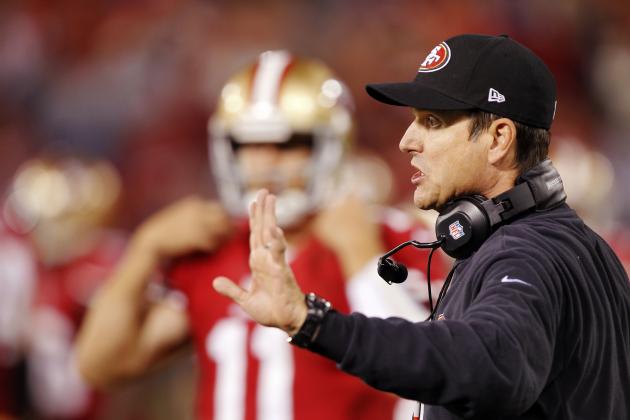 Brian Bahr/Getty Images
Relax, I got this.
Grade: A
Like any good hunters, the 49ers coaching staff knows how to take advantage of wounded prey, and they sure teed off defensively on a Cardinals team that was battered and bruised along the offensive line, calling their more aggressive and ambitious game of the year defensively.
The Niners blitzed more far more than they usually do, but smartly they did it not with numbers but with creativity, mixing up who rushed and who dropped into coverage but always having seven guys in the back against Arizona's dangerous receivers.
As a result, they completely neutralized Larry Fitzgerald and the Cardinals offense didn't have a chance. It sure helped that the Cardinals completely gave up on the running game after the first quarter.
Offensively, the plan was fairly conservative, but man did the Niners take advantage of some shoddy tackling in the Cardinals defensive backfield. When you can throw a three yard pass and have your guy run for 30, it's such a luxury.
There were some sloppy penalties on both sides of the ball and Jim Harbaugh didn't show as much trust in Alex Smith in some spots as he could've, but overall it was another decisive win for the Niners and now they get to take a two-game division lead into their bye week.
One thing to note is that backup QB Colin Kaepernick didn't seen the field at all, so perhaps the team's wildcat flirtation is over. The waySmith played, there wasn't any reason to take him off the field.