Lessons We Learned from College Football Week 9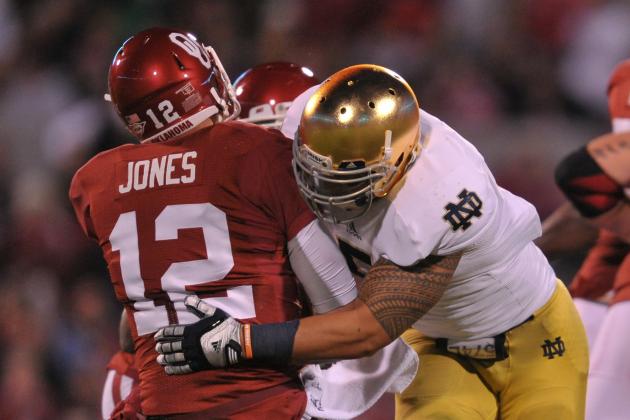 Matt Cashore-US PRESSWIRE
Manti Te'o proved that he belongs in the Heisman discussion with a huge performance against Oklahoma
Week 9 of the college football season brought us a lot of upsets of undefeated teams, which altered the complexion of the BCS standings.
Week 10 is shaping up to be an even bigger and more important weekend. However, before we start looking ahead, there was a lot to be learned from this past weekend.
Here's a look at 50 lessons we learned from all the action that took place.
Begin Slideshow

»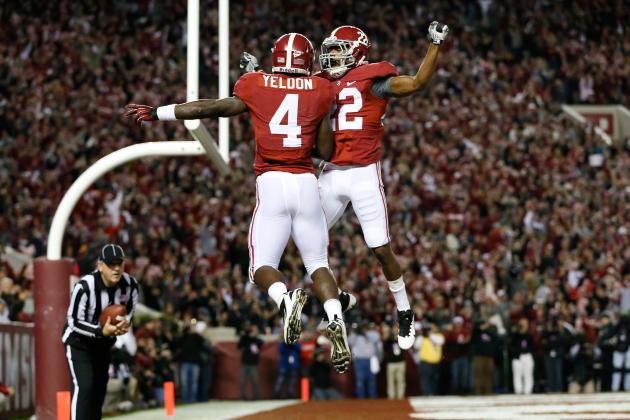 Kevin C. Cox/Getty Images

Alabama asserted its dominance and proved once again that it's the best team in college football, as the Tide dismantled an overmatched Mississippi State team to pick up a 38-7 victory on Saturday.
Beating a Bulldogs team that was over-ranked at No. 11 likely doesn't mean much in the grand scheme of things, but given just how powerful and efficient Nick Saban's squad looked, it's certainly impressive nonetheless.
The Tide now has a ton of momentum going into its huge showdown with SEC West foe LSU in Baton Rouge on Saturday night.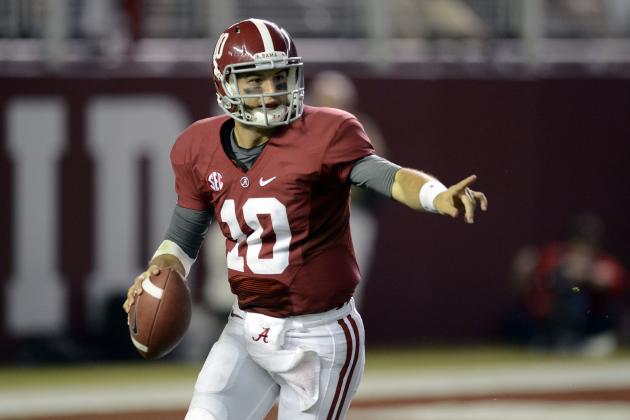 John David Mercer-US PRESSWIRE

Alabama QB A.J. McCarron certainly isn't the best overall player in college football. However, given the way McCarron has led the No. 1-ranked Tide to an 8-0 start this season, it seems as if he definitely belongs in the Heisman conversation.
The junior signal-caller has shed his "game manager" label this year and become a true offensive leader. He's completed 69 percent of his passes for 1,684 yards and thrown 18 touchdowns without tossing a pick.
McCarron's ridiculous 182.4 passer rating is currently the best in the country.
While he may not have the flashy arm strength that Geno Smith possesses or the explosive running ability that quarterbacks like Collin Klein and Braxton Miller have to offer, McCarron consistently steps up and gets the job done on the big stage when he's called upon.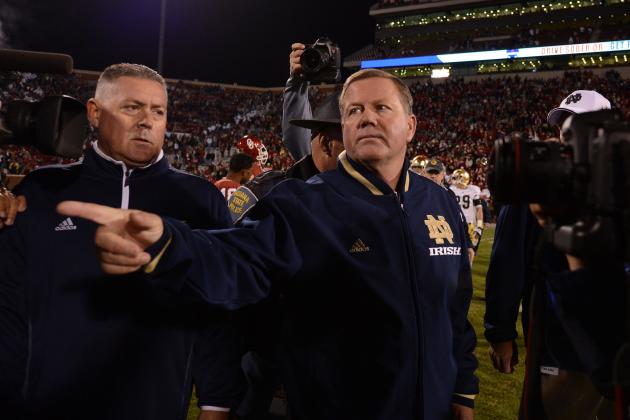 Matthew Emmons-US PRESSWIRE

Those were the words ABC announcer Brent Musburger uttered after Notre Dame sealed a huge 30-13 win over Oklahoma on Saturday night.
With that victory, the Irish are now 8-0 and ranked No. 3 in the current BCS standings.
It's been a long journey back to national prominence for the program. There have been plenty of critics and naysayers over the last decade who have taken joy in bashing the overrated Irish teams of the last few years. However, Brian Kelly now has this group ready to compete with any team in the country.
This Notre Dame team is tough, determined and motivated, and most importantly, the Irish have plenty of playmakers on both sides of the ball.
If Kelly's squad finishes undefeated against what was originally thought to be an incredibly daunting schedule, it would be hard to say that the Irish don't belong in the BCS championship game.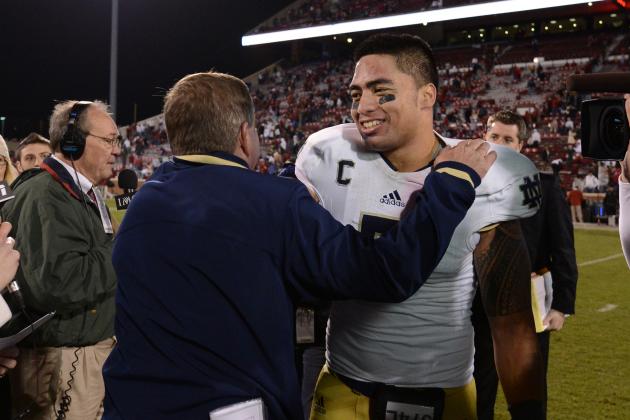 Matthew Emmons-US PRESSWIRE

Notre Dame LB Manti Te'o hasn't been just the most impressive defensive player in the country this season; he's been one of the best overall players period.
No one would have blamed Te'o if he had chosen to declare for the 2012 NFL draft, but he showed the type of true unselfish, team-based leader he really is by coming back to South Bend.
It's a decision that will likely pay off in a big way for the senior star.
This year, the intimidating middle linebacker is having the best season of his outstanding college career. He's racked up 80 tackles, including 39 solo stops, and made a ton of key impact plays.
If Tyrann Mathieu could earn an invitation to the Heisman ceremony for his performance last year, Te'o deserves that same type of honor for the season he's putting together in 2012.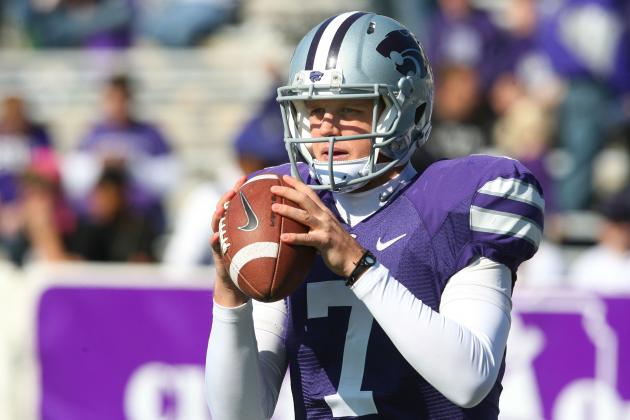 Scott Sewell-US PRESSWIRE

A.J. McCarron and Manti Te'o may both be legitimate Heisman candidates, but there's still no arguing who the true front-runner for the award is at this point in the season.
Kansas State QB Collin Klein has put together the most impressive individual performance in college football through the first nine weeks of the season.
Klein has completed nearly 71 percent of his passes for 1,635 yards and thrown 12 touchdowns compared to just two interceptions. He's also rushed for 639 yards and 16 touchdowns.
Most importantly, he's led the Wildcats to an 8-0 record and a No. 2 ranking in the BCS standings.
If the dangerous dual-threat quarterback continues dazzling onlookers with his remarkable ability and leads Kansas State to an undefeated season, there's no doubt that the 2012 Heisman Trophy will be his.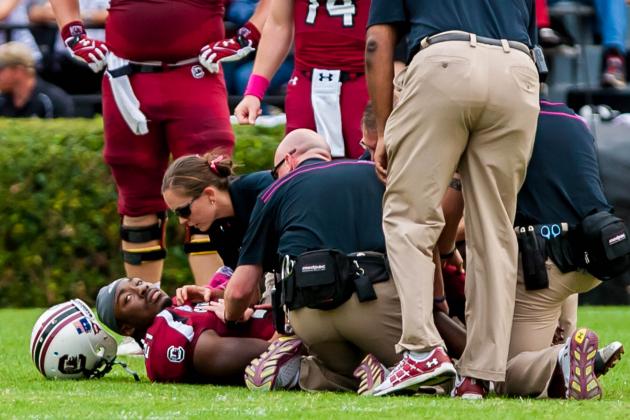 Jeff Blake-US PRESSWIRE

The saddest and most terrifying moment of this past weekend was when South Carolina star running back Marcus Lattimore went down with a gruesome-looking leg injury in the first half against Tennessee.
The injury looked so bad that many initially speculated that Lattimore may never set foot on a gridiron again. Fortunately, the injury does not appear to be career-ending, but obviously the young back has a long road of recovery ahead of him.
It doesn't seem fair that Lattimore, who has been praised as both a football player and a person by everyone who's ever met him, will have to endure another long, grueling road to recovery, just as he did this past offseason when he rehabilitated an injury to his other knee.
Hopefully, we'll get another opportunity to see Lattimore out on the gridiron, because he's certainly one of the most special talents to grace the sport of college football in the last decade.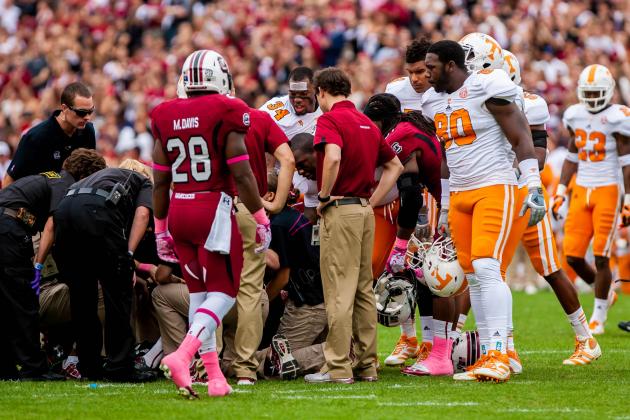 Jeff Blake-US PRESSWIRE

No matter what you may think of Tennessee coach Derek Dooley, you have to give Dooley and his team some major praise for the way they came out and supported Marcus Lattimore when he was being tended to on the field following his brutal leg injury.
It was a great sign of sportsmanship for the Volunteers to come out during the heat of battle and show that type of support to a fallen player.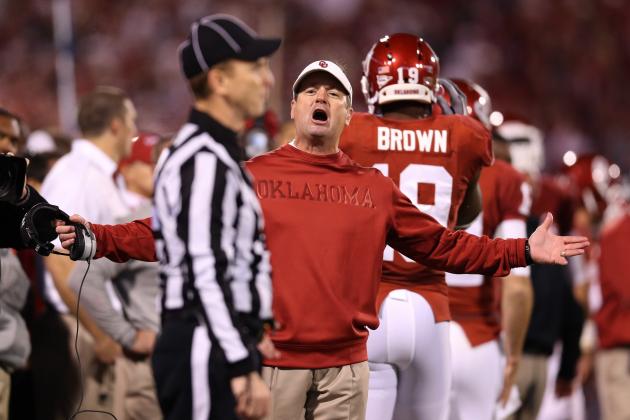 Matthew Emmons-US PRESSWIRE

Oklahoma once again came into the 2012 season ranked in the Top Five of both major preseason polls, and the Sooners were being pumped up as national title contenders. Just like last season, however, it's not even November yet, and already Bob Stoops' squad is out of the running.
There's no shame in losing to the No. 2- and No. 3-ranked teams in the country. But given that both losses occurred at home, it does make it more of a bitter pill to swallow.
Oklahoma clearly had the talent to compete for a national title this season; the Sooners just don't have the heart of a true champion.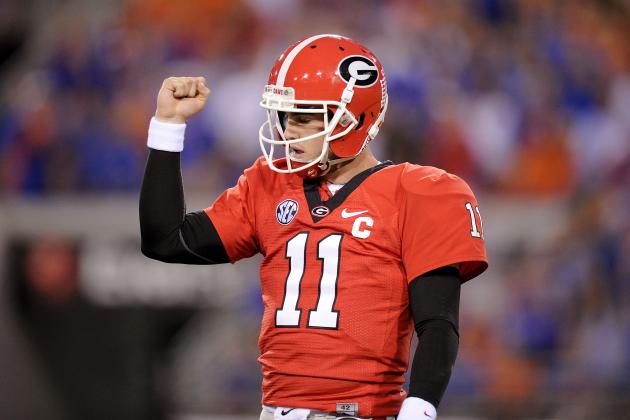 Kevin Liles-US PRESSWIRE

Many labeled Georgia a pretender after the Bulldogs got rocked by South Carolina back in Week 6. However, they bounced back in a big way by beating Florida 17-9 down in Jacksonville on Saturday.
The win over the Gators now puts Georgia in the SEC East driver's seat as the team prepares for its final two conference games of the season against Ole Miss and Auburn.
Ultimately, the Bulldogs may not be able to beat likely foe Alabama if they do make it to Atlanta. But if they finish the regular season 11-1 before losing to the Tide, there's a good chance that they could end up getting the SEC's at-large BCS bowl bid.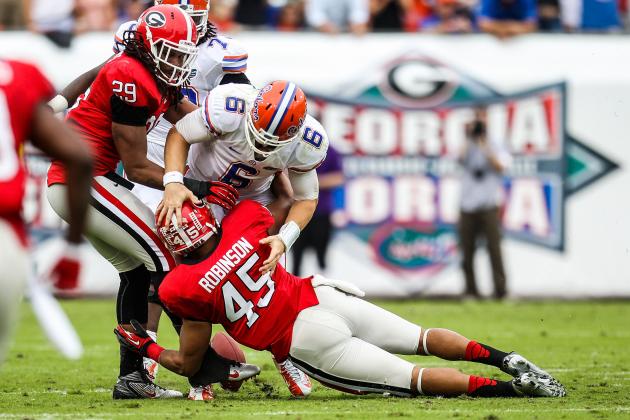 Daniel Shirey-US PRESSWIRE

In a matchup of two evenly matched teams, turnovers will usually determine who wins and who loses, and that was certainly the case in the Florida-Georgia game on Saturday.
The Gators turned the ball over six times (four fumbles and two interceptions), with the final turnover, a Jordan Reed fumble into the end zone, proving to be the most costly.
You simply can't afford those type of killer mistakes when you play a solid opponent. Hopefully, Florida won't turn the ball over nearly that frequently against Florida State on Nov. 24, because if the Gators do, that game could get ugly.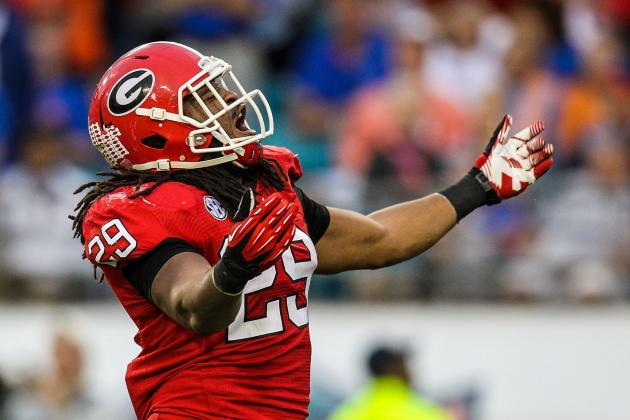 Daniel Shirey-US PRESSWIRE

Georgia LB Jarvis Jones proved yet again that he is one of the biggest defensive difference-makers in college football, as he made some crucial game-changing plays in the 17-9 win over Florida.
Jones racked up 12 solo tackles, including 4.5 tackles for loss, notched three sacks and forced two fumbles against the Bulldogs.
The explosive edge-rusher looks like he's going to be one of the favorites to win college football's most prestigious defensive awards this year, and he also has the look of a future top-15 NFL draft pick.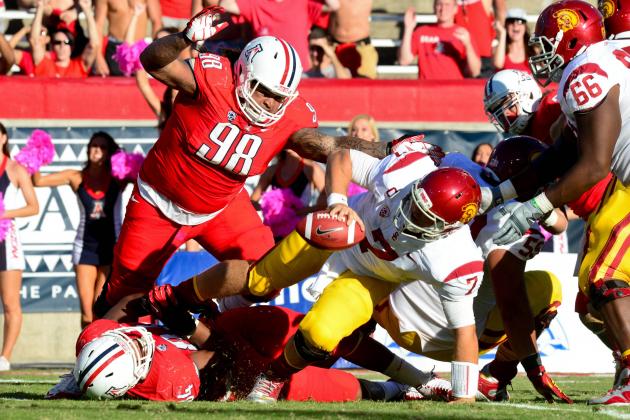 Matt Kartozian-US PRESSWIRE

The Arizona air must do something funky to USC's players, because the last two times the Trojans have made the trip out into the desert, they've gotten upset by weaker teams.
Last year, USC got embarrassed 43-22 by Arizona State in Tempe. Then on Saturday, the Trojans got upset 39-36 by Arizona in Tucson.
The loss effectively ends any hopes that USC had of re-entering the national championship chase, and it's completely knocked star quarterback Matt Barkley out of the Heisman race.
Luckily, Barkley and the Trojans will have the chance to redeem themselves in front of a national audience on Saturday when No. 4-ranked Oregon pays a visit to the Coliseum.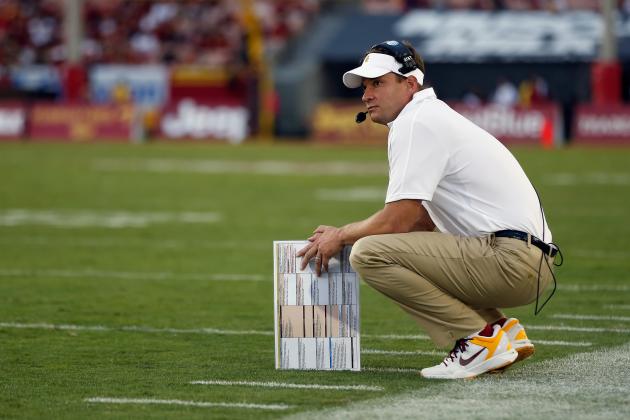 Jeff Gross/Getty Images

USC may currently be leading the Pac-12 South division with a conference record of 4-2. However, that doesn't mean the Trojans have locked up a berth in the conference championship game just yet.
UCLA, Arizona State and Arizona are all still in the mix in the division race.
If the Trojans lose to Oregon this weekend, that will really open things up. Plus, a victory at UCLA is certainly not a guarantee considering the way Lane Kiffin's squad has performed on the road this season.
Before the season started, no one predicted that USC could possibly lose four conference game, but it no longer seems out of the question at this point.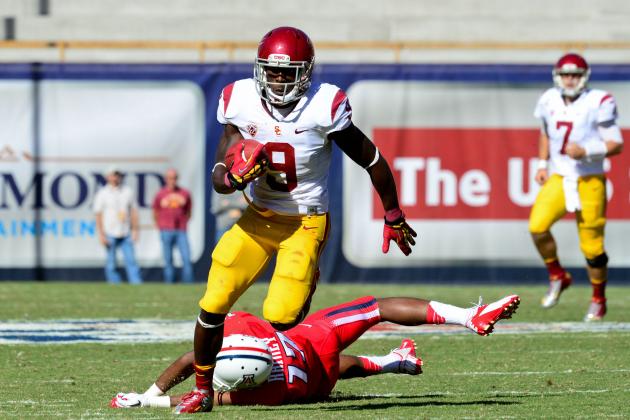 Matt Kartozian-US PRESSWIRE

USC may have turned in a disappointing effort against Arizona this past weekend, but one Trojan who certainly didn't disappoint was WR Marqise Lee.
Lee shattered the Pac-12 single-game receiving yards record, as he hauled in 16 passes for an astounding 345 yards and two touchdowns.
The sensational sophomore pass-catcher proved that he is truly the best player at his position in all of college football.
Right now, Lee looks better than any receiver eligible for the 2013 NFL draft, including Terrance Williams, Tavon Austin, Keenan Allen and teammate Robert Woods. But since he's just a true sophomore, he'll have to wait one more year to get his shot at the pros.
Still, as it stands now, Lee has to be considered the early favorite to be the No. 1 overall pick in the 2014 draft, even though South Carolina DE Jadeveon Clowney and Notre Dame DE Stephon Tuitt will likely be involved in the debate as well.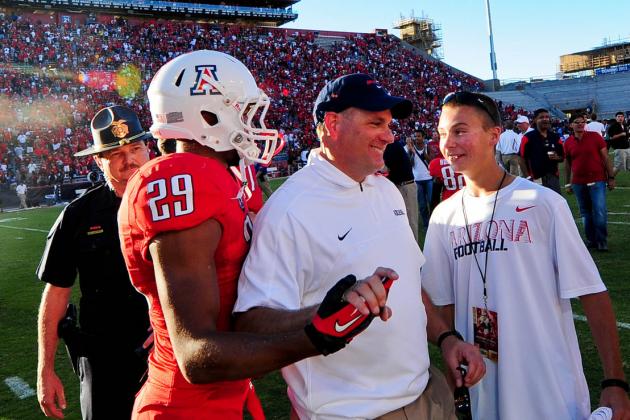 Matt Kartozian-US PRESSWIRE

After building West Virginia into a power program, Rich Rodriguez made the mistake of accepting an offer to become the head coach at Michigan. It turned out to be a move that would basically tarnish everything he had accomplished in Morgantown, as he never came close to living up to expectations in Ann Arbor before the fans ran him out of town after three years.
Rodriguez has re-entered the coaching fray after sitting out a year, and he's revitalized an Arizona program that suffered through a 4-8 season last year. Following a huge upset win over USC on Saturday, the Wildcats are now 5-3 and one win away from bowl eligibility. That's a far cry from Rodriguez's first season at Michigan, in which he won just three games.
Under Rodriguez's watch, the Arizona offense currently ranks first in the Pac-12 in total offense and second in scoring offense, averaging 554 yards and 39 points per game.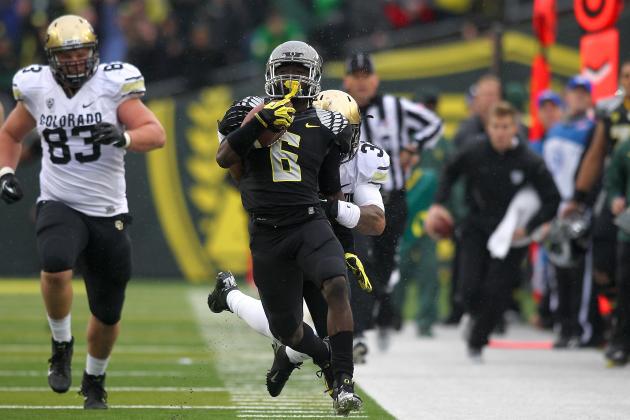 Jonathan Ferrey/Getty Images

For all we know, Oregon may be the best overall team in the country, but it's difficult to tell since the Ducks have the weakest resume of the top four ranked undefeated teams.
Oregon hung 70 points on a lifeless 1-6 Colorado team on Saturday. But the problem is, Alabama, Kansas State and Notre Dame all went out and picked up big wins over Top 20 teams on the same day.
The Ducks' schedule is back-loaded with big games against USC, Stanford and in-state rival Oregon State, so they'll have their chance to build up their resume in the final few weeks. Right now, though, it's just hard to get excited about a blowout win over a team like Tennessee Tech, Washington State or Colorado.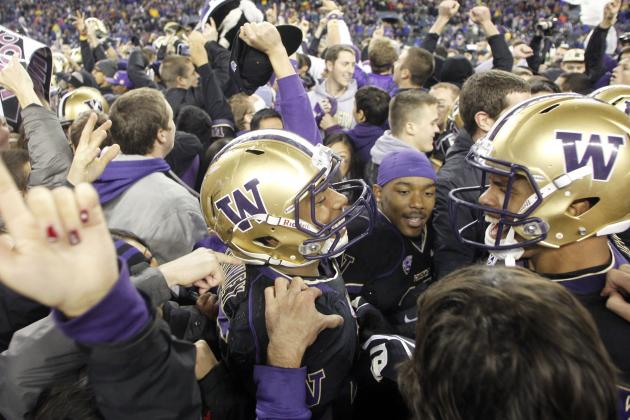 Joe Nicholson-US PRESSWIRE

First Washington upset Stanford at home back in Week 5, and then the Huskies pulled off another huge upset victory over Oregon State this past weekend in front of their delighted home crowd.
The win has helped move Steve Sarkisian's squad to 4-4, and it's helped keep the team's bowl hopes alive and well.
The Huskies have a great opportunity to pick up two more wins in a rather easy four-game stretch that includes matchups with four teams with losing records: California, Utah, Colorado and Washington State.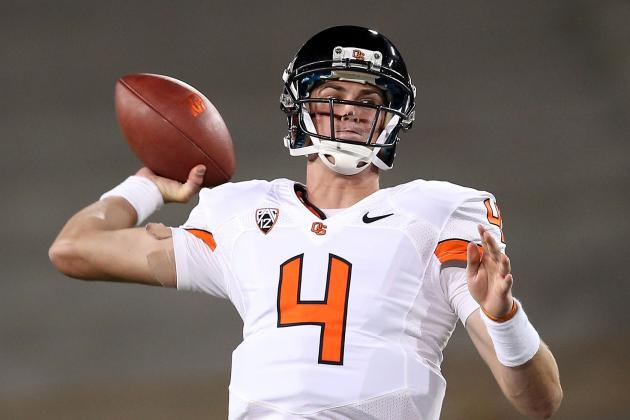 Christian Petersen/Getty Images

A big reason why Washington was able to spoil Oregon State's perfect season on Saturday had to do with the return of Beavers starting quarterback Sean Mannion.
After missing two games with a knee injury, Mannion returned to action sooner than many expected, but he looked noticeably rusty, as he completed just 18 of his 34 passes and threw four costly interceptions.
Judging from that poor performance, you have to wonder if Mannion returned from his injury before he was actually ready for live game action.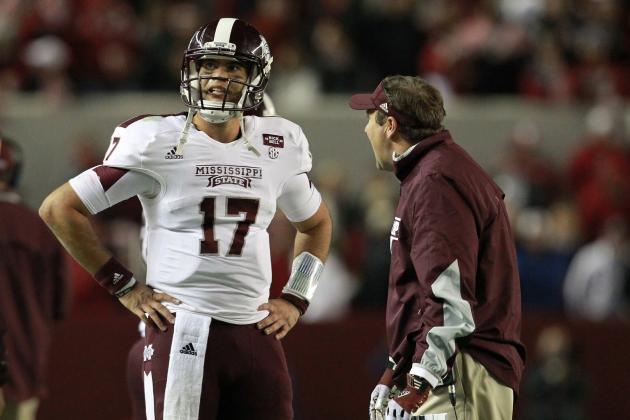 Marvin Gentry-US PRESSWIRE

Mississippi State may have started the season 7-0, but that had a lot to do with an easy early schedule with games against Jackson State, Auburn, Troy, South Alabama, Kentucky, Tennessee and Middle Tennessee State.
The Bulldogs blew their chance to prove that they could play with an elite team in the SEC, as they got rocked by Alabama 38-7 in Tuscaloosa on Saturday.
After such a bad loss, it will be interesting to see how Dan Mullen's squad responds this week against a tough Texas A&M team.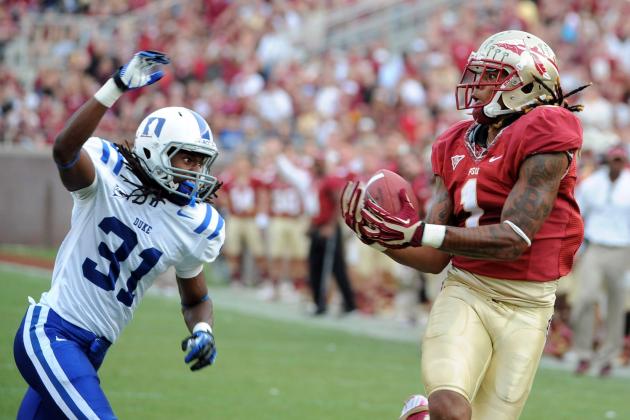 Melina Vastola-US PRESSWIRE

Duke has a lot to celebrate this season. The Blue Devils are heading to a bowl for the first time since the 1994 season, and they may have a shot to actually win the ACC Coastal Division if all breaks right.
However, the boys from Durham didn't have much to celebrate on Saturday, as they got trounced 48-7 by Florida State.
What makes things even worse is that they're likely in store for a similar fate against Clemson this weekend.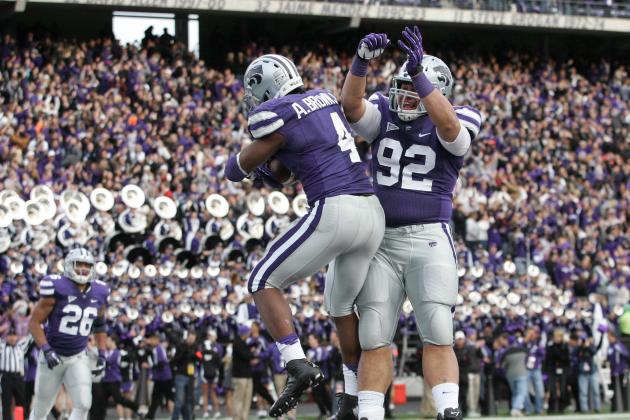 Scott Sewell-US PRESSWIRE

Kansas State beat its third ranked Big 12 team on Saturday with a dominant 55-24 victory over Texas Tech.
The win moved the Wildcats' conference record to 5-0, and it proved that they are indeed the team to beat in the league this year, even though Oklahoma, Texas and West Virginia were the ones who soaked up most of the spotlight in the preseason.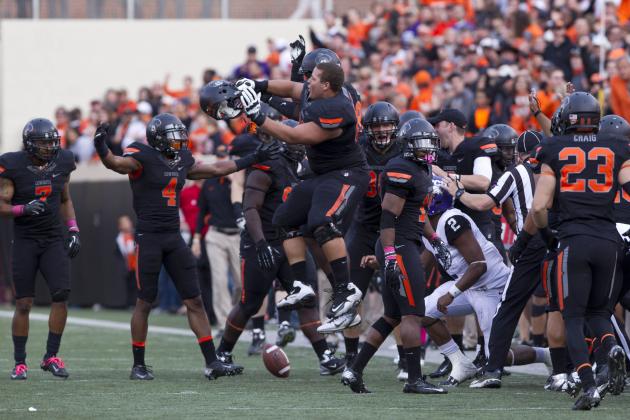 Richard Rowe-US PRESSWIRE

Kansas State will have to deal with another tough test this weekend when the Wildcats host Oklahoma State. The Cowboys are now 5-2 and 3-1 in Big 12 play following a 34-16 win over TCU on Saturday.
The defending conference champs may not be as dangerous as the team that went 12-1 last year, but the Pokes definitely have the firepower to make some serious noise in the Big 12 in the final few weeks of the season.
RB Joseph Randle is one of the most dangerous offensive playmakers in the country, and the Cowboys defense has made a drastic improvement from last year.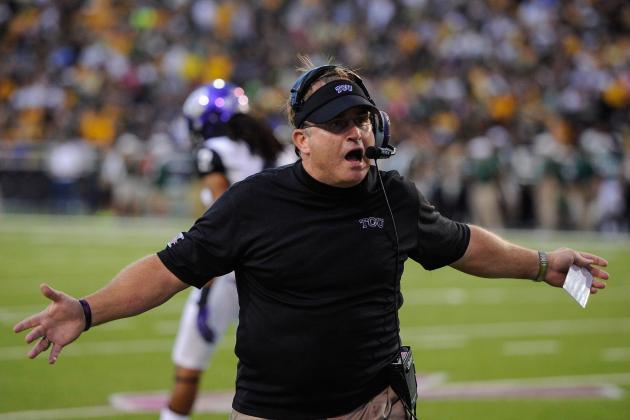 Jerome Miron-US PRESSWIRE

TCU, the team that Oklahoma State beat on Saturday, could be in some serious trouble. After starting off the season 4-0, the Horned Frogs are just 1-3 in their last four games.
The team clearly misses starting quarterback Casey Pachall, who left the team to work on his personal issues.
Gary Patterson's squad may be just one win away from bowl eligibility. However, that one win certainly won't be easy to come by, since the team's final four games are matchups with ranked opponents: West Virginia, Kansas State, Texas and Oklahoma.
Alex Trautwig/Getty Images

Rutgers was known for experiencing a letdown loss to a lesser opponent during pretty much every season that Greg Schiano was at the helm. That trend continued on Saturday under new coach Kyle Flood, as the Scarlet Knights failed to take Kent State seriously and ended up getting beat because of it.
QB Gary Nova looked terrible, throwing six interceptions, and the normally stout Rutgers defense gave up 224 rushing yards to the Golden Flashes in the 35-23 loss.
While the loss did drop the Knights out of the BCS rankings, luckily it will have no effect on their quest to win a Big East title this season.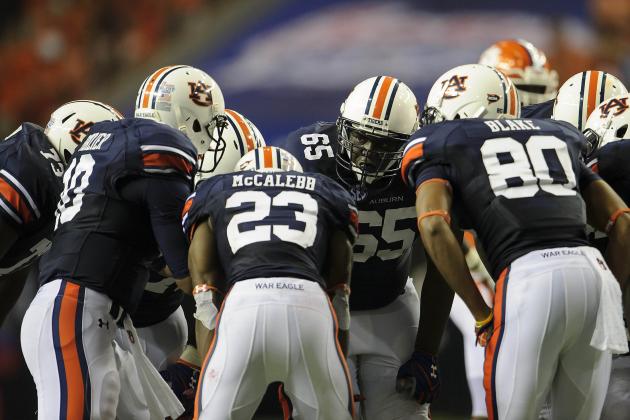 Paul Abell-US PRESSWIRE

Auburn entered this past weekend's game against Texas A&M with a dismal record of 1-6. Tigers fans figured things probably couldn't get any worse, but they were wrong. Gene Chizik's squad came out and got embarrassed at home 63-21 by the Aggies to send the team to a new low.
Following the loss, the Tigers currently rank dead last in the SEC in total offense and next to last in total defense.
Judging from that passionless performance, it's safe to say that the players have officially packed it in for the season.
Hopefully, Georgia and Alabama show some mercy on Auburn.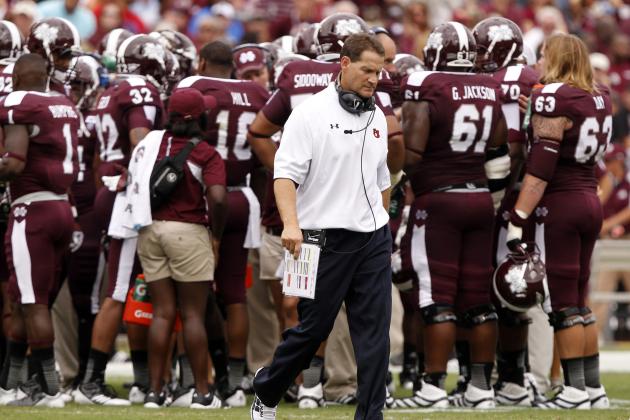 Butch Dill/Getty Images

Not only does Auburn's Gene Chizik's job look like it could be in serious jeopardy, Tennessee's Derek Dooley has a questionable future as well.
Chizik and Dooley are a combined 0-11 against SEC teams this season.
A good deal of both fanbases seem to be in favor of a change, so it will be very interesting to see if one or possibly even both coaches end up being terminated at the end of the season.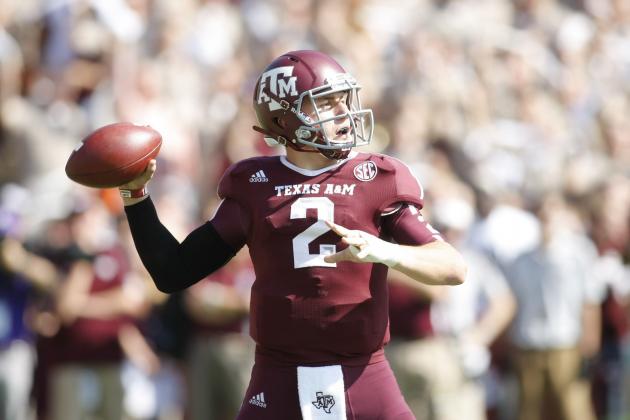 Brett Davis-US PRESSWIRE

Texas A&M QB Johnny Manziel made a case for why he deserves to be considered the best freshman player of the 2012 season with his performance against Auburn on Saturday.
Manziel tore the Tigers defense to pieces, throwing for 260 yards and two touchdowns and adding another 90 yards and three scores on the ground in the 63-21 win.
The dynamic dual-threat quarterback has the potential to become a bona fide superstar. A&M fans certainly have to be excited about the future with Manziel leading the way on offense for the next couple of years.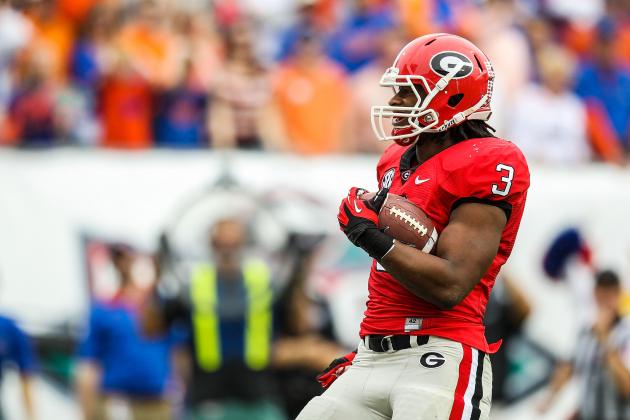 Daniel Shirey-US PRESSWIRE

Johnny Manziel may be the best freshman player in college football this season, but Georgia RB Todd Gurley has had a huge impact on his team's success as well.
After a sluggish two-week stretch in which he rushed for a total of just 86 yards against Kentucky and South Carolina, Gurley came out and looked like the same player that took the college football world by storm in September, as he rushed for 118 yards and a touchdown in a 17-9 win over Florida.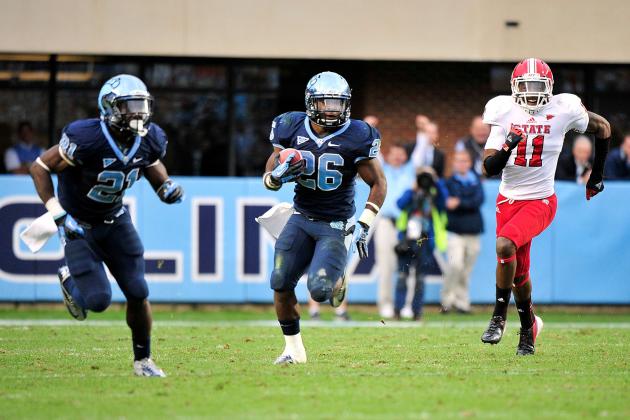 Grant Halverson/Getty Images
Giovani Bernard
North Carolina's Giovani Bernard has been the most impressive running back in college football this season, and he continued his remarkable campaign this past Saturday against N.C. State.
Bernard rushed for 212 yards and three touchdowns, caught eight passes for 95 yards and scored the game-winning touchdown on a 74-yard punt return to give the Tar Heels a 43-35 win.
Following that outstanding performance, the 5'10'', 205-pound redshirt sophomore now currently ranks sixth in the nation with 1,498 all-purpose yards and is tied for fourth in the nation with 15 total touchdowns.
Last Friday, I said that Bernard was the best running back prospect available for the 2013 NFL draft, and I definitely believe that more people will start agreeing with that opinion in the weeks to come.
He's an absolutely incredible talent.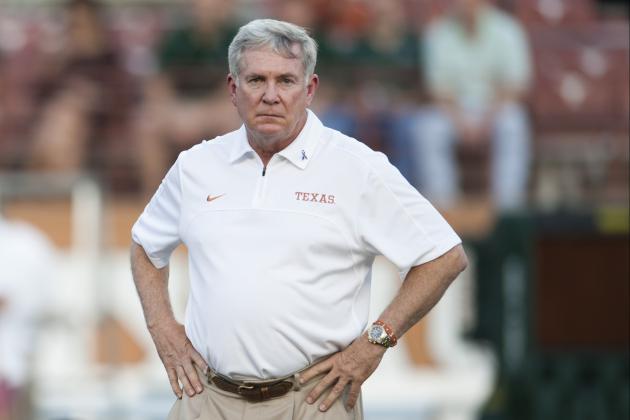 Cooper Neill/Getty Images

Mack Brown has done a great job of bringing plenty of blue-chip recruits to Austin during his tenure at Texas, which admittedly isn't extremely difficult when you're running the biggest program in the most talent-rich state in the country.
The problem is, since 2010, Brown has not found a way to get the most out of the talent at his disposal, which has resulted in consecutive disappointing seasons.
The Longhorns seemingly lack the proper motivation again in 2012, as they have looked sluggish in their last four games, especially this past weekend against Kansas.
With tough games against Texas Tech, Iowa State, TCU and Kansas State still remaining on the schedule, Mack Brown better correct his team's flaws in a hurry, or else Texas will drop out of the Top 25 rather quickly.
Jerome Miron-US PRESSWIRE

One area that Texas has to fix is the quarterback position. Starter David Shaw was awful against Kansas, completing just eight passes for 63 yards while tossing two costly interceptions.
Luckily, the Longhorns were saved by Case McCoy, who came in and looked much more efficient as he led the team to a 21-17 win.
Given Shaw's recent struggles, it seems that the team should definitely consider giving McCoy a start and seeing how he performs in that role.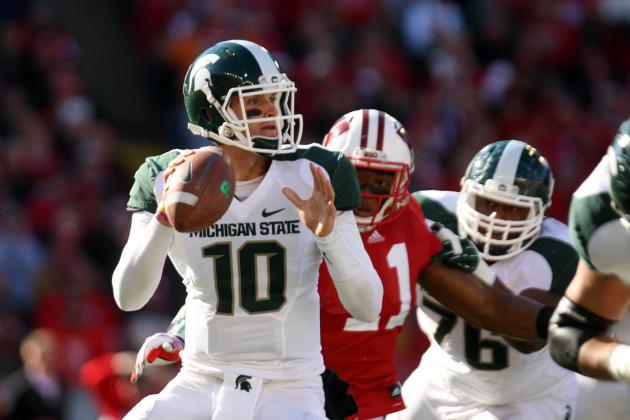 Mary Langenfeld-US PRESSWIRE

Michigan State came into the game against Wisconsin this past Saturday in must-win mode after losing three of the last four games.
The Spartans certainly didn't look spectacular against the Badgers, but in the end, they did what they had to do and came away with a crucial 16-13 victory in overtime in a hostile road environment.
Mark Dantonio's team is now 5-4 and 2-3 in conference play, but Michigan State is still definitely alive in the Legends Division.
If the Spartans want to win the division again and make it back to the conference championship game, they're going to need to win the rest of their remaining games. That starts this weekend with a critical matchup with division foe Nebraska in East Lansing.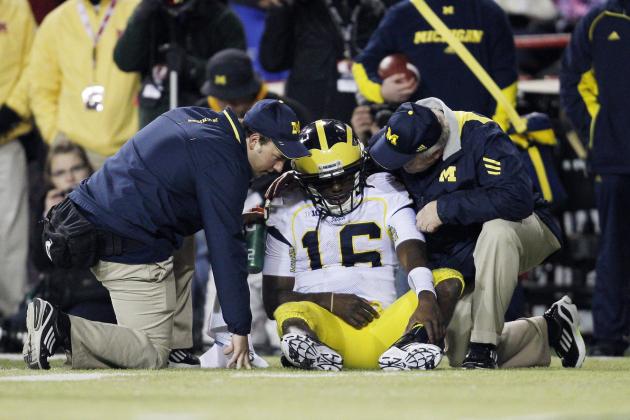 Bruce Thorson-US PRESSWIRE

Michigan's offense looked lost after star quarterback Denard Robinson went down with an elbow injury late in the first half of a 23-9 loss to Nebraska.
Robinson's backup, Russell Bellomy, completed just three of his 16 passes for 38 yards and threw three interceptions. The Wolverines were kept out of the end zone and finished with just 188 total yards of offense against the Cornhuskers.
If Robinson's injury affects him in the weeks to come, Michigan will have no shot of beating Northwestern and Ohio State, and the team's hopes of competing for a Big Ten title this season will disappear.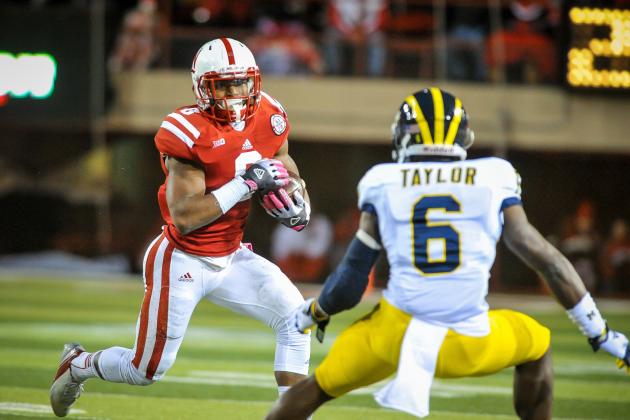 Eric Francis/Getty Images

Nebraska's best offensive player, RB Rex Burkhead, has been limited this season with a knee injury. Luckily for the Cornhuskers, Ameer Abdullah has stepped up in a big way when called upon to fill in for Burkhead.
Abdullah carried the rushing load in a 23-9 win over Michigan on Saturday, as he totaled 101 yards on the ground and a touchdown on 24 carries.
The 5'9'', 185-pound sophomore looks like he has a bright future ahead of him, and it should be interesting to see what he's capable of when he becomes the team's true feature back in 2013.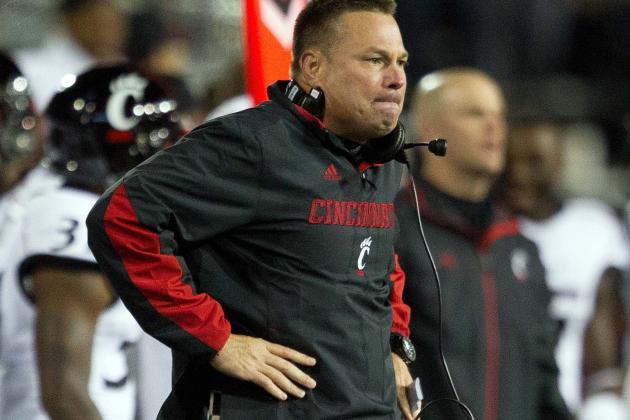 Rob Leifheit-US PRESSWIRE

I've never been a fan of "icing the kicker" by calling a timeout right before he kicks a crucial field goal. I've always felt that if the kicker is good, he's probably mentally tough enough to handle an extra minute of pressure, and calling a timeout just gives him more time to loosen up and get ready.
Add Cincinnati head coach Butch Jones to the list of coaches who likely regrets implementing the strategy.
Jones' Bearcats were knotted up 31-31 with Louisville in overtime on Friday night when Cardinals kicker Jon Wallace lined up for a potential game-winning field goal on fourth down. Wallace's long-snapper was obviously affected by the wet conditions, as he sailed the snap over the holder's head.
The problem?
Jones called timeout right just a second before the play began, which negated the bad snap and gave Louisville another chance to kick the game-winner, which Wallace booted through for a 34-31 victory.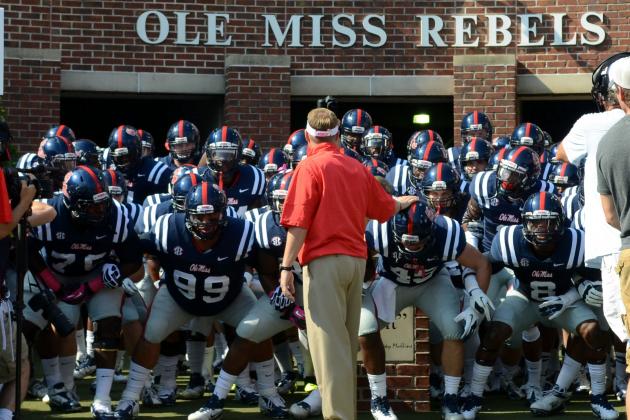 Chuck Cook-US PRESSWIRE

Before the season started, Ole Miss was predicted to be the worst team in the SEC by basically every major media outlet. However, the Rebels must not have been paying attention, because they're now 5-3 and flirting with bowl eligibility after a big 30-27 win at Arkansas on Saturday.
While beating Georgia, LSU or Mississippi State may be too much to ask, it wouldn't be surprising to see the team get that all-important sixth win against Vanderbilt at home on Nov. 10.
Whether Ole Miss ends up making it to a bowl game or not, you really have to give first-year head coach Hugh Freeze a ton of credit for what he's done with the Rebels this year.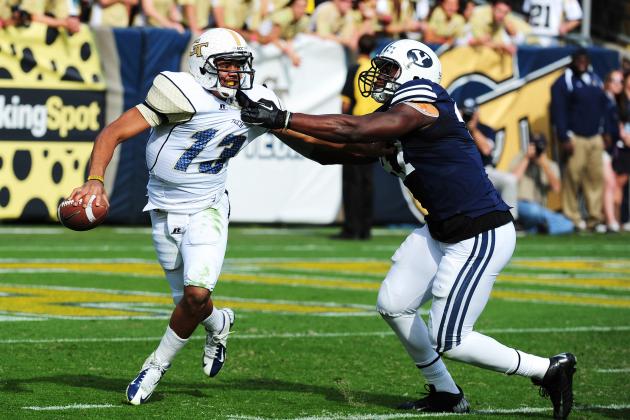 Scott Cunningham/Getty Images

In my Week 4 wrap-up article, I mentioned that BYU DE Ezekiel "Ziggy" Ansah was this year's sleeper pass-rushing prospect. However, Ansah certainly isn't a sleeper any more. The athletic freak has put together a breakout performance in 2012, and he now has the full attention of NFL scouts.
Ansah, a native of Ghana who has only been playing football since 2010, is still a raw prospect, but it's impossible to overlook his tremendous potential.
The 6'6'', 270-pound senior had a huge game against Georgia Tech on Saturday, racking up five solo tackles, a tackle for loss and a sack. He's now totaled 11 tackles for loss, four sacks, five quarterback hurries and four pass breakups this year.
It's officially time to start including the potential star pass-rusher in the first-round conversation for the 2013 NFL draft.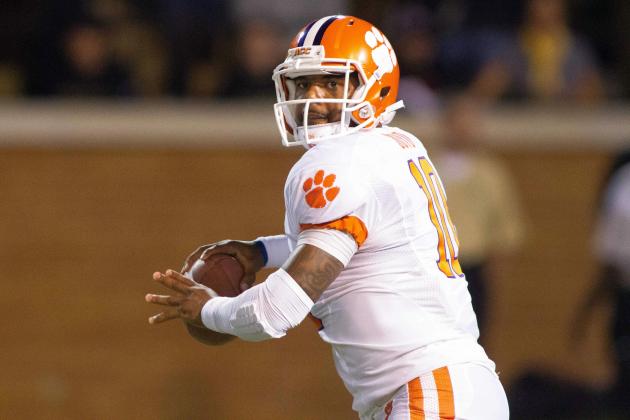 Jeremy Brevard-US PRESSWIRE

Clemson has been somewhat of a forgotten team since the Tigers lost to Florida State back in Week 4. However, they're now 7-1 following a 42-13 victory over Wake Forest last Thursday.
While Clemson may not ultimately be able to overtake the Seminoles in the ACC Atlantic Division, it's not that far-fetched to think that the Tigers could end up earning a BCS at-large bid if they finish 11-1 and beat South Carolina in the season finale.
The ACC is relatively weak this year, but considering the Big Ten and Big East will likely send just one team to BCS bowl games, there's definitely a chance Clemson could earn an at-large bid if it finishes up strong.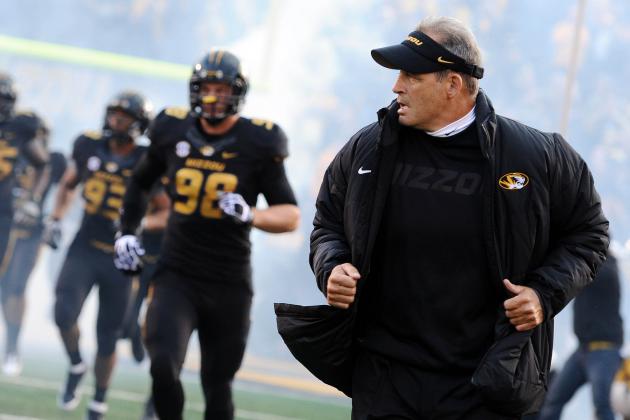 Dak Dillon-US PRESSWIRE

After losing its first four SEC games, Missouri finally picked up its first win against an opponent from its new conference on Saturday when it beat Kentucky 33-10.
Sure, the Wildcats may be the worst team in the league, but a win is a win, and it's a victory that actually could help the Tigers get to a bowl game this year.
Gary Pinkel's team is now 4-4, and it still has two winnable games against Syracuse and Tennessee left on the schedule.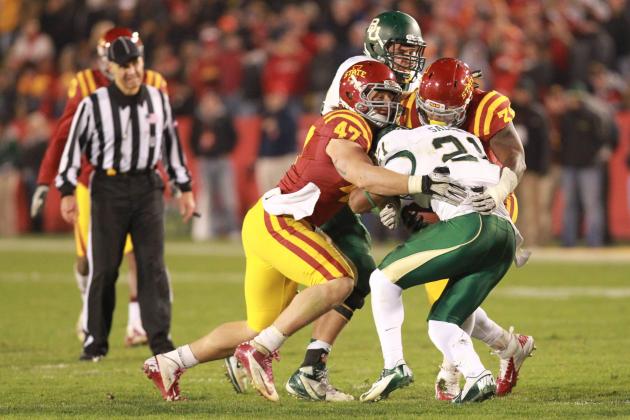 Reese Strickland-US PRESSWIRE

Baylor's hopes of making it to the postseason this year took a big hit when the Bears lost to Iowa State 35-21 on Saturday.
Following the loss, Baylor is now just 3-4.
The Bears should pick up their fourth win of the season against Kansas this weekend. However, finding two more wins in a four-game stretch that includes matchups with Oklahoma, Kansas State, Texas Tech and Oklahoma State certainly won't be as easy.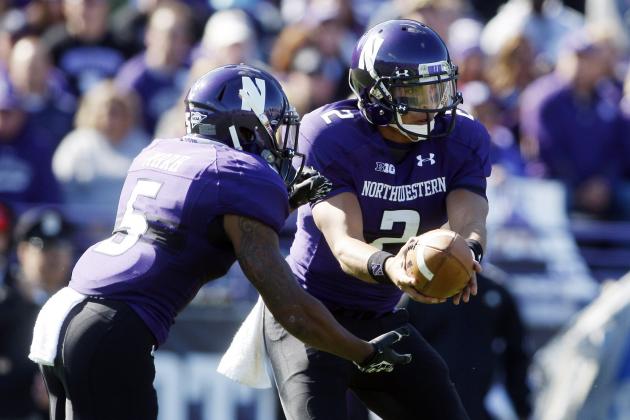 US PRESSWIRE

Northwestern has compiled a 7-2 record this season, yet the Wildcats have failed to receive much national attention for their breakout campaign.
Much of the credit for the team's success has to be given to QB Kain Colter and RB Venric Mark, who have combined forces to become a dangerous rushing tandem this season. Colter and Mark just combined for a whopping 328 rushing yards in a 28-17 victory over Iowa on Saturday.
This season, the two have combined to total 1,694 rushing yards and 20 total rushing touchdowns, and they both currently rank in the top 10 in the Big Ten in rushing output.
Rich Barnes-US PRESSWIRE

Ohio State isn't eligible for the postseason this year, which is a shame, because the Buckeyes are clearly the best team in the Big Ten in 2012.
Urban Meyer's squad moved its record to 9-0 with a big 35-23 win at Penn State this past weekend.
QB Braxton Miller has developed into a true star this season, and the Buckeyes also have two of the best defenders in the country, DT Johnathan Hankins and CB Bradley Roby, on their defense.
While Hankins will likely depart for the NFL and become a top-10 pick in next year's draft, Miller and Roby will return to be the two leaders of a team that should have national championship aspirations in 2013.
Meyer is truly building Ohio State back into a true national powerhouse.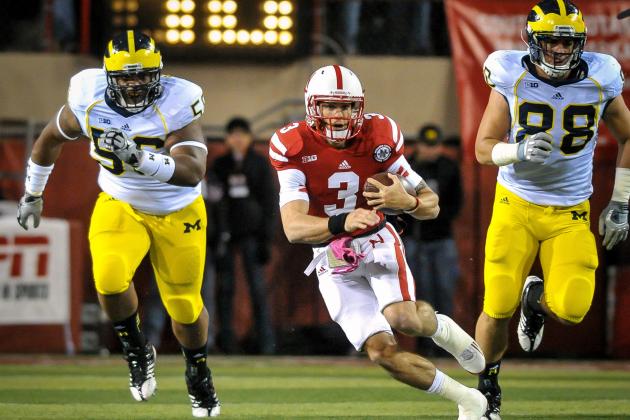 Eric Francis/Getty Images

Outside of Ohio State's success, this has been a massively disappointing year for the Big Ten.
Preseason Top 25 teams such as Michigan, Michigan State and Wisconsin have all dropped out of the rankings. The only conference team that is postseason-eligible and still remaining in the polls at this point is Nebraska.
The Cornhuskers moved their overall record to 6-2 and their conference mark to 3-1 with a 23-9 victory over Michigan on Saturday.
QB Taylor Martinez has developed into a true team leader this season. Martinez seems like he's ready to lead Nebraska to the Big Ten title game and possibly all the way to Pasadena for the Rose Bowl.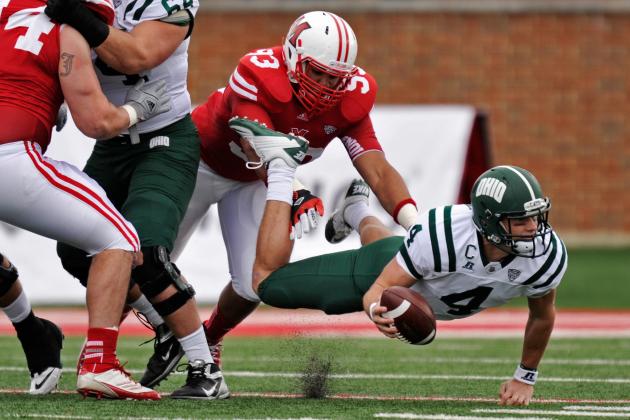 Jamie Sabau/Getty Images

Ohio was one of five unbeaten teams that went down in Week 9.
The Bobcats had struggled against weak competition in their past few games, and those struggles finally caught up with them on the road at Miami (Ohio), where they lost 23-20 on Saturday.
Frank Solich's squad may no longer control its own destiny in the MAC East division. However, if Ohio wins out, beating Kent State and Bowling Green, and if Miami (Ohio) drops one of its final four games, the Bobcats will earn an invitation back to the conference championship game in Detroit.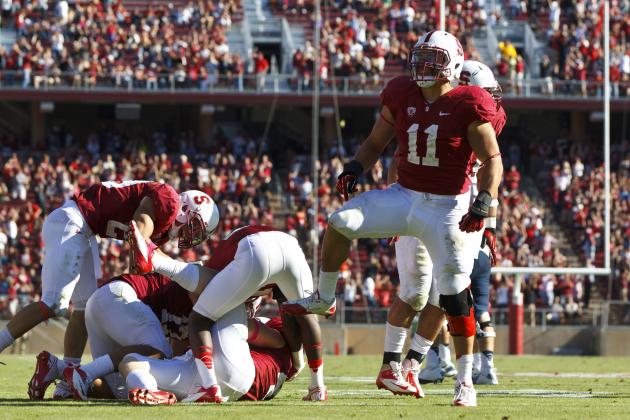 Jason O. Watson/Getty Images

For the second week in a row, Stanford's defense has completely shut down an opponent's running game. First it was Cal, who the Cardinal held to just three rushing yards on 28 carries. Then, this past weekend, they held Washington State to negative-16 rushing yards on 23 carries.
Stanford now currently ranks second in the nation in rushing defense, giving up an average of just 65 yards on the ground per game.
It will be interesting to see if the Cardinal will be able to contain Oregon's potent rushing attack when the two meet on Nov. 17.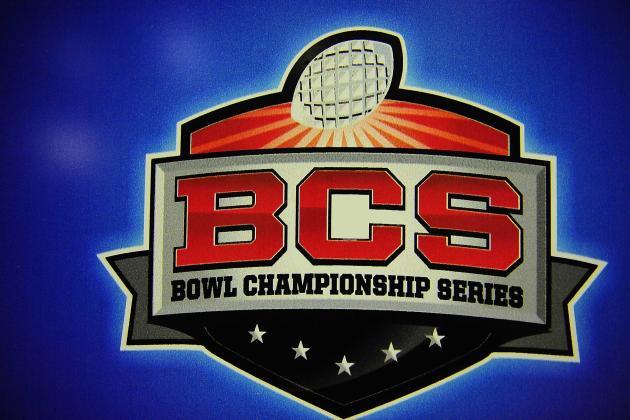 Andrew Weber-US PRESSWIRE

With just five weeks left in the college football regular season, there are still four undefeated teams—Alabama, Kansas State, Notre Dame and Oregon—sitting atop the current BCS standings.
Although there's still a lot of football left to be played, there's a distinct chance that at least three of them could finish the season undefeated, which would cause a huge argument about which two teams truly deserve to be playing in the BCS championship game.
Remember, this was the same situation that we had last year when LSU, Alabama, Oklahoma State and Stanford were all undefeated after nine weeks. Ultimately, only LSU finished the regular season undefeated.
It will be interesting to see how it all plays out. However, if all four teams do indeed end up undefeated, it will be a shame if two deserving teams get left out of the mix.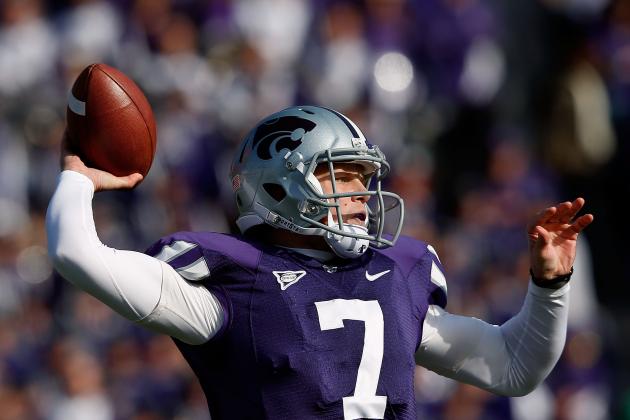 Jamie Squire/Getty Images

1. QB Collin Klein, Kansas State

2. LB Manti Te'o, Notre Dame

3. QB Braxton Miller, Ohio State

4. QB A.J. McCarron, Alabama

5. QB Geno Smith, West Virginia

6. RB Kenjon Barner, Oregon

7. LB Jarvis Jones, Georgia

8. WR Marqise Lee, USC

9. RB Giovani Bernard, North Carolina

10. QB Johnny Manziel, Texas A&M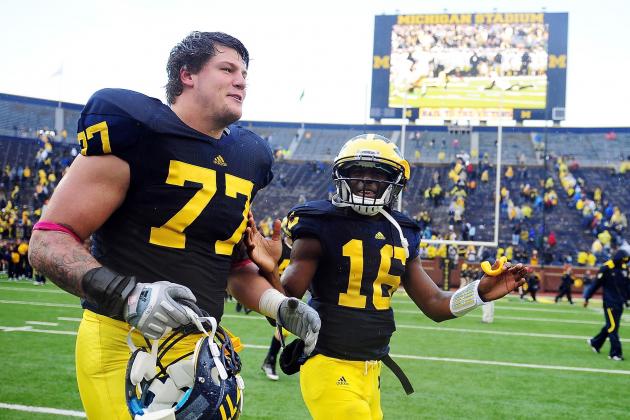 Andrew Weber-US PRESSWIRE

1. OT Taylor Lewan, Michigan

2. DE Bjoern Werner, Florida State

3. DT Johnathan Hankins, Ohio State

4. DE Barkevious Mingo, LSU

5. LB Manti Te'o, Notre Dame

6. OT Luke Joeckel, Texas A&M

7. LB Jarvis Jones, Georgia

8. QB Geno Smith, West Virginia

9. DT Sheldon Richardson, Missouri

10. RB Giovani Bernard, North Carolina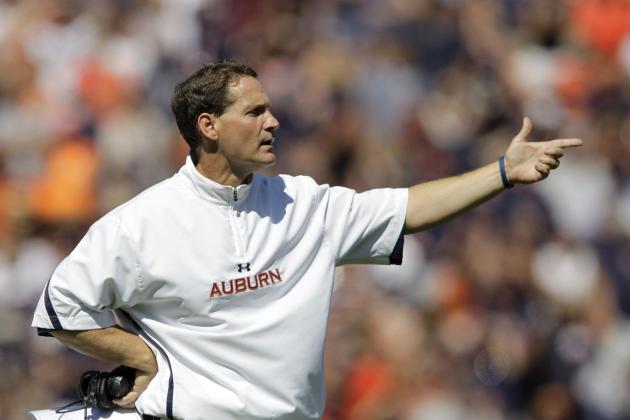 John Reed-US PRESSWIRE

1. Gene Chizik, Auburn

2. Frank Spaziani, Boston College

3. Joker Phillips, Kentucky

4. Derek Dooley, Tennessee

5. Skip Holtz, South Florida

6. Jeff Tedford, California
7. Ron English, Eastern Michigan
8. Jon Embree, Colorado

9. Rich Ellerson, Army
10. Kirk Ferentz, Iowa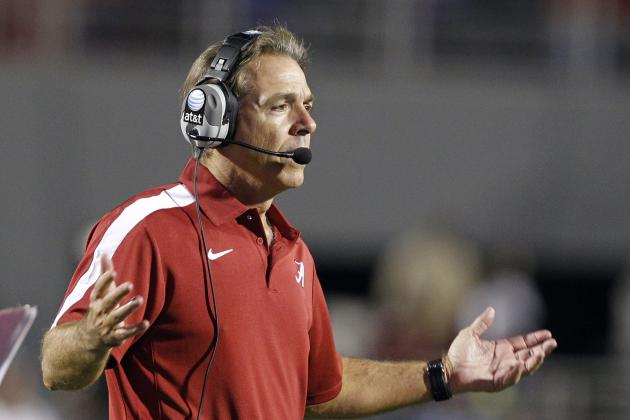 Butch Dill/Getty Images

1. Alabama Crimson Tide

2. Kansas State Wildcats

3. Oregon Ducks

4. Notre Dame Fighting Irish

5. Ohio State Buckeyes
6. Georgia Bulldogs
7. Florida Gators
8. LSU Tigers
9. Florida State Seminoles

10. Clemson Tigers